Earlier this month, Kickstart Ventures, one of the first venture capital firms to be founded in the Philippines, announced that the ACTIVE fund (Ayala Corporation Technology Innovation Venture) of its parent Ayala Corp closed at USD 180 million. That was 20% more than the initially planned USD 150 million, and is said to be the largest VC fund to be raised in the Philippines.
Last year, Ayala tapped Kickstart to manage the monumental fund, which seeks to funnel USD 2 million to USD 10 million investments into Series A to D startups in "fintech, e-commerce, and construction tech." To put this in context: When Kickstart was founded in 2012, it started with a measly USD 2 million.

The fund shows how far the Philippine startup ecosystem has come—and how much development it can still accommodate. For one, that such a fund is launched by one of the country's oldest and biggest conglomerates demonstrates how the country's traditional firms do recognize the power and potential of startups in the region.
Like Thailand and Indonesia, many industries in the Philippines are dominated by big family-controlled conglomerates. The startup community remains relatively small and nascent, when compared to neighboring countries in the region. A Nikkei study shows that in 2018, Philippine startups raised the third-lowest amount of funding in Southeast Asia, with only Cambodia and Brunei trailing behind. The ACTIVE fund might change that.
Kickstart Ventures' president Minette Navarrete told KrASIA in a recent interview that the fund has already invested in two startups, without disclosing more details. She believes that just the existence of a fund like this from the Philippines is already an achievement in itself. It's "a signal flare" that the country is ready to be a big player in the startup scene.
KrASIA (Kr): Congratulations for closing the funding! If I'm not mistaken, the original budget for the ACTIVE fund was USD 150 million. What pushed Ayala to increase it to USD 180 million?
Minette Navarrete (MN): When it was initially announced, we were thinking in the digital transformation of Ayala Corp as a conglomerate. We were asking: What do we do with our existing businesses? How can we transform them to be more digital and responsive to customers, especially the "new customer" we have today? How do we change our culture?
Venture capital is just one of the range of initiatives across the group. USD 150 million was an order of magnitude. It's not a small fund. It's not a small initiative. The fact that we got to USD 180 million as capital commitment means that our strategy is working. It's not a magic number. It's more a signal of commitment.
Kr: Why the focus on fintech, e-commerce, and construction tech, which are sectors that have a lot of players already? Does Ayala plan to invest in them as a means of support for their existing businesses?
MN: Yes, and no. There's something special about old businesses. When you think of a conglomerate like Ayala Corp, we're not just thinking of the next year or the next five years. You have to think of the next 50 or 100 years. So you also have to think of your responsibility to help national development, and even regional development.
Obviously, these [industries] touch business units that Ayala Corp has interests in. But I think it's also a look beyond existing businesses and industries and imagine the future we want to build and what kind of ecosystems we need to have in order to address that.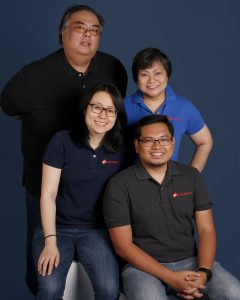 When we do venture capital investments, we're looking at a longer arc of time. We're looking at industries that are shaped by megatrends, and that are likely to persist in our lifetime and the lifetime of our fund.
Eight years ago, when we started, "digital" was the big change. The first fund was really just about helping inspire digital, whether that means having a digital lifestyle for consumers or SaaS for enterprises. The second fund was focused on telco and media, mainly on our telco, Globe. With this new funding, it's a wider view, because we have a bigger opportunity to help. We're interested in investing more than cash.
Kr: What else can the ACTIVE fund offer to startups then, other than cash?
MN: What we learned, from the past eight years, is that cash is not everything. Startups can always get it from other funds. Whatever investment we make, we hope that—aside from the cash—we can give them more support.
And the support comes in various shapes. Sometimes the support is having their company included in the procurement process of Ayala Corp, sometimes it's to help them get the word out, other times it's in bridging two entities together through our networks in different industries. Ayala has interests from water to telco, which also includes a partnership with Singapore's Singtel.
So with the ACTIVE fund, this gives us the opportunity to consciously and publicly let our startups and partners work together.
Kr: Let's talk about the Philippines. You mentioned how your fund has taken different focuses in the last eight years. How do you think has the startup community changed in the last decade? 
MN: There's a lot of change on the ground. We have seen more interest in startups, in technology, in entrepreneurship coming from the different conglomerates. For the longest time, we only had PLDT and Globe as the corporate players with a lot of interest in stimulating a startup ecosystem.
But we have seen, especially in the last two years, other conglomerates coming onto the scene. There are the Aboitizes (owners of the Philippines' first digital bank Unionbank) and Gokongweis (owners of JG Summit, which put up a USD 50 million VC fund in 2019).
And that's good, since what you want is the entire ecosystem to evolve and move forward. From the VC point of view, we don't always have the chance to fund of course. So it gives the startups a wider range of partners and customers, and it gives startups a boost that they have a higher chance to partner up.
As for consumers, we see a lot of change in behavior, especially during the pandemic. I've heard someone say we experienced five years of digital consumer adoption in five months. So startups who may have built momentum in the past year can easily partner up with a big company and build scale. Any day is a good day to push for innovation and entrepreneurship and I think more so today.
Kr: But the ACTIVE fund specifically—what will it mean for the Philippine startup community?
MN: For the longest time, there was not much activity in the Philippines. The thing about the ACTIVE fund is, that it's a signal flare that the Philippines are ready to be a player. We want to send a message that one of its biggest conglomerates is investing significant cash, significant resources, because we think that we have the potential to shape the future we believe in. It's really putting money where your mouth is.
Kr: But why not build a Philippines-specific fund?
MN: We're not doing the Philippines-specific fund because we believe in a single standard of excellence. It doesn't matter where you are based, or where you are from. And it doesn't mean that just because you're from the Philippines, the standards change.
If a startup is a good fit to our investment thesis, if the people, the founders, demonstrate the character that we believe is necessary for success, then the country of origin does not matter.
It's a big thrill to see a Philippine startup be part of the ACTIVE fund. Having a local startup in the fund is a belief that the Philippine startup is world class.
The interview has been edited for brevity and clarity.