The billion-dollar race to become China's Twitch and undisputed leader of the country's fast-growing video game livestreaming market has concluded, according to analysts. And the winner is Tencent Holdings (HKG: 0700).
That followed Tencent's move last Friday to pay USD 262.6 million in cash to Nasdaq-listed (YY) social media company JOYY and take control of Huya, one of China's largest game livestreaming platform operators. The deal, made through Tencent subsidiary Linen Investment, raised the internet giant's stake to 36.9%, up from 29.5%, and increased its voting power in New York-listed Huya to 50.1%.
The transaction has enabled Shenzhen-based Tencent, which runs the world's largest video games business by revenue, to strengthen its lead in China's game livestreaming market since it already controls Huya's main rival DouYu, according to Ding Daoshi, director of research at internet consultancy Sootoo in Beijing.
"Tencent has closed the supply chain loop in the gaming industry," Ding said. "It now controls the development, publishing and broadcasting of gaming content [in China]."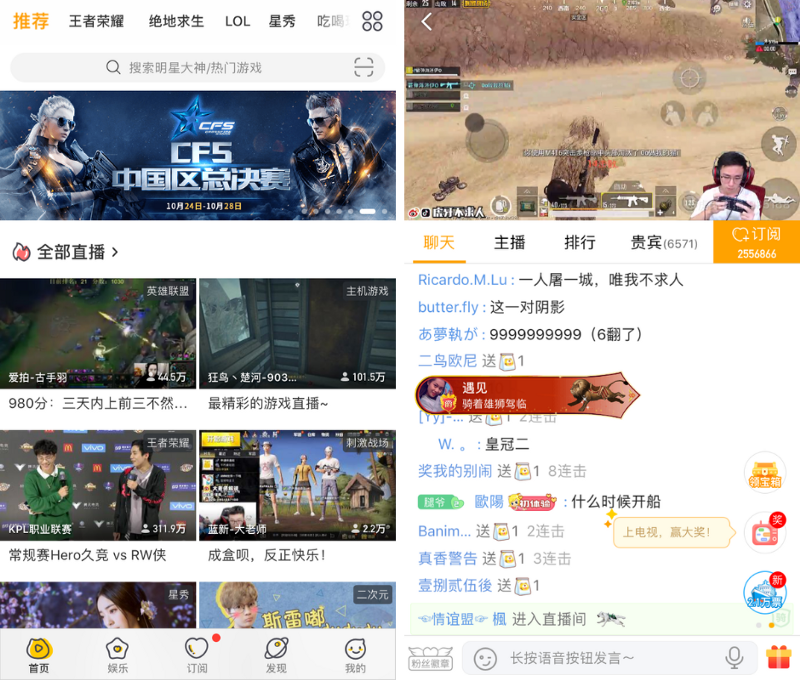 Hong Kong-listed Tencent did not immediately respond to questions sent via email on Tuesday regarding speculation on the potential merger of its game livestreaming platforms.
In its announcement on Friday, Huya said it will continue to operate independently and remain headquartered in Guangzhou, capital of southern Guangdong province.
Before this deal, Tencent had already invested more than USD 1 billion in both Huya and Nasdaq-listed DouYu, while backing other companies involved in the game livestreaming market.
In July last year, Tencent-backed short video app operator Kuaishou announced its support for about 1 million video game broadcasters on its Twitch-like livestreaming service. In December, Shanghai-based streaming video service Bilibili, in which Tencent invested more than USD 300 million in 2018, reportedly paid USD 113 million to exclusively stream for a three-year period the League of Legends World Championships, the flagship event of Tencent-owned US developer Riot Games.
With its resources behind multiple game streaming platforms, Tencent has created an effective ecosystem to introduce new titles in the world's largest video games market and launch others into high-profile, spectator-focused e-sports events.
China is the video game industry's biggest market in Asia and the world, with more than 720 million gamers across mobile, desktop personal computer, and console hardware, according to research firm Niko Partners. It projected this market to generate about USD 36 billion in revenue this year, up from USD 33 billion in 2019.

While Amazon.com-owned Twitch and Google's YouTube are the dominant game livestreaming platforms globally, these services do not operate in China, enabling Tencent to strengthen its business in the world's second largest economy.
Tencent's recent efforts could be in preparation for upcoming competition from other major Chinese internet companies like Alibaba Group Holding and ByteDance, according to TF Securities analyst Wen Hao. "When it comes to livestreaming, Alibaba has entered the market through e-commerce," Wen said. "ByteDance is likely to have a very robust livestreaming service going forward."
Alibaba's main Chinese internet retail operation, Taobao Marketplace, last year bought an 8 per cent stake in Bilibili, while developing its own livestreaming capabilities to help online merchants market their products. Alibaba is the parent company of the South China Morning Post.
TikTok owner ByteDance, the world's most valuable start-up, has about 800 million monthly active users across its different apps. The company has moved to diversify its operations by forming its own video games business, following its acquisition of a number of local game studios, and has included mini games on its widely popular short video app.
"In the age of cloud gaming, livestreaming platforms are likely to be where users first interface with a new game," said Zheng Jintiao, co-founder of media outlet Gamer Boom. For livestreamed e-sports, Zheng said Tencent has already made a number of its blockbuster titles, such as Honour of Kings, Game for Peace and PUBG Mobile, well-suited for such events.
This article first appeared in the South China Morning Post.