Chinese internet conglomerate Tencent announced on Sunday morning to restructure its business lines, the third in its almost 20-year history.
The organizational reshuffle, which will see Tencent trim its seven business groups into six, aims to consolidate its efforts in promising trends such as social media and content, to address issues like technology fragmentation and ineffective collaboration, in addition to ramping up its cloud business and readying itself for the industry's internet boom in China.
The restructuring comes at a time when the Chinese internet giant has been undergoing a half-year long stock price slide that made it the "world's most disappointing stock this year" in a Bloomberg piece.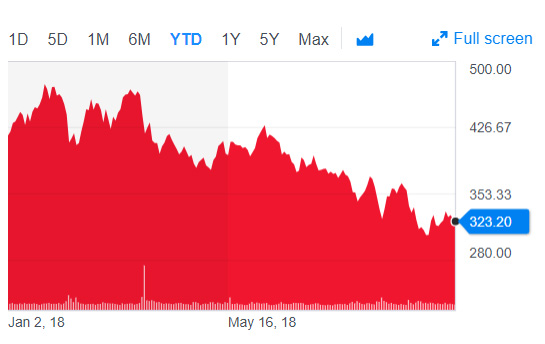 The company's share price, after reaching a historical high this January of HK$474, has dropped to HK$323 as of late, an about 31% drop from the beginning of this year.
The downtrend, which is still ongoing, resulted mostly from 1) the company's worsening gaming revenue decline (on both mobile and desktop, dropped by 19% and 8% quarter-over-quarter in this second quarter), 2) investors concerns over Beijing's continuous clampdown on the gaming sector, as well as 3) Tencent losing some social media grounds to newly emerged challengers such as ByteDance.
It is time to make the change.
The restructure
There are two noteworthy points to watch regarding the restructuring.
First, Tencent grouped together its mobile internet group (MIG), social network group (SNG) and online media group (OMG) to form a new platform and content group (PCG); second, the creation of the cloud and to-b business group.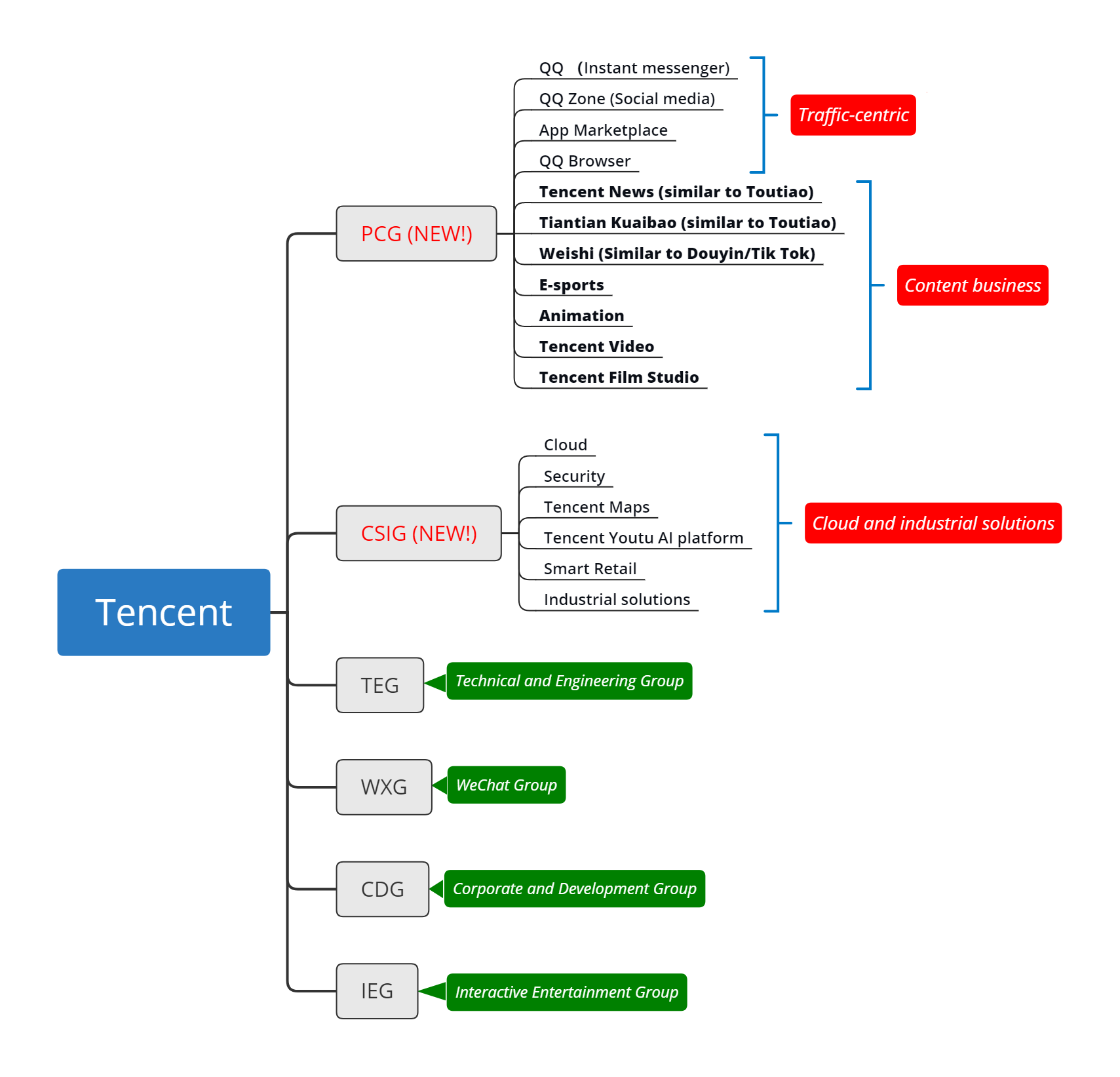 This newly formed PCG contains Tencent's social networking assets with content businesses, including Tencent News, Tiantian Kuaibao, both are rivals to ByteDance's Toutiao news app. Other assets included in the group include Weishi, a short-form video app Tencent pits against the hyper-popular Douyin, also from ByteDance.
It appears that the main task of the PCG, will be trying to contain ByteDance's unfettered growth momentum.
The two companies have been at odds for a long time.
Tencent has long dominated China's social media and networking sector, the domination remains unchallenged until the emergence of Beijing-based ByteDance, which uses artificial intelligence to distribute a wide variety of content to the audience in different formats – from the text (Toutiao news app) to short videos (Douyin and Huoshan).
With the domestic success of Douyin, ByteDance incurred a deep dent on Tencent's social media dominance, as WeChat Moment's stickiness started to decline on the rise of the short-video app.
Tencent earlier this year blocked Douyin users from sharing to WeChat Moments, a Facebook-like social networking function plugged into Wechat. The two companies' founders subsequently had an online spat over the blocking.
Not only denting WeChat, ByteDance also managed to carve a small pie out of China's social media ads through Toutiao, the most popular news aggregator app in China, a move that hurt Tencent's social advertising revenue growth, which slowed from 55% in Q1 to only 39% in Q2 year-over-year.
Tencent has to consolidate its content and social media business to fend off the attacks from ByteDance, which is reportedly raising US$3 billion at a whopping US$75 billion valuation.
Losing some grounds to ByteDance in the social media business is not Tencent's only problems recently. The famously consumer-facing juggernaut is lagging behind Alibaba big time when it comes to cloud computing and industrial solutions.
Research firm IDC also revealed that by 2017, Alibaba already owns up to 45.5% of China's cloud services market, as opposed to Tencent's 10.3%. More importantly, the cloud infrastructure as a service continues an upward trend as of Q1 2018.
In an official statement announcing the restructuring, Pony Ma hailed the move as "a very important strategic upgrade as we step into the second stage of the Internet, the Industrial Internet era."
Tencent's technology dilemma
It's hard to believe but it's true that, Tencent, as the second-largest Asian public company by market cap and a technology-driven internet company, Tencent doesn't have a CTO, for the past four years.
Tencent's ex-CTO Zhang Zhidong stepped down in 2014 and, since then, Tencent has yet to find a replacement.
In the same statement Tencent put out, it noted that:
We will establish the Tencent Technology Committee to enhance open-source collaboration, innovation, and more efficient use of technologies across the company. We will continue to invest in cutting-edge technologies, stepping up our investments in AI, robotics and quantum research laboratories.
Tencent's current structure, admitted Zhang Zhidong in a company-wide internal speech, is problematic due to the invisible wall that isolated different departments, an issue resulted from the lack of a CTO to break down the walls and coordinate from a holistic perspective.
Setting up the technology committee could be an effort aiming to solve the issue, though the statement failed to mention if a CTO will be hired.
Tencent was founded in November 1998, as the company is set to celebrate its 20-year-anniversary, a much-needed restructure in its two decades history to address some of the challenges – from both internal and external – is the only way to ensure a steady stock market performance of the second-largest Asian public company.
Yet, it hasn't been able to come up with a phenomenal product or service after the birth of WeChat, and that was in 2011, a solid 7 years ago. In the interim, rivals like ByteDance outflanked Tencent and sort of beat the company in its own game.
And though Ma said in the statement that "The proactive reform marks a new beginning for the Company's next 20 years," the reform appears to be more of a reaction and response to declining share price, public criticisms, and chronic structure issues.
Editor: Ben Jiang