In early 2020, as the COVID-19 outbreak closed down most offline sales in China for months, livestreaming e-commerce opened a window of opportunity for panicked vendors. From restaurants and bars who never supported food delivery before, to movie stars, government officials, and corporate executives, it appears that everyone has found a channel on the internet to sell their products and services, and billions of Chinese were tuning in.
Many of them, burdened by the large inventory overstock, offered a large number of discounts, which resulted in record-breaking online flash-sale events almost daily.
SEE ALSO: Video | Are e-commerce and livestreaming a perfect match?
While most livestreaming content in other parts of the world concerning online meetings, e-classrooms,  gaming, and entertainment, businesses in China are embracing the technology as a new way of sales, reshaping the country's e-commerce scene.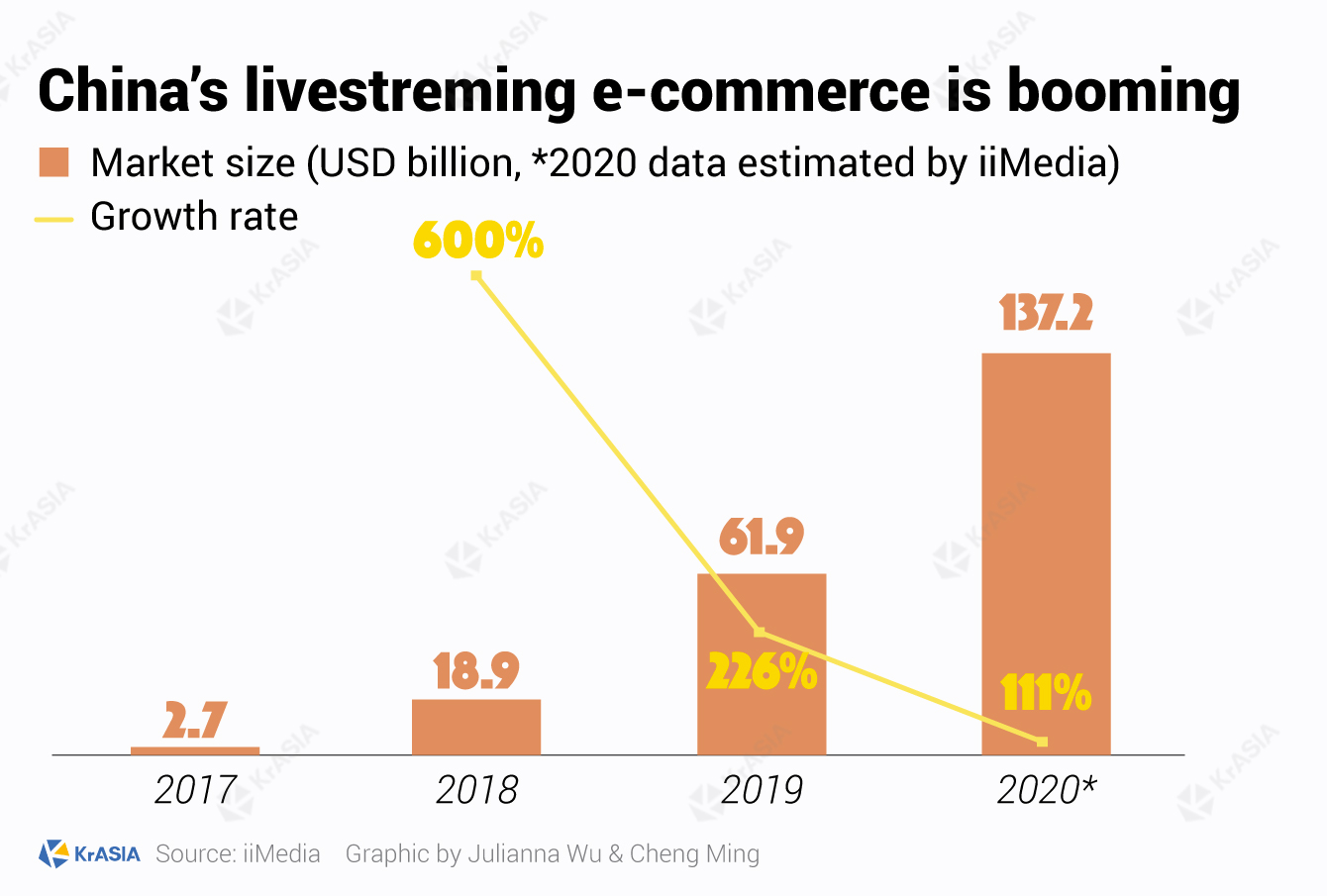 Livestreaming e-commerce is a thing
Back in 2016, when most e-retailers rely on nicely assembled graphics and text content to promote their products on social media and livestreaming were mainly for entertainment, Moguojie, an online shopping app focuses on female's apparel, took the lead to set up the first livestreaming feature that dedicated to e-commerce. Alibaba (NYSE: BABA; HKEX: 9988)'s Taobao and Tmall, China's biggest e-shop duo, and JD.com (NASDAQ:JD; HKEX: 9618), quickly followed by rolling out their own live channels and incubating influencers.
However, livestreaming e-commerce really took off when short video apps kicked in.
Fastfawrd to 2018, as more and more relatively common, ordinary netizens build fast online reputation using punchy, less-than-a-minute music videos, apps like Kuaishou, Douyin and its international version TikTok took to their large fanbase to the next step of monetization by introducing livestreaming.
In 2019, Taobao's livestreaming sold USD 28 billion worth of products, as KrASIA reported, that's around USD 2.3 billion per month. Meanwhile, according to social media campaigner Mianchao's data, Kuaishou's livestreaming e-commerce has already exceeded that in some months.
According to the research of Leo Moo Management Consulting Firm, livestreaming can convert 60% of the viewers to visit the vendors' e-shops, while conversion rates for short video content and graphic + text content are at only 40% and 10% respectively.

Short-video to steal the thunder of livestreaming e-commerce
While Douyin and Kuaishou may seem to fall short in terms of sales for now, in the future, with the help of their huge traffic and emerging e-commerce services, it may pose a threat to big e-commerce players like Taobao and Tmall.
As the country's most popular short video app, Douyin has some 400 million daily active users, while Kuaishou has 300 million. In the first half of 2020, over 170 million people watched daily livestreams on Kuaishou, KrASIA reported.
Moreover, both Kuaishou and Douyin launched their in-app e-stores in 2019, so users can just buy directly during the livestream sessions without leaving the app.
Right now, more than 60% of the products sold on Douyin were sold through its internal e-shop, while only 30% were linked to Taobao. In June, the Douyin Store generated gross merchandise volume (GMV) of USD 720 million, as data provided by the research firm BigOne Lab showed.
"Considering the prices of the products, Douyin Store is one of Tmall's direct competitors," said BigOng Lab's report: "Douyin Store and Tmall's sales volume and GMV share a lot of similarity in all price ranges."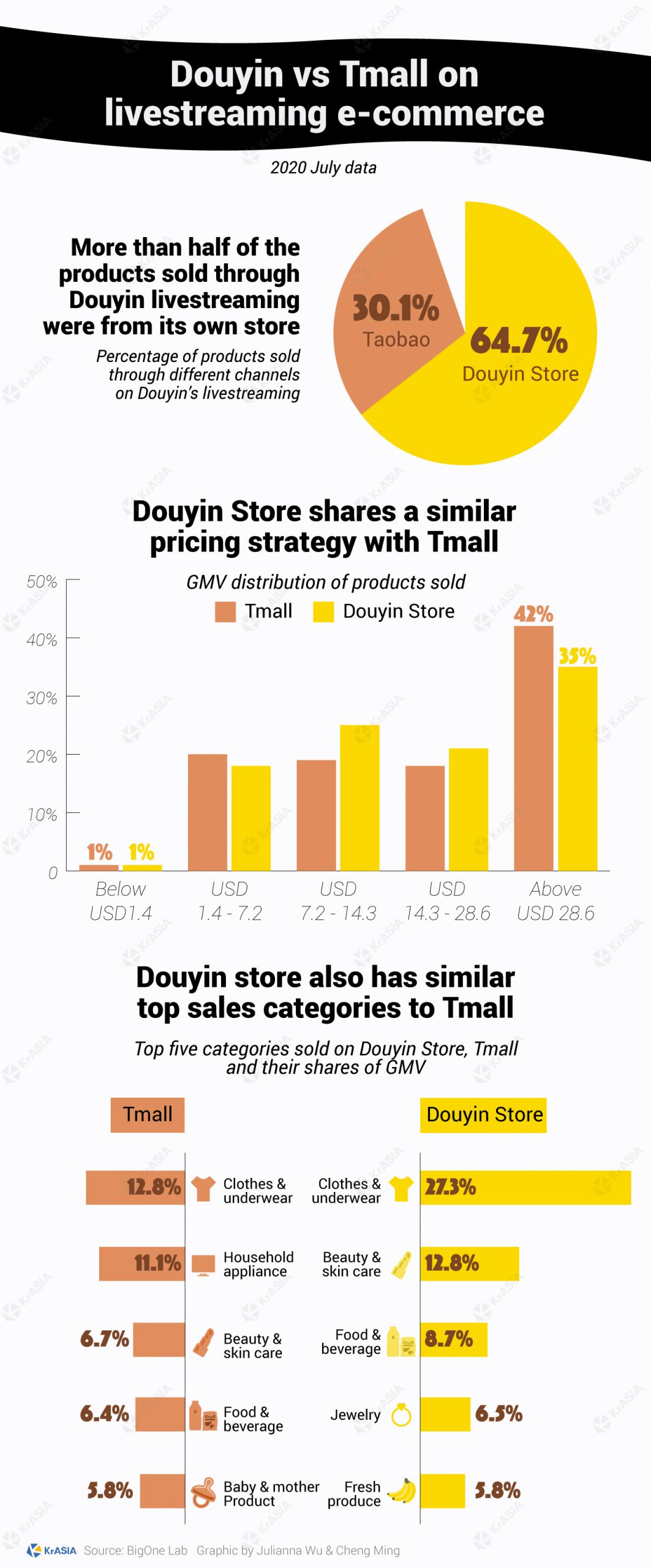 Comparing Tmall and Douyin Store's sales by categories, Douyin's top sales include more affordable daily necessity items, along with high-margin products like cosmetics or apparel. While Tmall has some big-ticket items like home appliances.
However, COVID-19 had again spurred businesses' creativity as netizens start to see relatively more expensive products like 3C (computer, communication, consumer electronics) products, while even cars and real-estate began showing up in livestreams.
Earlier this year, Viya, one of China's top livestreamers with over 18 million followers on Taobao, sold a rocket launch service⁠ for a "discounted price" of RMB 40 million (USD 5.6 million), KrASIA reported.
"Online peddlers"
China had its e-commerce boom in the early 2000s. After years of development, it seems that people don't need a salesperson anymore when making a purchase decision, online pictures, description and comments from previous buyers were good already.
Coming to 2020, however, the salesperson who lost their jobs due to the rise of e-commerce might be able to find their position again, through livestreaming e-commerce.
Li Jiaqi, one of the most popular e-commerce livestreamers in China today, is a vivid example, as his previous experience working as a salesperson for cosmetics brand L'Oréal in the shopping mall provided him with deep knowledge in the sector.
While livestreaming has rocked the world of e-commerce, it gave users a more humane and entertaining way of shopping. Even though the users may not have initially intended to buy anything, the persuasiveness of seeing their trusted influencers trying the products in front of them, and answering their questions nicely could be enough to close a sale. Afterward, it's just a few taps away before the well-packed goods arrive at their doorways.