The world is getting older — one only has to look to see the growing number of seniors among us. In Southeast Asia, Singapore and Thailand are forecasted to have over 25% of their population above the age of 65 by 2040.
This "silver tsunami" typically brings to mind higher demand for healthcare and eldercare. However, unlike in the past, the upcoming cohorts of seniors are likely to have the financial means to continue being major consumers.
Statistics show that today's seniors, together with working professionals aged 45 and above, are now the wealthiest age cohort globally. Collectively termed silver consumers, their growth, especially in Asia, suggests that there is burgeoning growth potential for companies looking to target this market segment.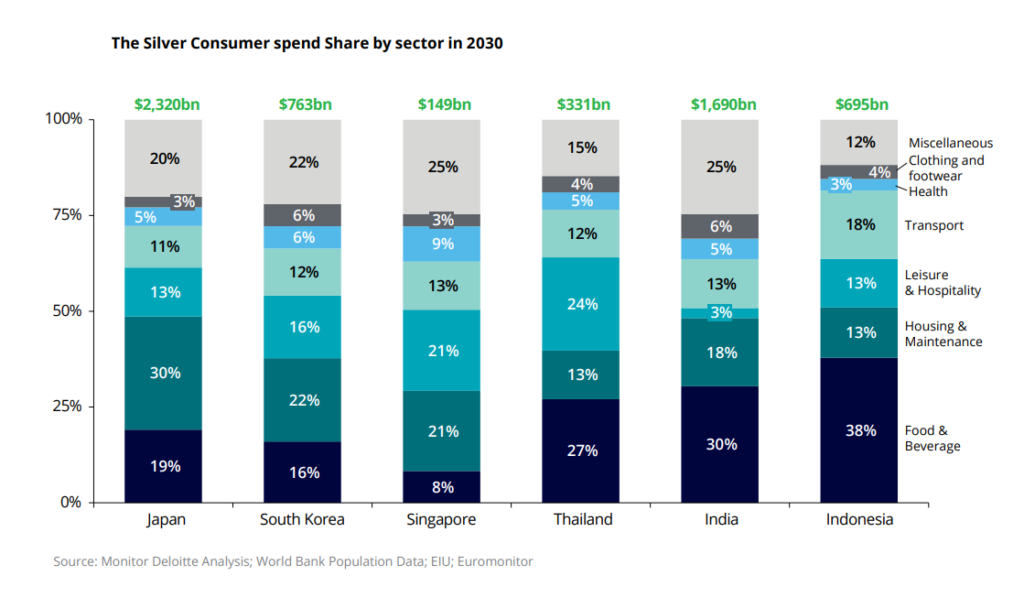 Technological advances are dramatically improving access to healthcare. Taking a more personalized and proactive approach to one's health by means of preventative healthcare and precision treatments is also enabling us to lead longer and healthier lives.
Hence, the increased prosperity and longevity of silver consumers mean that creative new platforms and solutions are required to cater to the evolving needs of seniors (and soon-to-be seniors).
Aging in place
Traditionally, the model of care for seniors is institutionalized care, such as nursing homes and hospices. However, there has been a gradual shift toward a model that empowers seniors to lead independent lives in the privacy of their homes while still receiving the care and support they need.
Research suggests that a large proportion of seniors would prefer to continue staying in their homes rather than move to a dedicated senior care facility. Staying at home not only enhances their quality of life but also reduces the pressure on healthcare and eldercare institutions, many of which are already struggling with rising manpower costs and infrastructural constraints.
At the same time, new and innovative technologies are already facilitating this transition by providing cost-effective and convenient solutions. The increasing ubiquity of voice technology software such as Amazon Alexa, Apple HomeKit, and Google Assistant, alongside the proliferation of smart devices, has unlocked numerous opportunities. Coupled with improvements in biosensors, these are invaluable in helping to create non-intrusive monitoring systems for seniors and other vulnerable groups. Often, these systems are also able to alert family members and emergency services if necessary.
Soundeye is one such Singaporean startup developing products that monitor spaces unobtrusively, keeping the user's privacy as a priority. One of their products, Lasso, makes use of laser technology and sound recognition sensors to detect and prevent falls. Lasso is being used in local hospitals and nursing homes at the moment, and the team is planning to launch in Vietnam next. Similarly, Malaysia-based Bluguard offers a smart system that allows users to remotely monitor their loved ones discreetly. Using motion sensors, the system can alert designated users when a period of extended inactivity or unusual activity is detected.
Beyond equipping homes with smart technology, wearables are another way of seamlessly monitoring users' health. Wearable medical devices not only help to relay real-time information to caregivers and medical professionals, they also empower individuals to take charge of their own health. They provide a convenient way for users to track their vital signs such as their heart rate and activity levels, and the information can be fed into databases and systems to support better healthcare outcomes.
Singaporean startup Microtube Technologies created ARIS, a fitness wearable that combines the measurement of biomarkers, such as muscle exertion and fatigue, with an AI algorithm to predict and recommend any necessary follow-ups. Similarly, Singapore's Aevice Health has created wearable devices that enable patients with chronic respiratory disease to manage their condition and receive targeted care from professionals, all from the comfort of their home.
These products illustrate how wearables can play an invaluable role in bridging the gap between physicians and patients. They can facilitate a seamless healthcare ecosystem suitable for each individual's preferred lifestyle, and enable seniors to live independently for longer.
Long-term care for the aging body and mind
Besides wearables, other types of active intervention are required to ensure that the elderly can manage their health conditions. The leading cause of death in every ASEAN country is attributed to a number of chronic non-communicable diseases, such as cardiovascular disease, chronic respiratory disease, diabetes, and cancer.
Therefore, effective healthcare for the aged needs to be more focused on personalized long-term interventions that enable the individual to manage their chronic conditions and actively prevent the development of new ones. To this end, the Institute for Digital Medicine at the National University of Singapore's Yong Loo Lin School of Medicine is piloting digital therapeutic solutions for the targeted treatment and prevention of various age-related conditions like cognitive decline, diabetes, Alzheimer's disease, and so on. As a start, they have designed a task-based game that can hopefully reduce cognitive decline.
A variety of healthtech solutions have also emerged for chronic disease management. Singapore-based Zealth offers a comprehensive solution for the real-time remote monitoring and management of cancer patients. Vietnamese startup, Jio Health, leverages its healthcare app and network of physical pharmacies to provide end-to-end healthcare services for a variety of medical conditions, including chronic disease management.
Dementia is also an increasingly concerning condition in the Asia Pacific region, with the number of afflicted persons projected to more than triple from 23 million in 2015 to 71 million in 2050.
Virtual reality (VR) technology has emerged as one of the key tools for managing dementia. In Singapore, SingHealth Polyclinics and Duke-NUS Medical School have collaborated with the Institute of Technical Education College West's technology team to study the use of VR to detect mild cognitive impairment in seniors. If successful, the study could lead to a more robust diagnostic tool for dementia than the present tests commonly used today.
Singaporean social enterprise, Mind Palace, utilizes VR to immerse people living with dementia in familiar locations or experiences, keeping their minds active, and potentially slowing their cognitive decline. The VR experience is modeled after reminiscence therapy, which has been shown to improve cognitive functions, manage depressive symptoms, and can even calm agitated patients down without the use of medication.
Fostering social connections 
Physical health is not the only aspect of health that seniors need to contend with. In the 2019 Deloitte report on the future of aging, some experts noted that mental health and behavioral health conditions, like depression and loneliness, will become some of society's largest problems in the 2020s and 2030s. This is why Singaporean startup Opsis has developed AI-based software that can determine a person's mental well-being by analyzing their responses and facial expressions. This allows for more accurate virtual diagnoses and care provision for mental health conditions such as anxiety, stress, and depression.
Social isolation is a major factor where mental well-being is concerned. People with strong social networks and higher-quality social relationships tend to live longer. Social media and community-building platforms can be used to foster and strengthen social connections among the elderly. A study by Singapore Management University found that using social media for interpersonal interactions and social connection can help to protect against age-related cognitive decline in executive functioning.
Chinese tech companies have been adapting and creating new products for their rapidly aging market ever since the Chinese government mandated "elderly-friendly modifications" to all tech products and services in 2021. All major Chinese tech products, including social media platforms like WeChat and Douyin, have been testing senior-friendly products with simplified interfaces, dialect-recognition voice command systems, and no mobile advertisements. Hongsong is a China-based social networking platform for retired seniors to socialize and build online communities based on common interests. They raised nearly US$100 million in a Series A+ round in 2021.
The popularity of such senior-friendly technology is partly because Asian seniors are much more tech-savvy than their global counterparts. Euromonitor's Top 10 Global Consumer Trends 2022 report found that their elderly Asia-Pacific survey respondents were more frequent users of social media than those in Europe and North America. This is unsurprising as seniors from China to Thailand have shown that they can use social media effectively for communication, and are even able to wield it effectively to the point of becoming social media influencers. These signify that the silver market in Southeast Asia is ready for the region's tech sector to look into providing senior-friendly modifications and elderly-focused social media platforms.
The time is now
The longevity economy is coming of age. Its financially-independent silver consumers with increasing life expectancies have driven up the demand for more senior-friendly products and services.
Many solutions that are emerging to tap into the longevity economy come from companies based in Singapore, China, and Japan. Yet, the sector is still nascent in the rest of Southeast Asia, despite the upcoming changes in population trends in these countries. While the populations in most Southeast Asian countries are still relatively young, a sizeable proportion is rapidly aging. Even if the share of seniors as a percentage of the overall population remains below 20%, the sheer size of markets like Indonesia and Vietnam still entails a fairly large customer base of (future) consumers.
Policymakers also have a part to play in facilitating this paradigm shift. Taking reference from China's example, Southeast Asian governments could encourage companies to redesign products, processes, and services to make them more friendly to different age cohorts.
In short, getting older is inevitable, but aging well doesn't have to be. The longevity economy will only continue to expand in size and value as the Gen Z of today inch towards becoming the seniors of the future. As these technology-reliant generations advance in their years, technology will only become more inextricably linked with aging. Beyond wearables, VR, and AI, there is a clear incentive for more dynamic solutions to be developed to address the needs of aging well.
About the authors: This article is co-authored by Richard Mackender, Tan Shuo Yan, Teo Zhixin, and Michelle Ng.
Richard Mackender leads the Deloitte Southeast Asia Innovation team, a cross-function, cross-country unit dedicated to driving innovation as a long-term value creator across Deloitte's Southeast Asia operations. This article was co-written with Tan Shuo Yan, Teo Zhixin, and Michelle Ng, members of the team.