The developments in Indonesia's digital economy are interesting to watch. In addition to mature sectors—such as ride-hailing, e-commerce, and fintech—agriculture is seen as the next big sector in the country's digital industry. One of the agriculture startups that are on the rise is TaniHub, a subsidiary of Tani Group.
Founded in 2016, Tani Group is a tech startup engaged in two main enterprises. Aside from TaniHub, an e-commerce platform that connects farmers with individual customers as well as supermarkets, hypermarkets, hotels, and restaurants, there's also TaniFund, which gives farmers the chance to manage crowdfunding campaigns.
The startup has been attracting attention in the country because President Joko Widodo namedropped TaniHub when discussing the role of technology in agricultural development during the presidential debate in February. For this week's "Startup Stories", KrASIA spoke with Pamitra Wineka, co-founder and president of Tani Group, about his startup.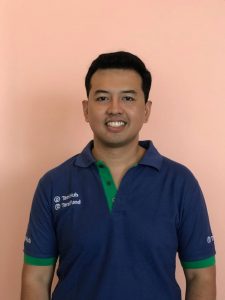 What made you start TaniHub?
Agriculture is a very important sector. It is the second biggest contributor to Indonesia's GDP. There are around 32 million people here whose jobs are related to agriculture; there is a huge opportunity to improve its inefficiencies.
Unfortunately, most farmers in Indonesia still live in poverty because they have limited access to the market. Agriculture has a long chain of middlemen between farmers and consumers, which tends to drive prices up and reduce profits for farmers. We believe that by improving the agricultural sector with technology, we can create more jobs and help economic growth in Indonesia to be more distributed—not concentrated in Jakarta and other big cities only.
How does your technology improve the agriculture sector?
Our mission is to simplify the farmers' supply chain and provide access to markets and finance. As we connect them with buyers, we can introduce new markets to farmers and therefore improve prices for both sides—farmers can earn more, while buyers can get cheaper prices. When farmers are relatively certain that their products can be sold, farmers can increase their production by 30%. Meanwhile, we provide financial access to farmers through the crowdfunding platform TaniFund.
We also focus on improving farmers' production through the supply of seeds, fertilizers, and technology, so they can produce the best commodities for corporate buyers.
What does TaniFund do?
Most farmers do not have access to banking. Banks usually only allocate 7% of loan funds to the agricultural sector, as providing loans for farmers is considered risky because they don't have credit scores and collateral. Since we have the e-commerce app TaniHub, where lots of transactions take place, we pull the data from TaniHub so that we can see which farmers are productive and what is in demand.
What makes TaniFund different from other crowd-funding platforms?
What makes TaniHub and TaniFund special is our end-to-end service. We have a team in the field to oversee the whole process, a team of specialists who assist farmers, and an e-commerce platform that is ready to absorb all their crops.
We provide funding based on our analysis. Only TaniHub farmers can apply for loans at TaniFund. The funds that we provide are also distributed to TaniHub in the form of seeds, fertiliser, and so forth. If the farmers need cash, we help manage their finances to ensure that the funds can be processed properly. All harvested goods will be absorbed through TaniHub.
This article is an entry of "Startup Stories", a series where KrASIA's writers speak with the founders of young companies in Southeast Asia.
Editor: Brady Ng