Let's face it – leadership is a tough job. In which case, it's imperative to know who is in our court when things go south. Or, as Sunita Kaur, senior vice president of APAC at Twitch likes to put it, our own personal "board of directors." These are people who we trust and grant accountability to speak into our lives beyond the auspices of work.
In her role at Twitch, Sunita oversees all operations for content creators, media partners, and agencies in the region. Prior to this, she was the vice president for revenue at Spotify. She has also held executive positions across Asia at Facebook, Microsoft, and Forbes. In this interview, she reflects on phenomena that she's observed in the tech space and her lessons learned.
Please see below for the full conversation with Sunita
Oasis (OS): Thank you for taking the time out to chat with us, Sunita. We're really excited to have you here today to share your stories with us. 
When we talk about leadership, there's no one size fits all rule. Right off the bat, I'd like to know more about you: what are the three values you hold most true to yourself in life?
Sunita Kaur (SK): When I look back at my professional career and what I'm currently doing, I think it all goes back to one value of "being true to yourself."
In the early days, we used to hear that you have to be more like a man to be in the industry. However, that just didn't work for me. I tried, and it just wasn't who I was. We're also often told that "we could have it all," but it's actually very important to determine what "all" means because different things can mean differently to many people. This is why I think being true to yourself and knowing what you really want is incredibly important.
Another mantra that I live by is being kind. You get so much further with those two simple words, be kind, than any other type of behavior. It's being able to encourage someone, celebrate them, or even not be pushy when someone is having a hard time. Most of the time, people are trying to find their way, and being hard doesn't bring the best out of anyone. Being kind takes a lot less energy.
The last thing is, don't be afraid to speak up. I think showing vulnerability at any stage of your life is absolutely fine. It helps you connect with other human beings because we're all humans at the end of the day.
OS: It's interesting that you talk about vulnerability and compassion because when people think of leadership, it's often about having the charisma and the presence when someone walks into the room. 
However, I feel that the best leaders are often those who actually want to be compassionate, but that's difficult. 
SK: I agree, and what you've brought up about charisma really reminds me of where I was in my career 15 years ago. I had started doing more presentations and really wanted to learn how to hold a room. Being equipped with wonderful presentation skills is one thing, but for someone that wanted to have more charisma, I ended up doing two things—speech and acting classes.
That was so different from regular management training because it really teaches you life skills. Presentation skills, commanding the room, and being able to throw your voice out—all of these actually encompass great acting. Going to acting classes gave me a bit of a security blanket and confidence in my body language.
OS: That's so unorthodox, but when you mention this now, acting classes sound like a great bet.
And you've been in the tech space for a decade—were there any changes in this evolution that you felt you could really appreciate and that you think was much needed? 
SK: One of my favorite things about tech is working with tech companies that have spent time with anthropologists. I spent quite a lot of time with anthropologists to understand from a tech perspective how we build for the human race. Fundamentally, it is a new way of doing an old thing. For example, the way we comment and share on social media platforms, those buttons are based on human interaction, just that we're doing it digitally now.
I think anthropology has played a big part in the evolution of technology, and the next big thing would be commerce. This speaks for me especially because I remember in 1999, one of my colleagues bought something off the internet with his credit card, and I thought he was out of his mind. Now, I haven't had cash in my wallet for a long time. I think payments and connectivity are going to be the two most exciting waves coming out and will inspire the way tech companies are built.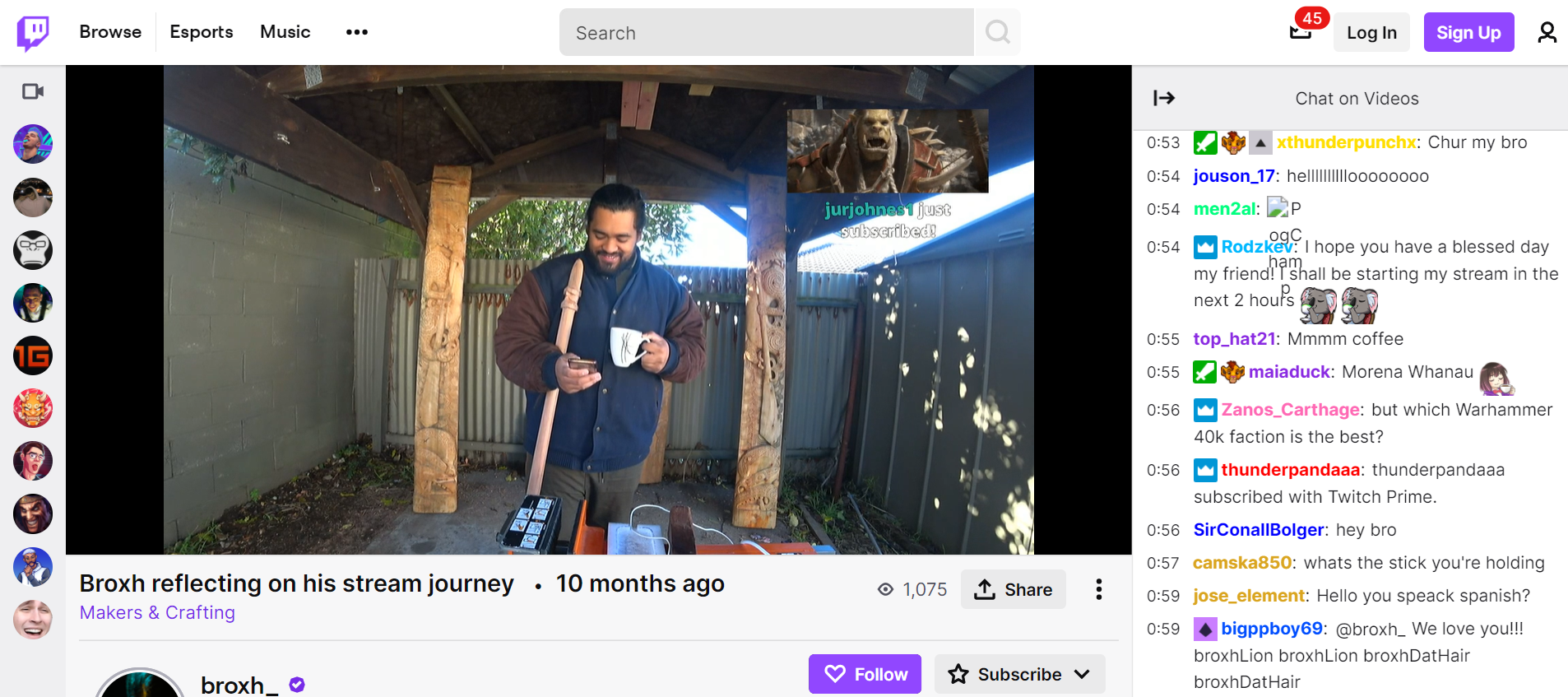 OS: For sure. I'd also like to know if there has been one of your most favorite but challenging moments in your career? Or something you felt you had to reckon with?
SK: To me, that moment came when I moved to Facebook. It was in the very early days, and social media was still on the rise. Again, I have to be honest—I had just started using Facebook, so I was still learning. I remember thinking, "Is this the future of the way we're going to communicate?" I knew I had to learn, so I reached out to a friend who had a 15-year-old daughter and asked if she could teach me about her world. That was also the beginning of me realizing the importance of reverse mentorship.
OS: You've mentioned reverse mentorship, and I feel that that's really a new phenomenon. People are talking about it more because of this new age of disruption.
Having moved across different companies and now at Twitch, I'm also curious about your leadership style. 
SK: On the topic of leadership, some of the best advice I've ever received is on forming your own personal board of directors in life. This is a small circle of people that can guide you along the way.
I formed my first board of directors 15 years ago, and depending on what stage of my life I'm in and what I need to learn, the group has changed. For example, I always have a CFO in my circle because I think that financial and tech trends are very intertwined. I also have a trainer whom I can work out with and talk with on important issues like health. There's also a psychologist in my life, and very recently, I started spending time with a futurist. What they do is to help pull together what they think future trends could be like, and it's the most fascinating thing I've ever heard about.
OS: Friendship and accountability are definitely important. Let's also talk about the idea of women in the tech space. Do you think there's enough exposure and credit given to women in the space currently, or how do you think women can better step into their roles in the ecosystem?
SK: I think we've definitely come a long way, but there is still work to be done. Recently, I've been thinking about how to approach this. Do we approach this from a woman's or man's point of view? One of the most important things I saw happen was at Spotify, when they were addressing parental leave. What they did was they announced six months of fully paid maternity leave and, in the same breath, six months of paid paternity leave. When you look at things from that angle, all of a sudden, it's really clear. It doesn't matter what gender you are when you're a parent. Nothing matters because you have a child whose life you want to be a part of.
There is also the persisting issue of the wage gap, so what we really do at Twitch is to encourage conversation. If one doesn't get an increment or promotion, always ask why. If the response is something that you can work on, take it on board. But in general, you chart your own future and career.
OS: I think what you've mentioned here is also packaging the way we really approach an issue and have conversations on how there's some kind of inequality at stake.
SK: My dream is that gender doesn't become a conversation topic. At Twitch,  we have our APAC Twitch Women's Guild. What's interesting is that recently, we spent time talking about this, and what came up was that ageism is a bigger issue for Guild members right now than gender. That comes back to a multigenerational workforce because some feel that they can do something more, but they've been told that they are too old.
This is why I think conversations are important because it reminds us constantly not to make assumptions. There are plenty of times I'm surprised at what people would like to talk about, and it sparks discovery. We all feel passionate about different things, but it's also to have empathy in being able to understand someone so that we can hear what others have to say.
OS: I like that, and this would probably link to my last question: what is an outdated piece of leadership advice you believe should stop being perpetuated? 
SK: There is a hot topic these days about being told: "you need to speak up." I think there are two sides to that because it goes back to leadership styles. In a meeting, you'll always have people that will speak up in every meeting, and you have people who are very quiet. I don't think you can judge a person's attitude and intelligence based on how much they speak up during a meeting. In today's workforce, you need people who will listen, understand, take it all in and come up with an idea or concept.
OS: Well, thank you so much for all the insights you've given, I appreciate it.
SK: No problem, it was a lot of fun taking a trip down memory lane.
Oasis, the brainchild of KrASIA, aims to provide a haven for human-centered stories on Asia's leaders. Click here to read similar stories.