Indonesia's largest e-commerce platform Tokopedia is entering its second decade. On its tenth anniversary, the firm expressed interest to become a "super ecosystem" for local customers and businesses. According to to recent research by the University of Indonesia's economic and social research institute, Tokopedia is projected to contribute USD 12 billion to the Indonesian economy this year, factoring in transaction value, the number of jobs created, and the rise in sellers' income throughout the country.
The company recently made headlines when its co-founder and CEO William Tanuwijaya announced plans to go public within the next few years. This has been generally well-received by the public and analysts, considering that the company has been proving its positive track record in Indonesia's digital economy. In fact, this move is expected to pave the way for other tech companies to follow suit.
KrASIA recently sat down with Tokopedia's president Patrick Cao to discuss the company's business strategies and the details of its IPO preparation.
KrASIA (Kr): William has publicly said that Tokopedia will focus on "go local" rather than emulating its peers by going international. Can you please elaborate?
Patrick Cao (PC): Small and medium enterprises (SMEs) are the backbone of the Indonesian economy. Today, there are more than 60 million SMEs in the country, and we contributed by empowering 6.6 million of them as of last month. Not only have we helped existing SMEs, but we have also created new batches of entrepreneurs with our platform. According to recent research by the University of Indonesia, Tokopedia has created 857,000 new jobs, from active sellers residing from Aceh to Papua, which is equivalent to 10.3% of total new jobs for Indonesia in 2018.
We currently have 350,000 mom-and-pop shop partners, what we call "Mitra." We leverage our technology and platform to provide value-added services to them. For instance, we help them to restock their inventory faster through the "Grosir" feature, and we have provided them with working capital so they can purchase more (inventory) faster too. We designed the Mitra Tokopedia app simply so that they can grasp it quickly. After one year, the app has been downloaded by over two million Android users.
At the same time, we also helped build better infrastructure with technology, especially around logistics and fulfillment, also leveraging on technology to get the goods closer to shop owners as they can even choose to become a pick-up or drop off point. It creates a more level playing field, provides equal access to goods and services, and is therefore a new business opportunity for them.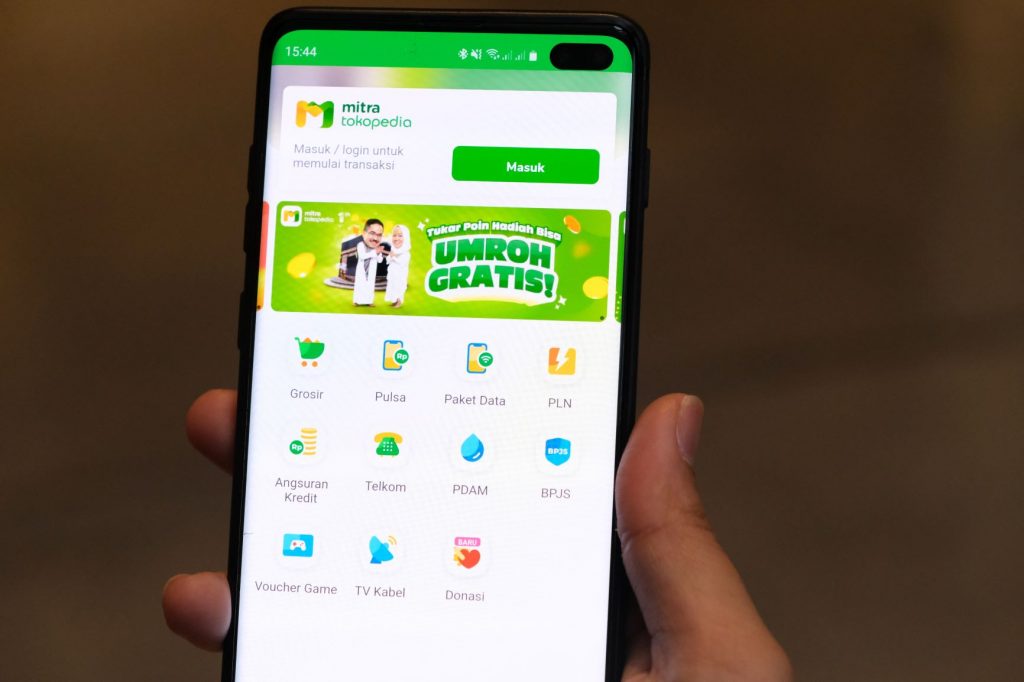 Kr: Do you work with local governments for that?
PC: Yes, we are aware that customers in small villages have different needs and preferences than those from Jakarta, so we personalized our services for them. In terms of SMEs, we have Tokopedia Center that is spread across various villages and districts. It is a digital learning and experience center where SMEs can learn how to be a merchant, how to use the app, make online-to-offline (O2O) transactions, use digital payments and financial services, and more. Most recently, we collaborated with the West Java government to expand access of empowerment to the rural community through various initiatives, one of which was opening a Tokopedia Center in a small village called Sukanagara. You'll see us launch a significant number of centers within the next two years.
Kr: Is that true that you plan to export products from Tokopedia's merchants too?
PC: First and foremost, our intention is to build the best technology to enable logistics and fulfillment in Indonesia and leveraging on our partners. So we have the data, traffic, and tech. Once we're able to cover all of Indonesia and provide equal experiences across the country, it's not out of the realm of expectation that we will leverage the same logistics and fulfillment services to help them export. In the meantime, we should focus on building the best experience in Indonesia first, because that's already a very big opportunity. Once we've been able to achieve that at scale, then exporting is an option we can consider.
Kr: With over 90 million monthly active users and multiple verticals, what growth stage is Tokopedia at today?
PC: Honestly, I can see this: we're just getting started. If you think about any penetration metrics, be it e-commerce, digital payments, or tech-enabled logistics and fulfillment in Indonesia, I think that we and our peers have all built great businesses. But if you look at where we are versus our peers in China or the US, we have still a long way to go. We're still behind them. Our transaction numbers look big according to recent research, that we are estimated to contribute 1.5% of the country's GDP. But compared to the entire commerce contribution, it is still low. So there are still so many opportunities in the core verticals and there is huge room to grow.
Kr: The news about Tokopedia's IPO plans has been swirling around the media in the past month. Can you tell us about its preparation so far?
PC: I see this as a positive development because it means we've reached a certain scale. In terms of preparation, honestly, we've been preparing for this for a long time. Since I joined the firm as CFO three years ago, we've consistently ensured that our corporate governance compliance is at the highest standards for Indonesia, and matches international best practices. I think it is crucial for us to be listed in Indonesia as we focus on an Indonesia-only market. However, the dual listing part is equally important to secure access to larger pools of liquidity. And beyond the nuts and bolts infrastructure, William and I talked about what the market is like today, whether it is the right time given market volatility, macro conditions, and sentiment, because all of those things are important.
And the final and probably the most important thing is to understand the health of our business. I think we've done a lot of work around improving value-added services for both our merchants and customers, and that's reflected in our tick rate which drives revenue. At the same time, we've been doing cost optimization for quite a long time now.
I believe you're starting to see a more rational approach from our side in the market. You won't see us do big shopping festivals like 11.11 or 12.12 promotions the same way that our peers are, as I don't think running double days promotion is actually very healthy. Our core focus is all about product innovation to improve customer experience because that's how you build a sustainable business. At the stage that we're currently at, it makes sense for us to start thinking about an IPO because it really is a validation of everything that we've built in the last ten years.
Kr: Are you considering to list in New York, like what Alibaba did, which was a huge IPO debut success story?
PC: The biggest difference between us and them is that we'll do a local listing first. Whether we choose the US for an international listing, it depends on when we list and what the market conditions are at that time. An IPO debut is very complicated but my team members and I have taken a number of companies public in our previous ventures. So we can build upon that experience and, of course, the experience of our shareholders—such as Alibaba, Softbank, and Sequoia, which have portfolios of companies that have successfully gone public—will also help us figure out the when and the where. We're very excited to get there.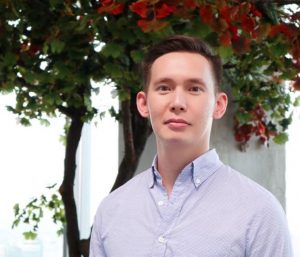 Kr: What will Tokopedia's business focus on next year and beyond?
PC: Lets's start with the mission to democratize commerce technology in Indonesia. The definition of commerce is largely the same, but there are pieces of evolution to that. First, for physical goods commerce, we're the largest in the country. Second, we help business and brands inside our platform grow at a fast pace. The third one is around digital goods. We recently announced a partnership with the government to launched payment features for more than 900 types of state administration services, including tax. It is important for us to address every necessity for Indonesians and we will continue to improve those products and make them even more seamless.
The final thing is to continue improving local services, which is why I think our acquisition of Bridestory this year was very important. We're basically bringing the best team for services to help strengthen our female-focused services such as weddings, as well as those for mothers and infants. I can see us extending that to home and living and other key use cases in the future.
Apart from the commerce area, another thing that we'll continue to do is improving infrastructure as a service that makes the commerce experience better as logistics and fulfillment help merchants scale faster. We'll also keep focusing on developing financial services and payments. The bankable population is still low, so we want to unlock that potential to support a larger ecosystem, whether merchants, customers, or shop partners. Those things will continue to be our focus in 2020 and beyond.
Kr: Speaking of acquisition, as it is common to see big tech companies acquire smaller startups, we assume that Bridestory wouldn't be your last acquisition, any future plans that you can share with us?
PC: Bridestory was the first full acquisition we made. That's actually not our normal modus operandi because usually, we carry out partnerships and support entrepreneurs by leveraging on our capital, data, and tech. Bridestory, however, was an exception because we found that full integration would be better for both companies. We're always looking to capitalize on our resources to support other tech companies, but whether we'll make other acquisitions, depends on what the big family [of stakeholders] wants, and how it would benefit both parties, especially from a strategic perspective. But for now, there's nothing that we can disclose.
Kr: Besides focusing on developing the core business, what other factors have contributed to Tokopedia's success?
PC: I think the focus on the Indonesian market is an advantage. We don't get distracted even when our peers expanded regionally or globally, because we realized that this is not our area of expertise. We've been in competition with local and international players for ten years but our deep penetration and understanding of the local market has benefited us greatly so we don't have any plans to go abroad.