Israel has always been a peculiar nation and has established its name in the global startup scene, despite being a relatively small nation. It has a population size of close to 8.5 million that pales in comparison to larger nations like China, India and the US that have approximately 1.5 trillion, 1.4 trillion, and 327 million people respectively.
It recently hosted the Digital Life Design (DLD) conference – part of a global conference network – in Tel Aviv for the 8th time.  This is also Israel's largest high-tech event that saw more than 110 international delegations coming together to share their knowledge in the digital technology space.
The past ten years for Israel's high-tech scene have been nothing short of spectacular,  says Dr. Amiram Appelbaum, the Chief Scientist of the Israel Innovation Authority, whom KrAsia met at the sidelines of the event. More and more of the world's largest companies set up R&D centers in Israel.
The tiny nation is now home to 6,500 startups, 330 Research & Development (R&D) centers, and 360 venture capital funds, says its Ministry of Foreign Affairs. Israel has been dubbed the "Startup Nation" for having the most number of startups per capita. In 2017 alone, it added 700 new startups in a wide variety of fields from medical technology, education technology, advertising technology to autonomous systems.
Israel also spent 0.4% of its GDP on venture capital investments, beating countries like the US, Canada, South Africa, and Japan, according to OECD data from 2016.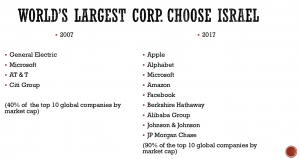 The list of extraordinary achievements goes on. Israel has only been an independent nation for around 70 years, but it contributes an unusual amount of patents and academic papers, and ranks second in the world in terms of Research & Development (R&D), according to the Global Innovation Index in 2017.
It's a bit of an economic miracle story and many have tried to understand which factors gave rise to Israel's innovation and entrepreneurship power. Edouard Cukierman, who's written a book about this topic — recently published in Chinese — thinks it's far from a mere coincidence.
The Israeli Culture & the Hi-Tech Ecosystem
Like other innovation ecosystems, the Israeli one consists of the multinationals, the Israeli military, academy, government, and VC funds.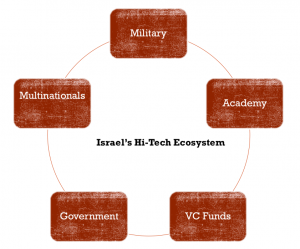 The one common thread in all of these is the strong Israeli government support. The government has its hands in coming up with quality education programmes to produce software engineers and researchers, design attractive policies to attract the multinationals, and it even kickstarted Israel's own Venture Capital (VC) industry back in 1993.
But government support does not necessarily explain why the Israel high-tech industry flourished to this degree. After all, while many central governments have some policies and initiatives in place to support their respective innovation ecosystems, Israel's tech ecosystem is like no other.
Another interesting point is Israel's geographical location. Facing daunting challenges from neighbors such as Syria, Lebanon, Jordan, and Egypt, Israel has developed a strong military force. The Israeli Defense Force Unit 8200, an intelligence unit, is one of the major movers in Israel's high-tech ecosystem. Fraud Sciences, for example, a startup formed by an 8200 alumnus, is based on military technology that helps identify terrorists. It ended up being acquired by Paypal to help with fraud detection.
Yet other countries that practice mandatory military service, like Singapore and South Korea, don't have high-tech innovation at the level of Israel. And venture funding has also been widely available in these countries.
So since we could rule out both government support and military practice as the unique drivers behind Israel's successful tech scene, what else, then, contributes to Israel's comparative advantage?
Possibly its unique culture and long, difficult history. Albert Einstein once said, '' In the middle of difficulty lies opportunity''. This statement holds especially true for the people in Israel. They never had it easy.
During the dark Holocaust period, Jews were fleeing and adapting in foreign lands just to stay alive. Against all odds, Israel came back as a nation in 1948 and the Jews returned home.
However, a new set of obstacles soon awaited: how to transform the Israeli desert into a prosperous and modern country for the Jewish people.
Israel continues to innovate in agriculture technology until today. Startups in this area include Netafim — a dripper, or sprinkler producer that helps with sustainable agriculture, and Watergen — devices that capture water from the moisture in the air.
The trials and tribulations that have plagued the Jewish people for ages have taught them one thing: the constant need for reinvention. This translates into a culture of having a fearless spirit and to be unafraid when it comes to taking on risk. The more one went through, the more one dares. Calculated failures are not frowned upon in Israel.
Turning failures into successes
The 90-95% failure rate amongst startups is in the same in Israel as anywhere else, but Israelis remain steadfast in their belief: failure is the mother of success, explains Appelbaum, of the Israel Innovation Authority. There is no finger pointing or shaming and people are free to start again.
The failure of Better Place – an Israeli startup that developed the model and infrastructure for electric cars – is a case in point, he says. The closure of Better Place resulted in temporary job losses, but its ex-employees ended up creating another 44 new startups. They must have learnt something from the previous failed venture and are now able to contribute back to the Israeli high-tech ecosystem. Better Place's founder Shai Agassi has a very interesting view on success and failure.
Effectively, this creates a robust startup foundation for Israel's hi-tech world, says  Appelbaum, where Israel is constantly inundated with startup vibes and fearless determination.
Shani Zanescu, founder of Isratech Ventures, told KrASIA about her entrepreneurship journey. She also said how the freedom to fail — a ''why not just try'' attitude gave her the confidence to start out on her own.
If a startup crumbles in Israel, people can always move on to try again or even find work at a big corporation and that is just how it is in Israel, according to Zanescu.
The Israeli government also has a risk-taking attitude, at least when it comes to spending on research.
Israel is one of the largest spenders on R&D, comparable to countries like Switzerland and Finland. Its commitment to spend 4.3% of the country's GDP on R&D is unusual for a small country, especially when the global average of R&D expenditure is only around 2.4% of GDP.
Costly R&D with high failure rates poses an extreme risk to a small nation where natural resources are scarce. Elad Ratson, Director of Research and Development (R&D) of Israel's Ministry of Foreign Affairs, told KrAsia that a typical R&D project entails 4 failures out of every 5 attempts.
But that doesn't deter the government from pledging hundreds of millions of dollars on developing technologies of the future, namely in areas such as precision agriculture, quantum technology, autonomous systems and internet of things (IoT) & sensors.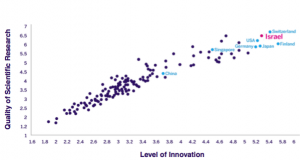 The spirit of reinvention also brings about a certain boldness in people, Israelis say. Chutzpah, as it is called in Hebrew, is the audacity to question and test views openly. It leads them to constantly challenge the authority's rationale and that might make Israel's high-tech startup landscape different from the US and China.
A common thread among Israeli startups is this: They think it's just as important to produce technologies for global use – technology that makes everyone's lives better – as it is to build a massive global tech firm. Becoming a mammoth brand like one of the FAANGs – Facebook, Amazon, Apple, Netflix, Google – in the US or the BAT –Baidu, Alibaba, Tencent – in China isn't the only way.
Israeli inventions are less visible technologies like the microchip that transformed gigantic computers into the laptops that you now hold, or Mobileye's automotive technologies that are now being used to shape the future of mobility services.
Intel acquired Mobileye for an eye-popping US$15.3 billion to complete its end-to-end autonomous driving platform to fill the huge gap, and more importantly to boost the safety aspect in driverless cars. And that deal in 2017 – was by far the biggest exit, at least over the past 4 years.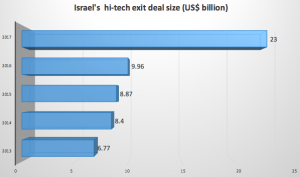 Israel does have many big companies listed on NASDAQ as well, but they only account for 12% of the total number of startups in the country.
This country's comparative advantage is hard to emulate and no sane country will wish to be in the same predicament as Israel.
But perhaps the ability to embrace failure and develop out-of-the-box thinking to solve challenges is something that can be learned and universally applied, for example in Singapore.
A closer look at how Israel deals with present challenges
Many would think most of the people in Israel would be somehow part of the high-tech ecosystem. But, the truth is only 8% of the Startup Nation's population are in high-tech, with a whopping 75% of startups crowded in Tel Aviv, according to Appelbaum.
One way to tackle the problem is to tap the untapped. The Arabs, ultra-orthodox Jews, and women are minority groups that have barely ventured into Israel's high-tech ecosystem.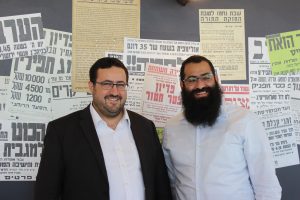 Ampersand – a co-working space for ultra-orthodox Jews – was created to fill a gap.
The ultra-orthodox people traditionally study the Torah and nothing else. But Ampersand is now taking a bet, offering them a chance to learn computer science and English for free.
This requires believing that ultra-orthodox Jews can manage a startup, on top of upkeeping their traditional lifestyles.
Hybrid is a venture aimed at the Arabs. It's an accelerator program for startups that include Arab founders. The goal is to change the risk-averse mindsets among young Arabs who tend to prefer more stable careers like becoming lawyers and doctors.
iAngels, a crowdfunding VC, is part of the solution for another minority group – women entrepreneurs. This network created by women for women helps female founders gain financial support.
Singapore, as a multicultural nation, might take a cue from this as it faces the same struggles in its push to become a smart nation. With the recent case of a cyber attack on SingHealth, the national health insurance database, it's clear that investments in R&D and improved cybersecurity measures are more important than ever.
More risk-taking ventures, courage, and asking the hard questions could be something Singapore can seek to emulate. It's equally relevant for countries like China, or the multi-faceted culture of Southeast Asia. Daring to venture out with unconventional strategies – instead of relying on tested business models and angling for an advantage through the practice of price war – could be a more effective way to explore the potential of the region.
Editor: Ben Jiang & Nadine Freischlad