This article is part of KrASIA's "Spotlight" series, where our writers from different editorial tables work together to give you a closer look at the tech scene in Asia. Read more about how China's B2B tech startups are flourishing under the radar here, and learn how the B2B space is developing in India here.
Oliver Tan founded a visual AI company in 2012, originating from deep research that Tan and his co-founders conducted at the NUS-Tsinghua Extreme Search Centre (NExT). He believed it was astonishing technology, but for it to be a sellable solution, he had to match it with a problem.
At the time, e-commerce was still planting roots in Southeast Asia, with only a few entrants like Tokopedia, Lazada, and Zalora. Consumers were getting a feel for more formalized online shopping, but they often had trouble finding the items they wanted as the search functions lacked sophistication. Tan found his problem. This gave him the idea to apply machine learning and computer vision in the context of retail e-commerce to help consumers search for and discover products using images rather than typed text.
"People were constantly relying on keywords to look for products, but the products may not necessarily be described properly by sellers. Consumers tend to respond better to visual images of the products. All they have to do is look at the image, and they can confirm that it is the product that they're looking for," Tan said to KrASIA.
Several professionals joined Tan to co-found ViSenze—a portmanteau of "visual" and "sense." The company's products include image search, a tool that recommends visually similar products and automates product tagging.
"If you go to a fashion site like Zalora, you'll see recommendation panels at the bottom of the product display page. Our visual capabilities feed into their recommendation engine to offer products that users may like," Tan said.
Today, ViSenze serves over 900 enterprises globally, most of which are in the retail and e-commerce space. The firm counts JD.id, Zalora, Uniqlo, and Rakuten as its clients. By using ViSenze's solution, an e-commerce platform can increase its engagement rate by up to 70%, Tan said.
ViSenze is one of many B2B companies in Southeast Asia that focus on delivering enterprise tech solutions to clients' systems. These companies may not be household names, but they help ensure a smooth user experience.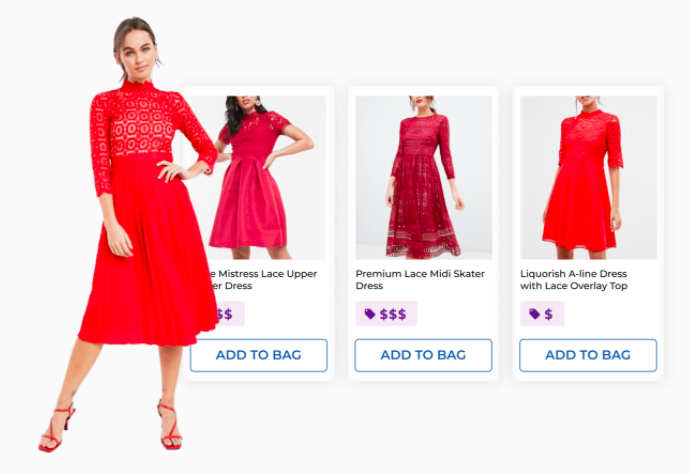 Southeast Asia is a hotbed for B2B developers
Southeast Asia's tech ecosystem is currently dominated by companies that directly cater to their end consumers, with major players like Grab, Gojek, Tokopedia, and Shopee.
"Early venture ecosystems are often driven by general marketplace models, which are predominantly initially B2C in nature. It takes time for businesses to adopt technology into their operations," said Eddy Chan, founding partner of Intudo Ventures, which backs several B2B tech startups.
In general, B2C companies grow faster than their B2B counterparts. The patterns of development around the world, like in nearby China, attest to this point. We like to shop, we need to commute, we like to travel. Consumer solutions have a far larger market than specialized B2B solutions, and B2B companies generally have a much longer sales cycle.
Whereas, say, a firm that streamlines production management for a textile producer requires direct client outreach. The sales cycle for a B2C fashion e-commerce site, for instance, involves procuring products from suppliers, placing listings on sales portals and social media, promoting new products through ads or influence marketing, and eventually luring end customers. 
"B2C companies often adopt a model that depends on the accumulation of individual users signing up to their business, often at low margins and through subsidies, creating a race to the bottom," said Chan.
But that does not inspire customer loyalty. Without a significant technical or regulatory moat, these customers can be won over by competitors through lower prices, giving companies with flush capital an advantage in retaining their user base but often sparking subsidy wars, Chan added. On the contrary, enterprise service providers have a grind-based model, where their software must yield visible, measurable results on day one. There is little space to fall short of expectations.


Landing just a handful of contracts could make a world's difference for firms that offer B2B tools for other businesses. "B2B companies depend on other enterprises to build up their client base—with the revenue from one or two clients sometimes matching the revenue that a consumer-facing startup would receive from tens of thousands of individual users," Chan said.
B2B enterprise tools essentially form the plumbing of a business. Overhauls are costly in terms of both cash and time. It's little wonder that enterprise customers screen service providers with greater scrutiny before plunging in. In fact, 74.6% of B2B sales take at least four months to close, according to a study by CSO Insights. A report from Gartner mentions that the decision-making process of adopting a complex B2B solution involves six to ten people. Each of them may have four or five pieces of information that they've gathered independently. Piecing them together to form the full picture takes time.
But once a client signs on, they tend to stick with their contractor, giving B2B providers stable revenue forecasts, Chen said.
As unwieldy as the current process may be, B2B tools like those offered by cloud-based retail analytics company Trax and IP management platform PatSnap are essential to the advancement of business in every sense. They have transformed their clients' operations by supplying patent and business intelligence that foster informed strategic decisions or offering services like inventory optimization and shopper engagement so retail clients can unlock sales potential.
Southeast Asia's B2B unicorns have found lucrative winds in their sails. Trax bagged USD 640 million from Softbank Vision Fund 2 and Blackrock in April, while PatSnap snagged USD 300 million, also from Softbank Vision Fund 2 and Tencent Investment. "We are very bullish about B2B markets as we have already started looking at them, even before they became sexy," said Carmen Yuen, a partner at Vertex Ventures, who is an early investor in PatSnap.
Despite the lengthy sales process, traditional companies must embrace digitization so they don't fall behind. This means enterprise tech is a relatively open field. "This is similar to deep tech and cybersecurity. We believe Singapore is a breeding ground for companies in these sectors," Yuen said.
The global mindset in B2B services
To paraphrase what Marc Andreessen, co-founder of venture capital firm Andreessen Horowitz, said a decade ago, SaaS and AI are eating the world.
Nine years after Oliver Tan established his company, ViSenze now has offices in the US, Ireland, China, South Korea, and Japan. The company's business in Southeast Asia makes up less than half of its overall business, while a large portion of ViSenze's customers are in North America, Europe, and East Asia, according to Tan.
"Unless you are building a localized product like AI voice recognition for the Indonesian language, most SaaS businesses are across the border," he said. In ViSenze's case, major brands in fashion and home decor are in Europe and the US. Tan said that he doesn't have any direct competition that is solely in Southeast Asia, as ViSenze's competitors compete on a global scale.
Other major SaaS firms in the region follow a similar pattern. Originally hailing from Singapore, PatSnap decided to expand quickly to China just one year into its operations because the firm was ready for more customers and a fresh talent pool. It now serves global enterprises and research institutions in Singapore, China, the US, the UK, and more. Meanwhile, Trax says it has more than 250 manufacturers and retailers worldwide as clients, including Unilever Greece, Paris-headquartered pharmaceutical company Sanofi, and German consumer goods firm Henkel.
Although successful regional B2B solution developers all had the vision to head abroad early on, there are inherent challenges in building and deploying tech solutions like SaaS in Southeast Asia, Tan said. "Southeast Asia is very fragmented with ten unique markets, whereas if you go to Europe or North America, you'll see huge homogenous markets, so you can build products to address the needs of companies in these regions quickly. And of course, they have big budgets," he said.
In a counterintuitive development, a global client base gives Southeast Asian B2B firms the ammunition to convince potential clients at home that their offerings are worth the price tag.

More unicorns to join the herd?
In more mature markets like the US and China, big tech companies make money from enterprise clients as well as end consumers. For the time being, Southeast Asian tech leaders are following that trajectory, but on a much smaller scale, Tan said.
Take Grab and Gojek as examples. They both have B2B services meant for small and medium-sized enterprises, like Gojek's B2B marketplaces GoFresh and GoToko, as well as GrabKios by Kudo. The two firms also have services for corporate clients that cover transportation and food, but they have fewer corporate services than consumer offerings.
Chan said companies that initially start with B2C models are able to accrue unique industry resources and user data, which can then be processed into corporate- or government-facing products. "Several unicorns have started with consumer-facing business models and gradually rolled out business-facing models based on accumulated resources and expertise. For such unicorns, they need to maintain business growth to rationalize future outlook."
With little space for growth in the consumer space, unicorns expand into enterprise and business services to add a new line to their operations. B2C moving into B2B is quite common for maturing companies, while the other direction takes much longer to cultivate, Chan said.
The business model utilized by most B2B companies is straightforward. They typically invest more to develop proprietary applications instead of burning money to acquire swathes of customers. Moreover, services like enterprise software and business analytics usually have a long-term subscription model, so it's easier to manage customer retention. With steady revenue streams, numerous enterprise tech companies have managed to raise eight- or nine-figure investments.
There are at least 15 B2B tech companies in Southeast Asia that have raised more than USD 50 million in funding, according to data compiled by Tech in Asia. Besides Trax and PatSnap, other well-funded companies are biotech firms RWDC Industries with USD 168 million and Biofourmis with USD 158 million, and analytics company Near that has raised USD 134 million. Meanwhile, ViSenze has raised around USD 34 million from various investors, including Gobi Partners and Rakuten.
"These companies demonstrate that Southeast Asia can create enterprise-caliber technology and are paving the way for enterprise [services] to be taken more seriously in the region," said Chan.
Most of these firms have Singaporean roots, although a handful have shifted their headquarters to the US and Europe to be closer to their prospective clients. These moves also allowed them to work with local partners, making it easier for companies to augment their solutions and raise new investments. In a recent interview, PatSnap co-founder Dian Guan said that selling products to American companies as a Singaporean is a difficult task, so PatSnap must form dedicated local teams to market their products. 
More than likely, we will see even more unicorns emerging from this segment. "All big enterprises today need to adopt digital tools and tech solutions to increase efficiency and sales. The demand for enterprise tech is high, so there is a huge opportunity for B2B tech companies to grow even further," said Vertex's Yuen.