While Chinese consumers splurged on this year's Singles' Day sales, Southeast Asian nations also embraced the annual shopping bonanza. This year, Sea Group's e-commerce firm Shopee set a new record of selling 200 million items in 24 hours, up 186% from last year's 70 million products, while Alibaba-backed Lazada said it hit USD 100 million in transactions "in less than half the time" compared to last year.
Surging e-commerce demand has sparked a logistic boom too. As one of the region's largest logistics tech firms, Ninja Van counts Lazada, Shopee, Tokopedia, Zalora, and Bukalapak as its e-commerce partners. "With a higher baseload, we do expect this to be the largest peak that we have ever done," said Joel Ong, Ninja Van's chief operating officer (COO) to KrASIA. 
The firm bagged USD 279 million in its Series D funding in May, taking the company's total funding to nearly USD 400 million, according to Crunchbase. The capital injection was one of the biggest in Southeast Asia this year, as COVID-19 continues to hamper the global economy.
Founded in 2014 by Singaporean entrepreneurs Lai Chang Wen, Shaun Chong, and Tan Boxian, Ninja Van's Southeast Asia operations cover Singapore, Malaysia, Indonesia, the Philippines, Thailand, Vietnam, and Myanmar. The firm runs on a hub-and-spoke model, meaning that Ninja Van will collect the cargo from its origin point and transport it to a central hub. Then, the parcel will be delivered to the receiver through a local fleet service. Other players in the region like GoGoVan and Lalamove operate instead a point-to-point model, being directly responsible for the transportation of a package from the sender to the receiver.
KrASIA recently spoke with Ninja Van's CEO Lai Chang Wen and COO Joel Ong about Ninja Van's future plans and the rising demand for delivery services for the year-end shopping festivals.
The following interview was edited for brevity and clarity.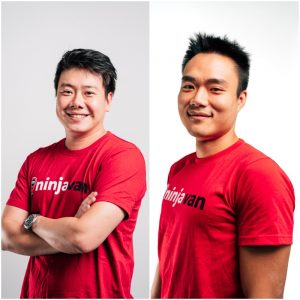 KrASIA (Kr): This year's Singles' Day had an even broader reach than the previous year. How did that impact the demand for delivery services?
Chang Wen Lai (CWL): It's about getting delivery services faster. I don't think we are seeing much demand for a two-hour delivery service. Customers assume the delivery service to be affordable, but what consumers are clamoring for is hassle-free and reliable delivery service. Consumers are asking for more immediacy in response, more engagement, more interaction.
We have launched tools like Ninja Chat, which allows consumers to interact and communicate with us directly, to find out more about the orders, to have someone on the other line, instead of calling a black box customer service hotline. We are pushing toward more tech-based interactions between the company and its customers.
Kr: How is the region's logistics sector gearing up for surging demand?
Joel Ong (JO): When COVID-19 happened earlier this year, we had a good experience in the first half of the year, scaling up operations to handle the increasing volume. With a higher baseload, we do expect this to be the largest peak that we have ever done, compared to four to five years ago when we were delivering just under 10,000 parcels a day during Double 11.
This year, there are a couple million parcels on a daily basis. So I think the scale that we're adding is actually quite different from before. On the operation side, a lot of investment in infrastructure is needed, such as in warehouses and hiring a lot of last-mile fleet teams. We are on track to deliver a very strong level of performance for both our customers and shippers. That's a result of our efforts in the last few months in terms of training and investment in infrastructure.

Kr: How will Ninja Van's hub-and-spoke model win in the delivery race during the year-end shopping festivals, compared with competitors running a point-to-point model?
JO: It's important to clarify that technically we do not view the point-to-point players as competitors. There will be some market cannibalization [a loss in sales] of target consumers, but it is really about different services. The real bet you're making is whether the majority of consumers will shop online and choose to pay significantly more for immediate gratification. The way I look at the model is this: there could be changes in the hub-and-spoke model allowing it to be slightly faster, while the point-to-point model is fundamentally expensive.
Kr: Some e-commerce players like Tiki and Lazada in Vietnam are racing to reduce their delivery times by offering two-hour delivery promises. How do you view this kind of rising last-mile delivery trend? Do you think there will be surging demand for that post-pandemic?
CWL: I don't think two-hour delivery trends are going to grow. If you look at the dispersion of the sellers, you realize that most sellers are not situated near consumers. If they are situated on the other end of the city or in different cities, two-hour delivery is impossible. So it's a good marketing tool, but if you look closely at the products which are available for two-hour delivery, you realize it's a very small assortment. It has a higher cost; official platforms are subsidizing the additional cost as a kind of a marketing gimmick. It could be applied to certain products, but it only makes up a small portion of the total e-commerce.


Kr: How will Ninja Van continue to innovate and develop experimental supply chain models to increase parcel volume and expedite deliveries?
CWL: COVID-19 has created a confluence of entertainment and commerce. As more people stay at home, we have seen a lot of these influencers and content producers finding ways to create live auctions and driving people to purchase items online on the back of watching their content. We see great opportunity in growing our parcel volume through that segment. We are looking at new tools to help these content creators monetize their content through e-commerce, and we also want to support our customers who are keen on these solutions. However, we don't believe we can be a platform for social interactions. We believe that belongs to platforms like Facebook and TikTok.
Kr: What are the lessons regional logistic startups could learn from Chinese operators? 
CWL: One of the lessons they could learn is the importance of high-touch service [an operating model that allows customers to contact a human when they have a problem]. A lot of the Chinese models believe in very personal and hyper-local shippers, which manifests in their franchise models and contracts. For example, SF Express has highly trained sales personnel. Those two models are really high-touch, which is very important to small shippers, not just large accounts.
Kr: What are your company's plans for expansion?
CWL: In terms of geographical expansion, we are looking to cover a bit more of Southeast Asia, starting with Brunei, over the next six months. In terms of business, we think we still have a fair bit more to do in terms of bringing up that high-touch servicing model, both for shippers and consumers.
In terms of the future of the business, we have two main angles—one is how we can really support and amplify the growing trend of social commerce. We believe strongly in the confluence of entertainment and commerce—so how can we be supportive of all these content creators out there? The other point is how we could make sellers' lives hassle-free by helping them with upstream procurement and their supply chains.