Governments around the world are, each in their own way, responding to the coronavirus epidemic. With more than 100,000 confirmed cases of COVID-19 worldwide, some people fear that they or their loved ones may fall ill.
Since the vaccine for COVID-19 is still being developed and a year may elapse before it is available for the public, the World Health Organization (WHO) has put forward one easy yet effective prevention method: wash your hands.
It's a simple message that is being packaged into public service announcements (PSAs) by health officials around the globe. Some governments have uploaded their PSAs onto YouTube. Others yet have utilized platforms like Instagram and TikTok to disseminate catchy pop tunes, short skits, and hilariously memeable dances that, at a critical time, add a dose of lighthearted entertainment that is also instructional and informative.
Here is KrASIA's dive into Southeast Asia's coronavirus PSAs.
Singapore: Comedy and Soaper-heroes
The COVID-19 outbreak has hit the city-state the hardest among the region's nations, with 150 confirmed cases as of March 8. Singapore's government tapped comedian Gurmit Singh to film a two-minute skit on coronavirus prevention.
This is not the comedian's first time to record a PSA during an epidemic. During the SARS outbreak in 2002 and 2003, he created "The SAR-Vivor Rap," a catchy track that caught on quickly. This time, however, Singh discusses COVID-19 in a much more serious manner.
In the skit, Singh is (still) in character as Phua Chu Kang from the sitcom Phua Chu Kang Pte Ltd. "Today, I'm not here to tell you jokes or make you laugh. Because the Coronavirus Disease 2019 is no laughing matter. Even though it's less deadly than SARS. Don't play play," he said in the video, with the character's iconic mole twitching.
The short video touches on important topics, such as washing your hands properly, not touching your face, covering your mouth when you sneeze or cough, and avoiding crowds when you feel unwell.
Other than Singh's skit, the government has also engaged primary school students by releasing a rap song titled "Bye Bye Virus." Aside from useful tips, it introduces a superhero team named The Soaper 5.
Remember to share love, not the virus.
Vietnam: Pop power
Vietnam probably has the most popular COVID-19 PSA from the region. The country's National Institute of Occupational and Environmental Health worked with singers Min and Erik, as well as music producer Khac Hung, to write a new version of their popular song "Ghen" with lyrics about banishing the coronavirus.
Min uploaded the new song, "Ghen Co Vy," or "Jealous Coronavirus," to her YouTube channel, broadcasting the message to her 1.28 million subscribers and beyond. The video has racked up more than 12 million views after being uploaded on February 23.
The song gives the listeners or viewers a brief context of the virus outbreak, then goes into the importance of disease prevention, as well as how to do so.
"Let's wash our hands, rub, rub, rub, rub them / Don't put your hands on eyes, nose, mouth / Limit visits to crowded places/ Push back the virus corona, corona," the singers croon in Vietnamese.
The infectious track caught the attention of Vietnamese dancer Quang Dang, who choreographed a dance for the song, which he uploaded to TikTok and Instagram, priming the #ghencovychallenge dance challenge on both platforms.
"Game rules: you perform the dance of the song Ghen Co Vy with 6 hand washing movements as recommended by the World Health Organization, based on the music song," the dancer wrote on Instagram.
The tag gathered 8.8 million views on TikTok, with hundreds of participants contributing their own twists to the choreography.
Indonesia: Viral video
Indonesia is the latest country to confirm COVID-19 cases in Southeast Asia.
After a COVID-19 prevention tutorial video series by the health tech startup Alodokter went viral, the Indonesian Ministry of Social Affairs uploaded their own rendition on Instagram.
With DJ TikTok's "Back to the Beat" (or "Goyang Geleng-geleng") as background music, three government officials danced while shared the usual litany of key points: wash your hands thoroughly, wear a mask if you feel sick, stay fit by eating healthy and exercising, do not consume meat from animals that might be novel coronavirus hosts, and avoid countries affected by COVID-19.
There was one important reminder: obtain information updates only from official sources. Conspiracy theories and misinformation are spreading faster than the virus itself, so it's important to know how to weed out the fake news.
There's more. One of the country's ministers, Mahfud MD, uploaded a video to Instagram of him and his staffs exercising along to the popular TikTok dance song, "Tari ubur ubur (The Jellyfish Dance)."
"Don't be afraid of COVID-19 virus if you stay fit and healthy. No virus will infect you if you exercise routinely," he wrote in the caption.
As of March 11, there are 27 confirmed positive cases in the country and one death.

The Philippines: Better late than never
The Philippine's Department of Health is the latest government agency in the region to join TikTok as part of its COVID-19 prevention campaign. On March 5, the department's shared a video on its TikTok feed of three of its personnel dancing to SZA's song "The Weekend." Tips on how to prevent infection flashed on the screen.
Even though the post has only been liked 544 times on TikTok as of March 11, it became an instant hit on Facebook, where it has been viewed 457,000 times and has 9,500 shares.
The country's Department of Tourism, on the other hand, taps millennials to use the hashtag #GoCreatePH on the platform to "dance while featuring their hometown's tourism spot." They aim to entice foreign and local travelers to visit these locations in the near future as the country's tourism sector is cratering due to the virus' threat.
Battling misinformation
Regardless of how tacky or awkward some of the government authorities' posts are, they perform an important service.
On February 2, WHO said that other than an epidemic, the coronavirus has also sparked a massive "infodemic," described as "an overabundance of information—some accurate and some not—that makes it hard for people to find trustworthy sources and reliable guidance when they need it." The organization observed that fears around the virus have been amplified by social media, where false information is diffused at unprecedented speeds.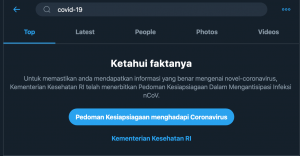 Firman Kurniawan, a digital communication and culture expert at the University of Indonesia, suggested that governments need to be proactive in managing the information flow. Using the latest public data, communication channels, and regulations, they are obliged to maintain conversations that calm the public.
"In an open information system, it is not the maximum amount of information that will alert the public, but trusted ones that can be used as a guide," he told KrASIA.
He considers the use of social media and creative content as an innovative step that needs to be adopted more broadly and taken further. In order to deliver impactful messages that will undo disinformation, governments need to pay attention to their citizens' preferences. There are some people that like to consume this information through TikTok videos, while others might prefer a more serious approach like Singapore's interactive dashboard.
Kurniawan also suggested that governments should each form a task force that closely follows "trending topics" related to COVID-19. This will help them with understanding the direction of public discourse and shape responses to address public anxiety or panic. "The information mix-up confuses the public, makes it harder to make them act in coordination in facing the spread of COVID-19," he said. The most important parameter in communicating with the public is to persuade people to behave in ways that are to the benefit of the entire society, such as maintaining good personal hygiene.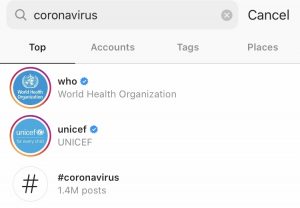 In this time of crisis, social media companies have to work hand in hand with governments and public organizations to weed out disinformation. Twitter, Facebook, and Instagram have taken measures such as directing users to WHO or local health authorities' accounts for queries about COVID-19.
People are already plagued by fear and anxiety. The key goal is to ensure that everyone has access to the right information.