This article first appeared on Nikkei Asian Review. It's republished here as part of 36Kr's ongoing partnership with Nikkei. 36Kr is KrASIA's parent company.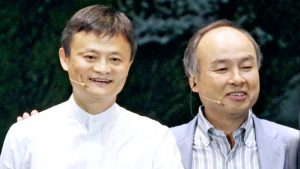 TOKYO — Like the genie in Disney's "Aladdin" movies, Alibaba Group Holding grants SoftBank Group's wishes.
SoftBank expects to chalk up consolidated pretax profit of JPY 1.2 trillion (USD 11.1 billion) for the April-June period on proceeds from sales of Alibaba shares and on financial derivative gains. The figure represents about 70% of the pretax profit for the fiscal year through March, which came to about JPY 1.7 trillion.
Of the expected pretax profit, the Alibaba proceeds account for JPY 460 billion and the derivative gains for JPY 740 billion. SoftBank initiated complex financial transactions in 2016 that have allowed it to add these sums to its pretax profit.
The portion from the derivative gains largely cancels out derivative losses that SoftBank booked in the past.
Masayoshi Son, SoftBank Group chairman and CEO, has said he does "not keep an eye out for profits appearing on the books" in steering the company. But the impact of selling the Alibaba shares was not small. In fact, they helped move SoftBank into position to surpass Toyota Motor as Japan's top profit earner.
Looking at the JPY 1.2 trillion in profit alone might downplay Alibaba's total contribution. More importantly, SoftBank's shareholdings in the Chinese internet colossus allow SoftBank to obtain large amounts of capital.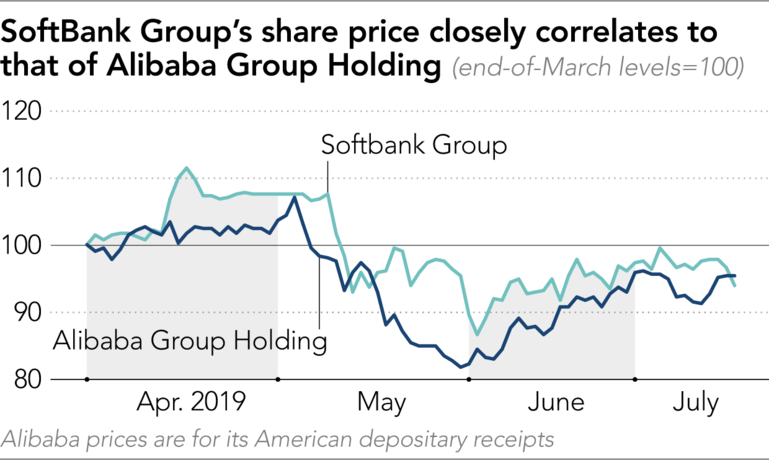 SoftBank in 2016 raised USD 10 billion by selling some of its Alibaba stake and by taking other measures. Of this, USD 3.4 billion was obtained by directly selling shares to Alibaba and investment funds; the rest was obtained through financial derivatives.
SoftBank raised JPY 842.3 billion in the year through March 2018 and JPY 161 billion during the following 12 months, leveraging its Alibaba shareholdings each year.
SoftBank has been able to raise this much thanks to huge unrealized gains on its Alibaba shareholdings. Of Alibaba's more than JPY 48 trillion market cap, SoftBank Group can lay claim to JPY 14 trillion.
All this comes from a JPY 2 billion investment that Masayoshi Son made in Alibaba in 2000. The value of the bet on Jack Ma's startup.
SoftBank is expected to continue to bank on its Alibaba shareholdings. "I want to become the leader of the AI revolution," Son said at SoftBank's general shareholders meeting in June. The chairman has added many of the world's leading artificial intelligence companies to SoftBank's investment portfolio, a strategy he will move forward with and for which SoftBank's Alibaba shareholdings will be essential.
SoftBank has yet to recover what it has invested in other target companies, but there are signs that the SoftBank Vision Fund, which manages about USD 100 billion, could start to recoup money in the not-too-distant future. Slack Technologies, which operates a workplace chat tool, and Uber Technologies recently listed on the New York Stock Exchange. The We Company, which operates office-sharing company WeWork, and food delivery service DoorDash plan to list in the near future.
SoftBank also plans to set up a second Vision Fund.
On the negative side, SoftBank Group subsidiary Sprint, a slumping US communications company, continues to have difficulty sealing a merger with rival T-Mobile. US Authorities from a number of American states have filed lawsuits to stop the merger. Meanwhile, Arm Holdings, a British semiconductor maker that SoftBank bought for JPY 3.3 trillion in 2016, is hardly ready to return SoftBank's investment.
SoftBank clearly relies on Alibaba, which accounts for nearly half the value of SoftBank's JPY 26 trillion in shareholdings. Its fate hinges on finding another Alibaba before its current genie stops granting its wishes.