SoftBank-backed Indian e-commerce marketplace Snapdeal is aiming to raise USD 165 million (INR 12.5 billion) through the fresh issue of shares in its initial public offering.
The offer will comprise a fresh issue of equity shares worth up to INR 12.5 billion and existing investors selling up to 30.76 million shares under offer for sale, the company said in draft papers filed on Tuesday. While the company did not disclose the total size of the IPO, it is reported to be a USD 250 million public offer.
SoftBank, which first invested in Snapdeal in 2014, is currently its biggest investor with 35.41% shareholding. The Japanese conglomerate has backed Snapdeal through its intermediary Starfish I Pte, which will sell about a 6% stake or 24 million out of 140.6 million shares.
The other backers who will be selling partial stakes in Snapdeal through an offer for sale include Foxconn, Sequoia Capital, and Ontario Teachers' Pension Plan Board, which own 4.38%, 0.56%, and 2.01% of the company, respectively.
Kenneth Stuart Glass—the company's first-ever angel investor with a 1.11% shareholding—will also offload 0.18% or 748,000 shares.
Snapdeal founders Kunal Bahl and Rohit Bansal, who have a combined stake of over 20%—which they own individually and through B2 Professional Services LLP—won't be selling their shares. The two founders had set up B2 Professional Services LLP in 2015. They used it to buy back shares from early investors and increase their shareholding while the company was pulling itself together after falling apart due to failed merger talk with larger rival Flipkart in 2017.
Notably, its other two major shareholders, Nexus India and eBay Singapore, which hold 10.55% and 5.68% stakes respectively, will also hold onto their shares, implying their confidence in the company.
The numbers
Snapdeal seems to have decided to raise the money through IPO to fuel its future growth. For the past two years, it is witnessing declining revenues. The company clocked a total income of INR 5.1 billion in the financial year (FY) ending March 2021, down 44% from INR 9.16 billion a year ago. On the upside, the e-retailer slashed losses by 54% to INR 1.2 billion in FY 2021 from INR 2.74 billion a year earlier.
For the first half of the current financial year—May to September 2021—the online marketplace posted a total income of INR 2.52 billion and a loss of INR 1.7 billion, as per the draft prospectus.
The company spends a significant portion of its revenues on marketing and business promotion activities for customer acquisition and retention. The expenses for such initiatives stood at INR 1.26 billion and INR 1.7 billion for the April–September period and FY 2021, and constituted 49.94% and 34.62 % of its total income, respectively. However, it was still less than the previous two financial years, when the company spent over 55% of its revenues on the same.
Founded in 2007, Snapdeal started as a coupon booklet business. The company pivoted to an online deals platform in 2010 and an online e-commerce marketplace in 2012. Between 2011 and 2016, Snapdeal attracted over USD 1.7 billion from global marquee investors. However, by late 2016, it was fast losing its market share to Flipkart and Amazon. To bail out the company, SoftBank led the merger talks with Tiger Global-backed Flipkart, which failed to materialize and instead culminated in SoftBank pumping USD 2.5 billion into Flipkart in mid-2017.
Since then, Snapdeal has turned around its business by focusing on an asset-light approach and catering to the value segment of the Indian e-commerce market. Value e-commerce essentially means selling aspirational products at affordable prices across categories like apparel, fashion, home decor, small appliances, and beauty to middle- to lower-class households in suburban areas and smaller cities. It accounted for 18% of overall e-commerce in FY 2021, and its share is expected to grow significantly to 26% over the next five years.
"This segment comprises value-conscious, middle-income users who have a budget-led approach to shopping and access the internet primarily on their mobile phones," the company noted. For the six months ended September 2021, 72.48% of its shipped products were purchased by buyers from tier 2 plus cities, it added.
According to RedSeer, the value e-commerce market in India is expected to reach USD 39.4 billion by FY 2026 from USD 7.4 billion in FY 2021. Moreover, the number of value online shoppers from lower-tier cities—the user base that Snapdeal is specifically targeting—is projected to treble to 256 million in the same time period.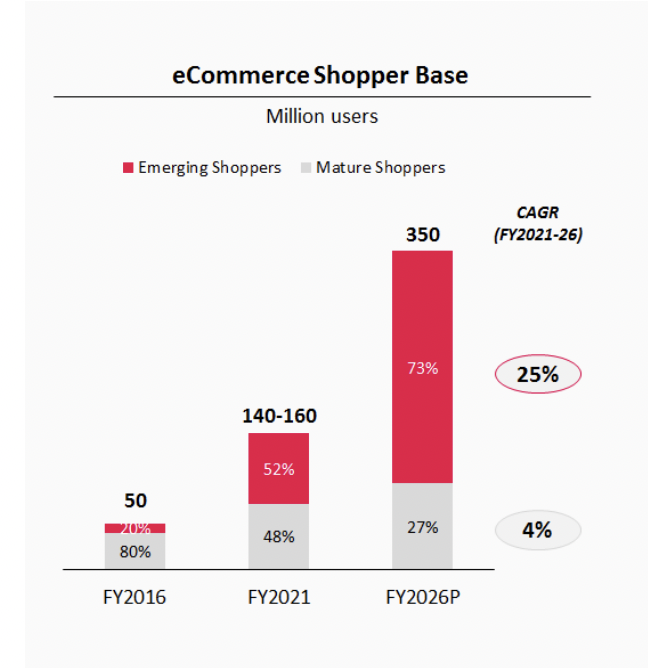 Future road map
In the draft prospectus, Snapdeal said it plans to use INR 9 billion from the net proceeds for funding organic growth initiatives over the next five financial years. Although the company did not give details about specific initiatives it will be investing in, it is likely to spend money to expand its consumer base as well as to foray offline that will transform it into an omnichannel player.
Furthermore, Snapdeal will invest in creating more power brands—the brands owned by the company and licenses to sellers, who are responsible for manufacturing the products under those brands. As of September 2021, it had 13 power brands, which accounted for 5.60% of the total orders during the first half of FY 2022, the company said. Reportedly, these brands constitute around 10% of Snapdeal's total sales.
The company also plans to explore international markets for its subsidiary, Unicommerce, which provides e-commerce SaaS solutions for running e-commerce operations for marketplaces, brands, and sellers.
"As we grow our user base in India, we also aim to selectively explore and evaluate expansion into international markets," the company noted. "We intend to grow Unicommerce, which was profitable for the FY 2019 and 2021 and the six months ended September 30, 2021, within India and international markets."
Unicommerce has already entered international markets such as the Middle East and Southeast Asia and plans to scale client acquisitions in these geographies, the company said. In addition, it intends to enter new geographies, such as North America and Europe.
Till September this year, Unicommerce served over 350 enterprise clients and over 2,000 small and medium businesses across India. Going forward, Snapdeal said it will utilize Unicommerce for its own omnichannel initiatives as well.