SoftBank-backed hospitality startup Oyo has filed for a mega USD 1.13 billion (INR 84.3 billion) IPO, becoming the latest high-profile Indian company to target public markets.
The offer includes a fresh issue of shares worth USD 942 million (INR 70 billion) and an Offer for Sale (OFS) by existing shareholders amounting to USD 192.4 million (INR 14.3 billion), Oyo said in a draft prospectus, filed on October 1.
SoftBank, which holds a 46.6% stake in Oyo, will sell shares aggregating up to USD 177 million (INR 13.2 billion), while A1 Holdings, China Lodging Holdings, and Global Ivy Ventures will offload Oyo's stakes worth USD 7 million (INR 516.21 million), USD 3.1 million (INR 231.32 million), and USD 3.5 million (INR 267.12 million).
Notably, unlike most startup founders, Oyo's founder and group CEO Ritesh Agarwal owns—directly and through his investment firm RA Hospitality Holdings—33.15% of the USD 9 billion company and isn't looking to dilute his stake.
Oyo also said it might sell a stake worth USD 188.4 million (INR 14 billion) before the IPO—otherwise known as a pre-IPO placement of shares—which would reduce its fresh issue size by the same number of shares.
Another interesting thing to note is that the share sale by existing backers or OFS comprises only about 17% of the entire offer. Major startups like Paytm and PolicyBazaar, which are going public, have a significant OFS portion, which implies they are keen on giving their shareholders an exit. Oyo's IPO is similar to Zomato's listing, whose public offer included only 9% of the share sale by existing backers—signifying their deep confidence in the company.
However, the stark difference between Oyo and startups that have recently been listed or have filed papers is that all others eventually benefitted from the pandemic that acted as a catalyst to digitization. Even in the case of the recently listed automobile platform CarTrade, more people opted to buy used cars due to safety concerns. Oyo, on the other hand, is still reeling under the impact of the pandemic.
"What sticks out in this situation is the fact that, despite Oyo's massive losses caused by the pandemic, its existing investors remain unwilling to sell their shares," said Prateek Singh, founder and CEO of LearnApp, a trading learning platform and a seasoned trader. "It is a good sign as this shows their confidence in the company; they believe in the company's future and are therefore not seeking an exit route."
Oyo's net income nose-dived 69% to USD 558 million (INR 41.5 billion) in the financial year (FY) ended March 31, 2021, from USD 1.8 billion (INR 134.1 billion) in FY 2020—the year just before the pandemic hit.
The Gurugram-headquartered company plans to use the money from its IPO to repay debts and fuel growth organically and organically. Out of the total net proceeds from the fresh equity issue, Oyo will utilize USD 328.4 million (INR 24.41 billion) in repayment of borrowing by its subsidiaries. And pump up to USD 390 million (INR 29 billion) into growth initiatives.
"We have a substantial amount of indebtedness, which requires significant interest and principal payments," the company noted in the filing, adding that its total outstanding borrowings on a consolidated basis hovered around USD 658 million (INR 48.9 billion).
It remains to be seen whether investors' confidence can offset the concerns regarding the company's poor health since the last one and a half years and make Oyo's IPO a bumper success.
Oyo's rise and fall
Oyo—officially known as Oravel Stays—was founded in 2012 by then 19-year-old Agarwal as a hotel listing website but pivoted the following year to become an aggregator and intermediary for budget hotels. It started partnering with budget hotels to sell their inventory online under the Oyo brand, promising a standardized experience with clean rooms and better connectivity.
After SoftBank came on Oyo's cap table in 2015 with a USD 100 million check, Oyo charted out its overseas expansion plan, beginning with Malaysia in January 2016. Over the next three years, the startup increased its footprints overseas—even in China which is considered a difficult market for local companies—fuelled by billions of dollars from marquee investors like Lightspeed Venture Partners and Sequoia Capital.
In 2019, Oyo became the single largest hotel operator in India and China, with its massive empire sprawled across 80 countries offering budget to premium hotels as well as vacation homes and rentals. And it was still expanding fast globally.
The number of Oyo's partner properties increased over six times to over 150,000 between April 2019 and March 2020, as it sharpened focus on alternate accommodations. With the rapid growth, its losses also ballooned to 82% or USD 1.7 billion (INR 131.2 billion) in the same time period. But by then, SoftBank—stung by co-working giant WeWork's deferred IPO and subsequent valuation collapse—had started tightening the noose around its portfolios to reduce cash burn and focus on profitability. To mollify its largest backer, Oyo began restructuring its business in late 2019, firing thousands of employees and shedding unprofitable ventures to cut costs.
However, after the pandemic hit, all hell broke loose. The company's gross booking value dropped 67% to USD 893 million (INR 66.38 billion) in FY 2021 compared to a year ago, while income from operations plunged 70% to USD 533 million (INR 39.61 billion) in the same time period. India accounted for a mere 24% of these revenues, while the rest came from overseas markets.
To manage this crisis, Oyo further focussed on bringing down costs. The company almost stopped paying its partner properties, the fixed payout commitment (a minimum payment promised to these properties to woo them), moving to revenue sharing agreements. It also reduced employee benefits and marketing expenses, among other things. Consequently, Oyo was able to shrink its losses by 70% to USD 530 million (INR 39.4 billion) in FY 2021 from a year-ago period.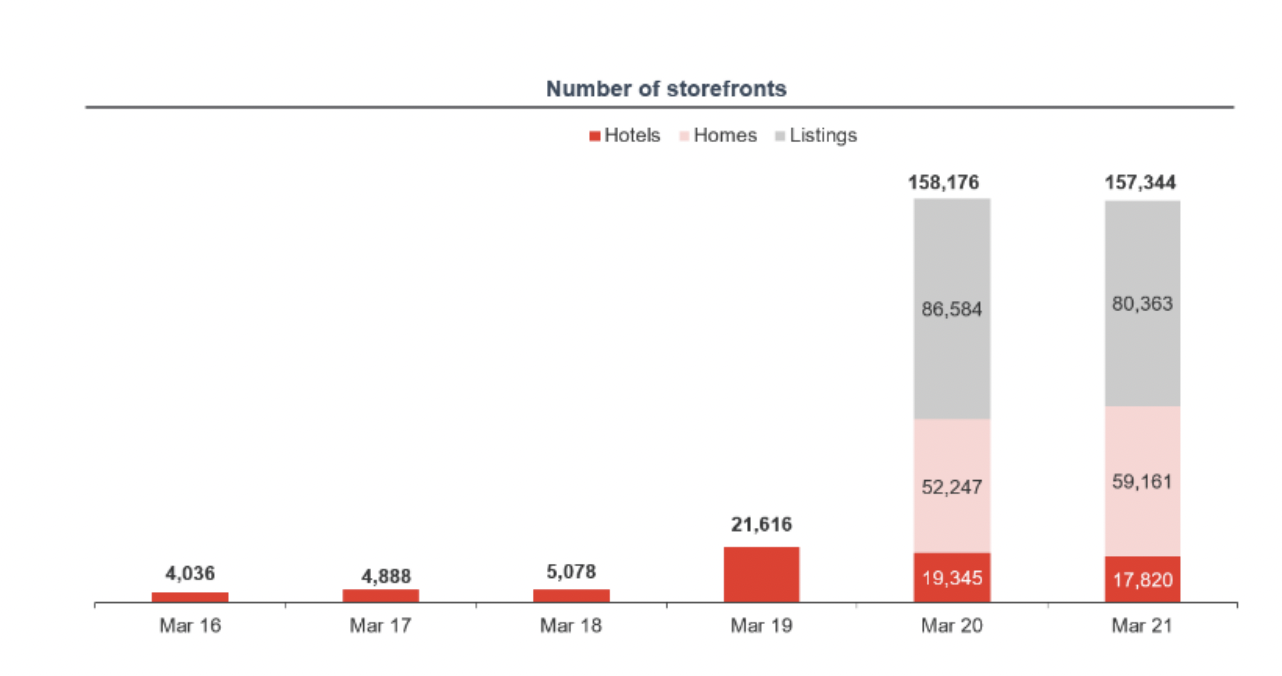 The road ahead
As of March 2021, Oyo had a total of 157,344 properties across 35 countries. Of these, 11.3% or 17,820 are hotels, and 37.5% or 59,161 are homes—which are primarily being managed by Oyo. They pay the hospitality startup an average revenue share of 20% to 35% of the gross booking value (net of discounts and loyalty costs). The rest, or 51%, are properties that have listed themselves on Oyo's platform to increase their reach for a subscription fee.
As the world slowly moves back to normal, the company remains bullish on the revival of the global travel and tourism market.
"The industry was impacted significantly by the COVID-19 pandemic due to government-imposed lockdowns globally, reduction in customer confidence, and restrictions on tourism-related mobility," Oyo said. "However, the industry is projected to grow at 6.3% CAGR between 2021 and 2025, driven by…greater focus on hygiene, higher trust of brands, minimized contact through digital interventions, and newer vacation formats."
As per the company, the global short-stay accommodation market—one of the fastest-growing segments in the sector—is projected to reach USD 1.9 trillion by 2030, driven by the growth in India and Southeast Asia.
The IPO filing comes at a time when Oyo is locked in a legal battle with former rival Zostel Hospitality, which operated budget hotel chain Zo Rooms. Oyo had signed a deal to acquire Zo Rooms in November 2015 but terminated it ten months later. Zostel had recently approached the Delhi High Court to prevent Oyo from "modifying its shareholding structure or cap table, including by way of an IPO." The case's next hearing will be on October 7.
However, Oyo has maintained that this is Zostel's "mischievous attempt to cause wrongful harm" to the company.
If Oyo IPO goes ahead as planned, it will be one of the largest IPO listings by an Indian startup. Moreover, the company needs an IPO sooner rather than later.
"An IPO seems critical for Oyo as it has incurred significant losses due to Covid-19, and to stay afloat throughout the pandemic, it had to undergo months of layoffs, cost-cutting, and losses," said LearnApp's Singh.
"It has also been dealing with numbers of complaints from hotel owners, and a variety of customer-related concerns. For instance, several hotels separated themselves from the platform and sued Oyo for outstanding payments," he added. "Further, the travel restrictions have wreaked havoc on the entire industry, and Oyo was no exception. The money from an IPO will undoubtedly be useful in luring hotels back."