The presence of warung, or modest grocery kiosks, is an inseparable part of Indonesian culture. They are ubiquitous on the roadside and in residential areas, and are considered by many to be the most practical source for small quantities of daily necessities. More than that, warung also serve as places for people to hang out and catch up. They're often an important part of their communities.
As micro enterprises, most kiosks are managed independently, and many owners struggle to develop their businesses due to limited access to financial support and a lack of business management. This situation is a cause for concern for Agung Bezharie, Harya Putra, and Sofian Hadiwijaya, the co-founders of a micro-retail tech startup, Warung Pintar.
Touted as one of the fastest-growing startups in Indonesia, Warung Pintar, which translates as "smart kiosk," has been showing promising development. Founded in October 2017, the startup raised a USD 27.5 million in Series B funding in January, bringing total investment in the company to USD 35.5 million. Today, Warung Pintar has 1,300 active partners, and is expanding its network.
KrASIA recently spoke with Sofian Hadiwijaya, co-founder and CTO of Warung Pintar, about how his startup helps to digitize the businesses of traditional roadside vendors and improve their partners' livelihoods.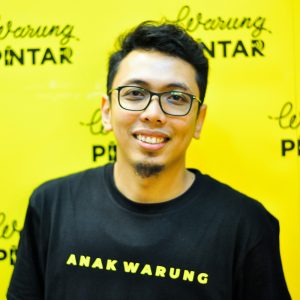 KrASIA (K): What are the biggest problems faced by traditional street kiosks in Indonesia?
Sofian Hadiwijaya (H): I grew up with my dad's small kiosk in my hometown, so I saw that it had many problems, especially with reporting transactions and managing distribution. Small kiosks are also prone to shoplifting due to the lack of supervision. This is very unfortunate since many families depend on their kiosks as a key source of income. Therefore, we aim to address these issues by supporting traditional kiosks with our technology.
K: Please tell us more about what Warung Pintar offers to its kiosk partners.
H: Our technology supports a shop's entire range of operations, from ordering and procuring products, to recording and monitoring sales. We have an app for partners that allows them to purchase goods and manage inventory easily. The stall is equipped with wi-fi, a television, a refrigerator, and charging stations so that customers are more likely to spend time there.
We provide CCTV so that owners can monitor their kiosks' situations through the app. It's not only for supervision; the owners can also learn about customer preferences and behavior through the video feed, so they can stock goods according to customers' needs. We also built our own POS system to match the needs of traditional kiosks, as we found that most POS platforms are too complicated for them. In addition, we are building a warehouse management system to help kiosk operators with mapping and tracking the distribution of their goods.
Aside from this technology, we also provide direct assistance through shop facilitators who train and guide kiosk owners on how to build a sustainable business and to improve customer service. During quiet periods, the facilitators will take the initiative to attract customers. For instance, we had a small Mobile Legends (video game) tournament hosted by one of our kiosk partners a while ago, and during Ramadan last year, we collaborated with Bank Nasional Indonesia (BNI) to provide free meals to those who were fasting at all Warung Pintar. This way, we make sure that our partners are able to run their businesses well.
K: What are some of Warung Pintar's points of pride?
H: More than 59% of Warung Pintar's partners had a fluctuating income before joining us. On average, a kiosk's revenue increases by 41% after adopting our system. By implementing good business management, kiosks now have accountable financial reports, which help them to get capital loans from banks.
Also, more women entrepreneurs are joining us. In 2018, the proportion of Warung Pintar's women partners rose from 42% to 46%. We see this as a positive trend that empowers women.
Besides revenue, what's important for us is to see how Warung Pintar has a sustainable social impact for our partners. Warung Pintar provides opportunities for members of various communities to become entrepreneurs and improve their quality of life in the long run.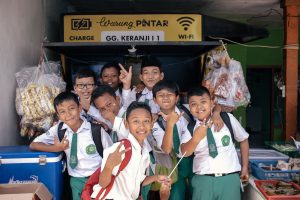 K: Several major e-commerce platforms, like Tokopedia and Bukalapak, also have similar programs. What's your take on this trend?
H: The more the merrier. As a person who has long been in the startup world, I believe that competition creates innovation and makes it easier to educate the market. The Indonesian market is huge, so we can't do this by ourselves. We don't rule out the possibility of collaboration with big players like Tokopedia or Bukalapak, as we share the same spirit to advance the Indonesian economy through digital transformation.
K: What are Warung Pintar's plans for this year?
H: We aim to have 5,000 kiosk partners across Java by the end of the year, and we'll update our tech capacity by adding more features for partners. I am also planning to expand my tech team to at least 150 members so we can accelerate our innovation.
This article is part of KrASIA's "Startup Stories" series, where the writers of KrASIA speak with founders of tech companies in Southeast Asia.