We live among robots every day. Saying that out loud, it sounds like the setting for a sci-fi movie, but it's not that far from our reality.
Singapore has consistently taken second place over a few years for having the highest robot-to-human-worker density in the world, right behind South Korea.
The International Federation of Robotics (IFR) recorded Singapore's robot density at 658 robots to every 10,000 human workers in 2018.
As IFR's figures represent the manufacturing sector, these industrial robots are typically put to heavy tasks like product assembly, testing, and logistics.
But even for most of us who have never set foot in a factory, it's also common to encounter other types of robot workers that have assimilated into our daily lives.
Here are some roles you'd find them performing around Singapore.
Service and Hospitality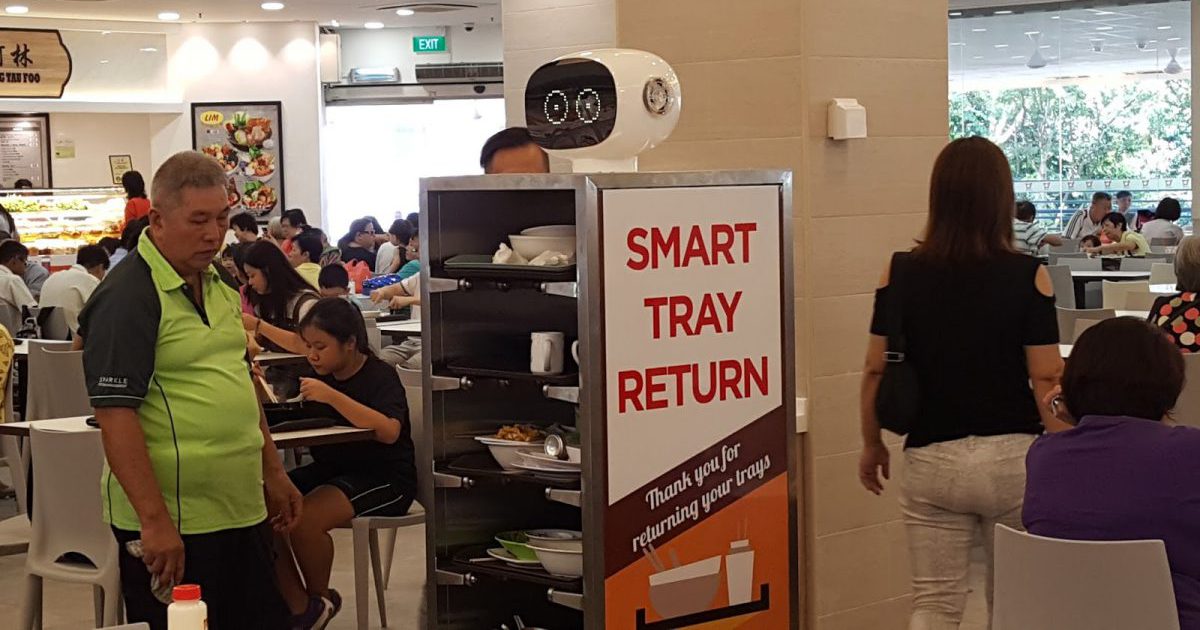 Koufu started using roaming tray-return robots in 2016, and I remember being quite intrigued when I first 'met' one at Cookhouse in Waterway Point.
As they make their rounds on fixed paths through the food court, customers can easily return their trays when a robot passes by their table (in other words, there's no more excuse not to do it).
They're programmed to stop moving immediately when someone walks in front of them to deposit their tray, and they even politely ask you to step aside if you're blocking the way.
These are just one of many robots that are deployed throughout all kinds of service roles in Singapore.
Some companies are sending them to the customer service front lines.
For instance, Pepper the robot, manufactured by Softbank Robotics, works alongside human staff to greet customers and answer some of their general queries at AIA's Finlayson Green service center.
Albeit without the adorable facial features, Singtel also uses a roving live bot to assist customers at their recently opened 24-hour unmanned store, UNBOXED.
Just like how an employee recognizes regular customers, the robot remembers people through facial recognition and learns their preferences to give better recommendations.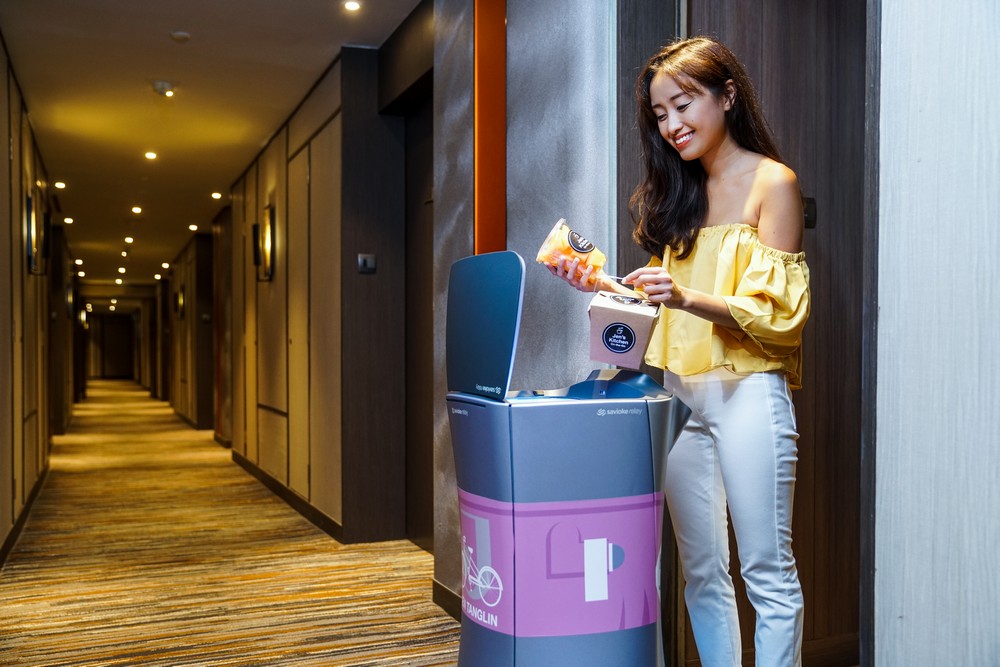 When it comes to delivering service, the hotel industry is where robots really shine, with more and more hotels putting them to use as waiters, butlers, and housekeepers.
Some hotels, such as Hotel Jen, Park Avenue Rochester Hotel, Sofitel and The Millennium Group brands including M Social, M Hotel, and Studio M, have started adopting robots to serve guests.
For the most part, their jobs are to deliver room service orders like food and toiletries to guests' rooms, but some robots also transport dirty linens out and replace them with fresh sheets.
Robots are also great support to lessen the burden on human workers when they're used to clean up large spaces.
At the National Gallery Singapore, Jewel Changi Airport and Inland Revenue Authority of Singapore, autonomous robot cleaners created by LionsBot sweep, vacuum, scrub, mop and shine floors to keep things spick and span.
Cooking 
More than just delivering food to people, there are a couple of robots in Singapore that are skilled to cook it as well.
At M Social, AUSCA (short for Automated Service Chef Associate) helps to whip up the perfect sunny-side-ups and omelets.
Guests just have to select their choice, give the robot an empty plate, and sit back as AUSCA expertly cracks the eggs and fries them in a pan.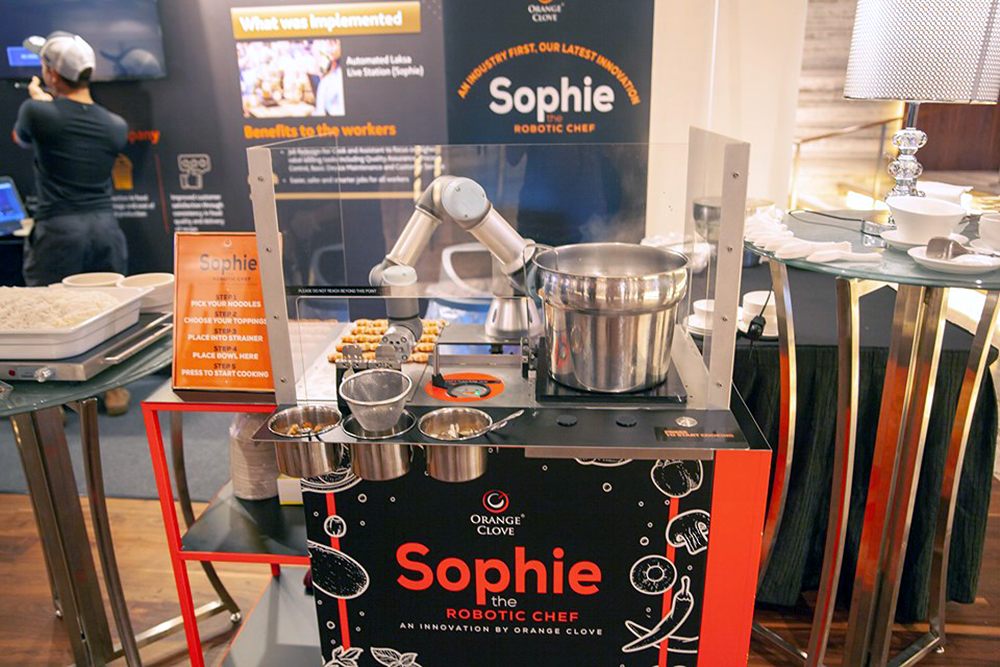 While robot chefs are kind of a novelty in hotels, they may actually have a better use case for catering companies that set up live food stations for events.
The next time you host or attend a function, your buffet spread may include fresh laksa prepared by a robot.
Local catering company Orange Clove provides their Sophie robot for rent, which is able to cook and serve a bowl of traditional laksa in just 45 seconds.
Transport
They may look just like ordinary buses, but the only difference is the lack of a driver at the steering wheel.
If you study or work in campuses like NTU or NUS, you may have had the chance to zip around on a bus programmed to drive itself.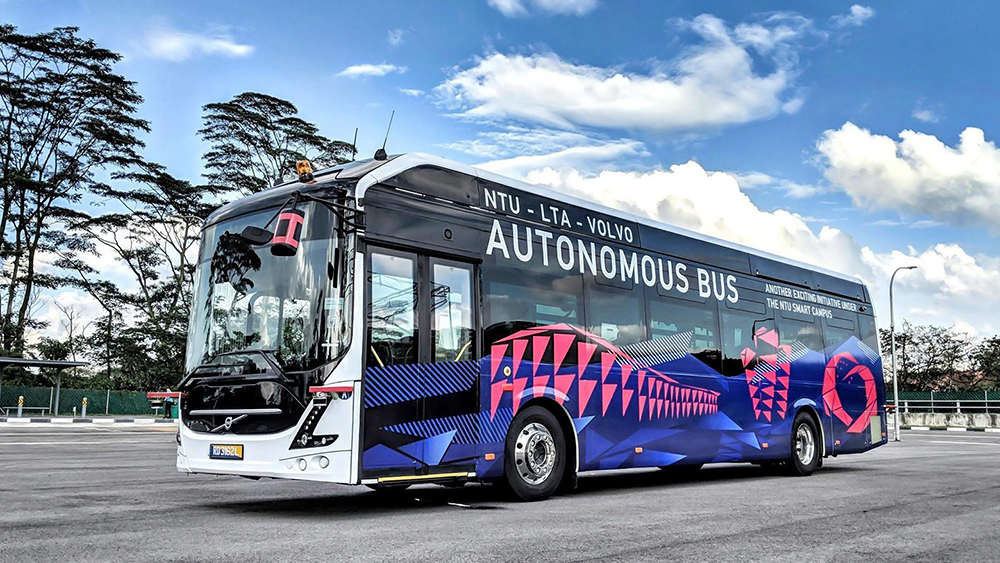 NTU, Volvo and the Land Transport Authority (LTA) jointly launched a full-sized autonomous electric bus in March 2019, that can carry 80 passengers and travel 25 km on a full charge.
At launch, it was considered to be nearly reaching Level 4 autonomy, which means it still needs to be manned by an operator on board for now (full autonomy is achieved at Level 5).
Another place you can hitch a ride on a self-driving bus is Sentosa, where trials are running until 15 November 2019.
On weekdays, visitors can book a driverless shuttle bus that takes them to locations like Siloso and Tanjong Beach, so they can save the time spent on walking to have more fun on the island instead.
With all of these trials and tests, LTA is hoping to pave the way for driverless buses to roll onto Singapore roads at a larger scale across areas like Punggol, Tengah and Jurong Innovation District by 2022.
Healthcare
Some hospitals use robots to handle the transportation of documents, drugs, and linens, so that nurses can focus on more specialized work.
At the pharmacy in Tan Tock Seng Hospital, a system of robots speeds up the time taken to dispense medication with accuracy.
They take care of 80% of orders, and significantly reduce the waiting time for patients to collect their medication.
Robots are also helping to treat patients in more direct ways.
Created by tech firm AiTreat, Emma (Expert Manipulative Massage Automation) can be found giving acupressure massages at Traditional Chinese Medicine (TCM) and sports therapy clinics.
In some operating theatres, Singapore doctors are using assistive robotic arms to perform heart surgery.
As surgeons remotely control the robot, it lets them see the arteries at much higher magnification and make more precise movements than they previously could, relying on their own hands and an X-ray screen.
More than 70 patients have undergone this robot-assisted surgery at Tan Tock Seng Hospital since last December.
The National University Hospital (NUH) and Mount Elizabeth Hospital have also used similar robot-aided systems in surgery.
Security
We may even have to thank robots (partly) for the safety we have in Singapore.
The Singapore Police Force deploys autonomous security robots to help them patrol areas, especially during the 33rd ASEAN Summit and the Trump-Kim Summit, which both happened here in 2018.
These robots are able to transmit a 360-degree view of their surroundings back to the police command posts, as well as have video analytics capabilities to detect suspicious activity on their own.
Besides high security events like these, security robots have also been used to keep a lookout and ensure safety at parks like Bedok Reservoir.
They can also patrol streets, pathways and open spaces while steering clear of obstacles.
More Autonomous Helpers?
Robots have been making life easier for humans in so many ways.
Recent developments, like some mentioned here, show that their usefulness isn't restricted to factory production lines or science labs.
In fact, they will probably continue to take on an even wider variety of functions as scientists design them for different types of needs in the future.
Around the world, robot shipments hit a total sales value of US$22.7 billion in 2018, and that amount is projected to increase by 39% by 2022.
Singapore's use of robots probably hasn't hit its peak either. We can definitely expect robots to become more ubiquitous around us in the years to come.
Of course, talk of their rising numbers tends to stir up alarm for jobs, but the role of robots is more likely to remain assistive and complementary to human workers, who can move up to more specialized skills instead of being replaced.
This article first appeared on Vulcan Post.