Singapore aspires to be a fintech hub. It was recently named one of the top five fintech markets in terms of funds raised in Asia Pacific by Accenture. According to its report, fintech investments in the city-state more than doubled from USD 180 million to USD 365 million in 2018.
Singapore is home to approximately 43% of all fintech companies in Southeast Asia and the Monetary Authority of Singapore has undertaken several major initiatives to support fintech development, including Deals Fridays, which is a series of matchmaking sessions for startups and potential investors.
No single dominating sector
According to a joint study by PwC and Singapore Fintech Association, the fintech ecosystem in Singapore is diverse in that it does not have a single dominating sector.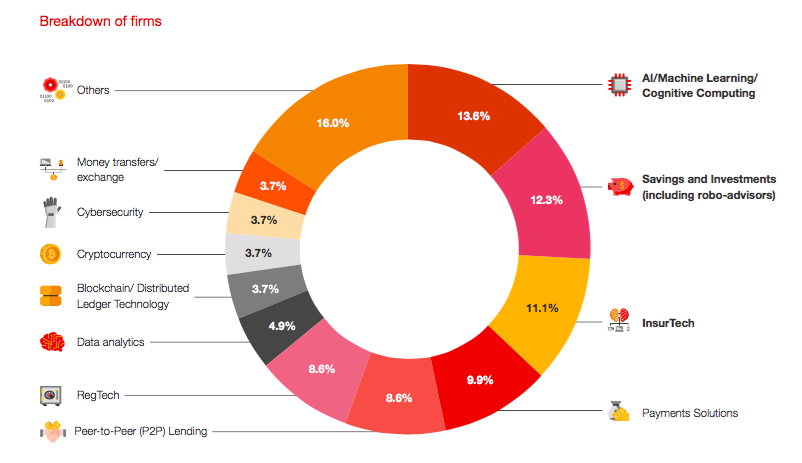 There is a broad range of firms operating across a multitude of fintech services. Artificial intelligence/machine learning/cognitive computing (13.6%), savings and investments (12.3%), and insurtech (11.1%) make up the top three sectors.
A mix in maturity levels
Fintech firms in Singapore also vary in their lifespan with the bulk of them being between 3-5 years old (42%). About a quarter of the surveyed companies have been operating more than five years and 23.5% are between 1-2 years old. Only 10% of the firms are less than a year-old.
This mixture of maturity levels indicates a good spread of firms across various stages of the industry. The fact that most firms are at least three years old suggests that Singapore has a nurturing environment for fintech companies.
PwC and SFA's research also shows that there is a good spread of fintech firms across different stages of fundraising.
The majority of the companies are in Series A (28.4%) and Series B (13.6%). A few examples of fintech companies having recently raised Series B round are robo-advisor technology providers, Bambu and StashAway.
The remaining companies have either gone public (4.9%), were acquired (1.2%) or are unfunded (13.6%).
There is a strong business-to-business (B2B) focus
Most fintech firms in Singapore target companies as their clients. Only 8.6% of the surveyed companies have an exclusive business-to-consumer (B2C) business model, whereas the remaining 91% work with other firms.
Of the 91% of firms who work with other companies, 40.7% are purely B2B-focussed whereas the rest either have a business-to-business-to-consumers (B2B2C) or have both B2B and B2C models.
The B2B-focussed nature of the industry is reflected in the way Singapore plans to issue digital banking licenses. Of the five Singapore's Monetary Authority plans to give out in total, up to three licenses will be digital wholesale bank licenses that will allow holders to serve Small and Medium Enterprises (SMEs) and other non-retail segments. Only two licenses are reserved for B2C non-banking players.
Minimal talent shortage
According to the report, there is minimal shortage of talents in the fintech industry in Singapore at the moment with almost 60% of the respondents indicating that there is no talent shortfall across all job categories.


Only a very small percentage (less than 3% on average) of the respondents said they are very shorthanded, implying that the shortages are still manageable.
Separately, 29.3% of the surveyed companies attributed the talent gap to the difficulty in getting work permits for foreign staffs. Singapore has relatively tight immigration laws but it has come to realize the importance of easing the application if it wants to grow its tech sector, which is why it is piloting a new targeted tech program to help tech companies hire foreign talents if needed.