From around mid-August, the hashtag #IndonesiaButuhKerja (Indonesians need jobs) became trending on Twitter. The hype didn't come from people desperately looking for jobs on the platform, but from activists questioning whether the Indonesian government has used public money to pay online influencers to manipulate the public's opinion on a controversial regulation.
Originally a hashtag for netizens supporting the Omnibus Law, also known as the job creation bill —a key piece of Indonesian President Joko Widodo's plan to reform the country's economy and simplify regulations to attract foreign investment— the proposal has sparked criticism from academics, activists, and grassroots workers.
For months, labor unions and students have taken to the streets to oppose the law, as according to them, the bill affects existing articles protecting labor rights and the environment. Critics exposed that the bill would reduce circumstances for paid leaves such as weddings and maternity reasons. Also, the bill would relax environmental requirements for new businesses which are now currently mandatory, such as the process of carrying out environmental impact assessments, known as Amdal.
Yet, despite the contradictions, a growing number of local celebrities on social media have been supporting the bill in the last months. Some online influencers have explicitly stated the bill's name, while others have been more subtle, writing motivational sentences ending with the #IndonesiaButuhKerja hashtag.
In light of the new social trend, some citizens have started to question whether the support has been genuine, or paid, with some suggesting that the government is the puppet master behind the quarrelsome hashtag.

The truth unfolds
At first, authorities denied the claims. "It is a spontaneous activity. We didn't instruct them [to post support on social media]," said Presidential Staff Office's deputy expert Donny Gahral Adian to local media, as reported by CNN Indonesia.
The Indonesian parliament, the organ in charge of passing or stopping the bill, also denied paying influencers to gain public support. The House Legislation Body (Baleg) chairman Supratman Andi Agas stated that "there are no funds to pay influencers."
However, soon after the authorities' statements, a number of influencers involved in promoting the bill came forward one by one in admitting that they had been paid to promote content related to the bill, yet without disclosing the client's name.
Popular radio host and content creator Gofar Hilman, who has more than 704,000 followers on Instagram, was the first one to publicly admit having received payments to upload a video on Instagram in support of the bill, with the hashtag IndonesiaButuhKerja.
"I initially got an offer to make a video about creativity at home and how to survive in this physical distancing era. From the presentation deck and brief I received, there was no mention of the [job creation] bill," he wrote on his Twitter account.
Singer and songwriter Ardhito Pramono, who shared similar paid content to his 756,000 Instagram followers, also disclosed a statement on Twitter: "I received a brief for the #IndonesiaButuhKerja campaign and received payment for it," he wrote, adding that his publicist ensured that the job had nothing to do with the Omnibus Law. However, he had to use the hashtag IndonesiaButuhKerja as asked by the client.
Pramono later explained to local newspaper Koran Tempo that the job was offered by "an old friend" who worked for an agency founded by State-Owned Enterprises Minister Erick Thohir.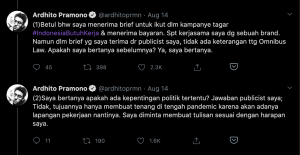 Both Pramono and Hilman admitted that they should have conducted deeper research about the issue and the meaning of the hashtag before accepting the job. Hilman later donated the payment to an animal shelter, while Pramono said he would return the money. The two influencers also deleted the related content from their Instagram pages. The last to come forward was Aditya Fadilla, a popular master of ceremonies, with more than 53,000 Instagram followers, while other influencers stayed mum.
Not long after Pramano and Hilman's public clarification, a Twitter account created in February 2020, owned by a group called Jaringan Bonus Demokrasi (Demographic Bonus Network), took responsibility for paying influencers to promote the bill, according to local media Koran Tempo.
The group's coordinator, Yoki Yusianto, said that, in total, 22 celebrities have been paid a variable sum, from IDR 1.5 million to IDR 10 million (USD 101 to USD 677) to promote the Omnibus Law. He claimed the money came from joint funding by "academics and young entrepreneurs" without disclosing further details.
However, a big part of the public opinion indicated that the move was just a cover-up for the government, hinting again that authorities were behind the controversial online campaign.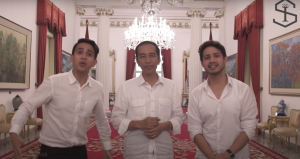 The government's 'weird relationship' with influencers
The Omnibus Law is not the first influencer-related government controversy. Earlier in February, when COVID-19 was just starting to plague Southeast Asia, the Indonesian government set aside IDR 72 billion (USD 4.8 million) to promote Indonesian tourism via influencers marketing campaigns —a weird move considering that most countries were imposing travel bans to curb viral infection.
Obviously, the move also reaped wide public criticism, including derision from economy experts and health officials. Rather than inviting potentially asymptomatic virus carriers, it would have been better to inject money in health facilities and social security programs, according to the opponents. 
According to a report by Indonesian Corruption Watch (ICW), from 2014 to 2020, the Indonesian government spent around  USD 78.8 million for digital activities, with USD 6 million allocated for influencers and key opinion leaders (KOL).
The number could be even larger, according to ICW researcher Egi Prayogha. He explained, during an online event on August 26, that "these findings are not from official budget documents, but only from limited available reports on the electronic procurement service system (LPSE)," hinting at a bigger amount dedicated to influencers and Key Opinion Leaders (KOL).
Prayogha also called on the government to give a public explanation, as required by Indonesia's public information disclosure law. The public explanation should include how the government assesses the use of influencer services and what are the success metrics, according to Prayogha.
"So the public can know if using influencer service is effective or not. If not, then it might be a waste of taxpayer's money," Prayogha added.
Unlike private businesses, which could measure an influencer's campaign success through increasing sales or brand awareness, it's unclear what can be considered "successful" for a government's campaign to promote laws. Tera, an influencer familiar with government-related projects, who preferred to not reveal her identity, explained to KrASIA that Indonesian institutions usually employ the "virality" impact as a measure of success.
"They don't really understand the influencer industry, so their goal is usually just to become viral by becoming trending topics, or getting posts with massive likes," Tera added. However, some of these measures could be easily cheated, since there's a market for fake likes on Instagram, Twitter, and Facebook, Terra explained.

A lawless territory
Online influencers are becoming indispensable to brands' marketing and advertising strategies. Yet, in Indonesia, their business is still generally unregulated, in contrast with other advertising channels such as TV, radio, or news sites.
What's more, influencers could be prone to do "unethical promotions", such as endorsing fake medicines, cosmetics, skincare products, or even spreading misinformation, in exchange for little sums of money, according to media watchdog Remotivi.
Another main issue is transparency, as currently, Indonesian influencers are not obliged to inform their audience if their content is paid for by third parties. Even though there is an advertising code of conduct from the Indonesian Advertising Council (DPI), which after its amendment in 2014, requires disclosure for endorsement by private social media accounts, the code is not legally binding and only applies to its members.
Other countries have also released documents to regulate the industry, but results have been mixed. In the US, the Federal Trade Commission (FTC) released the Endorsement Guides in 2009, a document targeting advertising on social media platforms, which demands online influencers to disclose the relationship between them and the brand endorsed. In the UK, the country's Competition and Markets Authority (CMA) released an influencer guide in 2019, which emphasizes the importance of an influencer's transparency when endorsing products or campaigns. Yet, despite these efforts, a report by global research firm Influencer Marketing Hub found that only 14% influencers in both countries complied with the guidelines, as they don't pose any real legal threat.
In Indonesia, the idea of creating binding national guidelines for local KOLs has been raised by critics and watchdogs, but no serious actions have been taken so far. One crucial point affecting potential regulation of the market is that the social media influencer position is still not considered as an official profession by Indonesia's authorities. Also, most influencers prefer not to be labeled as KOLs.
"Digital communication is very fluid and the line between influencers and non-influencers is not clear," Firman Kurniawan, a digital communication and culture expert at the University of Indonesia, told KrASIA.
"It's hard to distinguish people who are influenced by a credible message conveyed by professionals, or believing a message based on emotional ties alone," he added.
Kurniawan argued that a detailed code of conduct is unnecessary as it might curb the influencers' "freedom of expression." However, he advised KOLs to be more selective and critical when accepting new jobs. 
"They should refrain from topics outside of their competency, and must refuse to share irresponsible statements," added Kurniawan. Their message might look personal, but it has public implications due to their large audience, he explained.
Media watchdog Remotivi's executive director Yovantra Arief thinks instead that clearer guidelines are urgently needed for the currently lawless influencer industry. He explained that the code of conduct by DPI is not significant enough to cover the evolving digital advertisement practice, and as it only applies to its members, which are mostly advertising agencies, not including influencers and KOLs.
"Because what they [influencers] are selling is authenticity: the illusion that what they are talking about is an honest testimony. Influencer advertising is highly attractive because there are no regulatory limits," he told KrASIA.
Disclosures, Arief affirmed, are ethically mandatory.
"Many content creators can present advertisements in creative and engaging ways while maintaining disclosure," Arief said. "I think healthy advertising is more about the compatibility of the products with influencer creativity, rather than misleading the audience. If the influencer is creative, there is no need to deceive the audience and people will still engage."
Still, Tera pointed out that guidelines might not work because many netizens could avoid responsibility by claiming not to be influencers. Also, monitoring content will also be a tough job due to the high number of online KOLs. "Even if an influencer wants to be transparent due to personal ethics, brands can always ditch them and pick others that happily disguise their paid endorsement as a personal opinion," she added.