The advent of the mobile internet era ushered in what is commonly referred to in Chinese as the "internet traffic dividend," which refers to the advantageous conditions and benefits brought about by the rapid growth and widespread availability of internet users and online traffic. Businesses can capitalize on the increased user engagement to achieve significant growth, market expansion, and other positive business outcomes.
Accordingly, growth theories like "traffic funneling" and "growth hacking" have dominated the marketing sphere for an extended period. However, with the emergence of a new wave of artificial intelligence, spearheaded by large models, whether AI will disrupt the software-as-a-service industry has surfaced as an important topic of discussion over the past six months.
In the face of rapid transformation, Sang Wenfeng, founder of Sensors Data, adopts a rational approach. He acknowledges the profound impact of AI, exemplified by models like ChatGPT, and admits that his previous belief in the limitations of AI has been challenged. Sang believes that AI has the potential to enable a paradigm shift in customer management, potentially moving toward a future of full automation. However, achieving full automation remains challenging, and Sang emphasizes the importance of practical, implementable directions over conceptual aspirations.
Established in 2015, Sensors Data considers itself a trailblazer in data analytics, evolving significantly to align its trajectory with the dynamism of the SaaS industry. In response to the AI wave, Sensors Data has been integrating AI in various ways, including data analysis, user operations, and strategy planning. This integration has led to the launch of "Sensors Decimal," a product based on large models. On Sensors Decimal, clients can directly inquire about specific business indicators, and the large model taps into the underlying data of the Sensors platform to provide precise answers.
The company's journey is contextualized within the broader narrative of its strategic focus. Having weathered the evolving landscape of China's big data industry, Sensors Data emerged as a representative player in the SaaS wave. Initially adopting an "ultimate single product" strategy, the company's big data analysis product was well-received among small to medium-sized clients in the internet industry. The company also insisted on adopting a subscription-based model to achieve product standardization.
In 2017, Sensors Data extended its services to medium and large enterprise clients, catering to high-value, complex customer needs. Today, their client base covers over 2,000 entities across industries such as banking, securities, insurance, brand retail, and automobiles. This expansion prompted Sensors Data to refine its workflow and methods, establishing dedicated delivery and customer success teams.
Setting up an open ecosystem
Alongside its growth journey, Sensors Data's product matrix also transitioned from big data analysis to customer-centric marketing scenarios, including products such as intelligent operations, user profiling, and recommendations.
However, the COVID-19 pandemic introduced a new inflection point, prompting a strategic reflection on its business. Sang emphasized the difficulty of achieving a closed business loop independently, leading Sensors Data to adopt a more collaborative approach to create an open ecosystem with partners and clients.
The company introduced its "Open API" strategy at the 2023 Sensors Data Conference. This strategy involves opening up APIs of Sensors Data's products, enabling partners to integrate and access them in collaboration with customers, forming a cohesive data stack. Sang stresses the importance of delineating business scopes, positioning Sensors Data as an enterprise customer data platform (CDP) and entrusting other components on the value chain to partners, fostering a seamless exchange of data.
Transitioning from the internet era to the digital era and from the "traffic dividend" to the "touchpoint dividend," where benefits can be derived from enhancing customer experiences and satisfaction. Sensors Data also recognizes a shift in enterprises' operational needs—from deep user behavior analyses to more personalized, omnichannel, and consistent customer experiences.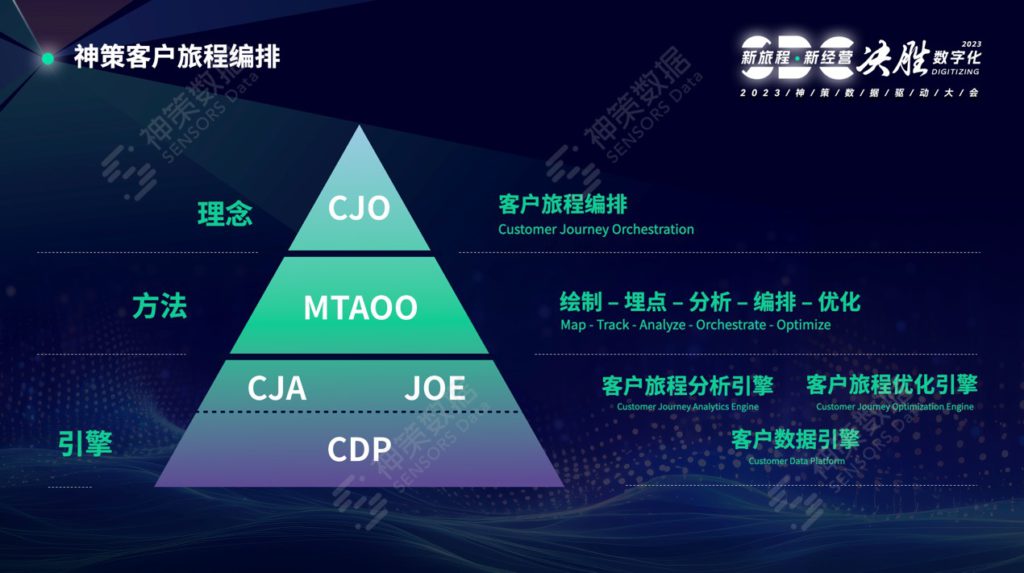 In response, Sensors Data introduced the concept of "customer journey orchestration." This approach breaks down customer orchestration into five stages—mapping, tracking, analyzing, orchestrating, and optimizing (MTAOO). According to Cao Jiang, co-founder and CTO of Sensors Data, this methodology underscores the importance of a powerful digital engine to support the core processes of digital customer management.
The company's commitment to providing personalized and efficient support is reinforced by its "customer journey analysis engine" (CJA) and "customer journey optimization engine" (JOE). These components enable real-time interactions, feedback, and rapid iteration, aligning with the company's overarching goal of delivering a maximally valuable customer experience.
As the B2B industry shifts from radical to rational development, Sensors Data stays committed to a focused product strategy. Sang emphasizes the company's role as an efficiency tool in customer management, pledging to demonstrate its value in enhancing operational efficiency for clients. Sensors Data's journey mirrors a strategic evolution in tune with the dynamic demands of the digital era, showcasing not only technological innovation but a pragmatic approach to industry changes.
​​​​KrASIA Connection features translated and adapted content that was originally published by 36Kr. This article was written by Yong Yi for 36Kr.