Senior, a Chinese autonomous vehicle company, has recently announced the completion of a strategic funding round led by NWS Holdings. The injection of funds is set to empower Senior to ramp up its R&D efforts, widen its market reach, and enhance its overall financial stability. The company previously raised over RMB 100 million in a Series A+ funding round completed at the end of 2022, indicating strong investor interest in the company's solutions.
Founded in April 2020, Senior specializes in port-based logistics, and aims to revolutionize the sector using its autonomous driving technology. The company's two main products are autonomous container trucks and intelligent flatbed shipping vehicles.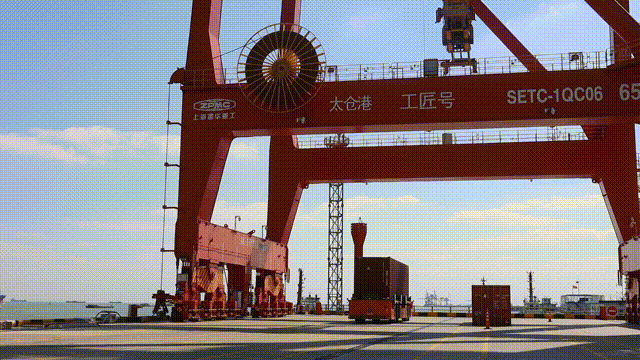 Having added 122 units of its production-ready smart heavy trucks to its fleet in July earlier this year, Senior currently operates over 200 vehicles that it has deployed across seven harbors, three bulk cargo logistics centers, and two logistics parks. These deployments represent the strength of partnerships forged by Senior with more than 100 industry stakeholders, forming a solid foundation for its future endeavors.
According to Equal Ocean, port terminals in China remain reliant on human drivers to operate container trucks despite recent advancements in autonomous driving technology, with a penetration rate of less than 2%. Requirements for truck drivers are also exceptionally high, resulting in a near doubling of salaries and a shortage of manpower. The cost of employing truck drivers account for more than 50% of the total operating costs incurred by domestic ports.
He Bei, founder and CEO of Senior, outlined that the logistics sector serves diverse scenarios ranging from river ports to seaports, land ports, railways, airports, logistics parks, and more. Moreover, it encompasses heavy-duty logistics within locations, enclosed or semi-enclosed areas, as well as short-haul transportations between different locations, all of which present unique challenges and opportunities for self-driving vehicles to be implemented.
Senior operates with two concurrent business models: the first is an operational service model where the company leases its vehicles to logistics facilities such as ports, charging transportation fees that are lower than the average rate currently charged by traditional truck freight companies. The second involves the assembly and sale of its vehicles, subsequently charging for technical services and subscription fees based on operational mileage.
Beyond financial support, NWS Holdings will also collaborate with Senior to unlock new horizons for global market penetration. By leveraging its technological capabilities and NWS Holdings' resources in the Greater Bay Area and Southeast Asia, Senior plans to scale up the development of its products and services as well as enter new markets.
This article was adapted based on an article originally written by Anqi and published on 36Kr. KrASIA is authorized to translate, adapt, and publish its contents.