Since December 2019, Alibaba (NYSE: BABA) has been stepping up its consumer-to-manufacturer (C2M) strategy. But the newest member in its menagerie, the Rhino Smart Manufacturing platform, looks set to be a game-changer for small and medium enterprises (SMEs) on its flagship e-commerce portal Taobao.
According to Alibaba, Rhino is an intelligent manufacturing platform that utilizes cloud computing, internet-of-things (IoT), and artificial intelligence technologies to transform operations for SMEs by directly connecting them to manufacturers for small, custom orders based on real-time consumer data, primarily in the apparel and clothing space. At the moment, Rhino serves over 200 SMEs operating on Taobao.
Rhino's DNA is in fast fashion, which is known to require manufacturers to fulfill orders at breakneck speeds. As early as 2017, Zhang Yong, who was at the time the CEO of Alibaba, hired Wu Xuegang, the former head of Uniqlo's global supply chain, for this project based on his rare experience at the intersection of manufacturing and service industries. Wu, who now serves as CEO of Rhino, shared his thoughts on the platform's direction.
An exception to the Alibaba ecosystem
Presciently, Alibaba's legendary founder Jack Ma defined smart manufacturing as one of Alibaba's "five core strategies" as early as 2016. Back then, Wu was working for a consumer goods company that wasn't linking up with China's booming internet industry. He felt like he was missing the train when many competitors were developing new tech-driven capabilities. When Ma brought smart manufacturing into the limelight, Wu knew he had his chance and connected with Zhang Yong via Fang Yongxin, one of Alibaba's top leaders.
"Ma first proposed the five new strategies, while Zhang has since been deeply involved in both strategic and execution leadership for this project. Because supply-side innovation is fundamentally driven by demand, there needs to be a lot of collaboration between Alibaba's different business teams, and we also connect with Jiang Fan [president of Tmall and Taobao]," said Wu, hinting at the byzantine coordination behind the project.
Rhino broke unfamiliar ground within Alibaba's extensive ecosystem and Wu had to hunt for talent and fresh ideas from outside the conglomerate. Alibaba tends to keep a close grip on its affiliates, but Rhino was a notable exception to this. "In Alibaba, generally, [independence] in business operations is not the norm. Alibaba has strong central teams in product development, business strategy, and technology, so there are many ready-made basic resources that people can approach [the central teams for]," said Wu. "[But] I had to recruit from scratch for this new business. Originally, I was puzzled because I thought that the group already had resources. But later, I realized that this was good because independence increases efficiency. There is no need to continually revert to the central teams for resources for each individual task, which can take up a lot of time and energy."


Wading into new waters in manufacturing
When starting the business from scratch, Wu's team had to choose between horizontal and vertical growth. Developing horizontally meant they would have to integrate across numerous manufacturing partners and products, while vertical development suggested integrating more deeply into one specific vertical. "Ultimately, we chose to enter vertically," Wu said. If they had adopted a horizontal approach, "we would have made many partnerships and developed cross-industry technical solutions relatively quickly. But the problem is that this would not go deep enough to solve the root of the problem."
But the C2M team only identified its precise strategic direction in December 2017 after months of brainstorming. "Zhang Yong only gave me an open question: How would you like to carry out new manufacturing?" reminisced Wu. "After visiting many merchants and many wholesale markets, I identified two main paint points. First, many SMEs have supply-side difficulties because their expertise lies in operating storefronts and accumulating consumer fanbases. There are higher entry barriers [to understanding] complicated supply chain operations, which makes it difficult for merchants to do this themselves. Secondly, supply chains require volume commitments, which individual merchants find hard to attain."
For the Rhino team, this was crucial to mapping out their mission. They focused on the nuts and bolts of mass-manufacturing for large numbers of merchants and optimized the process through data-centric technology, leaving matters like branding to the merchants themselves. "A supply chain is just part of the infrastructure, and we do not need to 'produce differentiation' here. That can be generated [later on by merchants] through selectivity, design, photography, and store style and image."
Fast fashion focus
The Rhino team honed in on the clothing and apparel. "Zhang Yong gave us three directional pointers: to address a big industry, the pain points of this field should be prominent, and this should lie within Alibaba's field of advantage," explained Wu. "Alibaba sells in excess of 700 billion pieces of clothing every year. We have both demand and data insight. We need this to build an ecosystem in the future. Also, we find that the most efficient way to impact society is to move from design to manufacturing fields. The same design architecture can be used end-to-end, which improves efficiency and avoids the need to repeat work."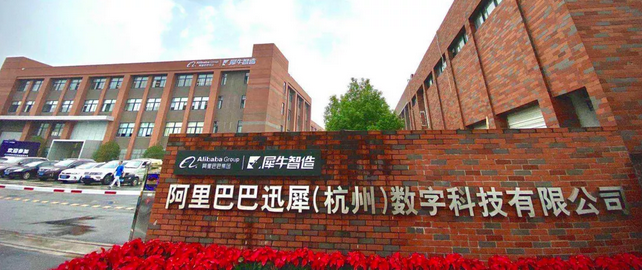 Since then, Rhino's smart manufacturing platform has contributed to the success of multiple fan-favorite brands on Taobao, such as Fano and Jiaonei. The Fano brand, for example, started out as a small team incubated on Tmall and was one of Rhino's early clients. In three years, its annual turnover reached an impressive RMB 150 million (USD 21.9 million), while its team size is now 120 people.
"What we want to do is help merchants and new brands reduce their cost of identifying viable stock-keeping units (SKUs) and supply them, and to also lower the barrier to entry for doing business for new merchants. We first help make personalized recommendations, and secondly, predict products that will sell well for individual brands or internet celebrities [who also sell items]. We automatically replenish supplies and products as well," said Wu. "We want to let talent enter Taobao. For merchants, the barrier to entry is not in opening the store, but in keeping goods rolling in."
Many of Rhino's clients submit smaller orders that yield quick turnover. "Unlike traditional brands, e-commerce brands only need smaller collections, not a full collection covering all fashion seasons of the year. For small businesses, it is very risky to produce 500 pieces at a time. This new business model relies on a higher frequency of product launches, which reduces the risk for merchants. When initially stocked, there might only be 30 to 50 pieces at first, but merchants can quickly decide how much to restock based on consumer clicks and re-sales later on."
Wu likens this to a souped-up form of Zara, which relies on high-frequency product launches. Rhino combines it with Alibaba's unique advantages for smaller merchants. "Merchants face a problem with high-frequency business models—limited cash to come up with new designs and renew inventory. To solve these, Alibaba has the financial resources and a platform to reduce upfront investment through a rolling inventory model."
Still, Wu knows that this incarnation of manufacturing cannot rely on repeat orders of the same product. New lines need to be developed constantly. "Female consumers need to compete with each other. A business cannot produce an extra 100,000 pieces of the same item after selling its first 100,00 pieces, because consumers will start clashing with each other [once this item becomes too common]. Therefore, this relies on smaller volumes, high-frequency innovation, and agile production."
Rhino is making headway, but Wu is not content yet. "We are almost there in terms of setting the direction. But, there are still some pathways for expansion and strategic considerations to our business model [that we need to tweak]. We also want to put more effort into the system's design," said Wu.
The original interview was carried out by Peng Qian for 36Kr. The interview was translated and adapted for this article by Lin Lingyi.