After spending close to three years at music streaming platform Saavn and edtech startup Unacademy, Saksham Keshri, an engineer by profession who had seen up close how these two platforms had matured over the years, realized the scope of growth within content-led companies. He set out on his own and pooled resources with a former colleague, Prakash Kumar, to start Mojo Times, an app designed for citizen journalists to create reports about local problems.
Mojo Times only lasted six months, because the entrepreneurs realized that there just wasn't enough user-generated content to sustain the app. Seeking a new project to develop, Keshri and Kumar came upon a fact that surprised them—Indian gamers, who normally spent their time on casual mobile games like Fruit Ninja, were increasingly likely to pour time into more intense games like PUBG Mobile, the Call of Duty franchise, Fortnite, and the FIFA series. A Statista report says that the mobile gaming market for video games in India will reach USD 405 million by 2022.
In July 2019, Keshri and Kumar co-founded Rheo, a platform for livestreaming gameplay, much like Twitch and YouTube.
"We have around 100 million casual mobile gamers in India, and around 75 million of them play serious and more immersive games in genres such as adventure, action, racing, and strategy," Keshri told KrASIA.
Keshri said India is largely a mobile-first market and gamers who use YouTube for livestreams are typically desktop users. "YouTube streamers who use desktops need to invest in hardware and other kinds of setups to livestream the gameplay properly. With Rheo, we enable mobile gamers to start streaming without having to spend anything on accessories," the co-founder said.
The gameplay
The first version of Rheo allowed users to watch livestreams and chat with the players. Streamers had to connect their account with StreamLabs, a video and audio streaming app, to broadcast their feeds. It was only in March 2020 that Keshri launched another app, Rheo Studio, specifically for livestreaming.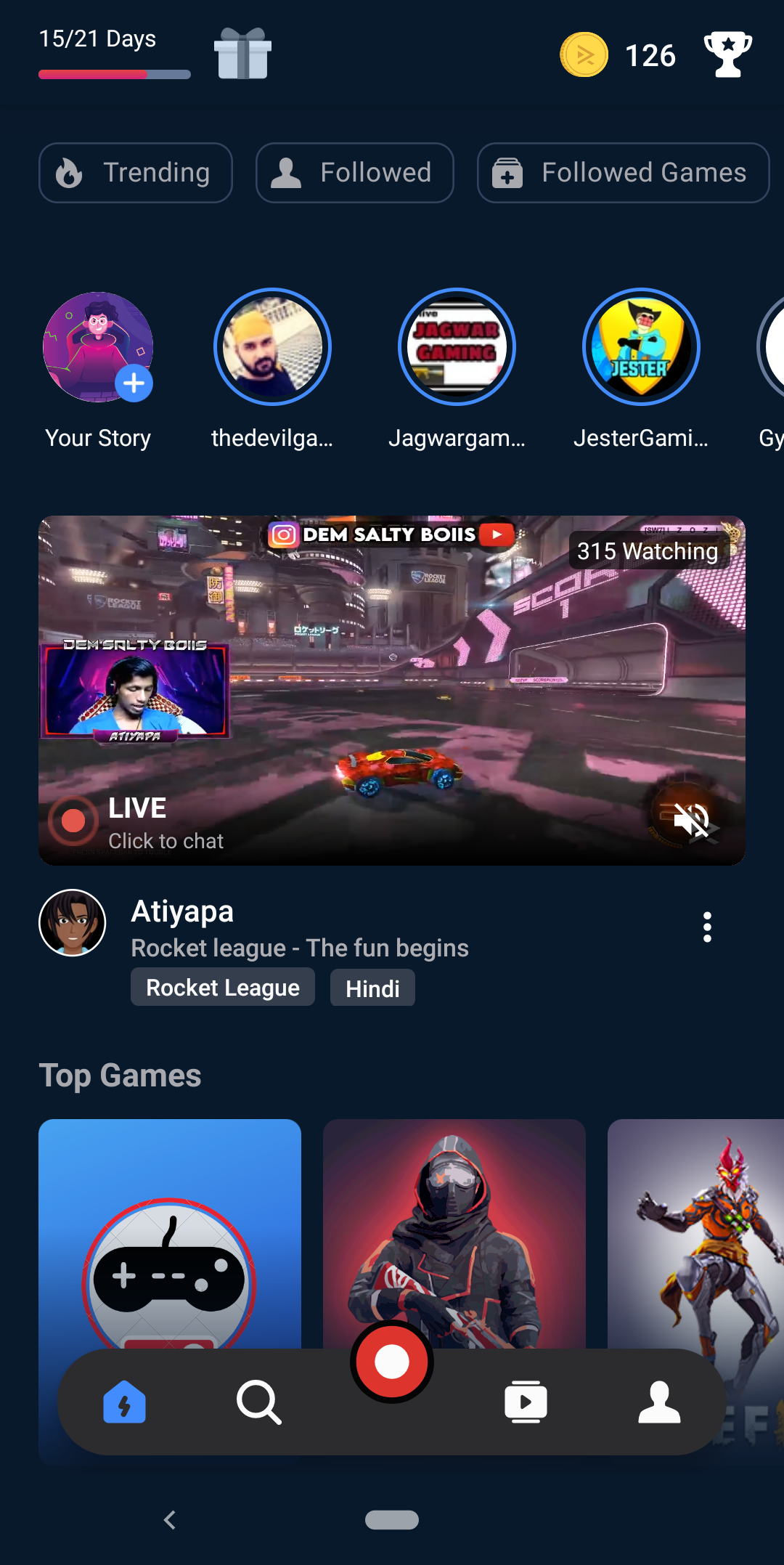 To stream their gameplay, a user has to connect the games they have installed on their phone with Rheo Studio, which then records their gameplay and broadcasts it to their viewers. "By using our app, they can use the phone camera as well as their web camera to show users their expression, which in a livestream creates more excitement and provides a better viewing experience," Keshri said.
Rheo's app has a familiar interface: the top shows "stories" shared by streamers, much like Instagram's feature. Other sections look a little like parts of Facebook, making it easy for new users to navigate.
Rheo's streamers are automatically offered a highlights clip of their best moments, which they can share on social media platforms. These snippets, the company said, are auto-generated with the help of machine learning and AI tools. Players don't need to spend time on editing.
"Unlike short videos on TikTok, where the content lasts only for a few seconds and there is an immediate satisfaction for viewers, gaming is longform video entertainment. So, gamers want to create montages of exciting moments in the gameplay for their viewers to watch later, or for viewers who joined the livestream late," he said.
In August last year, Rheo raised USD 2 million in a seed round led by Sequoia Capital's accelerator program Surge and Lightspeed Venture Partners, with participation from other angel investors that included the co-founders of Unacademy and former managing director of Saavn. In the following month, it raised another round of undisclosed funding from Japanese venture capital firm AET Fund.
Without divulging actual active user numbers, Keshri claimed the Rheo app has been downloaded 2.5 million times. While Rheo Studio, which has crossed 100,000 downloads, has 50,000 registered livestreamers on the platform. In the next five years, Keshri expects to have five million livestreamers in India using Rheo's apps.
Virtual coins
Since it has only been a little more than a year since the company was founded, Keshri said they are not looking at monetizing the platform for now. "We have some ideas on how to monetize the platform, but we are at a growth stage now and would like to focus on just that," he said.
Much like how virtual gifts are a key source of revenue for e-sports platforms around the world, Keshri said Rheo will adopt a similar model. The company is also looking at advertising as another means to make money. "We will start monetizing once we hit certain metrics in terms of users and hours of livestreaming on the platform. Once those are achieved, we will start with advertising first."
Currently, users can earn Rheo coins by completing tasks like watching a certain number of hours of gameplay or livestreaming their own gameplay. Once users earn these coins, they can spend them on virtual gifts such as roses, trophies, and cards for their favorite streamers.

At the moment, Rheo coins are the only "currency" that is utilized on the platform. Cash isn't accepted. The idea is to compel users to spend more time using the app.
The company has plans to make Rheo coins interoperable so that gamers can use them to make in-game purchases. The company recently formed a partnership with PUBG Mobile that allows its users to use Rheo coins to buy items in the game. But with the Indian government's ban of PUBG Mobile, this partnership is in jeopardy now.
"The latest ban on PUBG Mobile announced by the government has definitely led to an immediate catch-22 for hardcore PUBG gamers of India," Keshri said. "However, we strongly believe this is just a temporary setback, and notwithstanding this ban, the gaming community and e-sports industry at large in our country shall continue to grow in the months and years to come. We can say this with confidence because gaming as a skill is never limited to a particular game."
Keshri said many game publishers have approached them to advertise their virtual currencies on Rheo. The company has plans to rope in top streamers to create sponsored content where they demonstrate how virtual coins can be used in video games for satisfying experiences.
"Sometimes gamers don't know the importance of buying a coin since that coin is only used at later stages. But after watching others play, they can learn how a particular virtual coin can be used later to up their game. Companies see potential on our platform to increase the usage of these coins," Keshri  said.
This article is part of KrASIA's "Startup Stories" series, where the writers of KrASIA speak with founders of tech companies in South and Southeast Asia.