The Alibaba Cloud x KrASIA Global Startup Accelerator is live! The program brings together new technologists, venture capitalists, and other players across Asia to identify startups that are compatible with Alibaba's ecosystem. A series of Demo Days are part of the selection process for the accelerator. The inaugural Demo Day kicked off to a warm response from Southeast Asian startups and we received applications from all over the world, including India, Russia, and Chile!
Registrations for the physical and virtual Demo Days—which are specifically for startups based in Hong Kong, operating in Hong Kong, or have plans to enter Hong Kong—are now open and will run until September 30, 11:59 p.m. (GMT +8). The physical Demo Day will take place on October 13 from 2:00 p.m. to 5:00 p.m. (GMT+8). The virtual will take place on October 22 from 1:00 p.m. to 3:00 p.m. (GMT+8). Finalists for both Demo Days will be notified on October 6.
Alibaba Cloud welcomes startups from any country, industry, and that are operating at any stage. All registrations are welcomed!
Startups that join Demo Day stand to win the following prizes:
USD 60,000 in Alibaba Cloud credit
1-on-1 technical support for setup and migration
Connections to top VCs in Southeast Asia and China
Opportunities to work with companies in Alibaba's ecosystem
Profiles in English and Chinese by KrASIA and 36Kr Global
Successfully registered startups will also receive USD 3,000 in Alibaba Cloud credit. This will be deployed after October 13.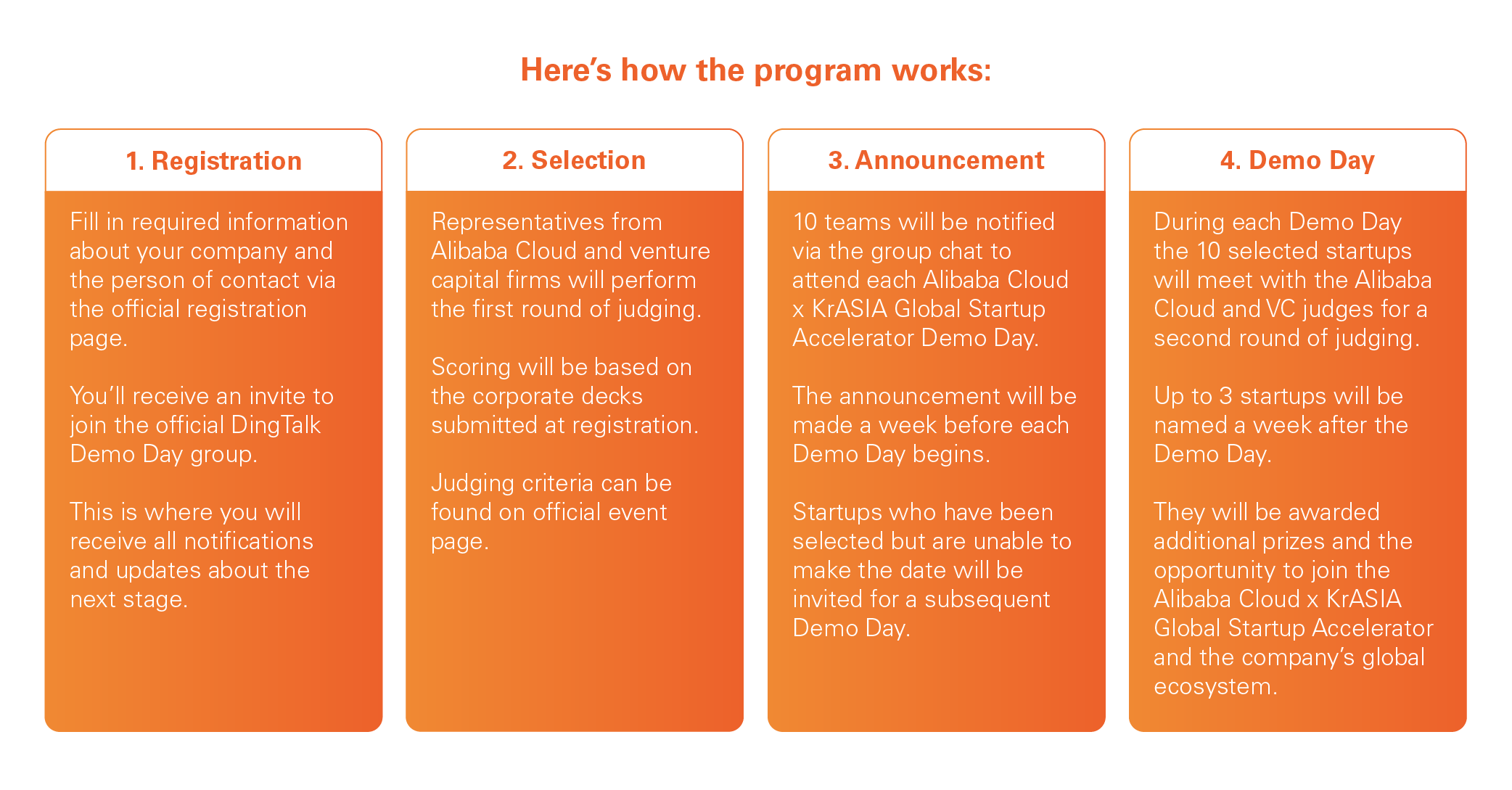 The selection process begins after you've successfully registered. Judges include representatives of Alibaba Cloud, venture capitalists, and research experts from 36Kr Global. They will consider the company's corporate deck when selecting startups for Demo Day. The full selection criteria is available on the program's official website.
Here's what you need to provide when you register:
Your startup's name
Main point of contact's details: Full name, mobile number, business email address
Funding stage
PDF of your corporate deck
Click here to learn more and register for the Alibaba Cloud x KrASIA Global Startup Accelerator Demo Day on October 13.