As part of the AsiaForward Startup Day, KrASIA organized five Open Office Hours sessions on March 24, 2022. It was a chance for the operators of Southeast Asian startups to seek advice from VC investors who operate in the region and beyond, including those from ATM Capital, Gobi Partners, Openspace Ventures, Sequoia India, and Vertex Ventures Southeast Asia & India.
More than 100 startups registered to participate in Open Office Hours, and each investor spoke with representatives of four startups, sharing their knowledge about business landscapes and operational acumen after hearing about new products, business plans, and challenges.
Minjun Liang, founding partner of ATM Capital
Liang had conversations with representatives of Sukee.ph, Global Investa Capital, Loop Smart Retail, and Ituloh.
Ituloh is the first content e-commerce platform built for users in Indonesia. It started by facilitating orders for food based on user-generated content, and is expanding to other lifestyle verticals. Its co-founders, Christine Suwendy and Riswanto, attended Open Office Hours.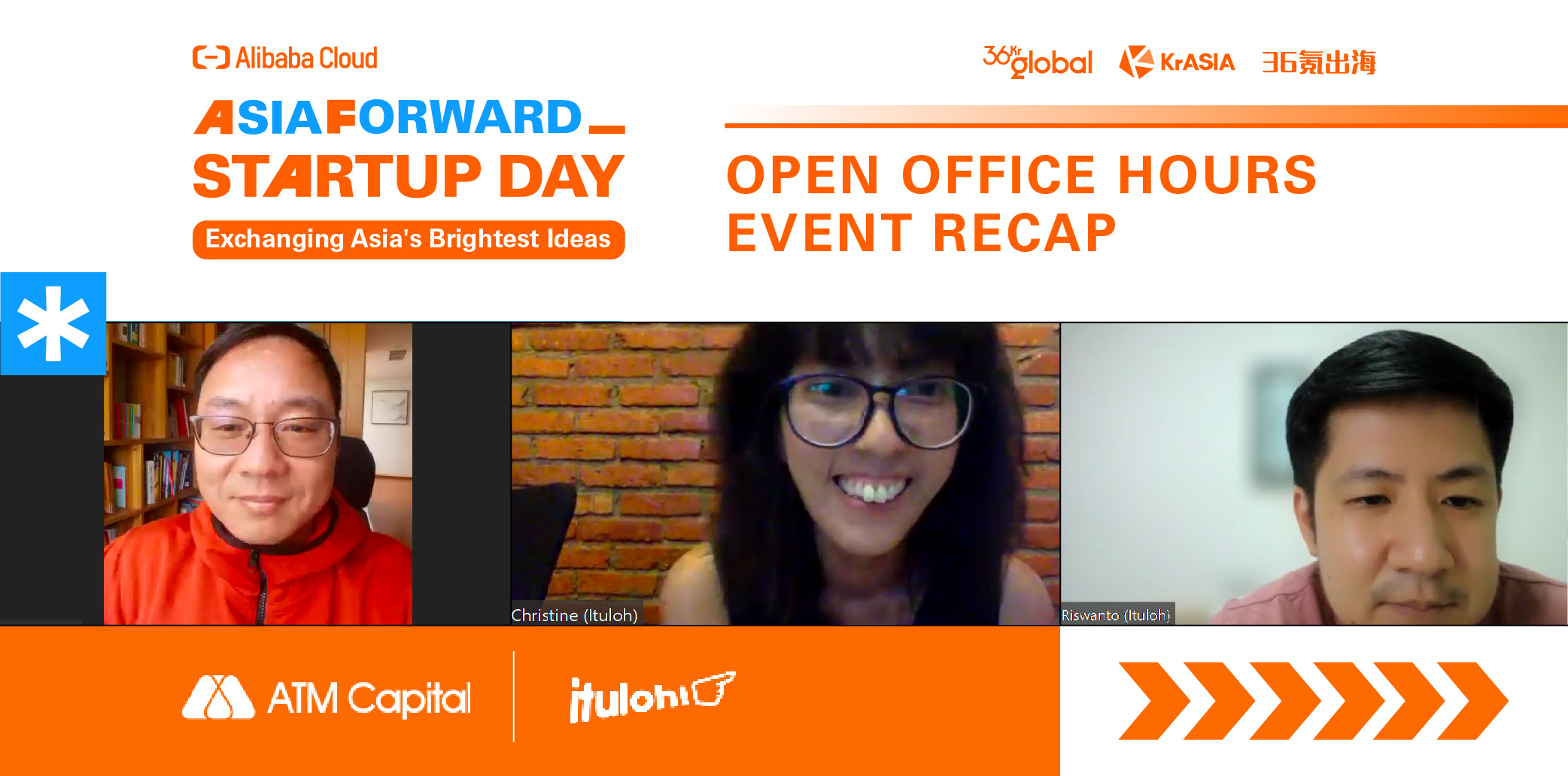 Suwendy and Riswanto were able to learn about Liang's perspective on the sector based on insights from the contexts of Southeast Asia and China, particularly the business models of platforms like Xiaohongshu. Ituloh is currently seeking ways to expand its community, attract more user-submitted content, and develop more relationships with KOLs—all to generate more transactions.
Liang referenced Xiaohongshu's reliance on affiliate links and advertising as revenue sources to indicate that the Chinese platform's business model carries some risk, but this is mitigated if Ituloh selects the right niche rather than focusing on a wide range of subjects, which in turn will help it function as a comprehensive e-commerce platform.
The investor also highlighted the utility and importance of video content, stating that it could be used as a stepping stone toward AR/VR and metaverse content. This aligns with consumer expectations to access content first, and shop second. Useful examples include the way e-commerce has now been built into Douyin, TikTok, and Kuaishou.
In the meantime, Ituloh should consider how it adds value for influencers to set itself apart from other platforms, Liang said.
Venture partner Jason Gaisano and associate Trenton Tan of Gobi Partners
Gaisano and Tan spoke with D-Risk Technology, ConnectingDNA, Supernewsroom, and Jaramba.
ConnectingDNA offers curated DNA tests from reputable brands and connects customers to products and services based on their genetic traits. Its founder and CEO, Cedric Lee, represented the startup at Open Office Hours.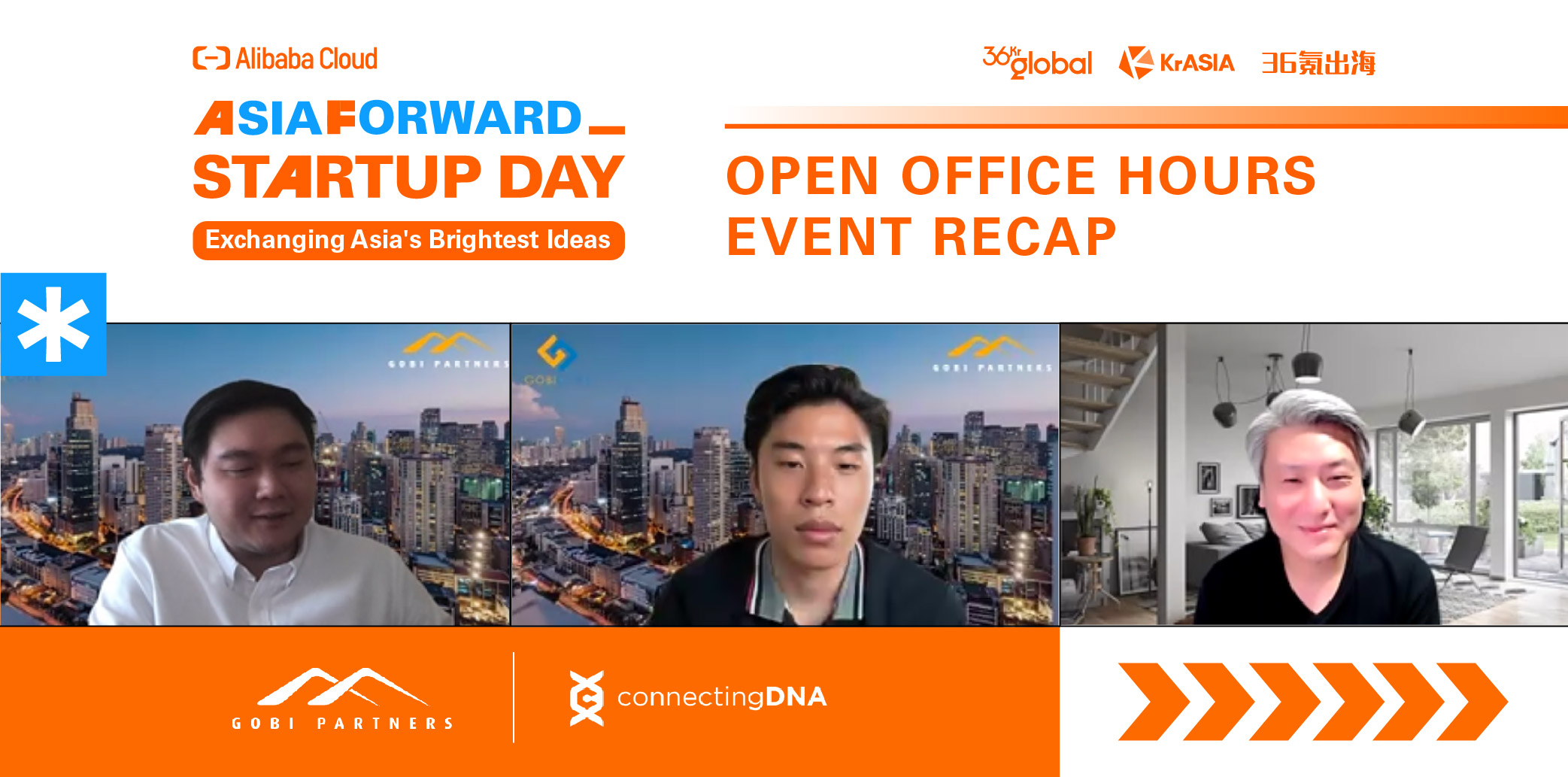 ConnectingDNA is seeking a seed investment. This opened a discussion about what the startup has to offer that would entice investors. Gaisano pointed out that ConnectingDNA should already have specific VCs in mind as potential investors, specifically those that operate in the healthtech space. These investors will already have defined metrics that they use to evaluate potential portfolio companies.
Tan suggested that ConnectingDNA develop its reputation in the alternative health and wellness space by securing reputable vendors. Lee indicated that his startup currently does not enforce standards for vendors, but charges a fee to set up their landing page on the platform. A change in these practices could create trust between ConnectingDNA and the brands that use its platforms.
Adele Teh, senior associate of Openspace Ventures
Teh spoke with representatives of Storya, Trambellir, Prosperna, and CBE Eco-Solutions.
Storya's app helps creators package and publish their content by using auto-translation tools and AI-generated cover art to reach a global audience. CEO Paolo Dense and CTO Praveen Kumar spoke with Openspace's Teh.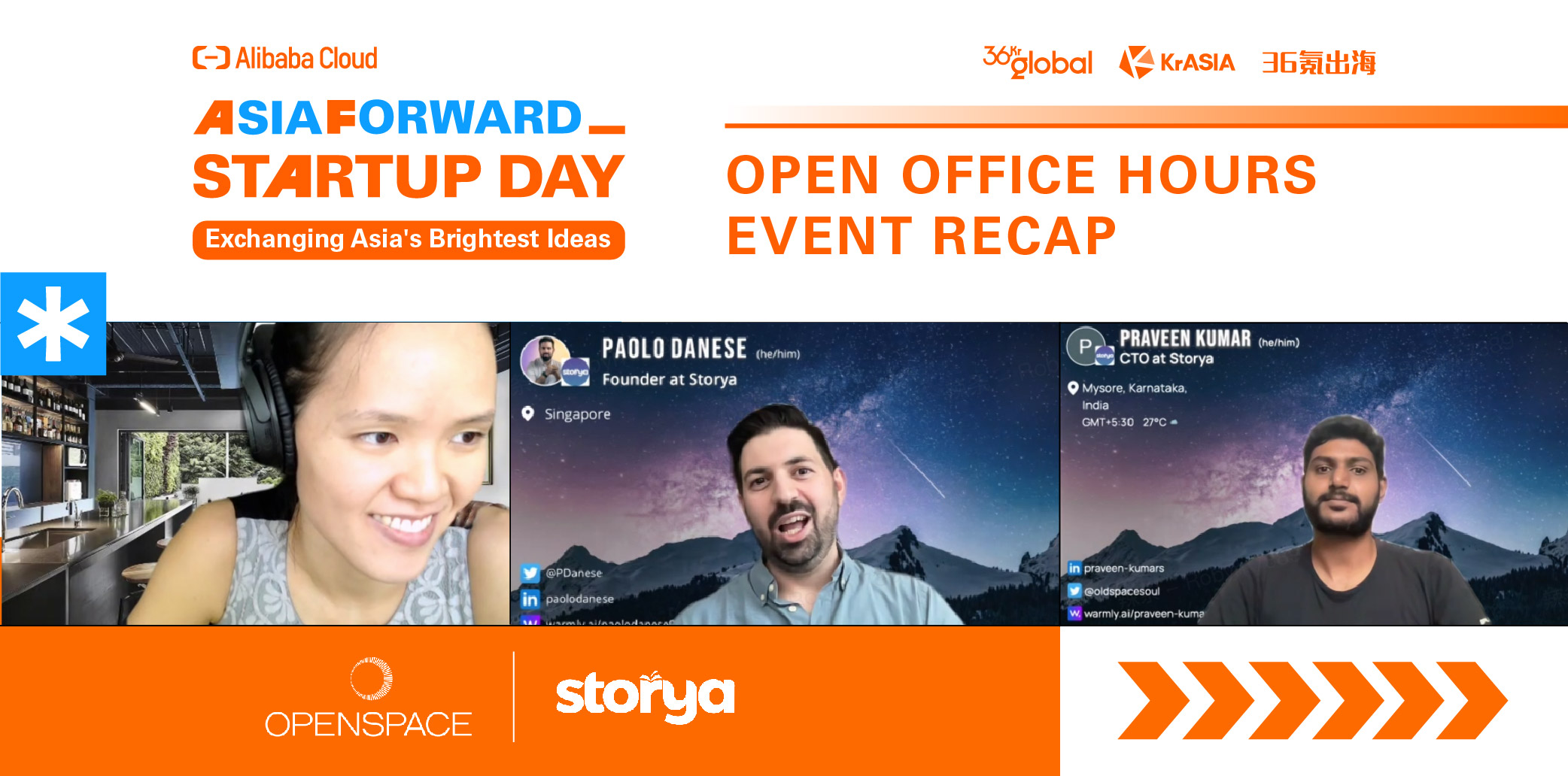 Teh indicated Southeast Asia has a growing creator economy. The space is currently in a phase where platforms need to gain recognition and traction, so it's important for a startup like Storya to identify what its users and audience enjoys.
Teh pointed out that it may take the startup six to 12 months to begin generating revenue, but there are other metrics for early-stage startups to evaluate their progress, including the number of daily active users, the amount of time users spend on the app, and how much content they consume.
It will be important for Storya to diversify its revenue streams, Teh said. This may include generating revenue through ads or subscriptions for ad-free content. Premium books that command higher fees could encourage writers to create on Storya's platform.
Storya plans to utilize blockchain technology in its services, but Teh cautioned against presenting this without having a clear roadmap for how Web3 elements will be integrated into Storya's business.
Johan Surani, vice president of Sequoia India
Surani spoke with Vase Creation, Ship60, Trabble, and Neufast Limited.
Vase Creation is a Malaysian beauty and personal care brand whose founders include two women with professional experience in chemical formulation and manufacturing. The brand was established to create products that contain no harsh chemicals. Surani spoke with co-founders Wendy Lean and Lawrence Tan.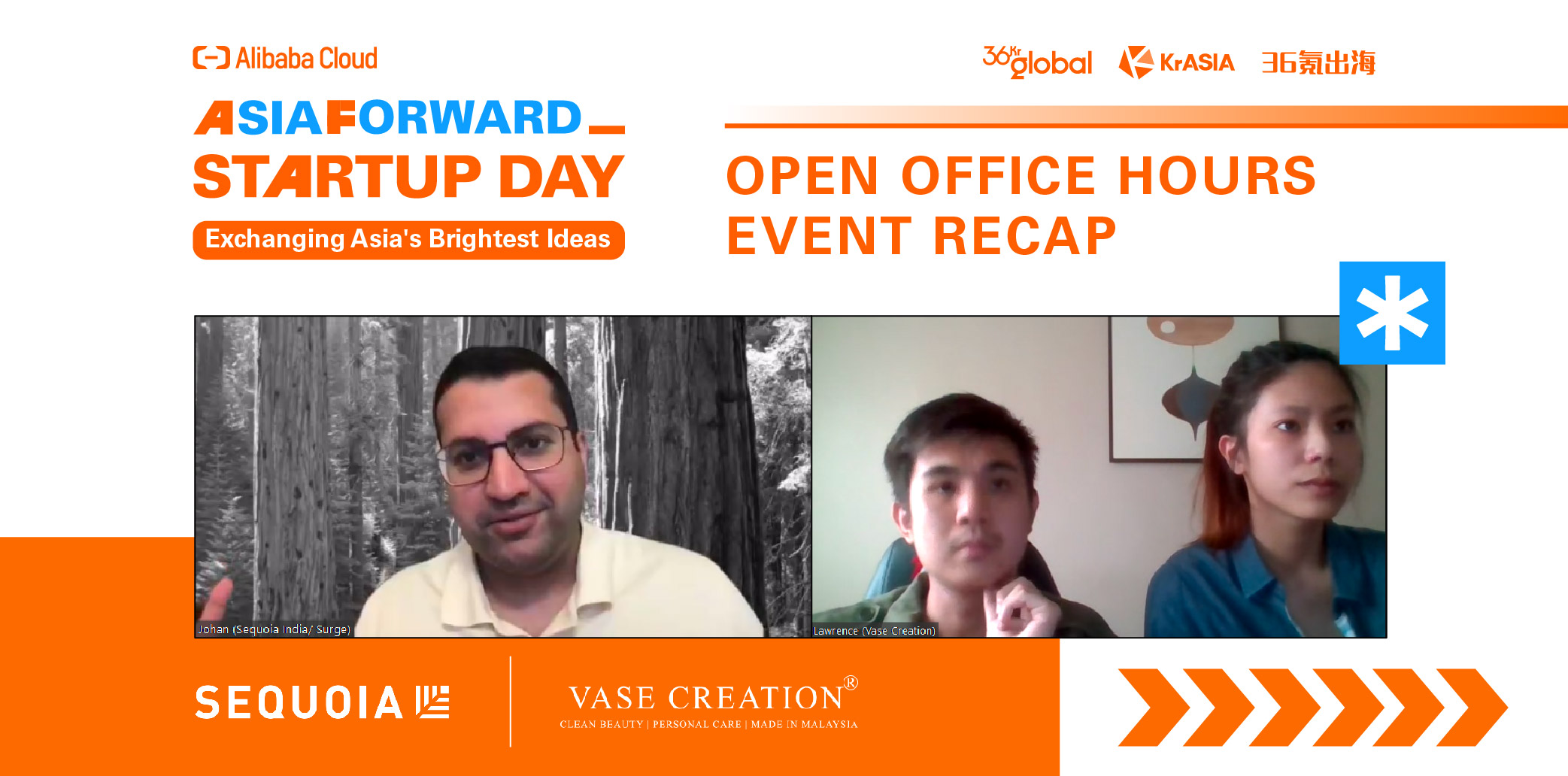 Surani noted that Vase Creation will go through periods of high sales volume as well as slumps, just like any other consumer brand. Understanding this, the focus should be on creating products that resonate with the target consumer base, such that they are likely to recommend the products to other people. He noted that for personal care products, customers tend to make repeat purchases if the items they bought fit their needs.
If a consumer brand has loyal customers, a high net promoter score, high customer retention, and good repeat sales rates, then investors may evaluate the firm as a potential portfolio company. Surani indicated that these are leading metrics, while revenue and the number of transactions are lagging metrics.
Dhia Izza Nabila, associate director of Vertex Ventures Southeast Asia & India
Nabila spoke with representatives of Ecopia.id, Taman Siswa, 1Export, and Vibe+.
1Export developed a platform for cross-border trade and fulfillment services to serve trading businesses. Its co-founder and COO, Daniel Remo, engaged Nabila to seek her insights.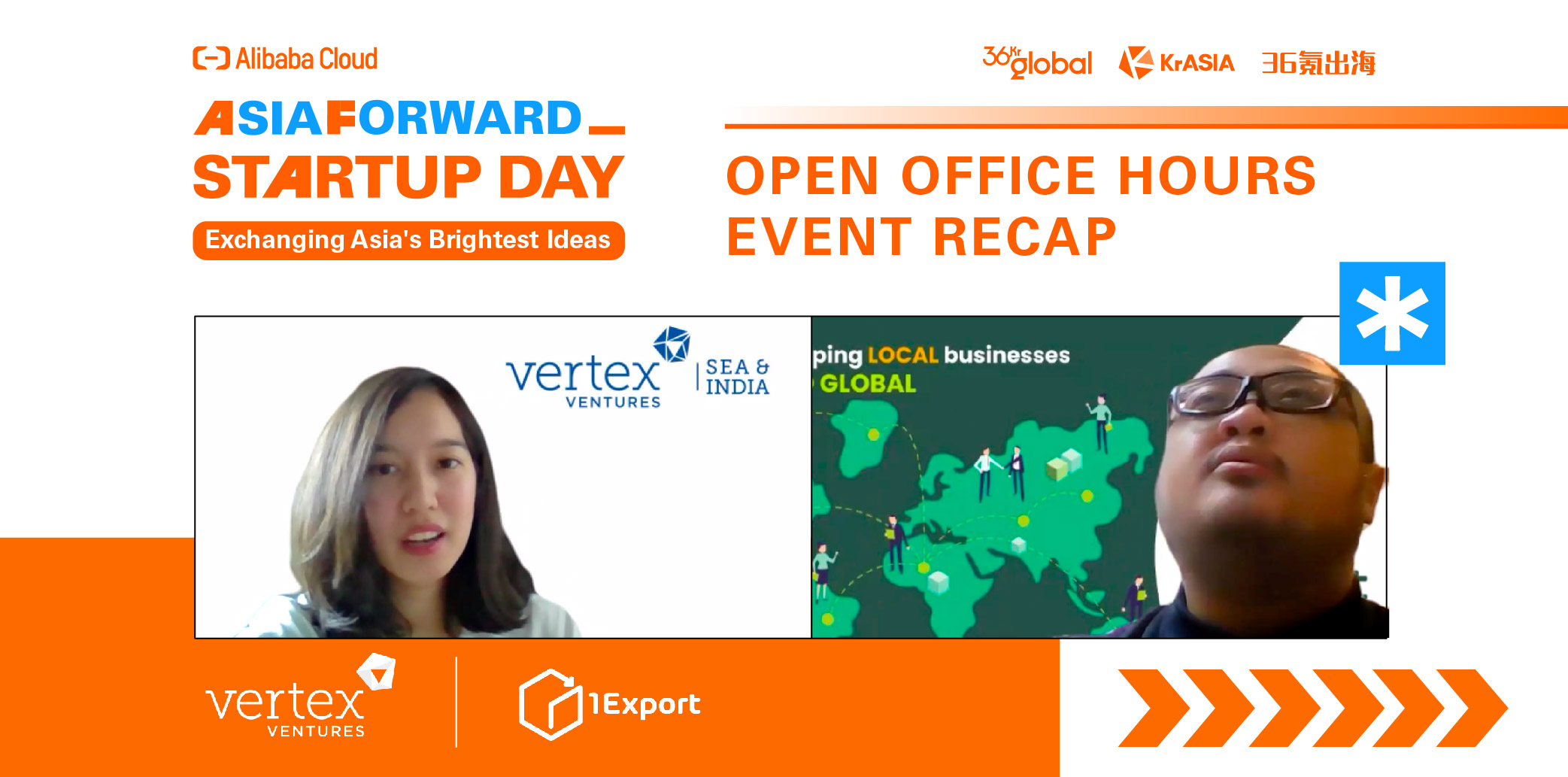 With the startup preparing for its pre-Series A fundraising, Nabila said investors may examine its GMV as one key metric. As it moves into its Series A and Series B phases, 1Export will have to justify its valuation and ensure that it is performing based on the metrics that were discussed with existing investors.
This session of Open Office Hours was organized as part of the AsiaForward Startup Day collaboratively organized by Alibaba Cloud and KrASIA.