The capital of Southeast Asia's most populous country, Jakarta, has yet to resolve many urban issues related to mobility, safety, and sanitation.
The situation is a cause for concern for Rama Raditya, founder and CEO of Qlue, a mobile app designed to gather and relay public complaints and comments about daily problems or inconvenient occurrences in the city. Qlue provides a platform with artificial intelligence, Internet-of-Things technologies, and data integration, connecting citizens with the government to improve work productivity and efficiency in combating the city's problems. Through Qlue's app, government officials receive real-time reports and monitor the city's situation. Qlue's analytics platform helps leaders make informed decisions and shape better policies by providing relevant data.
Qlue claims to have helped reduce flooding points in the city by 94% and increase public trust in the government by 47%. The platform has won several awards for its achievements, including the Best M-Government Service award at the 7th World Government Summit in Dubai in February 2019.
KrASIA recently sat down with Rama Raditya to find out more about the roles of technology and data integration in creating a smart city.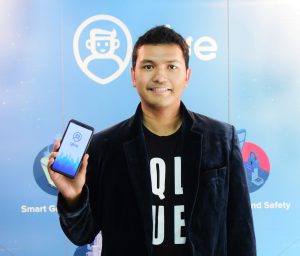 KrASIA (Kr): How did you start Qlue?
Rama Raditya (R): It all began in 2014. I was concerned about Jakarta's urbanization problems, which have persisted for years. I got the idea of using mapping techniques to solve the problems happening in the city when I was working on Google Maps' program back then. I sent a letter to the former Jakarta Governor Basuki Tjahaja Purnama to make a presentation about a platform where citizens can report their complaints, which will be addressed immediately once they are received by officials in charge of the issues. He showed interest in this project, After lengthy discussions, the provincial government of Jakarta was finally committed to collaborating with Qlue by investing and utilizing our dashboard to help create the Jakarta Smart City program.
Kr: Please tell us about Qlue's latest development. Who are your stakeholders today?
R; We are expanding our services to the B2B sector and working together with various corporations like real estate developers, mall and building management, hospitals, while still maintaining partnerships with government institutions like police departments to provide tech solutions that can help them increase security, safety management, and productivity by up to 50%.
We currently have more than 700,000 users in 15 cities, and we have worked with 17 regional police institutions in Indonesia as well as with more than 60 private enterprises.
Kr: Please tell us about Qlue's key features and technology.
R: Our key feature is on the dashboard, which is powered by AI, machine learning, and data intelligence to help the government with workforce management. Our technology that is responded quickly by the officers in the field is the key aspect for us.
Although we receive many citizen reports through the app, it is not Qlue's only source of data. We rely more on live sensors from cameras and CCTV systems that are spread across the city streets and inside buildings. Using an AI-based dashboard, we process data from those cameras with various analytical solutions, including facial recognition, street analysis, and crowd counting. We use license plate recognition that is integrated with parking payment instruments to detect illegal parking. The solutions have helped many companies and government agencies to significantly reduce costs and human errors in monitoring CCTV.
Kr: What are your thoughts on privacy issues in the context of surveillance technologies like smart CCTV?
R: There is no solid regulation for privacy issues for CCTV analytics yet. However, we are willing to work with the government to form this regulation in accordance with our nation's vision.
Kr: How would you describe a "smart city"?
R: For me, the analogy of a smart city is similar to the smartphone. We receive a lot of information through a smartphone, we take actions and resolve daily problems through various programs installed on our devices. The same principle also applies to the smart city. A smart city incorporates information and communication technology, as well as strong infrastructure, so that all information and data can be captured quickly and accurately by its stakeholders, which are the government and citizens. This information enhances the quality and performances of urban services and will improve the quality of living for its citizens in the long run. There are many indicators that define a smart city, like smart governance, smart mobility and traffic management, smart environment, smart finance, and so forth.
Kr: How far is Jakarta from that description?
R: I think Jakarta is still far from this definition. Ideally, a smart city must be built from scratch with cutting-edge technological infrastructure, from undergrounds pipes that are equipped with IoT to street lights that have been installed with live sensor technology. What we can do for Jakarta is make corrections and prediction actions by collaborating with existing components and new innovations like the MRT.
However, we have witnessed many improvements in Jakarta after Qlue was rolled out. For example, our disaster response management helps estimate flooding potential in the city. We have helped reduce flooding points in Jakarta from 8,000 points into just 400. We also collaborate with the police department to identify potential threats and provide an immediate response by dispatching personnel effectively. Not long ago, we helped the police arrest drug dealers based on citizen's reports through Qlue. We also helped with securing the general elections this year.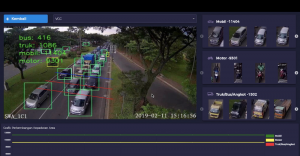 Kr: What has the government's support been like so far? What is the difference between the support of former governor Basuki Tjahaja Purnama and the current governor Anies Baswedan?
R: The government has been supporting us well. Even though Jakarta has a different governor, the system and cooperation that have been built with Qlue are still running, so there is not too much difference. The current Jakarta government still uses Qlue even though they also launched new, similar applications. I don't think we can build a smart city by ourselves, as it needs many elements and collaboration. However, since we have started before them, we have a number of tech advantages. Qlue is still the mainstay for Jakarta residents as 90% of public complaints accommodated by the Jakarta Provincial Government are channelled through Qlue, and more than 87% of the reports receive a follow-up response immediately.
Kr: What are your hopes for the newly elected government?
R: I hope that IoT regulation in Indonesia can be quickly resolved and defined so that we can accelerate even faster. Currently, there are no clear rules for facial recognition implementation.
Kr: What's next for Qlue?
R: We will focus on adding more talents and business expansion as we hope that Qlue's solutions can be implemented at more institutions and companies.
This article is part of KrASIA's "Startup Stories" series, where the writers of KrASIA speak with founders of tech companies in Southeast Asia.