Some of China's gigantic shopping malls and office plazas lay desolate during the height of the COVID-19 pandemic, but as the country's commercial real estate sector awakens from its unscheduled hibernation, industry leaders are recognizing an opportunity to embrace digitalization in what has been a typically slow-moving commercial real estate market.
In a report from Altus Group where 400 commercial real estate executives were surveyed, researchers found that "the industry has reached a tipping point as proptech adoption hits a critical mass threshold." Eight out of ten firms that Altus approached now have a chief data officer or equivalent, compared to just 44% in 2016. This has important ramifications for China's sprawling commercial real estate market and the integration of proptech in the sector's future.
Like many other conventional industries, companies in real estate needed to abruptly embrace digitization in the wake of COVID-19 or risk being left behind. This poses an even more difficult challenge given the lack of strategic agility with many large real estate corporates.
Ping An Urban Tech CTO Wei Baisong, told 36Kr in December 2019 that they found most real estate companies have very weak pre-informatization infrastructures and face problems such as low digitization, lack of standards, and low data openness.
The vacancy rate for Beijing's Grade A office space, roughly defined as newly constructed buildings with top-of-the-line amenities, was 14% in the second quarter, up from 11.3% in the prior quarter, according to JLL. However, going forward, Grade A offices are likely to benefit from the relaxed regulation on foreign financial companies as foreign entrants seek to build up a presence in China's first-tier cities. Grade A office supply is projected to grow from 71.5 million sqm in 2019 to 96.9 million sqm by 2022. In the near future, proptech's imprint will lead to a broad impact across the real estate industry.


An opportunity for property managers
The increased importance of property management has come to the fore during an industry-wide downturn. While premium office supply is set to continue to increase, commercial real estate sales have slumped in the wake of the pandemic and resulting economic turbulence. National sales of office buildings for the first half of the year fell 28%, per data from the National Bureau of Statistics issued by data provider Wind. That's an improvement from the 35.3% decline recorded for the first five months of the year, but still near all-time lows. As vacancy rates remain high due to economic uncertainty induced by COVID-19, property managers are tasked with further boosting efficiency to save costs for clients.
Like many other industries in the pandemic's wake, this has led to property managers adopting technology more broadly, digitizing operations to not only keep costs under control but address public health concerns.
Proptech-oriented robots are utilized by property managers to reduce the manpower required to service their buildings. A report from JLL Greater China explained how autonomous patrol robots, similar to the ones used in Leishenshan Hospital in Wuhan, were dispatched to disinfect commercial buildings in Shanghai. Altus Group's survey of commercial real estate executives found that 75% believed automation will eliminate labor-intensive jobs in the sector.
But proptech extends well beyond just robotics, including apps, the internet-of-things (IoT), and sensors to bring forth a data-driven approach to property management. For example, a smart building could allow certain windows to open periodically to allow fresh air into the building and mitigate the risk of airborne viruses. IoT sensors could monitor air quality, temperature, humidity, and energy consumption. Further, technology can help reduce touchpoints by allowing an elevator to be called using facial recognition, or enhancing Bluetooth and QR code access functionalities.
These technologies are already part of tech giant Tencent's Shenzhen headquarters, which opened in 2017, complete with facial recognition-enabled entry, intelligent temperature regulation, and service robots. Hailed as a leading example of intelligent real estate, functionalities like those in the Tencent headquarters may start to become standard in China. 
With such a wide range of use cases that can both cut costs and improve public health standards, proptech stands to support China's commercial real estate sector in its darkest hour.
As a result, China's property management companies have acknowledged the importance of a tech-driven approach and have begun to shift their budgets. According to a survey by Chinese property management firms by JLL, 47% of respondents plan to increase their proptech budget by 10–30% in the next two years.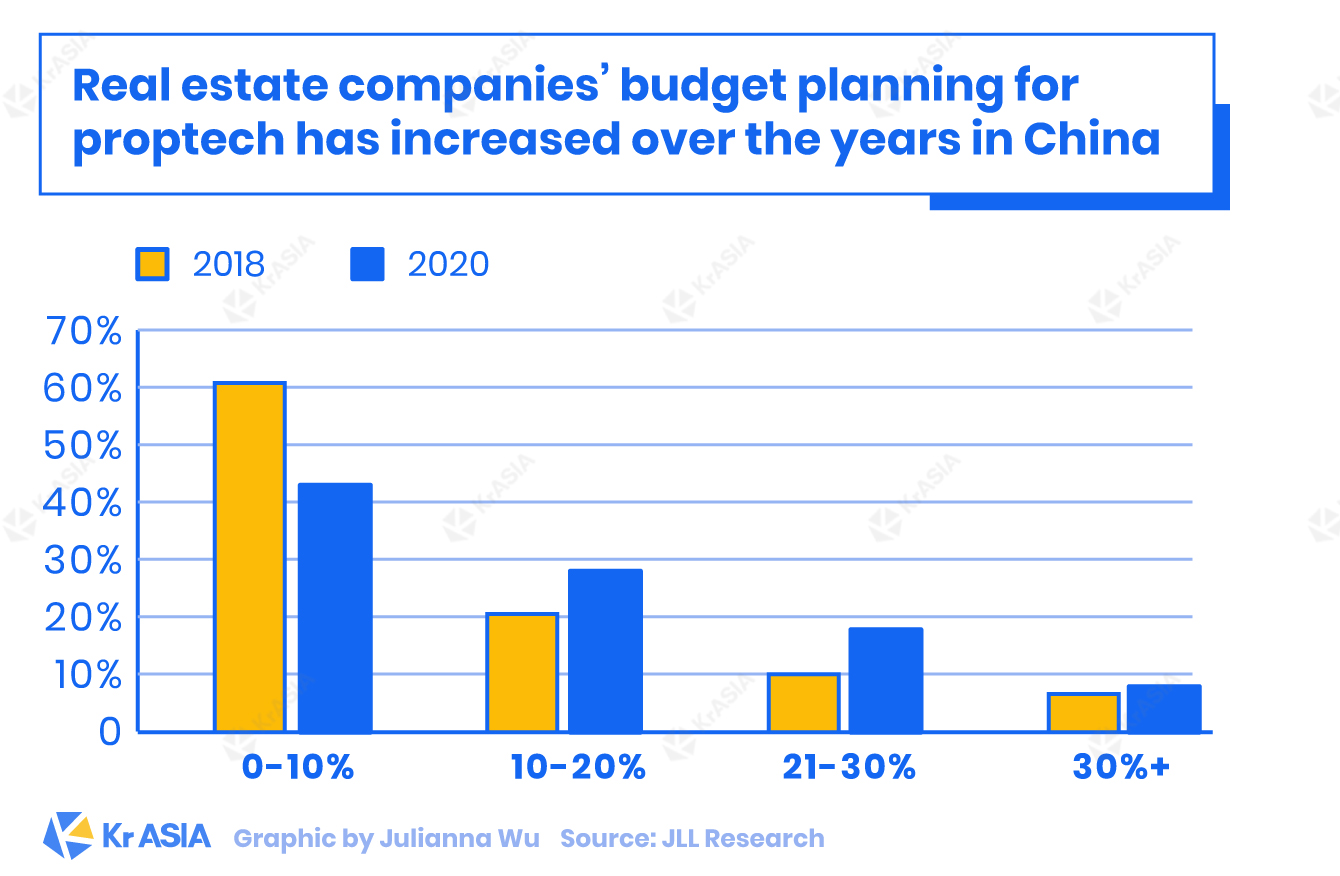 An industry-wide transition
Both traditional real estate giants in China and startups alike are embracing proptech as a crucial element of real estate's future.
Country Garden, one of China's largest commercial real estate developers and managers, which generated RMB 6.27 billion (USD 930 million) in revenue during the first half of 2020, announced in 2019 that it will heavily invest in R&D related to robotics technology. The company is currently working on construction robots, in addition to medical and catering robots.
Institutional and retail investors alike are receptive to these types of forward-looking initiatives. Agile strategic thinking on the part of property management firms is one of a few factors that have increased the average share price of the 29 Hong Kong-listed Chinese property management companies, bumping up the value by more than 60% from the beginning of the year to September. This sector's recent boom in capital markets lies in stark contrast to the Hang Seng index's 12% drop, while these firms generated RMB 39.5 billion during the period.
As traditional industry giants like Country Garden are slowly shifting to a technology-oriented approach, startups in the space are agilely serving customers with full-stack proptech solutions.
Even before the pandemic, in 2019, American real estate conglomerate JLL teamed up with Swire Properties and Ping An Urban Tech, a subsidiary of the Chinese insurance giant, to host the UrbanLab 2019 accelerator to nurture promising startups in mainland China's proptech sector.
A standout from the cohort, Shanghai-based Giga, leverages cloud computing to create sensor-based standards for healthy and sustainable buildings, while also providing real-time analytics. The company's inclusion in Urban Lab has not only endowed them with extra funding but allowed them to test their solutions at scale, due to the accelerator's partnership with Hong Kong-based Swire Properties.
But it is still early days, according to JLL's CEO of Greater China, KK Fung, who said in a recent report, "The proptech ecosystem in China is still in its infancy. In the future, it will further accelerate the digital transformation of the country's real estate industry in terms of integration, efficiency, and talent development."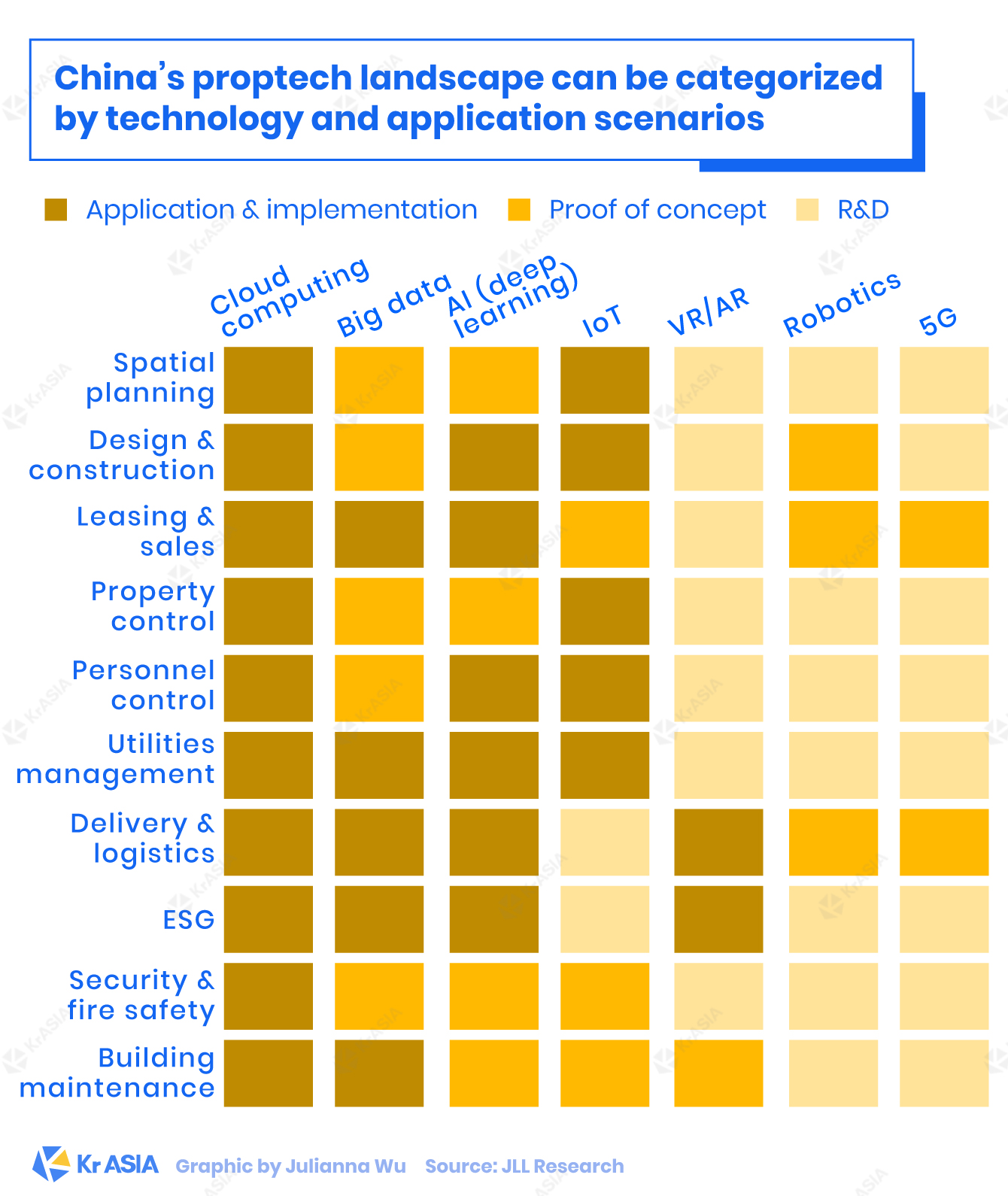 Enhancing New Retail
Proptech holds promise not just in the management of China's sprawling inventory of commercial office space, but for retail use cases as well. Since the onset of the COVID-19 pandemic accelerated the utilization of e-commerce in China, offline retail locations are now adapting to offer services and experiences, in addition to simply selling products.
Proptech solutions leveraging technologies including facial recognition, virtual and augmented reality (VR and AR), IoT, and aided 5G networks can significantly improve data collection and thus personalize customer experiences, while also facilitating intelligent design solutions for retail spaces.
Dalian Wanda, one of China's largest commercial realtors, is known for its massive shopping malls that are found in most of China's large urban centers. It has embraced facial recognition to collect more data and provide a better shopping experience.
The technology, from Wanda's Huiyun management system, can identify and analyze a person's age, gender, and shopping patterns to help merchants optimize store layouts while also tagging a user to save preferences for future visits. Behaviors such as how long a shopper lingers in a store, and whether they left with a bag in hand or not, can be automatically captured by cameras. That data may inform retailers' decisions.
Dalian Wanda deploys this system in 280 of its plazas across China, each equipped with over 10,000 sensors.
Another of the 12 finalists from Urban Lab 2019, Shanghai-based Jingteng Technology, focuses on mixed reality solutions. Its core team previously worked at Microsoft, and the company is a technology partner of Microsoft. Jingteng's Holologic mixed-reality interactive platform is at the core of Microsoft's Hololens VR headset. The company's solutions can enhance the capabilities of and collaboration between the various creators of commercial real estate projects, providing designers with an immersive medium to optimize the space for retail. It does this by allowing designers to account for foot traffic patterns and shopper heatmaps during the design process to maximize the impact of store layouts, and strategically place marketing promotions.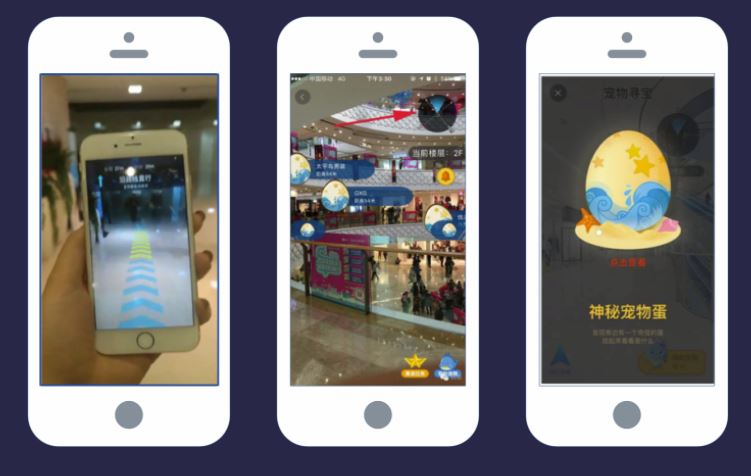 In addition to using intelligent design software to improve retail outcomes, Shanghai-based Palmap, China's largest indoor map and location service provider, uses the data it collects to improve indoor pedestrian traffic flow and boost the efficiency of China's numerous and massive shopping complexes. The company can also equip commercial retail spaces with AR software solutions that provide users with in-mall directions, personalized marketing, as well as interactive functionalities like AR treasure hunts.
With industrial upgrades as a clear part of China's national economic policy, the use of intelligent solutions in both hardware and software can prepare China's commercial real estate sector for the next stage of future growth.