Pinduoduo's (PDD) sprint from launch to a US$1.6 billion IPO on Nasdaq in just three short years is one of the most talked-about e-commerce stories this year.
At more than 300 million monthly active users it's already outpacing fellow Chinese e-commerce firm JD and making other giants like Alibaba nervous, proving that newcomers can still shake things up in a fairly mature e-commerce market like China.
Most of PDD's users are female rural shoppers who live outside of even the second and third-tier cities, from the Chinese hinterlands. They're attracted to PDD's extremely cheap prices and group shopping features that promise even steeper discounts.
If you want to know how PDD works, you can watch this quick walkthrough.
PDD hasn't announced immediate plans to expand beyond China, but could it become one of the many Chinese tech firms who start looking at Southeast Asia for further growth?
On the surface, this region seems predestined for a similar app. Hundreds of millions Southeast Asians fit PDD's core demographic – low income, rural/smalltown women, many of whom are active on social apps.
Obviously, I'm not the first to ask if PDD, or a PDD clone, would work in this region. In February, long before PDD's public listing, Technode ran an insightful analysis of PDD's potential success in Southeast Asia. It comes to the conclusion that there are some challenges, but that overall, there's potential for a PDD clone.
But the more I think about it, the more I see the challenges outweigh the potential.
Many of the circumstances that enabled PDD to become what it is actually don't translate to Southeast Asia at this time. But the way PDD uses gamification and social connections to make shopping more fun and emotional might still hold valuable lessons. A Southeast Asian PDD would have to look vastly different to the original. Here's an attempt to break that down.
Riding on WeChat
Part of the reason PDD grew so quickly is that it piggybacked on WeChat. It started out as a mini app that ran entirely on top of WeChat before launching a standalone version. PDD still derives the majority of its user traffic from WeChat.
The close relationship with WeChat (No surprise that WeChat creator Tencent is also a major investor in PDD) has two major advantages. It means the app has instant access to the millions of users who are already on WeChat every day. Targeting them through this channel is much cheaper than trying to convince users to download a new app. This has the added benefit that PDD can leverage the network effects that exist between WeChat users to promote its brand and deals. Second, integrating with WeChat also allows a seamless payment experience through WeChat Pay.
That's where a Southeast Asian version of PDD would already face challenges. WeChat is not commonly used in this region and there's no one single messaging app that unites all of Southeast Asia – while Facebook Messenger and WhatsApp are popular in many countries, there are exceptions and alternatives, like Line which is very popular in Thailand and to some degree in Indonesia, and Zalo in Vietnam, and BBM, which is still active in Indonesia.
Other super apps like Grab and Go-Jek don't have social features that connect users – at least not yet. Both tech giants do seem to take the occasional cue from WeChat's playbook, so a development in that direction could be in the cards.
For now, applying PDDs growth strategy 1:1 would not work and a Southeast Asian version of PDD would have to develop a much more complicated social strategy, or start by latching on to one particular ecosystem. A local PDD would also not be able to fall back on the well-established WeChat Pay payment method, which means there's much higher friction in the payment process in Southeast Asia. Quick impulse buys are much less likely in an environment where often, online shoppers must first log in to their online banking app or even walk to a nearby ATM to complete the purchase.
In a nutshell

— PDD's viral popularity is largely attributable to the fact that WeChat, which has monopolized the Chinese chatting app market and dominates social media, provided an efficient and low-cost distribution channel

– Southeast Asia's fragmented social media and chatting app landscape means that PDD can't simply leverage one single social media tool to reach its core audience in the region, nor in any single country.
Economic parameters
Southeast Asia has a total population nearing 660 million people, but we've already established that a social shopping app that wants to leverage network effects here doesn't have an easy way in. It would have to address pockets of those 660 million people, which just makes it a much smaller potential market than PDD has in China.
The big e-commerce platforms like Lazada, Shopee, and JD are competing to capture shoppers in major urban areas. Meanwhile, in most Southeast Asian countries, 50% or more live outside of big cities. (With the exception of city-state Singapore, Brunei, and Malaysia).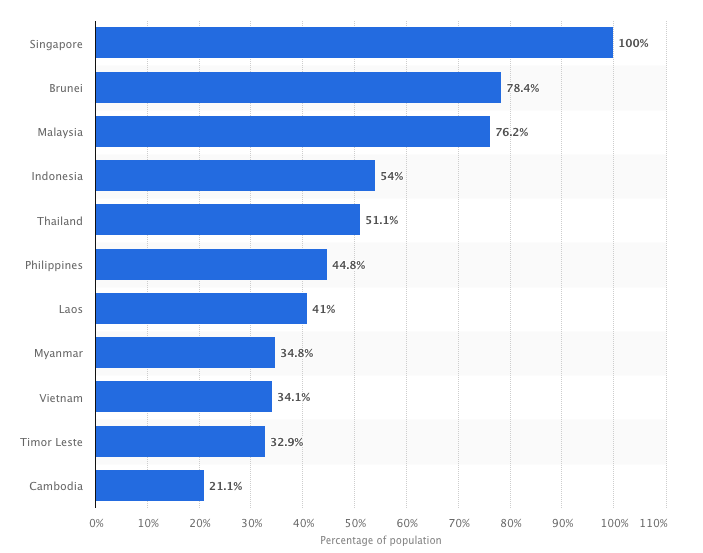 Does this mean there's a large rural population currently underserved by e-commerce? Unfortunately, I don't think so. Economically, many of Southeast Asia's rural population do not have the same purchasing power as their Chinese counterparts.
An average rural Chinese has less than 1000 yuan ($158.82) disposable income a month, according to Pandaily's analysis. They're not affluent, but in places like Cambodia and Eastern Indonesia, significant percentages of people still live under the poverty line, with zero disposable income.
In other words, economically, PDD's rural shoppers are probably more closely represent the lower-middle- and middle-class segments in emerging Southeast Asia, which are already being targeted by the existing shopping apps.
As Technode's piece points out, another key difference between China and Southeast Asia is access to cheap, domestically manufactured products. A big part of PDD's appeal is cheap prices, made possible because the app tries signing up merchants who have direct access to the product and can sell them low margins. And it's typical items necessary for every household: things like kitchenware and shoes, which Chinese factories produce.
Southeast Asia lacks the massive manufacturing base to be able to offer all these products dirt cheap. A local PDD might try to source products that are manufactured domestically. But even so, the fragmented geography and lack of infrastructure in most countries translate to high delivery costs, which again hikes up the price.
In a nutshell

— Even though typical PDD users are less affluent than their city-dwelling counterparts, their dispoable income and purchasing power are still above their SEA peers

– Lots of PDD's most popular items are domestically-manufactured goods. China, the factory of the world, provides the app with a steady supply of cheap products, which would cost a lot more in Southeast Asian countries. Bad infrastructure also means delivery costs are higher, so PDD's super low prices may not be achievable.
Group buying
PDDs already low prices can be further brought down through group purchases. The app incentivizes shoppers to invite their friends via WeChat and to alert them to a certain deal. Each subsequent friend that agrees to buy helps cut the price.
This mechanism, I believe, could translate to the Southeast Asian context to some degree, because shoppers are known to be bargain and deal hunters.
But these behaviours can also be quite country specific. In Indonesia for example, some shoppers, especially women, form shopping groups to make purchases for household goods. But rather than joining forces to get a better deal, the group pools cash so one member can make a larger purchase than she would normally be able to afford. Next time, it's another group member's turn.
Mapan is an Indonesian startup that's trying to enhance the Indonesian version of group buying, also known as Arisan, with an app.It was acquired by Go-Jek last year.
Incorporating culturally established forms of shopping and gifting into e-commerce environments, coupled with a social network component, holds promise for Southeast Asia. Here shopping apps could take a leaf from PDD in terms of how it manages a group buying user experience that's visual and intuitive.
But one problem with group buying in Southeast Asia might be payments. What happens if a group commits to a purchase and gets a discount, but some of its members end up not paying? To complete online transactions, shoppers often have to resort to tedious bank transfers or pay over the counter at a partner store. Failed group purchases might make the whole experience less enjoyable.
In a nutshell

— China's ubiquitous and widely-accepted mobile payment doesn't just provide transactional convenience, but also guarantees the interests of the vendors on the PDD platform, whilst in SEA mobile payments are still far from being as practical and useful.
Conclusion
In most aspects, PDD's concept can't be applied to Southeast Asia, and probably not even individual countries, at least not now.
PDD's success depended on conditions that exist in China, such as a relatively mature e-commerce and mobile payments ecosystem, a dominating messenger that's open to third-party apps, and a massive base of rural and small-town shoppers who don't have much, but some disposable income to spend on impulse purchases.
In Southeast Asia, the rural and small-town income levels are still too limited. Even middle-class shoppers are still getting accustomed to e-commerce. The region lacks a single dominant social app. Also, infrastructure and mobile payment constraints would make it difficult to guarantee a smooth user experience.
Bringing group buying features to the region holds some promise, perhaps even more so if they're adapted to fit culturally established behaviours. After all, social commerce is a huge phenomenon in this region.
Online merchants frequently use messengers like WhatsApp and Line to present their wares to friends and win customers. And this trend is growing an doesn't seem to go away — even though there are more sophisticated online platforms merchants could use to set up a digital storefront.
For some merchants, the ease of creating personal connections seems to outweigh the inefficiencies that come with selling on WhatsApp and Line, which makes me think that there's is an opening for a shopping experience that builds on the social network effect, but adds the right amount of tech to make the transaction more reliable and efficient.
All this adds up to the conclusion that an app that wants to appeal to a similar demographic as PDD and stand out with a social and emotional shopping experience would actually have to look quite different to make it in any Southeast Asian country and probably also offer different kinds of products.
It would need a multi-pronged social strategy to account for the many social networks popular in the region, it would have to adapt to local group buying and gifting habits to make the most out network effects, and account for the many frictions in the online payments process. That's a lot of challenges to solve.
My guess is that it won't be a company from outside of Southeast Asia that accomplishes this feat. I expect local super apps, like Grab and Go-Jek, to attempt to claw their way into social networking and commerce by introducing features step by step (or by working with a third party app that plugs into their user base). Another possibility is that the big US messenger and social networking apps, namely Facebook and its subsidiaries, will get there first.
If it can figure out how to capture the all the informal selling that's already going on, it could transform itself into the most massive commerce platform yet. Facebook has made moves in this direction, but progress has been slow. Apparently, getting social commerce right is really hard and highly depends on timing and outside factors.
Editor: Ben Jiang