Will e-commerce outpace traditional retail? It's possible. E-commerce has been rapidly growing over the past two decades, especially in regions such as Southeast Asia, where digitalization is happening quickly. However, statistics suggest it's rather unlikely for e-commerce to replace brick-and-mortar stores completely. In 2022, global retail sales commanded over USD 27.33 trillion in transactional value, growing around 5% year-on-year, underscoring the continuing relevance of the physical retail space.
However, the divide between e-commerce and retail is expected to narrow in the coming years, with data being a key factor. Physical retailers typically lack the data necessary to understand their customers. This issue is particularly pronounced for brands that distribute products indirectly to end consumers, through intermediaries such as supermarkets and department stores. In such instances, customer data is even more scarce and inaccessible.
Daniel Lim, founder and CEO of Pi-xcels, saw this as a business opportunity. Pi-xcels is a company specializing in the delivery and management of receipts using near-field communication (NFC) technology. Its digital receipts aim not only to resolve the pain points of retailers but also to provide seamless transactional experiences to shoppers.
The birth of Pi-xcels
Lim's pursuit of a receipt revolution draws inspiration from his father's three-decade-long career with a Japanese fast-moving consumer goods company. The company distributed its products indirectly to end consumers through supermarkets and department stores and often struggled to understand customer preferences. This led to significant inefficiencies, with substantial sums invested in R&D only to discover on occasion that their offerings did not meet consumer expectations.
"I've personally witnessed products, brought home by my father in Singapore, that never saw the light of day even in Japan, highlighting the inefficiency of this model," Lim said.
While pursuing his master's degree in data science, Lim discovered that many companies, despite boasting extensive data repositories, lacked the rich feature sets essential for modern data science. Online retailers are thriving because they collect data in a shopper-centric manner, enabling them to track purchasing patterns accordingly. In contrast, offline retailers generally operate using product-centric data, missing out on the benefits that shopper-centric data offers.
Lim also observed that e-receipts had stagnated in terms of their delivery mechanisms. E-receipts have primarily been delivered via email addresses or phone numbers, with little evolution for over 17 years. To overhaul the way e-receipts are delivered and managed, Lim joined hands with his co-founder, Tan Yi Hao, to start Pi-xcels.
How NFC changes receipt delivery
Pi-xcels aims to make digital receipt issuance a seamless process while providing retailers with valuable insights. Its NFC-based technology solution is patented and typically offered to clients in the form of an electronic checkout system (ECS).
When customers shop at a retail store equipped with Pi-xcels' ECS, they can receive an e-receipt using an NFC-compatible device without needing to download an app or provide contact details such as email addresses or mobile numbers. The receipt is wirelessly transmitted to the device once payment has been made, with the customer automatically notified. Account creation is optional, though customers can opt to create an account if they wish to store their receipts sent using Pi-xcels' technology in one place.
This mode of receipt issuance is not limited to transactions paid for using digital and contactless payment methods It is available to all customers, even those who prefer to use cash or traditional card payments.
According to Chua Zhen Rong, head of commercial at Pi-xcels, its digital receipts can offer retailers the flexibility to incorporate additional content into their digital receipts, such as nutritional information or video recipes. This provides them with the capability to transform receipts into powerful engagement tools.
"From a marketing standpoint, there is significant interest in displaying promotions and other marketing materials to customers," Chua said.
Furthermore, digital receipts issued by Pi-xcels' technology can provide line-item details, contrary to e-receipts that only display the total amount without itemized breakdowns.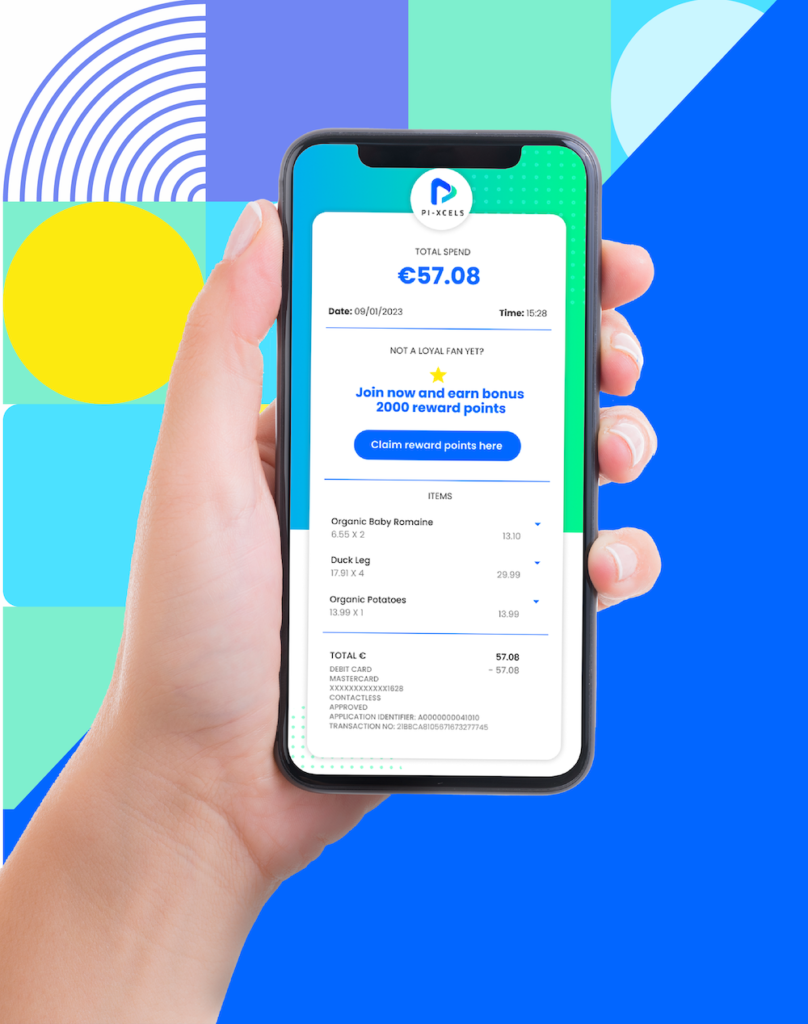 In addition to the convenience it provides, the ECS accomplishes two primary objectives. First, the system captures valuable data, empowering retailers with customer-focused insights to foster better decision-making. Second, it enables retailers to engage with customers, aligning with evolving consumer preferences as highlighted by behavioral shifts during the COVID-19 pandemic.
Built for scalability
Pi-xcels' technology can be integrated directly into the operating system of payment service providers. It is therefore highly scalable and can be easily implemented across every terminal operated by the payment provider.
The firm has established a partnership with Ingenico, a major provider of payment processing solutions. Pi-xcels has integrated its e-receipt solution with Ingenico's payment terminals and is actively seeking to onboard more companies into its expanding network. It is actively exploring collaborations with several Japanese banks, with one of them providing access to 1.4 million terminals. The company is also pursuing its entry into Europe, with plans to launch in an undisclosed European country where they could reach up to 600,000 devices via a single acquirer.
The evolution of receipts
Demand for e-receipt solutions is on the rise and can be attributed to a confluence of factors reshaping the payment industry landscape. The evolution of environmental and regulatory frameworks is a major consideration For example, regulators in France have taken proactive steps to curb the printing of paper receipts. Other countries such as Belgium and Austria are planning to follow suit, signifying a growing trend towards digital receipts across Europe.
This shift is pushing companies to adapt accordingly. Additionally, payment-related entities, including acquirers and payment device manufacturers, are increasingly recognizing the need to diversify their service offerings and set themselves apart in an increasingly competitive sector. Pi-xcels' technology could provide the competitive edge they need.
With Japan poised to embrace a similar shift, Pi-xcels has been strategically positioning itself in the Japanese market. Its commitment to this endeavor has been bolstered significantly through substantial support from the Japanese government toward its initiatives.
Lim believes that the transition from paper receipts to digital receipts is inevitable, and is confident that NFC receipts will eventually replace current methods that have been prevalent for the past few years.
"The payment industry's alignment around NFC technology—signified by Apple Pay and Google Pay—reinforces its significance. Intriguingly, NFC technology has been primarily associated with payments. However, our platform represents one of the few non-payment use cases of NFC technology, showcasing its versatility beyond traditional financial transactions. We don't engage with payment processing directly, which further demonstrates the broader applicability of NFC," Lim said.