David Foote is a serial entrepreneur with a degree in neurobiology and a passion for technology. He was planning to become a doctor but changed course to build a software business in the United States in 1995. Since then, Foote has co-founded several tech startups in the US, Singapore, and the Philippines.
During his time in Southeast Asia, Foote noticed that some countries share similar challenges in healthcare. For instance, the Philippines and Indonesia struggle with unequal access to medical care. In the Philippines, it can be costly to visit doctors in hospitals since most consumers pay out of pocket. Insurance coverage in the country is notoriously unreliable.
Inspired by the emergence of sharing economy platforms in the US such as Uber, Foote launched a health-tech platform called Zennya Health in 2016 to tackle healthcare problems in the Philippines.
"When I first experienced Uber, I was really amazed that a tech platform could completely change the entire business model [in personal transportation]," Foote told KrASIA. "Healthcare [in the Philippines] is inefficient as patients need to spend a lot of time queuing in hospitals. So my thinking was that we could apply mobile app dynamics to recreate a new ecosystem that solves this problem," he said.
Zennya provides online doctor consultations as well as home medical services that include general health checks performed by nurses, lab tests, vaccinations, COVID-19 swab tests, as well as wellness services like massage therapies. Users can consult doctors virtually, while professional nurses will be dispatched to their homes, bringing medical equipment to perform general health checks and run medical tests. This way, patients can receive the care they need without leaving their homes, doing away with potentially cumbersome transport arrangements and long waiting times at clinics or hospitals. Zennya also offers corporate health services. It has partnered with 20 companies to date.
"Our mission is to have a nurse come to your house to provide diagnostics and then work with remote doctors," said Foote. Zennya provides patients with electronic medical records that are shared with their doctors and laboratories, including information that is more comprehensive than most telehealth services.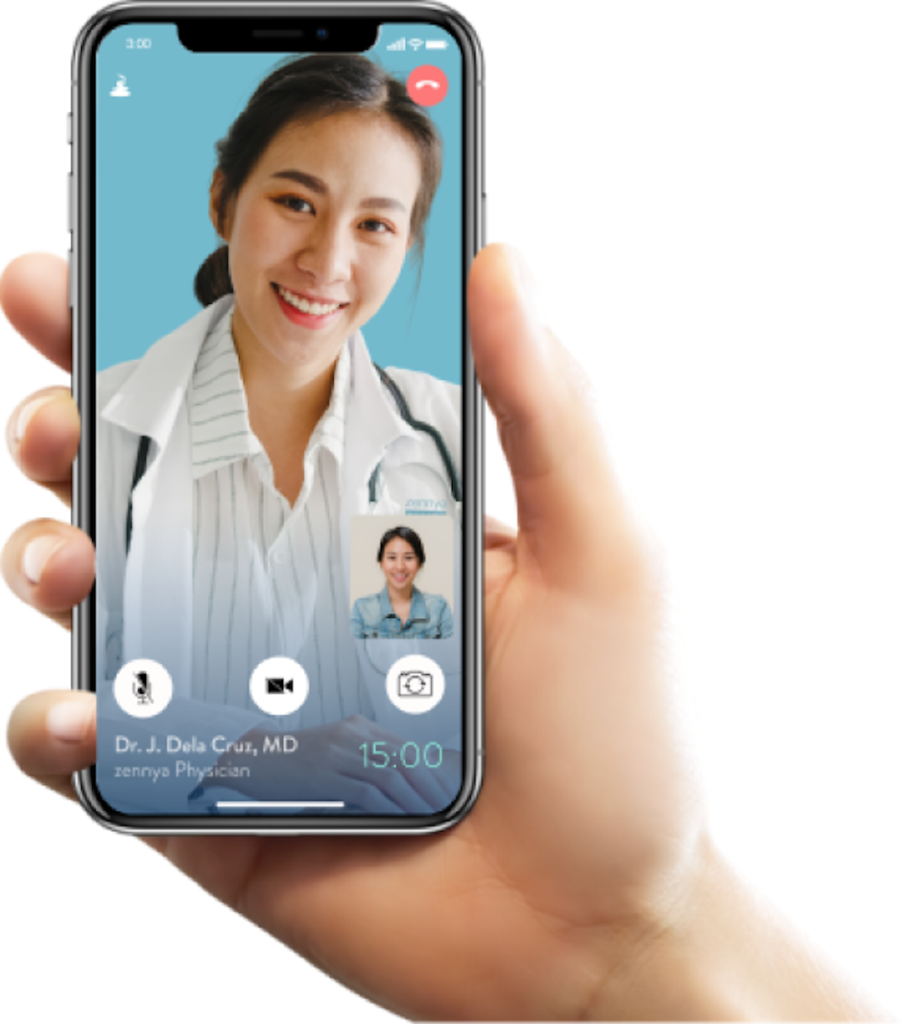 "The Zennya app has full records for consultations, prescriptions, and lab test results. We can also 'link records' for an entire family, providing the ability to specify who can see what. This is done because many families order a lab test for several members at the same time," said Foote. Additionally, the startup has its own transport fleet to ferry health workers to patients' homes, as well as deliver diagnostic specimens to the labs.
"There's actually a lot of technology around supply chain and logistics. We have our own inventory management system that we built in-house. We work with top medicine and vaccine manufacturers and distributors to filter out counterfeit goods, and everything is bar-coded," said Foote.
"So if we do a blood test in your house, we know exactly which tube came from which manufacturer at what time. Our logistics fleets are equipped with Bluetooth internet-of-things devices, vaccine refrigerators, and temperature-controlled kits to store specimens," he continued.
The platform services around 15,000 bookings each month. Zennya's revenue is mostly derived from transaction fees from bookings.
Foote said that the typical cost for a home visit is around PHP 650 (USD 12.70) for the first patient, plus PHP 450 (USD 8.80) for each additional person in a group booking. The startup charges around PHP 500 (USD 9.70) for online consultations with doctors.
For in-home services, Zennya takes 50% of the fee, with the remaining 50% going to the nurses. The company charges a 25% commission for each doctor consultation.
The startup also earns revenue from its products and services. "For example, we're able to buy [non-COVID] vaccines wholesale and sell them to patients at the retail price. We take a 20% to 25% margin," Foote explained.
Last year, Zennya generated USD 3.2 million in revenue, nearly doubling 2019's USD 1.7 million, according to Foote. Zennya's home care services are currently available in Metro Manila and Cebu. The company has plans for nationwide expansion this year.
"The Philippines has over 7,000 islands but around 70% of doctors live in Manila, so most people don't have access to specialists. We're hoping that our platform can fill that gap by delivering medical care through nurses throughout the country, with doctors and specialists in Manila interpreting the tests and providing the overall care plan," said Foote.
Zennya Health was among the ten finalists of the Alibaba Cloud x KrASIA Global Startup Accelerator Philippines Demo Day that was held on February 8.