There's fierce competition among mobile wallets in Indonesia right now. Go-Jek's Go-Pay and Ovo, which partners with Grab, are considered to be the leaders in this space.
But there's a third ambitious player, Dana – a joint venture between Indonesian media conglomerate Emtek and Alibaba's Ant Financial. Dana is leading the download ranks in the finance apps category on Google Play at the moment, thanks in part to its consumer-friendly promotions.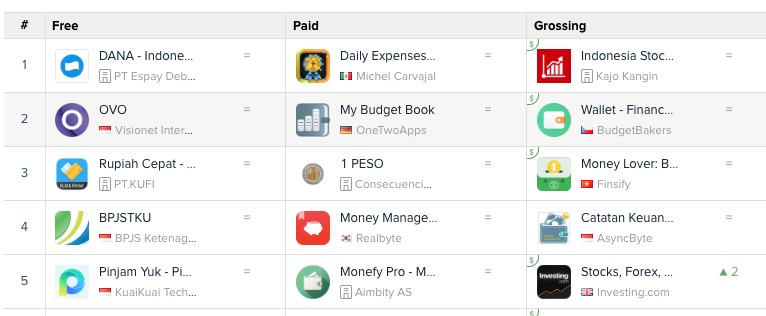 Note: Go-Pay is not a standalone app, it's part of Go-Jek and therefore not listed separately in the finance app category.
In the first phase of this battle, each mobile wallet was mostly useful only for services in-app. In the cases of Ovo and Go-Pay, credit stored on these wallets would be used to pay for on-demand rides or other services available via Grab or Go-Jek.
Dana's case was a bit different because it's not attached to a local services app. Its partner is BBM, the 'old-school' chat app that Emtek has a license to develop in Indonesia.
Then, in phase two, mobile wallets started to become useful in some offline payment scenarios, at acceptance points that allowed customers to pay from their balance by scanning a QR code that's printed on the bill.
And the latest trend in the 'wallet wars' is a pairing between mobile wallets and e-commerce sites.
When Tokopedia confirmed that it's partnering with Ovo, this marked a new milestone in the development of mobile wallets in Indonesia. Tokopedia can now spend their Ovo credit seamlessly between Grab, Tokopedia, and other Ovo acceptance points.
Much less attention was paid to Go-Pay's partnership with JD.id, and a number of smaller e-commerce and digital services a few months ago. It's a different strategy. Go-Pay doesn't work with a full wallet integration the way Ovo is now part of Tokopedia. Instead, it uses a digital version of the QR code scanning mechanism. You scan a QR code on the checkout page, confirm this on your Go-Jek app, and the amount is deducted from your Go-Pay balance.
Dana didn't want to be left behind and recently announced its partnership with Bukalapak, a Tokopedia competitor that's also part of the Emtek family. This is comparable to Ovo and Tokopedia, where there's a full integration of the wallet and e-commerce site.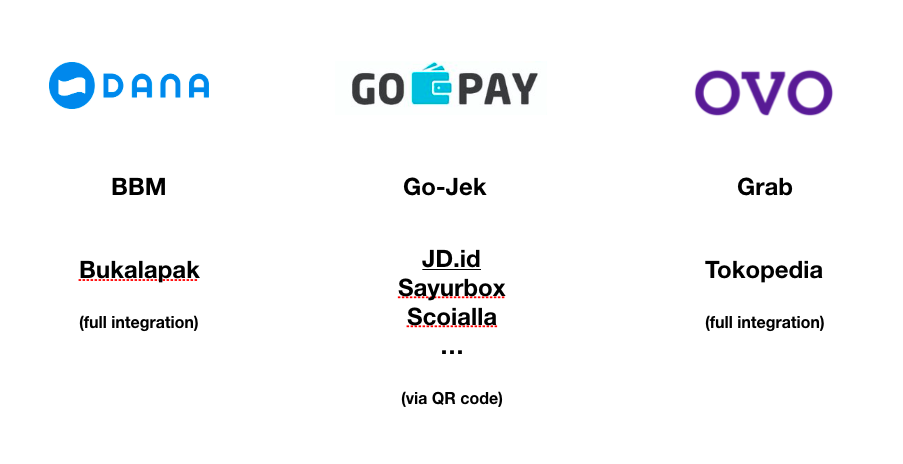 China is arguably the world's most advanced country in terms of mobile payment, and lots of Southeast Asian startups are paying close attention to their Chinese counterparts. However, mobile payment development in the Middle Kingdom has mostly happened the other way around, where wallets developed as a function of e-commerce transactions that mainly took place via desktop computers at that time.
Take Alipay and WeChat Pay. Alipay started as a web-based 3rd-party escrow payment service to increase trust between sellers and buyers on Taobao in the latter's early days. WeChat Pay was technically supported by Tencent's Ten Pay, also an online payment processor Tencent built to support its eventually failed e-commerce initiatives.
It's the mobile proliferation brought both features to smartphones in a move that later on would sweep across China and reshape the way Chinese people pay offline.
Editor: Ben Jiang