On Sept. 20, OTEC Global Innovation Week successfully held one of its subsections, GIW Spark, in Beijing's Prince Jun Hotel with eight innovative projects in total being presented and scored at the event.
Project Alpha & Omega Nutrition (A&O) from South Africa won the GIW entrepreneur Runway championship with a 1 million yuan prize.
Brett Lyndall Singh, founder and CEO of A&O, said during his presentation that the company aims to alleviate protein-energy malnutrition, the largest type of malnutrition around the world. According to Singh, the company manufactures a patented oligosaccharide fortified protein formula based on original scientific research and development for malnourished children living in Sub-Saharan Africa.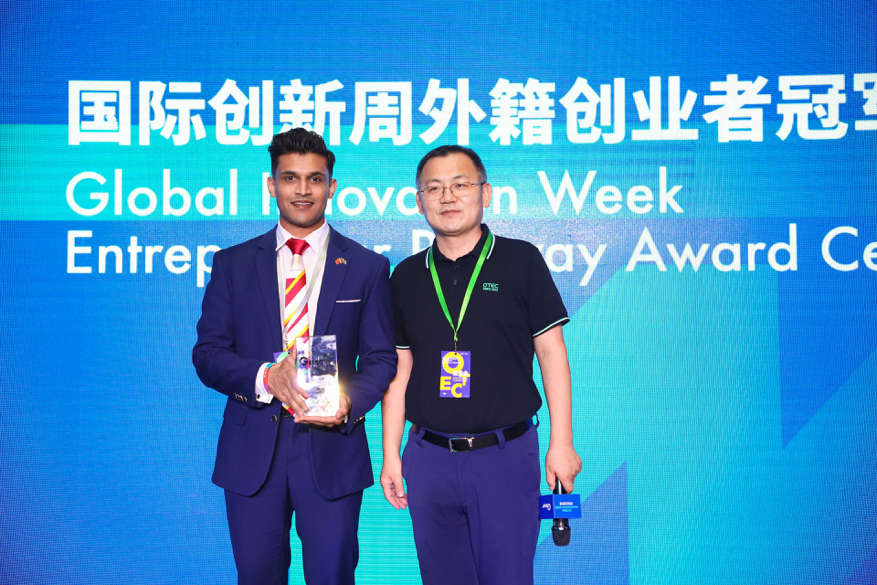 Besides the protein formula, A&O is working on establishing an app to initiate "My brother's keeper" and Ubuntu (health) QR code and is in the design phase of a measurement device which can also be used as a watch.
According to the company's introduction, A&O's goal is to be the first China-Africa healthcare initiative to create a "revolutionary" product that supports targets of Sustainable Development Goals (SGDs) including good health and well-being, and zero hunger.
Build a "soft environment" for the international talent community and optimize the ecology of international innovation and entrepreneurship
As one of the three major sections of the 8th Overseas Talent Entrepreneurship Conference (OTEC), GIW aims to encourage and support international talents from all over the world with aims to start businesses in Beijing and form a "soft environment" for the international talent community.
The term "soft environment" refers to ideological concepts, cultural atmosphere, institutional mechanisms, policies and regulations, and the level of government administrative capabilities, according to Hujiang.
The event organizer told Pandaily that GIW provides comprehensive services for innovation and entrepreneurship in Chaoyang District and "fully" mobilizes international resources covering the innovation centers of multinational companies in Beijing, international organizations in the region, chambers of commerce and alumni associations of foreign countries, Hong Kong, Macao, and Taiwan regions.
"We aim to build a platform for young people from all over the world to communicate their innovative ideas in the post-epidemic era," the event organizer said.
Accurately meet the needs of international talents and build a stage for integration and innovation development
GIW includes three major sections: GIW Runway, GIW Master Class and GIW Spark. The whole process of these sections involves international project selection, international project venture capital connection, policy interpretation, and other activities.
GIW Runway features four special sessions: European and American Special Session, Asia-Pacific Special Session, BRI (Mid-east & Africa) Special Session, and Hong Kong, Macao, and Taiwan Special Session.
Each session has an Entrepreneur Runway and an Innovator Runway. The former is for international entrepreneurs who have plans or are already in business in Beijing. The newly added Innovator Runway provides opportunities for talents with innovative achievements in certain fields, and further integrates Chaoyang's cultural and international advantages to promote the innovation and development of Chaoyang, according to the event organizer.
GIW Master Class invited many international experts and scholars, including Guo Xin, President and CEO of Beijing Career International Co.,Ltd., Yang Zhuang, Professor of Management at Peking University National School of Development, Zhu Nongfan, an international partner of King & Wood Mallesons, and Ke Yingde, President and CEO of Ogilvy PR Asia Pacific.
Only shortlisted entrepreneurs and innovators had the opportunities to participate in the Master Class section. Topics include cross-cultural leadership, IP Protection, human resources, intellectual property, market development, covering various issues that non-mainland-Chinese entrepreneurs might encounter at the early stage of their businesses.
The event also invited Brent Goldfarb, academic director at the Dingman Center for Entrepreneurship at the University of Maryland, to give an online lecture on Bubbles and Crashes: The Boom and Bust of Technological Innovation with a more international perspective and focused on the current environment.
The event attracted competitive innovative entrepreneurs from 47 countries and regions with the participating projects involving diverse fields including artificial intelligence, education, consumption upgrade, general health, and cultural communication.
This time, the organizer and Startup Grind set up awards such as Innovator of the Year, Startup of the Year, Power Investor, and Community Hero. By way of online voting, these awards were awarded to STEMind, Photogenic, SOS Ventures, Bearapy.
GIW provided shortlisted international contestants with services such as "Phoenix Project" related services and top enterprise resource docking, investment opportunities from top international investment institutions, and project landing support.
Based on the "high-precision and cutting-edge" orientation, OTEC integrates market resources to create a "6+X" track
Since 2013, OTEC has successfully held eight seasons, attracting more than 30,000 entrepreneurs and more than 6,000 entrepreneurial projects from 39 countries and regions around the world, with more than 100 venture capital institutions participating. More than 500 projects have landed in Beijing and received investment, and the total financing scale has exceeded 2.7 billion yuan.
This year, OTEC breaks through the previous competition model and builds the "6+X" vertical track: data intelligence and new infrastructure, medical health, entertainment and sports, service and consumption upgrade, industrial internet, future cities, and X track (including anti-epidemic entrepreneurship track, Olympic elite entrepreneurship track, OTEC X ZhenFund Pitch Day).
"The setting of the track is fully in line with current technological innovation. It includes emerging fields such as this year's hottest anti-epidemic and new infrastructure, and combines industries with a certain growth foundation, such as the industrial Internet, entertainment and sports, and consumption upgrades, with new situations and new technologies," the event organizer said.
The event adopts the "summit + competition + docking" approach and invited international platform corporate executives, industry experts, and investors to share and discuss topics. Each competition is not only a competition of shortlisted entrepreneurial projects but also a sharing of new technologies and new ideas, as well as a discussion and prospect of the future development trend of the industry.
This year's Entrepreneurship Competition attracted 984 entrepreneurial projects from 39 countries and regions around the world and 26 Chinese cities. The number of overseas participating projects has increased significantly, and the number of live video events has exceeded 200,000. After fierce competition on each runway, 9 championship events were selected.
Boson Tech, the champion of the digital intelligence and new infrastructure track, pioneered the Coherent Quantum AI Coprocessor, which uses coherent light pulse phase encoding qubits. It is mainly used in artificial intelligence algorithm acceleration.
At present, Google uses traditional spintronic quanta to achieve only 72-bit quantum computing, while Boson Tech has taken a new approach and has achieved thousands of bits of computing using photons, and is said to achieve tens of thousands or even 100,000-level computing in the future.
The championship of the X track, the anti-epidemic entrepreneurial track, was obtained by Linking Med. With "Ai data intelligence + medical treatment" as the core, Linking Med provides technical tools and cloud services such as automatic organ delineation, target area delineation, adaptive radiotherapy planning, radiotherapy quality control and other technical tools and cloud services for Hospitals' radiotherapy departments and third-party imaging and radiotherapy centers.
At the same time, based on the Internet and cloud service platform, Linking Med provides professional remote collaboration and radiotherapy operation network services for the majority of radiotherapy doctors and physiologists. At present, the project has obtained a round of financing from Linear Capital and Danhua Capital.
Among the projects that entered the finals this year, about 70% showed their intentions of settling down in Chaoyang. The event organizer told Pandaily that in order to facilitate the sustainable growth of the project, the Chaoyang District committees, offices, and functional zone management committees will rely on the "Phoenix Plan" service system to promote the integrated development of industrial policies and talent policies, and effectively provide full-chain services for startups which will develop businesses in Chaoyang.
Article Source: Pandaily