Coffee is an inseparable part of daily life for millions of people around the world. In Indonesia, coffee's popularity has increased in the past few years, fueled by a newfound appreciation for locally produced coffee by millennials and Gen Z. At the same time, rising tech adoption and social media penetration has spurred the emergence of an array of grab-and-go coffee brands leveraging online channels to grow their businesses.
The country is the world's fourth largest coffee producer and exporter after Brazil, Vietnam, and Colombia, and it produces coffee beans that are well-known among coffee aficionados around the world, such as Mocha Java, Sumatra Mandheling, and Sulawesi Toraja. Revenue in the coffee segment in Indonesia is estimated at USD 9.5 billion in 2021, while the market is expected to grow annually by 9.8% until 2025, according to Statista.
Companies like Kopi Kenangan, Kopi Janji Jiwa, Fore Coffee, and Kedai Kopi Kulo were launched in the past four years to attend to this growing demand. They all operate under a grab-and-go model, allowing customers to order their favorite beverages on mobile apps and pick them up at preferred coffee shops or at their doorsteps, thanks to their presence on food delivery apps such as GoFood and GrabFood.
They also share a similar business concept—each brand has its own signature iced milk coffee, in addition to a wide variety of other coffee, tea, and chocolate-based beverages. They have a strong social media presence and often offer discounts on social media, food delivery apps, or on their mobile apps.
Contrary to coffee franchises such as Starbucks or local stores like Excelso, these companies usually run smaller outlets with limited seats, simple interiors, and without WiFi connection, as most of their business comes from deliveries and takeaway orders. The majority of grab-and-go shops are located in Greater Jakarta and Java.
Affordable pricing and vigorous promotion through social media channels are essential for new players to compete. Local grab-and-go coffee chains usually sell a cup of coffee from IDR 18,000 to IDR 22,000 (USD 1.26 to USD 1.53), almost half of the price of Starbucks' coffee, which starts at around USD 3. "[Pricing] is a very critical component because, in the Indonesian market, customers have no loyalty for companies. They will always go for the one that offers the best promotions or discounts," Sandeep Sharma, an analyst at investment research firm Third Bridge, told KrASIA.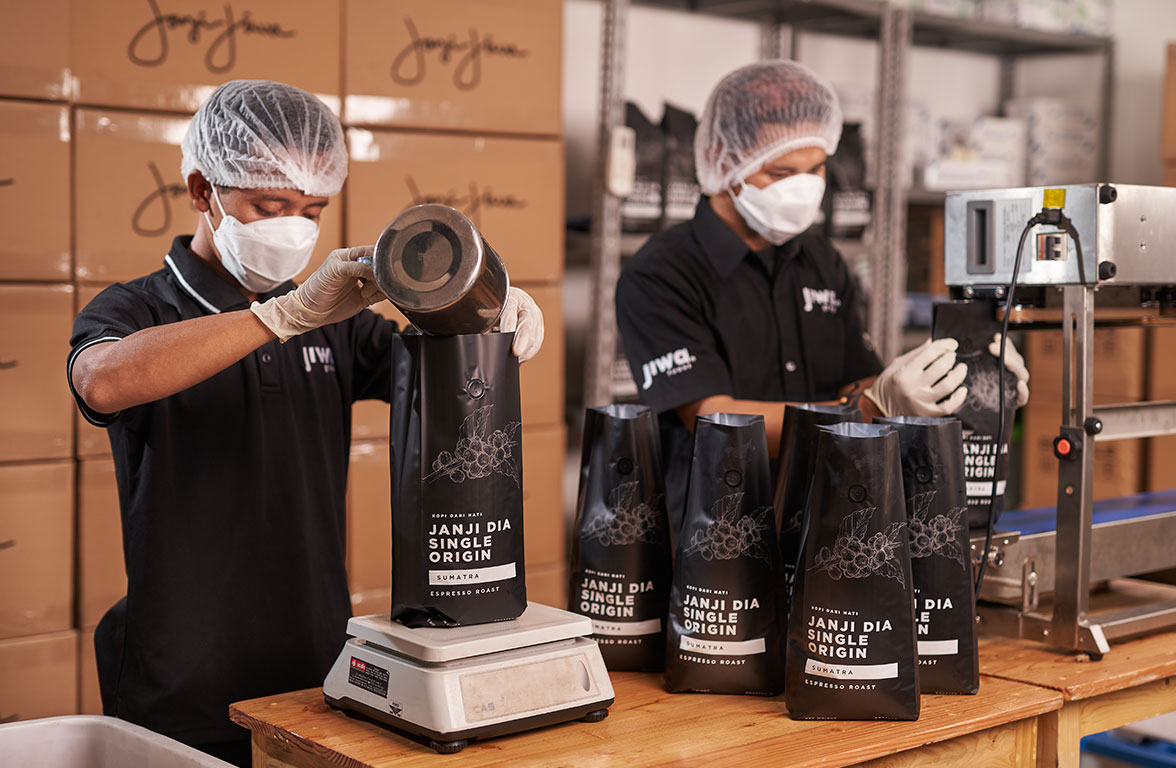 The opportunities in the coffee sector and the grab-and-go business model have attracted investors' attention. Jiwa Group, the parent company of Kopi Janji Jiwa, bagged investment from Openspace and Capsquare Asia Partners in November, while Hey Kafe raised funding from Trihill Capital in the same month. Regional companies such as Singapore-based Flash Coffee are also gaining investors' confidence. The firm snagged USD 15 million to boost its expansion in ten markets across Asia, including Indonesia.
Kopi Kenangan is Indonesia's fastest-growing coffee chain by valuation and already operates 610 outlets across the country, while its mobile app has been installed more than 1 million times. Kopi Janji Jiwa runs around 800 franchised stores, while Kedai Kopi Kulo has opened over 250 outlets across the country.
Kopi Kenangan: On the path to the unicorn club
The grab-and-go coffee trend in Indonesia was pioneered by Kopi Kenangan. The firm, founded in 2017, has raised over USD 237 million in funding over five rounds from Sequoia Capital India, Alpha JWC, and B Capital. Kopi Kenangan is reportedly in the process of raising USD 100 million from Falcon Edge in a Series C round. This would bring the company's valuation to above USD 1 billion and into a select group of Indonesian unicorns.
"Kopi Kenangan is one of the companies that has managed to make substantial gains as a result of the COVID-19 pandemic. It has been taking market share away from incumbents like Starbucks and Max Coffee Indonesia, as well as from local coffee chains," Sharma said.
The company claimed to have gained profits since day one. Kopi Kenangan's outlets are small and simple—about 10-20% the size of a normal coffee shop—which means lower rent and operational costs per store, the company's CEO, Edward Tirtanata, told KrASIA in a previous interview. Cutting costs allows the firm to invest more in technology and sophisticated espresso machines, as well as in better quality ingredients to create premium products, he added.
Kopi Kenangan has also tapped into the food industry by launching a slew of F&B brands. In December 2020, it launched bread and pastries line Cerita Roti, and earlier this year, it revealed takeout fried chicken store Chigo. It also launched Rumah Kenangan, a family-friendly eatery hosting the company's three brands under one roof, and just this week, it inaugurated Kenangan Heritage, a premium coffee shop in Jakarta.
"Kopi Kenangan started with the vision to become the largest local coffee chain in Indonesia. Over time, we saw a need to provide food in addition to our coffee offerings. This is a strategy to enrich our portfolio while providing quality food for customers in different market segments," Ruth Davina, Kopi Kenangan's public relations and communications manager, told KrASIA.
The firm has also expanded into non-food and beverage products. It launched a collaboration with local skincare brand Somethinc to create coffee-based body scrubs and lip scrubs. It also signed a collaboration with SDF International, a company that holds the licensees of Korean K-pop band BTS and neoprene bag brand Built NY to distribute their official merchandise in Indonesia.
"It's a natural progression for coffee chains exploring worth-developing ancillary revenue streams. For example, Starbucks gets a huge amount of revenue from food, merchandising, and other products in addition to its coffee," Sharma said. "Kopi Kenangan has a good brand image and a fair amount of capital, so it has the ability to scale up and test out newer products," he added.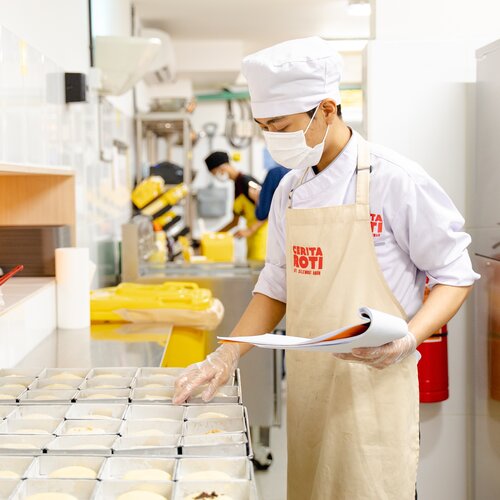 The more, the merrier
As the market gets more crowded, Edward Djaja, CEO of Hey Kafe, says there is still plenty of room for multiple brands to compete in the grab-and-go coffee industry.
"Over the past few years, the growth of online food delivery platforms has caused the demand for online food delivery to skyrocket. The grab-and-go model is ideal for serving these customers," he told KrASIA. Djaja added that 80% of Hey Kafe's sales come from deliveries. The company, founded in June 2020, is planning to launch a mobile app in the second quarter of 2022, Djaja revealed.
Third Bridge's Sharma is also optimistic about growth in this sector. "There are many opportunities in this industry, but we're going to see a shift in retail strategy. Before the pandemic, most coffee shops were located in malls or office areas. They are now starting to build out into residential areas. Several brands, including Kopi Kenangan, even have outlets in gas stations. I believe this trend will continue," he said.
Companies will also continue leveraging online channels to gain traction against legacy players like Starbucks, Sharma added. "Digital-first offerings and tech enablement provide them with access to more customer data, which can be leveraged to retain customers."
He added that the next step would be to expand beyond Jakarta and Java. "We see that Kopi Janji Jiwa is doing so as it has set up stores on smaller islands like Maluku and Papua. I think more players will seek to gain market share beyond metros."