Last year, when India announced a nationwide lockdown on March 25 to curb the spread of COVID-19, BigBasket, one of the leading e-grocers in the country, experienced its first breakdown due to a sudden surge in demand from millions of consumers.
"We'll be back soon! We are currently experiencing unprecedented demand," BigBasket said on its app. "In light of this, we are restricting access to our website to existing customers only. Please try again in a few hours."
One year down the line, it knows better.
As India reels under the second wave of novel coronavirus—much more severe than the last one with the country recording more than 200,000 cases per day since April 15, way past its peak of 97,894 cases last year—BigBasket has come up with a token system for the regions that are seeing high demand due to partial lockdowns. It is kind of a queuing mechanism to implement the first-come-first-serve system.
For instance, in Lucknow, the capital city of North Indian state Uttar Pradesh, which is also one of the badly-hit cities, BigBasket now asks users to collect a token on its app. Upon taking a token on April 19, the app said the order would be delivered around three weeks later.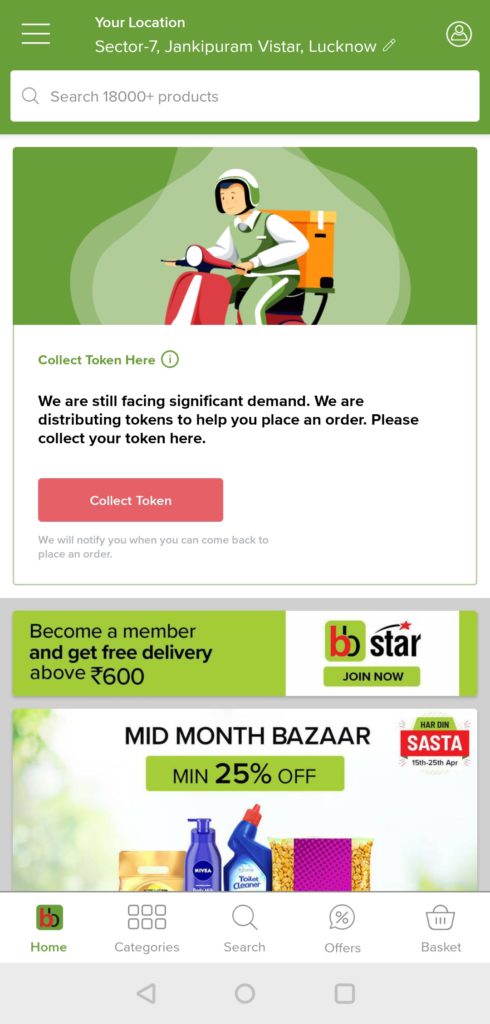 Till a week ago, BigBasket was taking orders in the city without any token system, but the delivery time was stretched up to five days. To put things in perspective, the Bengaluru-based startup was doing same-day or next-day delivery in the city till March. Although, in other states like Karnataka, where the pandemic situation is still under control, the e-grocer is delivering products as usual.
Similarly, rival e-grocery platform Grofers, which usually takes a couple of days to deliver groceries, has been reeling under operational delays in affected cities due to the high volume of orders leading to the rescheduling of deliveries in many cases.
"Ensuring all the products (SKUs) irrespective of the city, are in place—is a challenge that we have learned to rise to over the last 13 months," Grofers said in a blog on Monday. "Due to the volatile nature of the movement of goods, we try to remain two steps ahead of the supply curve, so that consumers don't have to face any delay."
"As such, we are prepared for the worst, because we know that at any given point of time, something can break," it said.
Overall, India witnessed the steepest rise to date on April 19 with 273,000 new cases of COVID-19 and 1,600 deaths. Maharashtra, Uttar Pradesh, and New Delhi have emerged as the top three states in terms of the number of new infections.
Earlier this week, the Delhi government imposed a week-long lockdown till April 26 and suspended all e-commerce operations except essential goods that include grocery, medicines, and food. The national capital has become the second-largest market for e-retailers to go under lockdown. Last week, Maharashtra imposed a state-wide curfew from April 14 till May 1, restricting the delivery of non-essential goods through e-commerce.
Meanwhile, the central Indian state of Chattisgarh went under lockdown earlier this month across multiple cities to curb the rapid spread of novel coronavirus. States including Kerala, Karnataka, Gujarat, Punjab, Rajasthan, Haryana, Jammu and Kashmir, and Odisha, have been imposing either night curfew or weekend curfew over the last couple of weeks.
Deja Vu
Million of panicking customers across states have rushed to hoard grocery and household items in anticipation of a lockdown.
On April 20th, when Indian Prime Minister Narendra Modi was addressing the nation regarding the rise in COVID-19 cases, Grofers founder Albinder Dhindsa tweeted that people had filled their e-carts in case the prime minister announced another nationwide lockdown.
"There has been a 60% spike in demand in the markets that are adversely affected by the second wave. The significant surge in demand is in categories such as packaged foods i.e. ready-to-eat and ready-to-cook up to 80%, frozen foods—up to 500%, and packaged milk and milk products—up to 150%," a spokesperson for online grocery platform Grofers told wire service PTI last week.
"There has also been an 11% increase in the order value in these cities," the spokesperson added.
600,000+ Number of carts on @Grofers created and waiting to check out if a lockdown was announced by the PM.

— Albinder Dhindsa (@albinder) April 20, 2021
To solve the panic buying issue at the operational level, "we introduce 'surge' from time to time, to manage inventory limits without negatively impacting consumer experience," Grofers said in the blog.
The company clarified that by 'surge', it means that when the demand for a particular product(s) increases within a particular geographic area, it limits the quantity of that product each user can purchase (within that geographic location) to prevent hoarding and ensure more users buy that product.
The Gurugram-based startup said last year it faced temporary shutdowns of many partner stores, and thus "to meet the increase in demand and prevent supply disruption, we have built deeper collaborations with our manufacturing, merchant, and brand partners this time around."
"With some state governments already announcing stricter lockdown norms, we are also ramping up our capacities to serve more consumers safely and securely," it said.
E-commerce majors Amazon, Flipkart, and Snapdeal, are also seeing a significant uptick in demand in states that are largely still open, in categories like household items, kitchen goods, work from home accessories including chargers and cables, and printers, as well as stationery items for children.
As for the cities where there are different curfews in place, it has disrupted the delivery of non-essential items. Many major e-commerce players have stopped taking orders for non-essential items from categories such as electronics, fashion, and furniture. Other e-tailers are letting consumers place orders in these areas, mentioning that the delivery will happen once the lockdown is lifted.
"Wherever delivery restrictions have been imposed for a certain category of goods, we will move the orders to the closest delivery point possible and deliver these products as soon as permitted," Snapdeal told KrASIA in an email response.
"Learning from the experience of last year, we have re-engaged resources, who work in the field and are able to provide live feedback on the situation in various districts, towns, and smaller catchments. This helps optimize the planning and deployment of delivery resources," it said.
Snapdeal added it hopes that various government authorities will permit the delivery of all products via e-commerce channels. Although the lobbying by the e-tail companies to allow delivery of nonessential items in restricted areas has failed to bear any fruit.
"These measures are disruptive, obstructive, and counterproductive. At times like these, there is no better way than to home deliver products," an industry insider told KrASIA, who did not wish to be named.
"Offline retailers (excluding those selling essential items) are neither able to open shops, nor sell online. They have been hit from all the fronts," he said. "Meanwhile, consumers have been thrown under the bus. They should be able to buy what they require in these tough times, maybe fresh towels, cleaning products, or pet supplies, and not just what government deems to be essential."
"We (e-commerce players) are not even making money by delivering the non-essential items. We are paying more incentives for these items to get delivered," he said.
He believes more states might impose lockdowns in the coming weeks. Once there is a template for curfews by the first few states, others might move to copy-paste those measures.
Focused approach
As Flipkart and Amazon sell groceries as well, they have been able to ramp up their on-ground team to meet the demand in affected areas. For instance, Flipkart is delivering groceries the next day itself, whereas Amazon is taking up to a few days to deliver items—which is better than how dedicated e-grocers are faring.
A Flipkart spokesperson told KrASIA, the company is currently focused on getting things going and taking care of its employees.
At the end of the day, these restrictions across states have pushed up the delivery time for e-commerce companies and disrupted the businesses of food ordering giants as restaurants are generally forced to shut shop during night curfews, even though food services have been deemed as essential.
An industry executive from a food tech company believes lockdown rules are better implemented this year compared to 2020, when their delivery persons were stopped by local administration even though food delivery came under essential service. For contingencies, major e-tailers and food delivery firms have made sure their delivery executive carry a valid e-pass in case, law enforcement officials stop them.

Moreover, as the new wave of COVID-19 cases sweep across the nation, the safety of delivery personal has become the top concern of online services companies.
"Safety of our teams and customers continues to be our top priority. We are providing easy access for testing for all associates in our network in Maharashtra, and covering the cost of all RT-PCR tests to enable deliveries during curfew hours and on weekends in the state," an Amazon spokesperson told PTI.
Flipkart has also deployed the safety standards for such situations it has developed over the past several months.
"Our learnings have been immense, and we are ensuring that appropriate safety equipment is available to employees, as they follow the right protocols," a spokesperson for Flipkart said in an interview with PTI.
Grofers, on its part, stated in the blog that regardless of many personnel moving back to their hometowns, "we are ensuring that all the delivery partners currently logging in for service are carrying a valid RT PCR/Antigen report during delivery, as safety – theirs and yours, remains our highest priority."