Since the early 2000s, Indonesia's continuously growing internet economy has made the country one of Southeast Asia's most lucrative markets. This has caught the attention of the nation's wealthiest family, which see an opportunity to open up new fronts for their business groups.
As a digitally connected market with 171.1 million internet users and plenty of space to grow in the coming years, Indonesia's tech scene will only grow bigger. A joint report by Google, Temasek, and Bain & Company estimates that Indonesia's digital economy will be the largest in Southeast Asia, with a market value of USD 130 billion by 2025. The country's tech ventures are attracting attention from all over the globe, with investors from Japan, China, and India all putting their money in local startups.
Local tycoons do not want to be left out. As the second and third generations of Indonesia's wealthiest families gain prominence and take on important positions in family-owned companies, they create shifts in those businesses too.
Young and eager to make a name for themselves, these scions are cutting their teeth by investing in the digital market, creating new arms in their families' businesses. Having grown up in a digitalized environment, they might notice opportunities that were previously inconceivable for their parents. They are also likely to have a better understanding of the risks and opportunities embodied by tech startups.
KrASIA has profiled five of the most prominent Indonesian conglomerates that are actively involved in the local startup scene. Some of them have tried to launch their own tech ventures, while others have chosen to remain behind the scenes as financiers.
The Riady family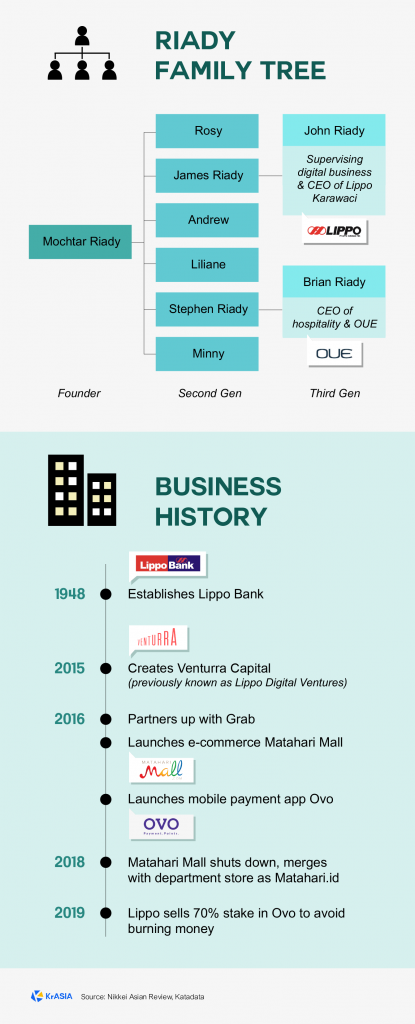 Founded by Mochtar Riady, the family started their business by establishing Lippo Bank in 1948. They later used this platform for property development projects, which eventually became their largest source of income. The family owns a wide range of businesses, ranging from hospitality, retail, healthcare, education, media, telecommunications, financial services and investments, as well as digital technologies.
Their venture into the tech industry is led by the current director of Lippo Group, John Riady, who is involved in most tech-related deals conducted by Lippo Group. Without a doubt, John is the face of the family's digital empire.
The young Ivy League graduate is one of the three managing partners of Venturra Capital—previously known as Lippo Digital Ventures. The sector-agnostic venture capital firm managed to raise USD 150 million in their first year and made investments in various emerging startups. Among its portfolio companies are Indonesia-based education tech startup Ruangguru and fashion e-commerce platform Zilingo.
In September 2018, Venturra Capital launched a new seed arm called Venturra Discovery, with USD 15 million raised solely from Lippo Group. The company is aiming to make 30–40 investments before 2022, with ticket sizes between USD 200,000 and USD 500,000.
Their investment ventures also included a strategic partnership with Singapore-based super app Grab in March 2016, where John Riady claimed the group was "one of the early investors" through Venturra Capital.
The group also tried to launch their own e-commerce platform, Matahari Mall—an online version of their brick-and-mortar Matahari Department Store—in the same year. It put USD 500 million down as an initial investment, hoping that the initiative would become "the Alibaba of Indonesia."
However, this endeavor did not end up as intended. Even after receiving an additional USD 100 million from Japan's Mitsui Group in 2016, and another USD 44.2 million from Matahari Department Store, they were still unable to play at the level of rivals such as Alibaba-backed Tokopedia and Lazada. The group finally shut down the Matahari Mall site in November 2018, merging it with the department store's online platform, matahari.com. The family's patriarch, Mochtar Riady later deemed Matahari Mall a failure—and a lesson to that was learned before their next digital venture.
In December 2016, Lippo Group launched a mobile payment app, Ovo. The subsidiary would become Indonesia's fifth unicorn in 2019, with its valuation reaching USD 2.9 billion in March that year. But behind that banner achievement is a bonfire of cash. Mochtar Riady claimed that Lippo spent USD 50 million each month to keep Ovo going. Refusing to burn money any longer, the group reportedly sold over 70% of its stake in the fintech firm.
By far, Lippo Group has been the most vocal about its role in shaping Indonesia's digital landscape.
The Widjaja family

The Widjaja family founded and controls the vastly diversified Sinar Mas Group. Eka Tjipta Widjaja, the founder, started Sinar Mas in 1938, when he was still a 15-year-old living in Makassar, the largest city in Indonesia's eastern region. The teenager sold biscuits and provisions to Indonesian troops in the area.
He later entered the agribusiness sector by setting up a paper company, Tjiwi Kimia, in Surabaya, one of Indonesia's major cities, in 1972. The same year, he dived into real estate with Duta Pertiwi. Sinar Mas expanded further in paper, as well as into financial services and telecommunications.
They became one of the first family-run groups to invest in digital startups through a partnership with East Ventures in 2012. Their most notable portfolios include coffee chain Fore Coffee, e-commerce behemoth Tokopedia, and online travel agent (OTA) Traveloka.
In 2018, together with East Ventures and Yahoo Japan, the group launched EV Growth, which focused on funding growth-stage startups.
Sinar Mas set up its own tech-oriented corporate venture capital firm called Sinar Mas Digital Ventures (SMDV) in 2018. The firm has invested in startups like online grocery service HappyFresh, advertising startup Stickearn, and logistics Software-as-a-Service company Waresix.
SMDV is currently led by someone outside of the family, Ari Awan, who serves as managing director. However, one of the Widjaja family's heiresses, Jesslyne Widjaja, is often seen attending funding announcements. Her role in the investment arm is not clear, as she is only referred to as an "SMDV representative" in media reports.
In the same year, Sinar Mas group also formed Latitude Venture Partners (LVP), with Linda Wijaya (a modern spelling for the family name) appointed as managing partner. Setting itself apart from SMDV, LVP acts as both venture builder and investor, with a roughly 80/20 split for the two types of business activities in its operation. As a venture builder, they partner up with early-stage startups and invest in them; as a pure investor, they look at mid- to late-stage startups, pouring in USD 1–10 million for each round.
While SMDV is sector-agnostic, LVP focuses more on health tech and fintech. One of LVP's known projects is SehatQ, a healthcare app founded by Linda Wijaya herself in 2018. LVP does not share information about its other investments.
So far, the Wijaya family has been quiet about their ventures in the digital economy. They mostly work behind the scenes as investors, helping passionate entrepreneurs to launch their businesses.
The Hartono family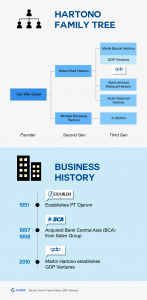 The Hartono family is one of the first names that might come to mind whenever the topic of Indonesian conglomerates is raised in a conversation. The two family patriarchs, Robert Budi Hartono and Michael "Bambang" Hartono, have consistently topped Indonesia's list of wealthiest people in the last decade.
The family made its first fortune through Djarum, one of the biggest cigarette makers in the country. However, during the 1997–1998 Asian economic crisis, the brothers bought a stake in Bank Central Asia, which was owned by another conglomerate, the Salim group. That has since accounted for nearly two-thirds of their income.
One of Robert's three sons, Martin Basuki Hartono, is spearheading the family's move into the startup scene. After wrapping up his studies in the United States and returning to Jakarta in 1998, Martin joined the family company, Djarum, as business technology director. In interviews with the media, he never fails to mention his passion for technology.
In 2010, he decided to start Global Digital Prima Venture (GDP Venture), which received support from his father. With USD 100 million in capital, Martin went on a spending spree, buying stakes in some of the country's hottest websites, such as Indonesian's largest internet forum at that time, Kaskus, popular shopping site Blibli.com, OTA app Tiket.com, the super app Gojek, and health tech app HaloDoc.
He is also passionate about grooming the next generation of tech entrepreneurs. Martin has invested in PT Merah Putih Colony, which runs the Merah Putih Incubator, Indonesia's first tech and digital incubator.
Djarum Group has not attempted to create its own startup companies. They play the part of investor and patron.
The Salim family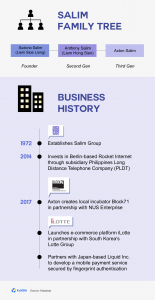 Established in 1972 by founder Sudono Salim, the Salim Group is famous for being the producer of the popular instant noodle Indomie. Other than running the giant flour-milling operation Bogasari and food manufacturing company Indofood, the company has been involved in various other businesses. Over the last several decades, they expanded their business to property development and commercial real estate. They also run one of the biggest retail chains in the country, Indomaret, which has total of 14,000 stores across the archipelago.
Their digital ventures started in 2014, when they invested USD 445 million in Berlin-based Rocket Internet through Salim Group's Filipina-based telco subsidiary, Philippine Long Distance Telephone Company. Even though the investment failed to yield a bountiful return, Salim Group did not back off from the sector.
In 2017, they tapped the local tech scene by creating Blok71, an incubator located in one of Jakarta's busiest business districts, in partnership with National University of Singapore Enterprise. The group's third-generation heir, Axton Salim, reportedly initiated this partnership. The US-educated 41-year-old believes that Indonesia's startups offer many fresh ideas that are worth investing in, as reported by local media outlet Katadata. On this occasion, Axton also revealed that his family company had invested in Singapore-based smart locker service startup Popbox.
Still in the same year, the group partnered with South Korea's Lotte Group to form a joint venture, which resulted in the launch of e-commerce platform iLotte. The shopping site focuses on selling South Korea's beauty products to Indonesian customers. Another partnership with a foreign entity is with Japan's Liquid Inc, a biometric startup company. Salim Group also aims to launch a mobile payment service secured by fingerprint authentication.
The Sariaatmadja family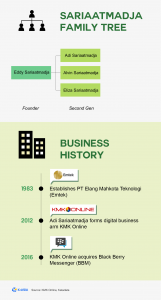 The family founded PT Elang Mahkota Teknologi, widely known as Emtek, in 1983. Originally started as a personal computer services provider, it has evolved into a modern, integrated group of businesses with three main divisions: media, telecommunications and IT solutions, and connectivity.
Emtek's most notable digital maneuver is the acquisition of BlackBerry Messenger  in 2016 under its tech subsidiary Kreatif Media Karya Online (KMK Online). Many considered the move as reckless, as many users had migrated to the increasingly popular WhatsApp.
Other than this, KMK Online has invested in fashion e-commerce Bobobobo, Muslim-oriented fashion marketplace Hijup, and major marketplace Bukalapak. They also poured cash into various media startups, such as Vidio, strengthening their position as one of Indonesia's media magnates.
What's on the horizon?
It is logical to expect that Asian conglomerates hold many advantages over smaller players because of existing connections, robust business models, as well as early access to natural resources and talent. However, in a 2018 research report by Bain & Company, the firm found that those benefits have been steadily diminishing since 2014.
In Indonesia's emerging digital market, investments in local tech startups are still heavily dominated by foreign investors, especially when it comes to firms that eventually became decacorns and unicorns.
Fithra Faisal Hastiadi, an economic researcher at the University of Indonesia, explained why the Indonesian magnates are reluctant to entrench themselves deeply in the startup scene. "We are looking into two contrasting business models. The conglomerates are very used to traditional business models that aim for quick profit and are asset-based. Startups, on the other hand, are pursuing dreams, traction, valuations, leverage, and market domination," he told KrASIA.

Typically, conglomerates are more interested to invest in businesses that promise profitability in two years. However, a startup can operate for more than five years with high valuation but still not profitable. This is why conglomerates that try to build their own startups, such as Lippo Group with MatahariMall and Ovo, gave up midway. Engaging with the digital economy requires an inherently different mindset.
Regarding the conglomerates' low investment numbers, Hastiadi stated that the "traditional mindset" is one of the biggest obstacles. Even though these families are deep-pocketed, they tend to preserve their money strictly and demand a lot from founders who seek funding from them.
"Most of the conglomerates are still doing traditional investment such as looking at a high rate of return and return investment. This model is not applicable if we are talking about startups. They need to treat investment in startups as a sunk cost," Hastiadi said. Meanwhile, foreign investors, such as venture capitalists, have a better understanding of the risky nature of startup investments, making them the preferred funding sources for founders.
One safe way for conglomerates to stay relevant amid digital disruption and fast-paced changes is by taking the role of nurturer. These clans have extensive experience with running businesses using a variety of operational models, and that maturity makes them the perfect mentors for new entrepreneurs. In particular, this strategy has been applied by Martin Hartono with his Merah Putih Incubator and Axton Salim's Block71.
Hastiadi said incubation programs are a new style of conglomerate. In order to dominate the market, they have to control the end-to-end supply chain. Incubation programs give the conglomerates an opportunity to observe and advise a startup closely starting from its early stage, giving it a better chance to succeed.
"The incubation model will be very beneficial for them. They have the money and knowledge of business models. It also provides a better understanding of the startup's nature because they are observing from the start. They know what are its needs. Or if they see failure, they quickly pivot the money to other potential projects," he said.
For now, payoff from investments in startups typically accounts for a small part of conglomerates' wealth, especially compared to conventional business sectors like real estate and banking. However, while the digital economy grows, profits draw from digital services will also surge.
"If the conglomerates want to stay relevant, they need to strengthen the incubation programs—strengthen their grip from the start. They also need to be more flexible when investing in startups. They need to be aware that it's a sunk cost. The chance of success is smaller than failure," Hastiadi said.
That means Indonesia's magnates need to be patient. They might be losing money at the moment, but they could lead the digital market ten years from now—if they are willing to change their perspective.