Chinese start-up Nreal is finally ready to release its affordable augmented reality (AR) glasses. But for now, there's only one place you'll be able to get them: South Korea.
The company announced on Tuesday that its Nreal Light glasses are now up for pre-order in partnership with carrier LG Uplus. The glasses are being sold under the name U+ Real Glass, and they'll be available either bundled with a phone and a data plan or separately at a higher price.
Nreal says the glasses are designed to liberate people from their tiny phone screens. Instead of tapping on a 2D display, users wearing the glasses can navigate mobile apps in a 3D interface.
The company has its own 3D system called Nebula. It projects digital images onto the real world when a user looks through the glasses. Nreal is working with LG Uplus to make popular apps like Google Chrome, Facebook, Kakao Talk, and Instagram compatible with its system.
The company says the glasses can double as a virtual reality (VR) headset, too, thanks to an included lens shade that covers a user's field of view. This means users can also watch movies and play games on the Nreal Light.
Beijing-based Nreal was founded in 2017, but it was only this year that it started getting wider attention when it showed off its glasses at CES. Like other AR glasses and headsets, the Nreal Light projects images over the real world, allowing users to interact with them.
Early looks of the glasses have been positive about the sharp resolution courtesy of the two 1080p OLED micro-displays used in the lenses. But it looks like visibility of the images suffers if you go out into the sun.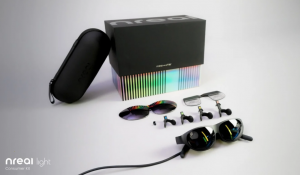 The real attraction, though, might be the price. The glasses cost KRW 349,000 (USD 294) with a Uplus 5G data plan along with either a Samsung Note 20 or LG Velvet smartphone–the only two phones Nreal says its glasses are currently compatible with. People will also be able to pick up a pair separately on August 21 for KRW 699,000 won (USD 589).
The prices, comparable to what Oculus and HTC charge for their high-end VR headsets, might not seem like a bargain. But making good AR headsets can be trickier. Compared with the top AR options on the market, the Nreal glasses look like a steal.
Microsoft's HoloLens 2 costs a whopping USD 3,500. And the much-anticipated Magic Leap 1 finally launched last December for a price of USD 2,995. At these prices, it's no surprise that both companies are targeting enterprise customers to have their headsets used in places like factory floors.
While other more affordable AR glasses also exist, they haven't gained wide traction and often don't look as advanced as what Nreal seems to be offering. This has invited scrutiny from competitors. Magic Leap alleged in a lawsuit that Xu, who founded Nreal after leaving the US-based company, stole secrets when he left in 2016. A US district judge dismissed the lawsuit in June.But the Nreal Light isn't perfect. The glasses need to be tethered to an Android smartphone running on a Qualcomm Snapdragon 855 or above. The glasses are also limited to a 52-degree field of view, which is smaller than 100 degrees offered by some VR headset competitors. And the resolution of 1920×1080 pixels isn't as high as the 2048×1080 pixels for each eye in the Hololens 2.
Priced thousands of dollars less than the leading competition, the comprises don't seem unreasonable. And Nreal knows the price is an advantage, saying that it hopes to use it to lure in regular users who might be interested in AR entertainment and productivity tools.
There's still no launch date for the glasses outside South Korea, though. Nreal said it's looking to make the glasses available in other countries and is currently in talks with local carriers in China, the US and EU. People anywhere can also buy the developer kit, but that more than doubles the price to USD 1,199.
Even without a broader launch, Nreal is already working on a different product for enterprises that could launch in late 2020. It's working with AR software company Spatial, which makes applications for virtual meetings–something that's been much more attractive during the COVID-19 pandemic. Nreal is also already working on immersive video conferences with office communication tool DingTalk, which is owned by Alibaba, the owner of the South China Morning Post.
But it may not be long before Nreal has more competition. Google bought the AR glasses company North in June. And Apple has long been rumoured to be preparing its own AR glasses–although guesses for when those might arrive range from next year to 2023.
This article was originally published by the Abacus News.