Hotel guests everywhere face a common predicament: long waiting lines to check-in.
In fact, a study from Cornell University's Center for Hospitality found that just a five-minute wait at check-in causes guest satisfaction to drop by 50%.
But what if there was a way to make the process quicker, easier, and leaner?
This is where GTRIIP comes in. It's a local startup that uses artificial intelligence and machine learning to automatically verify photo IDs and owners, thereby significantly reducing the time taken to check in a guest by 70%.

We speak to GTRIIP's founder, Maxim Tint, on what inspired him to design a digital solution to eliminate time-consuming check-in processes and facilitate contactless check-ins during COVID-19.
It was during his frequent work and leisure trips that sparked Maxim to develop a document-less check in system to get into places like hotels, offices, and member clubs.
The self check-in process eliminates the need for paperwork at the hotel's front desk and helps to reduce the check-in time to less than five minutes.
How a frequent traveler reinvented the check-in process
The Stanford University's School of Business graduate shared that whenever he took a flight, he had a particular pain point: filling up the immigration form.
And when he arrived at his hotel, he had to go through the same process of filling in registration forms. Vexed with these manual processes, it prompted him to do something about it.
In fact, at that time, digital identity solutions were still new and unprecedented.
Fast forward six years later, GTRIIP is a leader in contactless check-in procedures for hotels.
With just a smartphone, a hotel guest can easily book a room, check in remotely and verify their identity with a selfie—matched against their passport image—upon arrival.
The app serves as a "pocket concierge" by allowing guests to skip the process of queuing and waiting at the hotel lobby to be issued physical key cards to their rooms.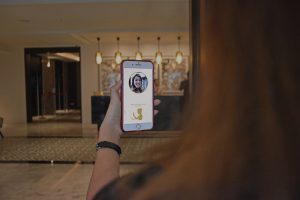 A digital key will be presented to the guest through their phone, which they can immediately use to access the lift lobby and their respective room.
Calling themselves a "digital identity platform for global citizens", he added, "This was our vision while I was travelling and staying in hotels. This was also our inspiration to create a digital identity solution."
As this no longer presents the need for the physical exchange of documents, this technology was especially essential when social distancing measures have to be observed during the COVID-19 pandemic. Clearly, this product comes at an opportune time given that the world is lifting travel restrictions.
Once inside the room, GTRIIP yet again provides digital smartphone access to a wide array of features.
Too cold? Adjust the temperature on your screen. Feeling hungry? Open the digital menu to order. Need more pillows? Tap on the e-concierge button. Have a burning question you need answered? Contact a staff member using GTRIIP's chatbot function.
Decreases check-in time by 70%
According to The Singapore Tourism Board, it takes around 10 minutes to complete a typical check-in—two minutes to verify the guest's profile, three minutes to record the profile, two minutes to process payment, two minutes to assign a room, and one minute to issue a room key. And this is assuming there's no check-in queue.
GTRIIP allows a check-in to happen in less than five minutes, without compromising on security, said Maxim.
"It is challenging for hotel front desk staff to tell the difference with good accuracy between people who look alike with their own naked eyes, or reject a check-in because of this uncertainty."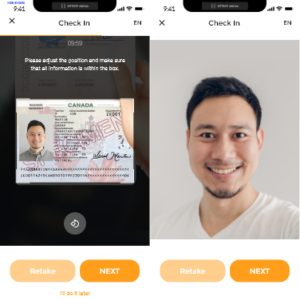 "Having technology such as computer vision to consistently provide this level of accurate verification of guests in real time allows the hotels to automatically detect if a person attempts to check-in with a fraudulent passport," he added.
Maxim added that he views companies which provide physical kiosks as competition. However, he emphasizes that the key differentiation that GTRIIP offers is affordability, sustainability and scalability.
"When we are rolling out the software that runs on your existing smartphone that you already own, it's a much more affordable and sustainable solution, while at the same time being more easily scalable.
"That's the reason we can roll out to 13,000 rooms in such a short time. It would have been an uphill battle if we were trying to do that with a physical kiosk," he said.
Additionally, in a post COVID-19 world, physical kiosks are not practical and a contactless check-in process would be something that travelers will consider before they book a hotel room.
Facilitated over 1 million check-ins
GTRIIP has completed over 1 million check-ins globally, and currently serves over 13,000 hotel rooms and office access points. It counts Park Hotel Group, Amara Holdings Limited, Top Hotel Casino Group in Macau among their clientele.
For conglomerate Park Hotel Group, they had done a test drive of GTRIIP at its Singapore's Grand Park City Hall Hotel. Following that, the Group has already started discussions about rolling out GTRIIP's contactless check-in solution to the rest of the group.
Another hotel chain Amara Singapore, is already using the GTRIIP solution at Tanjong Pagar. Currently, the group is also implementing this solution at Amara Sanctuary located in Sentosa island.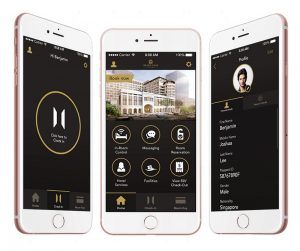 A major hotel casino group in Macau, Top Hotel Casino Group, has implemented GTRIIP solution in all of their five properties.
Before employing the GTRIIP solution, guests used to take more than an hour to check-in at their properties. This has since been shortened to less than 10 minutes with GTRIIP's contactless software.
The hotel casino group is also in the process of extending the contracts for all properties for the next five years.
As the technology and the very concept of binding biometrics to a human identity was still new when they first started, they had to work together with relevant parties — often government agencies — to ensure that this (GTRIIP's digital solution) is safer, and more secure than paper documents, and make it fully compliant with regulatory frameworks.
Working with government agencies
Fortunately, in Singapore, organisations like Singapore Hotel Association and Singapore Tourism Board were very supportive of innovations like this.
Through them, GTRIIP was able to further their conversations with Ministry of Home Affairs and Immigration Checkpoint Authority to ensure that their biometrics-based digital identity technology is secure and compliant with all the regulatory frameworks.
Taking initiative to engage with authorities early from research and prototyping stages of our product features was important, added Maxim.
Raised SGD 2.1 million to date
The company has raised a total of USD 1.5 million (SGD 2.1 million) in funding over three rounds. In 2018, GTRIIP raised USD 1 million in their Series A funding from connectivity solutions provider M1.
In early 2020, they secured their Series B funding round for an undisclosed amount. The latest investors to come onboard include Japanese VC firm Global Brain, through the KDDI Open Innovation Fund No. 3 (KOIF), which manages the investment portfolios of the major Japanese telecommunications operator KDDI Corporation.
Other investors include Kepventure Pte Ltd, a wholly-owned subsidiary of Keppel Corporation, a Singaporean multi-business company focused on sustainable urbanization and Accord Ventures, a Japanese VC firm.
GTRIIP projects that its revenue for 2019 will hit about USD 2 million, and triple to USD 6 million in 2020. They are planning to raise their next round of funding potentially in 2021.
Implementing contactless check-ins to more hotels
With COVID-19, hotels across Europe reported single-digit occupancy rates in April. Singapore has also been hit, with occupancy rates plummeting by around 30% in February.
In Singapore, GTRIIP's customer hotels are enabled with the Singapore Tourism Board's e-visitor authentication (EVA) system, reducing guest check-in time at the front desk by 70%.
Currently, with countries starting to lift travel restrictions, more hospitality providers are looking to reopen safely and win back consumers.
To make this possible, hotels are turning to contactless check-in technology to reduce direct contact between guests and staff. Due to this trend, there has been an increased demand for GTRIIP's "contactless" check-in solution.
Besides that, GTRIIP has also embarked on a robust Value-Added Reseller (VAR) program globally. The resellers are essentially GTRIIP's extended teams in key markets. They will represent GTRIIP to sell and provide first level support to the hotel clients.
It also has plans to diversify its product lines into new verticals and launch specialized products for other commercial properties, such as tenant access and visitor access.
The company is set to onboard more developers, engineers, researchers, client success specialists, and sales team members.
Currently, they are focused in Japan, South Korea, Hong Kong, Macau, Australia, Philippines, Thailand, and Sri Lanka markets.
Why were contactless check-in systems not widely in place?
This COVID-19 crisis has forced the hospitality industry to recognize the challenges in this environment and relook into their ways of doing business.
As we gear up for country borders to reopen and travel to resume soon, travelers will still be very cautious about international travel.
Hoteliers have realized that they must implement a contactless check-in solution like GTRIIP immediately to welcome guests whilst adhering to social-distancing guidelines.
This also begs the question: Contactless check-in systems have been present before pandemic days, but why were many hotels still using physical check-in counters, kiosks and issuing physical room cards?
Authorities worldwide should enable the feasibility to relax existing rules and allow all hotels to adopt the facial recognition system as a means for guests to check-in.
This will ensure that they can continue to be in business as people seek to maintain social distancing from other people. One of the travel trends set to emerge after the COVID-19 pandemic is a shift towards private rental properties over crowded hotels.
In order to get guests to patronize them, hotels need to ensure that they take full responsibility for their guests' safety.
Additionally, a digital check-in solution would also shorten the time taken for guests to check-in and allow hotel employees to "focus on higher value-added tasks".
This article was first published by Vulcan Post.