Everybody likes to get a package and more so in times of COVID-19. Once regarded as a "nice to have," doorstep or last-mile delivery has become a "must have" as social distancing and shelter-in-place measures were implemented worldwide.
Although the pandemic has accelerated demand, the last-mile delivery market in the Asia-Pacific region was already experiencing robust growth. It accounted for USD 500.3 million in 2018 and is expected to grow at a compound annual growth rate (CAGR) of 19% in a decade. Thanks to the rise of e-commerce, mobile connectivity, and an improving infrastructure across the region, the sector is well-poised for disruption and already spawned stiff competition among well-funded logistics startups.
One company that has been backed by notable investors, such as Facebook co-founder Eduardo Saverin's B Capital Group and ride-hailing giant Grab, is Ninja Van. Founded in 2014, Ninja Van has swiftly grown to become one of the region's largest players. It is currently operating in Southeast Asia's six biggest markets: Singapore, Malaysia, Indonesia, the Philippines, Thailand, and Vietnam.

With a headcount of over 30,000 "Ninjas" and more than 600,000 partnerships with shippers—from big e-commerce platforms to small blogshop sellers across the complex and heterogeneous region—the courier claims to successfully deliver over one million parcels daily. Earlier in May, the Singapore-based firm secured an additional USD 279 million in a Series D financing round, bringing total funding to approximately USD 400 million and an estimated valuation of USD 750 million.
It seems that Ninja Van is shifting gears. The company says that it has to go beyond logistics and mentions customer experience as the big focus for the year ahead.
"We recognize that in the last six years, customer demands and technology have evolved, so it's crucial for us to focus on customer experience as part of the company's next phase of growth," co-founder and CEO Lai Chang Wen told KrASIA. "The company was born out of the desire for a more hassle-free logistics experience, so this is a natural progression for us as a company."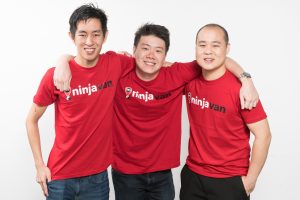 Ninja Van officially launched Ninja Chat, a service that allows users to communicate with the Ninja Van team or access information through their preferred social media platforms such as Telegram, Line, and Facebook Messenger.
The first iteration of Ninja Chat was soft-launched late last year in the Singapore market with features that were more geared towards parcel recipients. It includes live tracking of the parcel—the user can see a van moving around a map of his neighborhood outlining the delivery route—and the possibility to chat directly with an agent. Since the first quarter of 2020, the features have been rolled out across the six markets, together with an option for contactless delivery.
Ninja Van is also testing a shipper-centric version of the Ninja Chat since May and expects to officially launch it in September. Dispatchers are able to directly manage orders, manage pick-ups and obtain status requests through social networking platforms with the possibility to live-chat with their account manager for further assistance.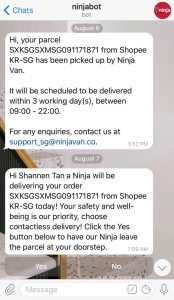 "We have observed that customers are increasingly demanding more touch points with brands," said Lai. "We believe the best approach is to do so through users' preferred social media apps." Fellow co-founder and CTO Shaun Chong believes that it will personalize the delivery experience and offer the ability to specify preferred delivery methods, locations, and timings.
A social media tempest
Although the company entered the year flying the flag of customer experience, the pandemic seriously tested its capacities and Ninja Van received multiple complaints of missing parcels. The social media furor prompted Singapore country manager Ray Chou to make a statement explaining that missing deliveries were due to fallen air waybills and incorrect parcel tagging.
"Over the past few months, we recognized that we weren't able to respond quickly enough and to provide our shippers and end-consumers with more updates or certainty when parcels were lost or damaged," said Lai. "We've invested and developed technology and solutions so we can prioritize cases better, and have also integrated our processes, systems, and software, so our customer service and operations teams will have clearer visibility and real time updates on parcels and delivery schedules."
It will ensure that clear and timely action is taken by the various teams at every stage of the process, Lai added.
Ninja Van needs to ensure it stays ahead. Armed with fresh capital, it is riding the growing wave of e-commerce adoption. The logistics industry may have fallen on the right side of the pandemic, but it is also highly competitive with new contestants, such as Alibaba-backed Best, entering the fray.
Lai thinks that the company can turn the negative experience into an opportunity to demonstrate commitment to quality and service. "We believe taking this approach will help us build confidence and trust among the e-commerce shipper community and assure them that we are the right partners to work with when building their business."
(The 4th paragraph has been updated on September 4, 2020 to reflect the correct amount of partnerships, as stated by the company)