Chances are you're used to shopping online. However, many believe that no matter how smooth the e-commerce experience might be, some things —like cosmetics—need to be handled in person, in a store, the traditional way.
Skin foundation needs to match skin tones. Finding the right red in a lipstick is also no easy job. Yet, an array of digitally native skincare and makeup brands are betting on selling makeup online by introducing new virtual tools.
Dian Permatasari, a Jakarta-based administrative staff for a travel company, likes to call herself a "beauty enthusiast." She has been buying new beauty products online or through catalogs, although, with some problems along the way.
"Sometimes, it's hard for me to imagine whether the shade of lipstick I see online would match me or not," she said. Shades printed in catalogs are also often different from the actual color, she noted.
Since last year, she has been using a new virtual makeup try-on feature introduced by L'Oréal Group on Sea's e-commerce platform Shopee, which allows her to check whether the shade of a new lip cream, or a skin foundation, would match her face thanks to augmented reality. "I hope more brands could provide this feature as it minimizes the risk of buying the wrong shade," she said. Yet, the application is far from perfect, as colors sometimes also look "too fake" on the screen, according to Permatasari.

Growing adoption of virtual beauty applications
Many e-commerce platforms have started providing virtual makeup try-on features since 2018 in Indonesia, although user adoption picked up during the COVID-19 lockdowns last year, as people were forced to stay at home.
The feature mentioned by Permatasari, named Shopee Beauty Cam, was introduced by L'Oréal Group on Shopee for the company's brands L'Oréal, Maybelline, and Nyx. The French multinational ventured into the AR beauty realm with the acquisition of Canadian beauty tech company ModiFace in 2018, as part of L'Oréal's digital acceleration strategy to boost online sales.
To develop the virtual makeup try-on functionality, ModiFace manually trained its software using 22,000 facial images to cover a wide range of skin colors, according to the firm's website. ModiFace also manages a similar application to visualize different hair colors, also marketed by L'Oréal, called Hair Color. 
Another similar application, simply named AR Makeup Try-On, was launched in October 2020 by JD.id, the e-commerce joint venture of Gojek and Chinese giant JD.com. Local makeup companies such as Wardah, Emina, and Somethinc, which sell their products exclusively on JD.id, have been using this function since its debut.
Also, Indonesian cosmetic brand Wardah teamed with Taipei-based beauty tech firm Perfect Corp to develop a try-on feature on the company's website, as product sales through e-commerce channels "contributed significantly" to the company's revenue in 2020, according to a Wardah spokesperson.
Google had also partnered with ModiFace and Perfect Corp to launch a  virtual makeup feature on Google Shopping in December 2020. The function allows users to visualize lipstick and eyeshadow shades from brands like L'Oréal, MAC Cosmetics, Black Opal, and Charlotte Tilbury, among others.
Here's how virtual makeup tools usually work: Users access their desired product from e-commerce platforms or brand's websites, and after clicking on a "try now" button, they can see a live augmented reality representation of what the product would look like on their skin thanks to the smartphone or laptop's camera. Users can select different color shades, as well as other beautifying effects, and then save their photos with the virtual makeup.
"It is like using Instagram filters, but you could also apply it in real life as the products can be purchased right away," Ayu Mutiara Ningsih, a Shopee user, told KrASIA.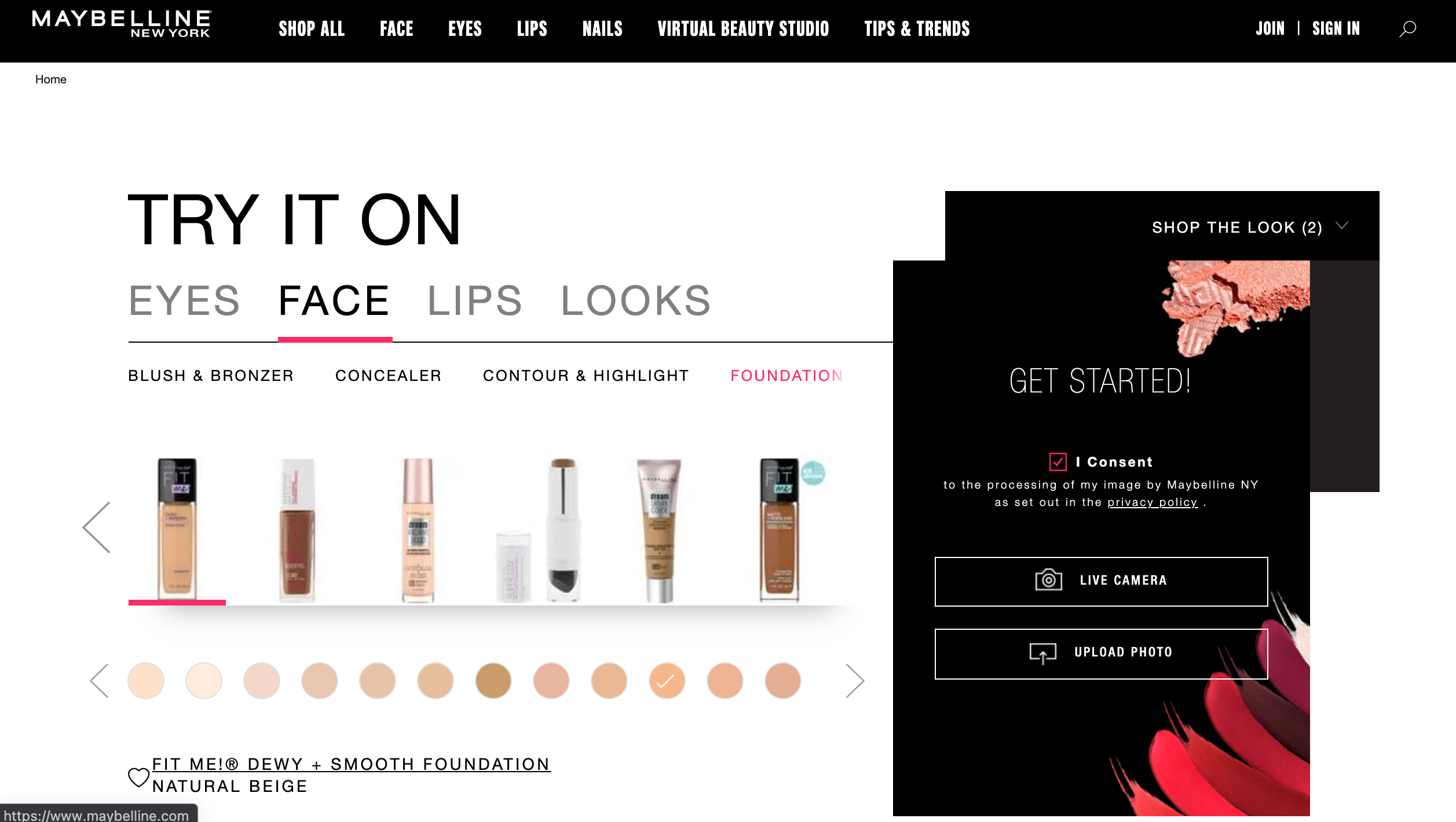 Catering to a growing demand
More and more platforms are set to adopt AR features as an additional way to lure consumers to buy beauty products online, Daniel Surya, co-founder and chairman of Indonesian information technology firm Augmented Reality & Co, told KrASIA.
AR cosmetics applications are also the result of changing customer behavior, where e-commerce is slowly becoming a major channel for buying beauty products, Surya added. 
As more people contemplate adding cosmetics to their online carts, being able to visualize themselves with a new look might just nudge them across the line. "Most brands are seeking to add AR features on their platform because they want to drive more sales," Surya said.
Indonesia's e-commerce sector is expected to hit USD 101 billion in 2025, with grocery, household appliances, and personal care products as three big driving factors, according to a report by research firm RedSeer. 
However, virtual makeup applications need to overcome some technical limitations to become broadly adopted by users. "Sometimes the feature freezes, and I can't click the try-on button," Permatasari said, referring to Shopee's BeautyCam.
"I hope they can improve the filter and image quality, as I found the color contrast is too high and the lipstick shade doesn't look that natural," she added.
Factors like room brightness and the gadget's camera also affect the quality of AR visualization. "When my room was too dark, the filter somehow failed to blend with my face and looked too cartoonish," said online shopper Ningsih.
Surya emphasized that the country's low internet speed represents a problem for the major adoption of AR technologies, as well as the quality of gadgets. "AR needs devices with a high-quality camera and processor, which is not a problem for high-end smartphone users. But Indonesians prefer low-end smartphones that sometimes are just not compatible [for the AR]."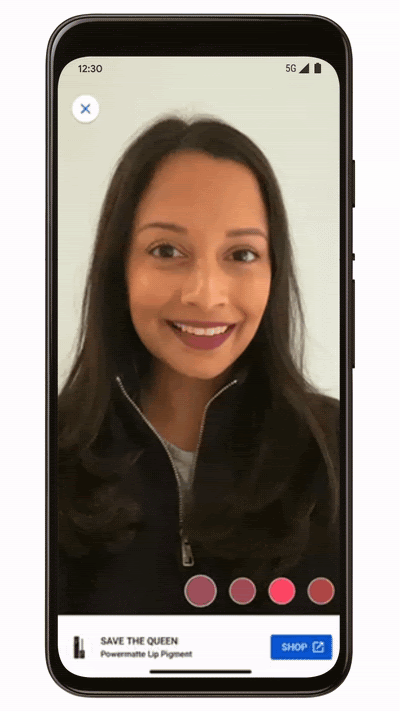 The impact of AR makeup applications in sales is also yet to be seen. An internal survey from Perfect Corp found that users are 1.6 times more likely to purchase beauty products after using try-on features compared to those who don't. Yet, the survey was directly administered by Perfect Corp, a company that sees virtual try-on technology as its main business line. The firm is best known to consumers for its beauty app YouCam Makeup, which provides users with virtual makeup samples from global brands like L'Oréal and Estée Lauder.
Users interviewed by KrASIA said that the AR try-on feature doesn't really affect their purchase decision, as they use it more just to play with different possibilities of products, shades, and colors. Yet, it is likely that the feature, unintentionally, could spur a desire to purchase a certain product.
"I think what's important is how brands utilize AR to deliver engaging and interesting content to consumers. AR is just a tool," he said. "Like a musician and a guitar. Even if the guitar is expensive, but the musician can't play it well, no one will listen to them and the guitar will be useless."
Wider adoption enabled by new tech
AR adoption in the Indonesian beauty market is still in its nascent stage, according to Surya, but the market will further develop in the future. As the country is looking to adopt 5G broadband by 2024, the usage of AR features will become more common.
"It will not be limited to try-on. We could see features like skin analysis or prediction, especially with support from AR equipment, like glasses," Surya said. "Users could apply the virtual makeup not only on their own face but also on other people's. Like seeing how your friend looks like in a certain makeup style, through the glasses." 
The technology could also be widely used in brick-and-mortar stores. Companies like Meitu and ModiFace have been installing smart mirror devices in offline stores in countries like the United States, Italy, Australia, New Zealand, Japan, and Singapore. Similar to smartphone applications, the device lets customers virtually put on desired products, while it can also recommend certain styles in accordance with the users' skin tone or face shape.
However, brands and platforms will need deep pockets to support major AR development, the analyst explained. "To build the database alone with products, skin tones, facial features, and others, you have to shell out tens of millions of dollars. High performing AR tools have a high cost," Surya explained.