Hi there! In the new age of AI technology, we are initiating this bold AI-powered pilot project.

KrASIA's parent company, 36Kr, is the leading tech and business media company in China. Every day, 36Kr delivers an enormous amount of news on Chinese startups. KrASIA wants to share these articles first-hand, but it was impossible to translate huge amount of information manually in the past.

Now, with AI, we have a solution: AI-powered translation with minimal human effort. Therefore, please understand that the translation may affect your reading experience. Nonetheless, feel free to contact us ([email protected]) should you have any feedback.

Enjoy!
Music education platform "Finger" completed 100 million Series B financing led by property developer Greentown China and co-invested by Silicon Valley Bank.  Founder Zhang Tong said that funds will be used for online business expansion and building their physical centers. Previously, the company had received Pre-Series A financing from K2VC and Cambrian Ventures, as well as multiple rounds of investment by Vision Capital.
Finger, launched in December 2015, offers online courses of more than ten instruments. They have also created their own IP with their "Finger Piano" and "Finger Guitar" courses.  At present, the app has more than 10 million users, more than 2,000 teachers, and there are more than 10,000 courses.
After nearly three years of development, Finger's curriculum types have become more diverse. This includes courses provided by Finger themselves, courses provided by music schools and private teachers, as well as courses for children.  Zhang Tong told our parent company 36Kr that it started out as a platform, to meet the demands of consumers who wanted to learn instruments but had time constraints. Finger Pro provides a systematic course for users of all levels.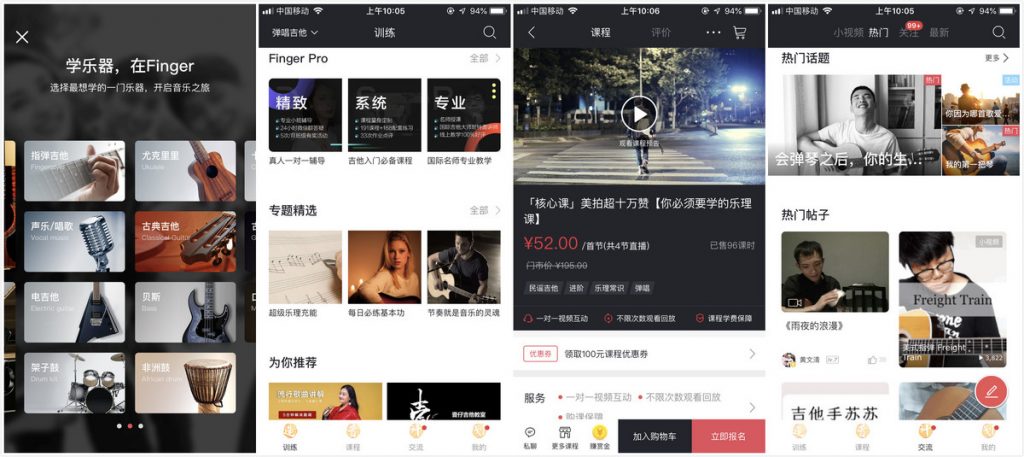 Finger Pro provides tutorials for adult users, with independent copyrights, focusing on teaching guitar, piano, and vocals. Users only need to complete the music ability test for3 minutes and Finger Pro will be able to analyze and allocate an appropriate course for the user.
Finger Piano is a piano practice companion for children. Children can also book a teacher online to correct their tone, rhythm, and other piano techniques. "Finger Piano" is led by former teaching director of YAMAHA Music Center.
In addition, Finger also launched C2C live and recorded courses, most of the lecturers come from famous music colleges at home and abroad, providing users with online teaching videos of popular instruments.
After this round of financing, Finger will launch an offline market and launch a physical store. Zhang Tong said that both offline and online provides the same music service. The difference is that the online platform solves the problem of the lack of music teachers, while offline music centers focus on a better music experience.
Finger prior focus is on children's music education. Zhang Tong believes that music services for children include two important parts: instilling knowledge and companionship. Online music education may not be the most effective learning environment, children still require real human touch.
The entire music education market has high demand but no significant players and Finger wants to be the leading music education provider. They believe that quality and price are two important factors. Building a quality education system takes time as it requires development in content operations and teaching materials. Finger has been gaining brand share and improving mature teaching and research system for many years. Their core competitiveness lies in their rich network of music teachers and advanced teaching hardware and software.
Finger understands that music may be a lifestyle product. Their offline centers will be located around neighborhoods and residential areas with children. Lead investor Greentown China will also provide support in terms of venue and traffic.
At present, Finger's income is mainly from the commission received from their courses and already achieved breakeven.  Zhang Tong said that the online business still has a lot of room for growth. The market itself is growing, and the number of instrument purchases is increasing. For Finger, the future focus will be to expand its user base, understanding their needs and provide better and lasting courses.
Currently, Finger has more than 70 people and is headquartered in Hangzhou with teaching and research centers in Beijing and New York. The founding members of the team are mainly from the Alibaba.