In early August, 36Kr Chuhai, together with its overseas operations KrASIA and 36Kr India, targeting Southeast Asia and India markets respectively, launched the "Most Notable Southeast Asia/India Internet Startups for Chinese Investors."
After a month of working together with some of the leading Chinese VC firms, based on a set of criteria that takes into account investors' feedback, our readers' opinions solicited from online questionnaires, and a nominee's financing capability and valuation, among other factors, we are announcing the top 10 honorees of the two ranking lists for Southeast Asia and India markets.
On many levels, contemporary Southeast Asia and India are similar to China in the past when it comes to population, internet penetration growth trajectory, and so forth. That said, SEA and India markets fundamentally differ from that of China by culture, language, and social norms, thus bringing challenges for outsiders looking to get into these markets.
To many, Southeast Asia and India are always covered by a veil of mystery, through which outsiders have only a vague peek into the local entrepreneurial climate, consumer preferences, as well as industry landscape.
What are the challenges? What are the opportunities? In addition to announcing the ranking lists, we have also invited top investment institutions, Gobi Partners China, Fosun RZ Capital, Shunwei Capital, ZhenFund, and GGV, that have been closely following Southeast Asia and India, to summarize and analyze the markets from perspectives such as the background of their rise, key developing areas, and future trends. We hope you'll get a better understanding of the Southeast Asian and Indian markets. Enjoy!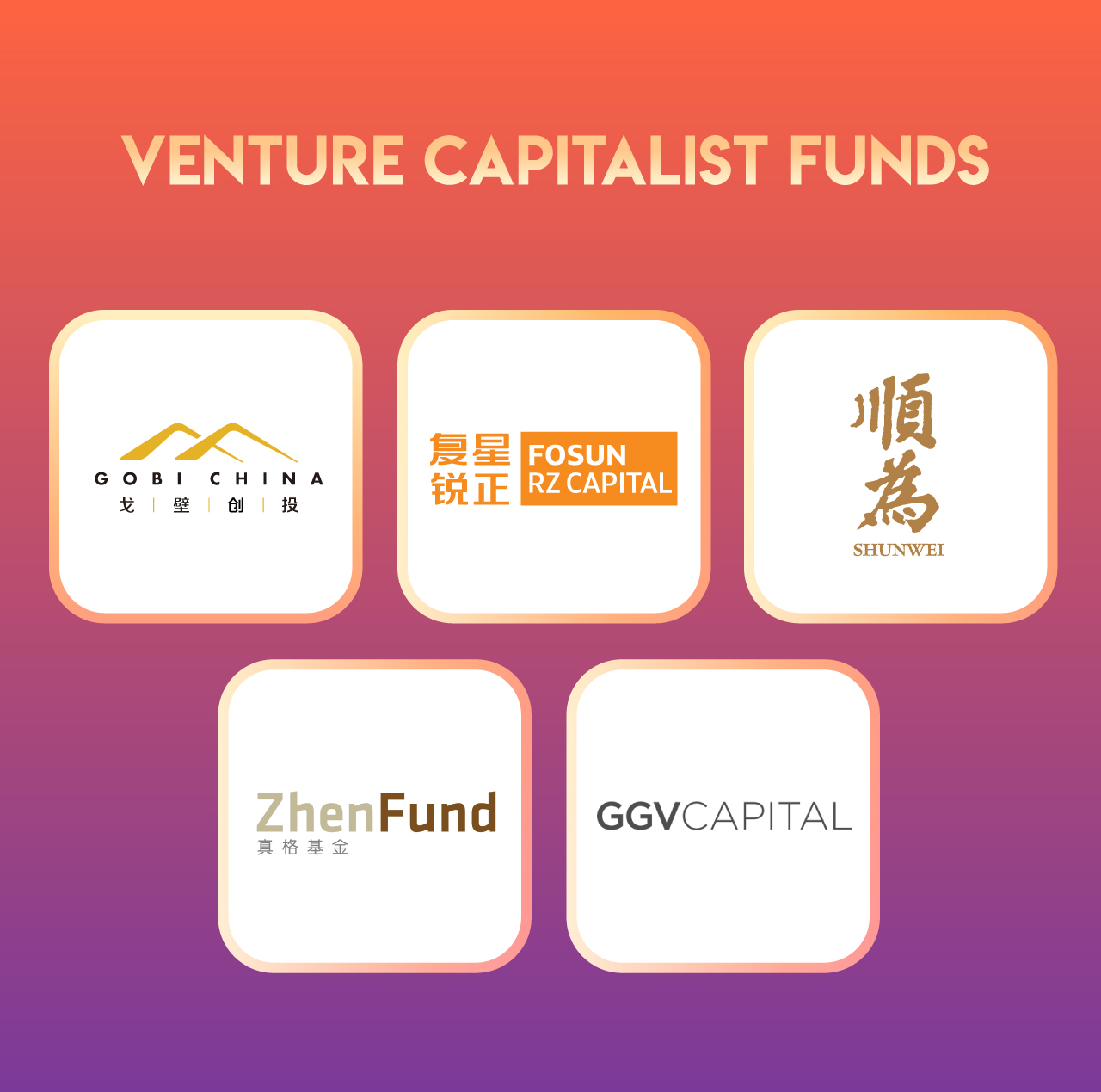 Southeast Asia

Southeast Asia: China 5-7 Years Back
The status quo and progress of Southeast Asia's development is a lot like China 5-7 years ago. When it comes to the startup world, Singapore, Indonesia, Thailand, and Vietnam — thanks to their population, smartphone ubiquity, and internet penetration — are usually considered to be the four focus countries in the region. They have also been witnessing the unleashing of increasing consumer power.
In terms of technological infrastructure, global firms such as Amazon's AWS, Google, Alibaba, and Tencent have all expanded into the region to offer cloud computing and other underlying technologies. Thanks to their contribution, many sectors, such as e-commerce, online education, O2O (online-to-offline) services are growing rapidly without too much technological hurdle in the region, giving birth to the likes of Grab, Gojek, Lazada, and Shopee, among many others.
Their service offerings are now sprawling into many new verticals, and are growing at a faster speed compared to that of China a few years back.
However, the fact that the SEA market is made up of several regional markets that sometimes consist of numerous islands, poses both the development challenges and opportunities. Especially in the field of logistics, supply chain, financial systems. It'll take time for them to develop.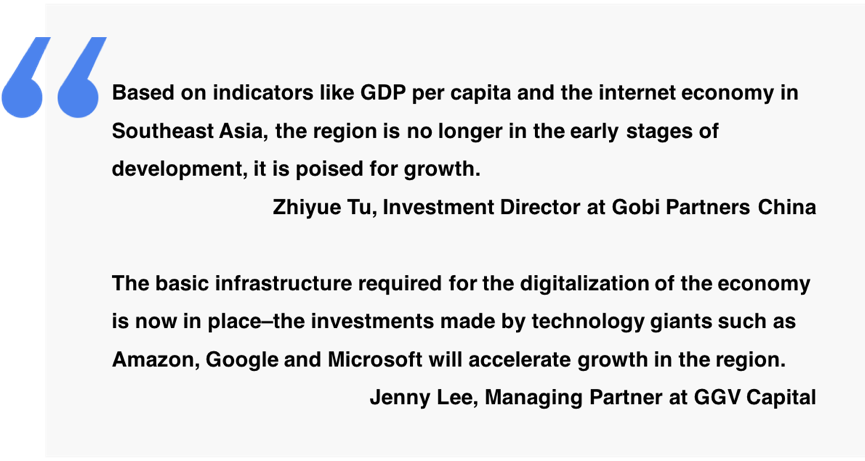 The First Entrepreneurs: Chinese Grassroots vs Southeast Asian Elites
China's entrepreneurship boom started around 2011. Back then, success seemed to belong to anybody young, capable, and ambitious. The majority of today's Internet giants started their journeys in student dorms, shabby apartments or trains running across the country. Grassroots entrepreneurship has become a synonym for Chinese internet startup miracles.
On the other hand, entrepreneurs in Southeast Asia have mostly been social elites, since the majority of the resources are controlled by a minority of people. Besides, education development is also uneven in the region.
If we take a closer look at the successful entrepreneurs from Southeast Asia, most of them have received higher education, and overseas degrees are not uncommon. Of course, by "elites" we're not just taking into account their educational attainment, but also their resource, networking, and edges as a result of their family businesses and/or multinational working experience.
A few examples include the founder of Grab, a Harvard Business School graduate from a prominent automotive family in Malaysia; the founder of Carro, who worked in a famous VC firm; as well as the founders of Gojek, Traveloka, and Funding Societies.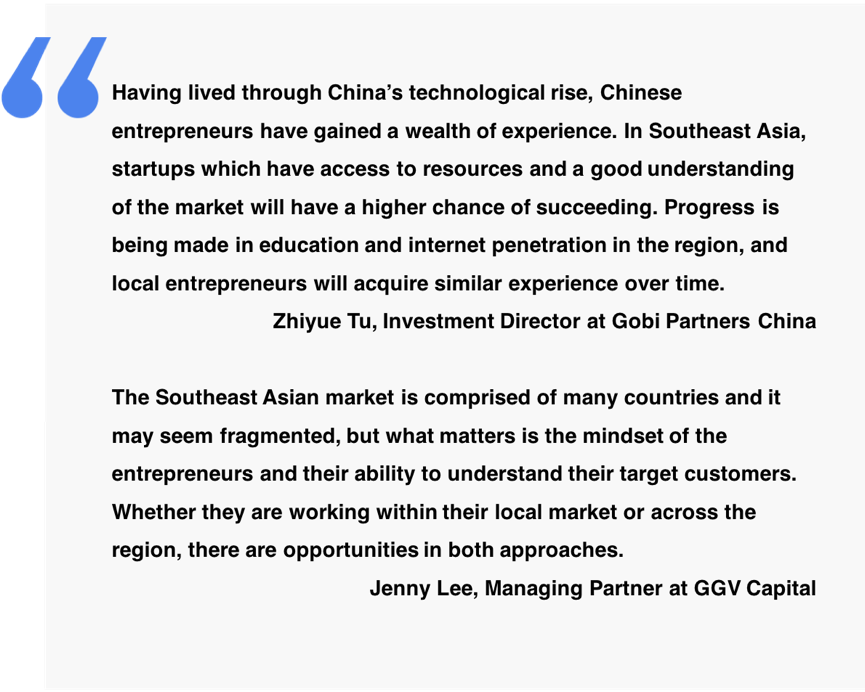 Key Areas
We also discussed the key areas that you should not ignore in Southeast Asia by going through the industry landscape and the honorees' industry distribution.
Transportation in Southeast Asia – Super App Becoming A Buzzword
After Grab's acquisition of Uber's Southeast Asia unit in 2018, the tripartite confrontation of Grab, Gojek, and Uber turned into a one-on-one battle for Grab and Gojek, both unicorns. Their businesses have also evolved from online car-hailing to O2O-driven super apps.
Southeast Asia differs from China in its laggard to develop a ubiquitous mobile payment scene thanks to the duo of Alibaba and Tencent. Additionally, Southeast Asian financial markets' immaturity led to low penetration of bank cards, a fact compounded by the region's leapfrogging from PC to the mobile era that has given rise to the consumer demand of a more convenient mobile payment scene.
The gap in the market also allowed Grab and Gojek to integrate mobile payment to a wide range of businesses, from food delivery to many other on-demand services. It is safe to say that ride-hailing is the driving force behind the rise of the region's on-demand sector, which also benefits areas like payment and logistics, among others.
Considering Southeast Asian countries have varied transportation infrastructure, regional ride-hailers have to localize their market entry strategy. For instance, In Indonesia and Vietnam, Gojek started with motorcycles, while in Singapore Grab got off with cars. In addition, the variety and quality also define a user's experience. We noticed that both Grab and Gojek have been enriching their platform and ecosystem through cooperation, investments, as well as setting up their startup accelerators.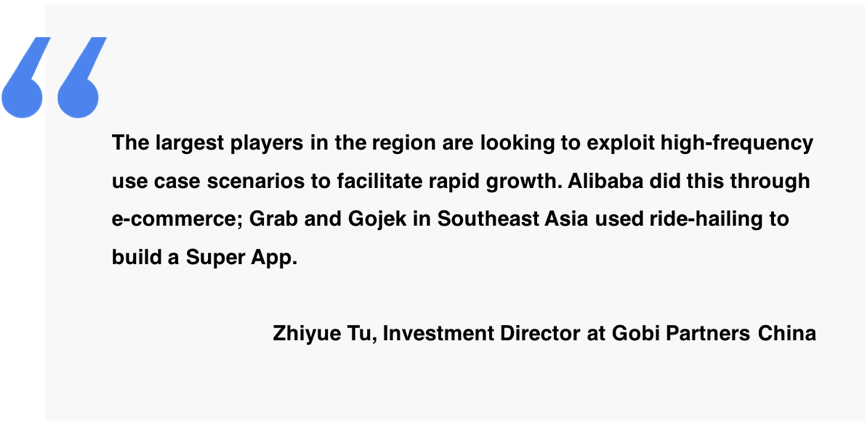 E-commerce, Logistics, Supply Chains in Southeast Asia
Southeast Asia has a remarkably huge blue ocean market. Judging by GDP per capita, Singapore is in a different and more developed stage. While rest of Southeast Asia is also on track to see a ballooning middle class, which is growing to become the driven force for the region's e-commerce sector, owing to the region's population dividend and gradually lowering customer acquisition cost.
Currently, there are already heavyweights in the region's e-commerce market, including Lazada, Shopee, and Tokopedia. Boosted by China's Belt and Road initiative, we also see the footsteps of Chinese internet companies, as they invest into the local ecosystem, or involved in helping develop their local counterparts from angles such as business model, supply chain buildup, and inventory pickup.
With the boom of e-commerce, industries such as logistics, warehousing, and supply chain will also develop. First, logistics costs account for 25-28% of the GDP in Southeast Asia. The figure is about 15% in China and 8% in developed countries such as Japan and the US. The market has great potential for growth and cost reduction.
In mature markets, such as the US and Japan, division of labor is a common thing for the sake of maximum efficiency. Many e-commerce companies choose to outsource their logistics services. As markets develop and mature, many giant companies came into being, leaving a slim chance for startups.
China is somewhere in between, with the co-existence of traditional and novel logistics startups. Whereas in SEA, its development coincides with the rise of the internet era, it — just like how the region leapfrogged from PC era to mobile — has breathed life into logistics services banking on internet services. Startups are supposed to be greatly benefited from the trend.
Due to varied geographical conditions, many special means of logistics and delivery have also come into being. For instance, the cold chain transportation technology in Southeast Asia is not highly developed yet, and to deal with the island geography, companies have to set up local stations or cooperate with stores to shorten the delivery time.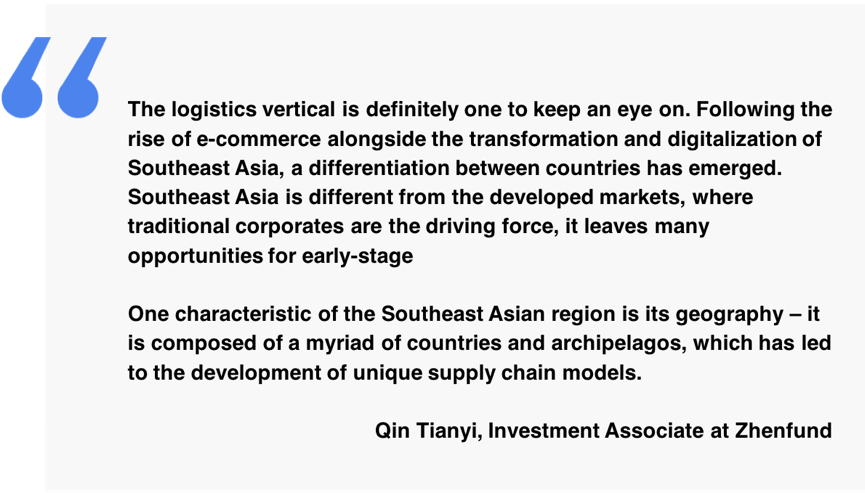 Finance in Southeast Asia
Southeast Asia consists of multiple countries, each has its currency, exchange rate, and policies, let alone the type of local e-wallets.
In Southeast Asia, other than the relatively mature Singapore, the financial system in each country is not very developed. Considering the pace of economic development, people do not have many assets to lend or buy financial products. Credit card penetration is also low.
However, as the local economy started developing, demands have also begun to emerge. Internet-derived fintech and insurance technology products are more needed in Southeast Asia compared to traditional banking. Akulaku on the list is such a financial platform born from the consumption upgrade tide.
In addition, thanks to the mobile proliferation in Southeast Asia, convenient and reliable mobile payment services are also being called upon, especially under the high-frequency and recurring payments scenarios. We noticed that all the aforementioned super apps are also racing against each other to the local mobile payment supremacy.
However, in the long run, breaking the barriers of cross-border payment is both a challenge and an opportunity. On top of corporate endeavors, also needed are support from relevant policies and supporting infrastructures.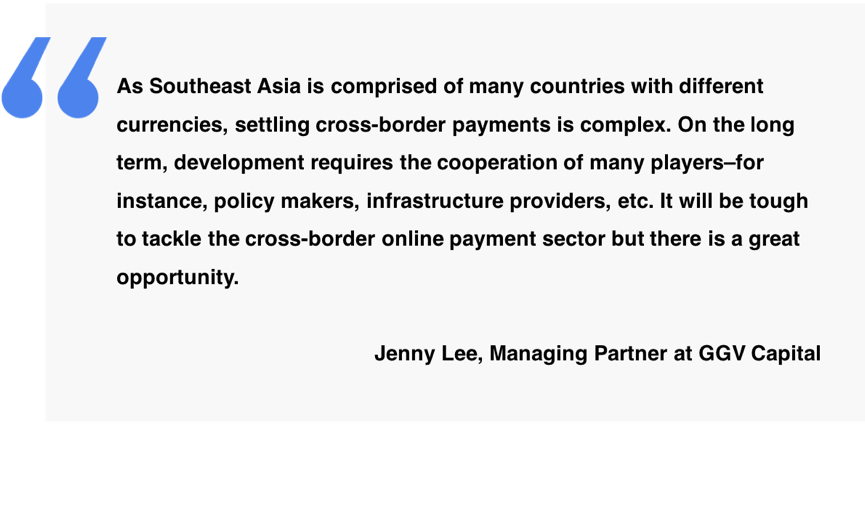 Social, Cultural and Entertainment Industries in Southeast Asia – Internet Celebrities and Live streaming Economy
Southeast Asia's 350 million population—meaning huge online traffic—turns the region into a highly sought-after and competitive market for social media and online entertainment businesses, especially on the mobile end due to the region's mobile proliferation.
SEA has the world's highest penetration of social media platforms. Social giants including Facebook, Line, Instagram, WhatsApp, and Twitter all entered the market, with a different market share in different countries due to uneven development across the region.
The social platform dynamics also helped boost two new sectors, the so-called social e-commerce, and influencer economy.
Apart from social media, in Southeast Asia, short video, live broadcasting, streaming media, and gaming are all popular choices of online entertainment. Similar to social media, these fields are also dominated by products of Chinese or other foreign companies, such as Bigo Live, Netflix, YouTube, and Viu. China and other mature overseas markets enjoy greater advantages in terms of traffic operation, and their business models have been verified in their native markets, making it easier for rapid localized deployment in Southeast Asia based on successful business models.
Social, entertainment and other industries with traffic as the core indicator are different from the transportation and life service industries, which rely heavily on localization and offline operation capabilities. We can see obvious advantages of Chinese enterprises going overseas, who can deploy rapidly in Southeast Asia through the models and experience already verified in the Chinese market.
India 

India: China 10-15 Years Back
Today's India is where China was 10 to 15 years back. For starters, India also has a whopping population who is enjoying the growing penetration of mobile phones and the internet.
Intuitively, many people would think of India as one market. However, the Indian market is quite diverse. For instance, there are around 20 official languages in India. English-speaking population aggregates mostly in cosmopolitans, such as New Delhi, Mumbai, and Bangalore. Furthermore, the English-speaking market is considered to be small and saturated compared to the vast market that doesn't speak English.
In contrast, the dialect speaking market, or vernacular market, refers to mostly second- and third-tier cities that are relatively less developed. The dialects have caused problems for communication, creating a fragmented market. Consumers from the vernacular market spend a lot of time on online content and entertainment, but they don't spend too much online. Additionally, owing to the lower degree of development in these cities, startups are also challenged by the difficulties of commercializing their offerings. However, the vernacular market should not be ignored because of its sheer volume and potential. Many startups are trying to evolve their business models verified in first-tier cities into versions 2.0 and 3.0 for better localization to adapt to the second- and third-tier markets.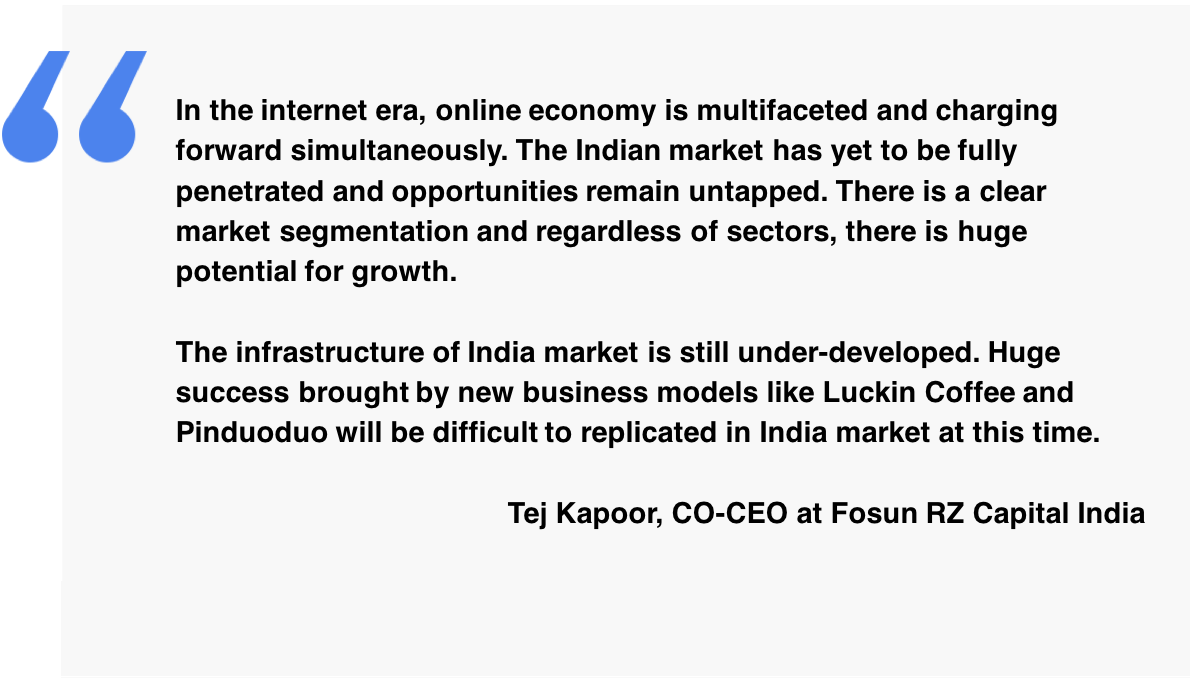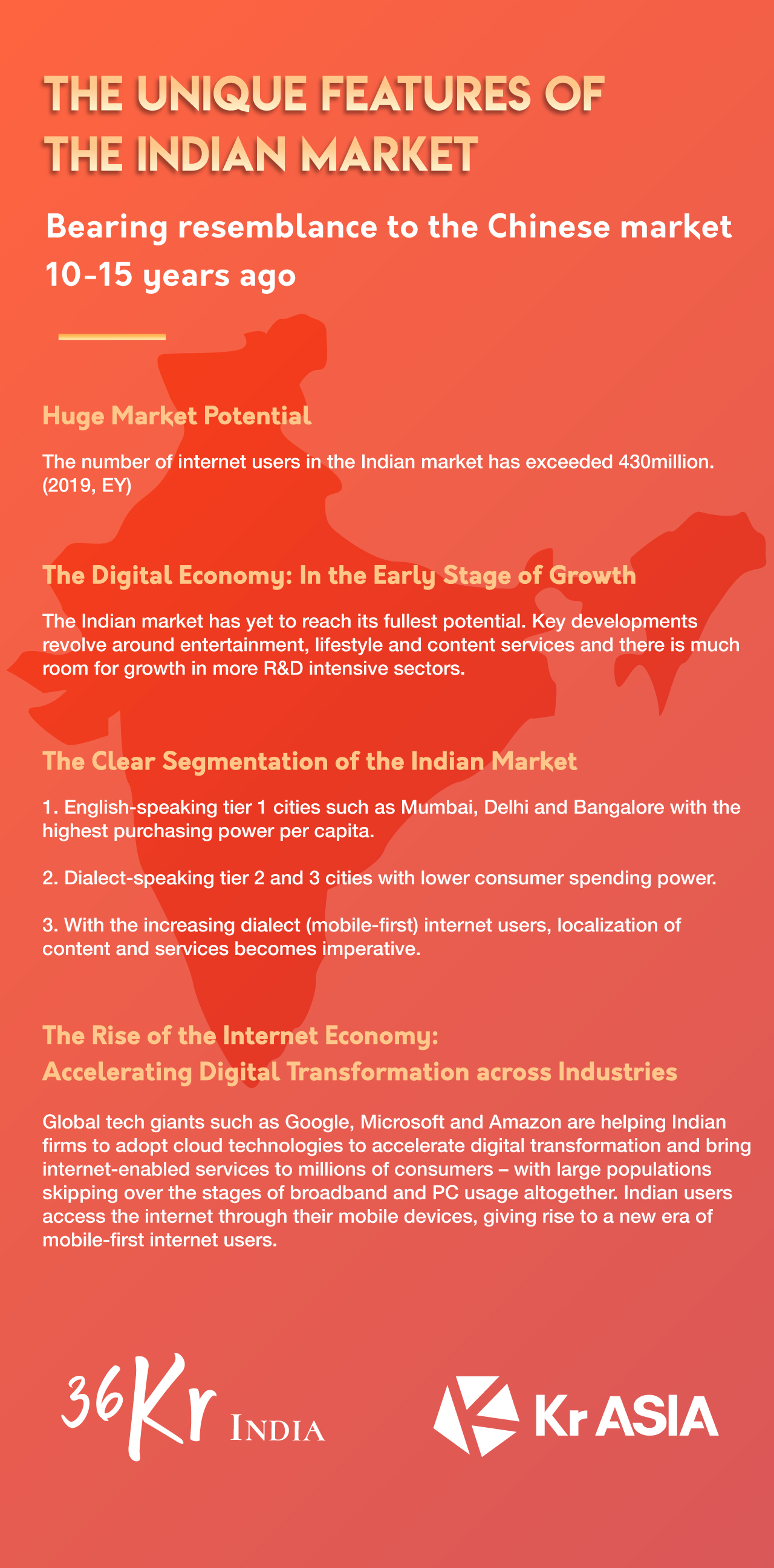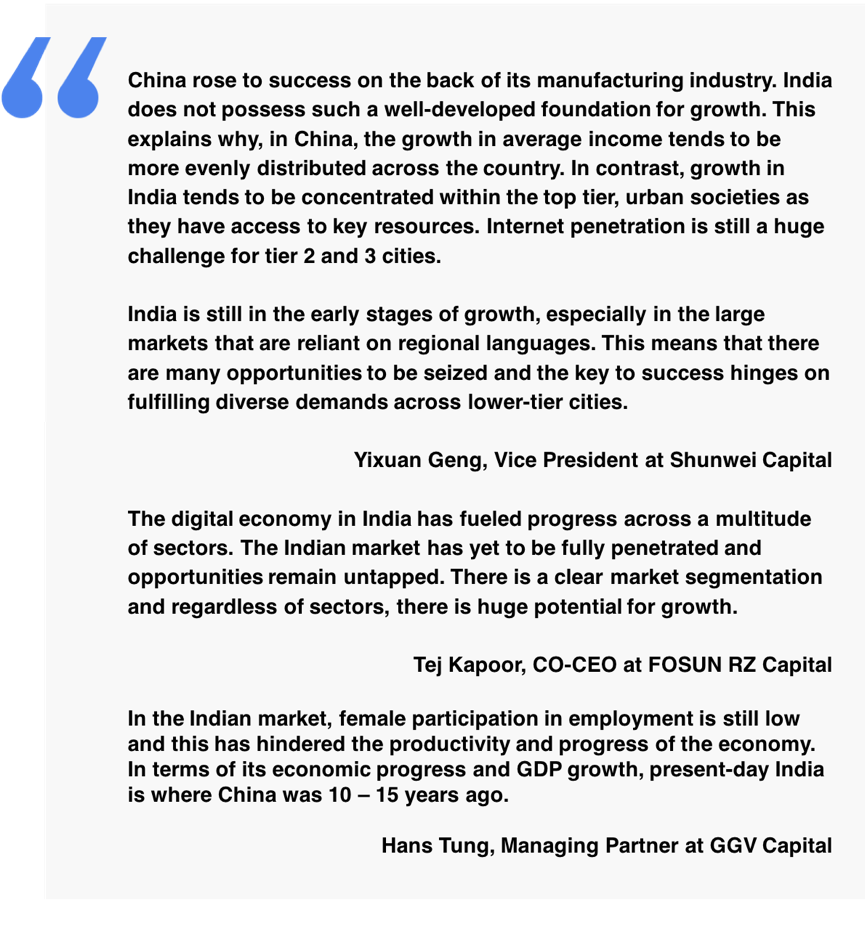 The First Entrepreneurs – Similar to China
India shares some similarities with China when it comes to scientific research, education, and entrepreneurial culture. They both put great emphasis on the cultivation of technological and R&D talents and possess a business climate of grassroots entrepreneurship. As mentioned before, the Indian market is distinctly hierarchical. Similarly, the education market is also tiered. India has a high illiteracy rate, but families with education resources attach great importance to education. They also share a similar opinion on education as Chinese, believing that education is a pathway to life transformation and great success. In this context, the world has seen India cultivating a great number of outstanding talents, especially in mathematics, physics, and engineering, which can be regarded as an important competitive advantage of the country. Every year, over 2 million scientific research talents are cultivated. Now, Indian talents are seen on the executive teams of many multinational enterprises and banks, examples including the CEOs of Google and Microsoft, and the current president of Harvard University.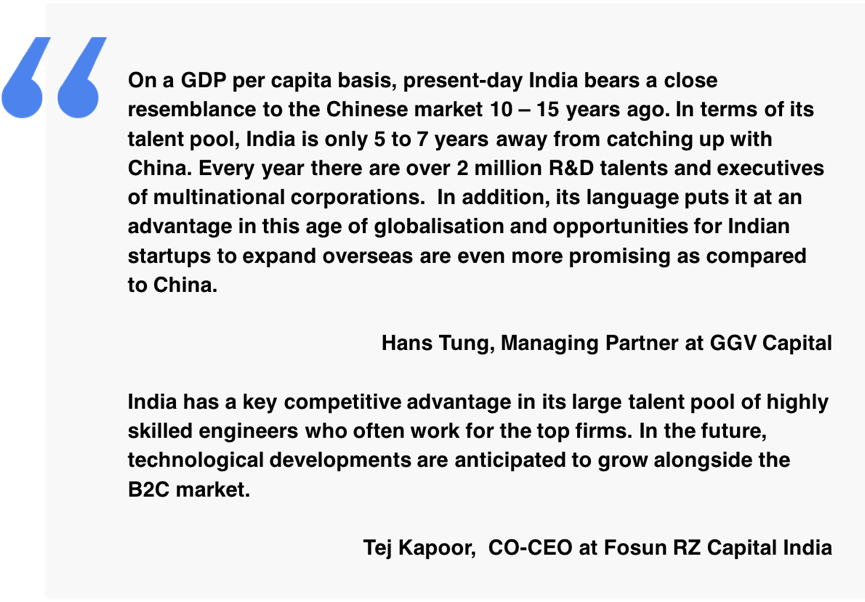 Key Areas
Based on the industry distribution of the listed enterprises and the overall market conditions, we have discussed with the investors the key areas that cannot be ignored in India.
Hyperlocal in India
With the internet and smartphones penetration continuously increasing, consumer needs for on-demand and convenient services have emerged. A booming market recently is "hyperlocal", which refers to the business model of some localized services, such as food and e-commerce deliveries, examples including Swiggy, Zomato, Grofers, Milkbasket, and Dailyninja.
Let's take a closer look at the e-commerce sector. India has a very young population, with the world's largest age group of 18-35 years old, who have stronger purchasing power, indicating a large market volume. With the penetration rates of the Internet and smartphones increasing and the GDP per capita steadily growing, the e-commerce market has great potential.
Presently in India, the traditional e-commerce market is dominated by two giants, Amazon and Flipkart, both of which focus on attracting large sellers instead of small and medium vendors, which are smaller in size but take up a larger part of the market. However, second- and third-tier cities have huge market volume, where consumers are more sensitive to prices and discounts. How to meet the needs of these consumers is a key point in future competition. In second- and third-tier cities, users' demands in Internet services are concentrated on content, social networking (Facebook, WhatsApp, Instagram) and entertainment and have not been fully converted to actual purchasing power. However, thanks to the high social penetration rate and the lack of development platforms for small and medium enterprises, social commerce has become active in the lower-tier markets in India.
In a way, India's e-commerce market is based on the business models of China's early success. The social commerce firms mentioned above are counterparts of WeChat-based micro retailers and Weibo-based retail consultants providers in China. Based on the differences between the Chinese and Indian markets, Indian enterprises localized the models and introduced services more suitable for the country.
For example, the logistics and supply chains in China are already well-developed. For businesses, transferring goods is fast and easy. While in India, the logistics and supply chains have posed great challenges to distribution and transportation. Existing challenges are also opportunities. With the e-commerce industry scaling up, B2B enterprises will emerge in the future. An example is Meesho, a major player in the social commerce field – it started by copying the micro retailer model and evolved into a B2B platform for suppliers of micro retailers in 2-3 years, addressing India's pain point of immature supply chains.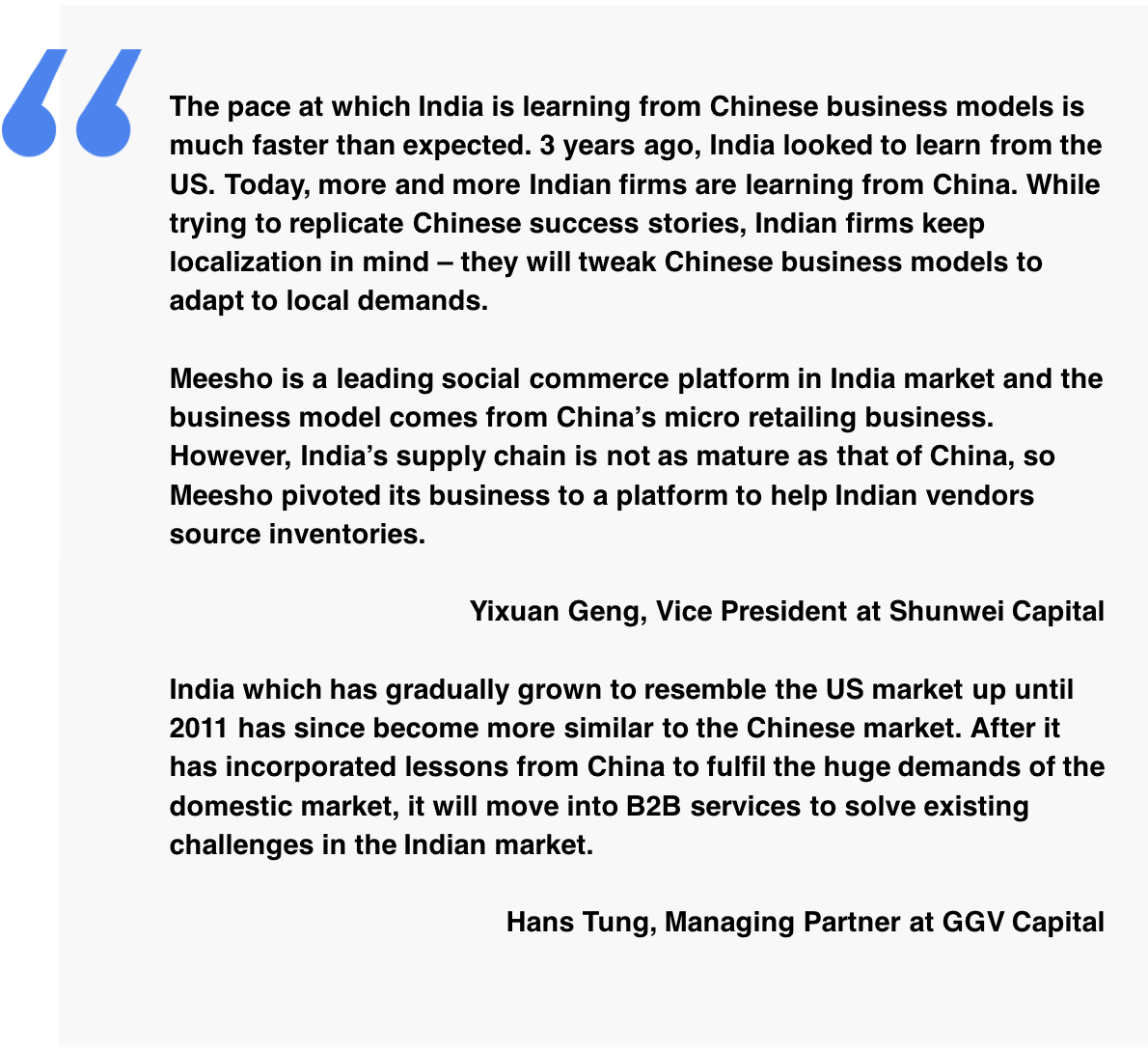 Fintech in India
With the year-by-year increase of GDP per capita, more purchasing power will be unleashed while the demand for loans will also increase. However, less than half of the Indian population are users of traditional banking, and interest rates for loans are relatively high. As a result, financial services are not popularized and demands are not met. In the Internet era, fin-tech companies and relevant government policies are further pushing financial services forward.
In 2018, India saw fintech outperforming e-commerce in terms of investment and financing and becoming the top field with the largest amount financed. At present, services are concentrated on basics including account opening, loans, and insurance products. Similar to other markets, after the opening up of the market, the next step would be refined operation through technology, such as AI, risk assessment, or even voice interaction to address the language challenges in the multilingual Indian market.
Education in India
India's education system has led to great needs of students for examinations, coupled with the uneven income and the unbalanced distribution of school resources, a large demand in after-school classes has emerged in India's education market. Also, as Indian families attach great importance to education, it has become a rigid demand in the market.
Today, there are representative giants emerged in the online education sector, such as Byju's, which focuses on K12 education. Going forward, given the fact that most upcoming users will be coming from lower-tier cities where dialects are being spoken, localization of the educational resources and content will be critical in their growth in those new markets.
This time, we talked with top investment institutions about the characteristics and development of the markets based on the ranking lists. Next up, we will connect with local firms through 36Kr's overseas operations and talk about the secrets of their success. Stay tuned!