As ByteDance founder Zhang Yiming celebrated the eighth anniversary of his company on March 12, he penned a letter to employees detailing an organizational restructuring, where he also emphasized the importance of the education sector in 2020.
The edtech sector in China is estimated to reach RMB 453.8 billion (USD 63.6 billion) in 2020, a 12.3% increase from 2019, according to a recent report from iiMedia Research.
First gaining notoriety for mobile entertainment and news content, Beijing-based tech titan ByteDance now wants to apply the same principles of data mining and personalization to its entrance into the edtech space. The firm has moved at its typically high pace, looking to hire 10,000 employees to support their initiatives in education including poaching some employees from NetEase.
In November 2017, ByteDance began further efforts to monetize its user base resulting in the release of Haohao Xuexi, a paid knowledge app containing audio, video, and written content related to productivity, culture, business, lifestyle, and educational content for children.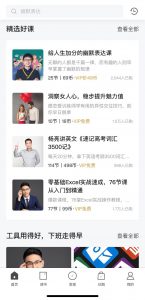 As ByteDance's flagship platforms are all based on powerful recommendation algorithms to increase user stickiness, Haohao Xuexi similarly relies on recommendations to push content to users, similar to what Jinri Toutiao does for news, and Douyin and TikTok for entertainment. ByteDance's AI-powered algorithmic recommendation system has allowed the firm to encompass around 22% of China's digital advertising revenue in 2019 compared to just 5% in 2017.
However, unlike ByteDance's other products, the content is not free, with a VIP package costing RMB 50 (USD 7) per month. A VC investor in the education space told 36Kr that because education companies have been placing advertisements on ByteDance's products like Jinri Toutiao and Douyin, the company has a deep understanding of user data in this sector.
In terms of actual teaching and instruction, ByteDance is set to launch an AI-powered instructor in 2020 that can offer students interactive learning experiences. So far the technology is set to be used for English language instruction, with the ability to gauge and provide feedback on pronunciation. The more engaging learning experience should differentiate ByteDance's AI tutor from other popular paid knowledge platforms from competitors, like Himalaya or Dedao.
Back in 2017, at the Edutech 2017 Toutiao Future of Education Summit, Zhang Yiming expressed that he believed that collaboration between education institutions and technology companies was inevitable. Armed with a data-driven strategy and with demand accelerating due to the COVID-19 pandemic, ByteDance's entrance into the education sector seems well-timed. In addition to developing its own offerings, the firm also remains an active investor in the edtech arena.
In 2018, ByteDance launched Gogokid, an online teaching platform that competed with Tencent-backed edtech unicorn VIPKid. However, the venture was not successful, as 70% of employees were laid off in April 2019.
In May 2019, ByteDance released an online education platform called "Dali Ketang" for K-12 learners, in association with Tsinghua University and Peking University to provide instruction in mathematics and language.
ByteDance also invested RMB 420,000 in parenting educational service provider Hope and Rising which focuses on early child development from infancy to eight years old with the support of AI.
The company has even looked to push its education initiatives in overseas markets, such as in India, where TikTok has partnered with local edtech startups including Vedantu, Toppr, Made Easy, and Gradeup to produce educational content. TikTok has also partnered with academia, business schools, and government institutions in India. In October 2019, Nikhil Gandhi was brought in to lead TikTok in India, and emphasized #EduTok, TikTok's education push, as a key initiative.
In March, TikTok's owner Bytedance also established an edtech firm called Boxue, with a registered capital of RMB 1 million, a subsidiary that has education consulting, market research, public affairs, and basic software services within its business scope, KrASIA reported.
Just two weeks ago, the firm also launched Guagua Long English, an AI English tutoring app for kids from two to eight years old, competing with Zebra AI, a platform owned by Chinese edtech unicorn Yuanfudao, which is the current market leader in this vertical in China.
Given its experience in AI-powered algorithmic recommendation systems and robust data analysis capabilities, ByteDance seems to be well-poised to provide efficient solutions in the online education sector, which could be among the biggest beneficiaries of the COVID-19 pandemic.