More than a third of the world's women entrepreneurs have experienced gender bias when raising capital, with women in Hong Kong, mainland China and Singapore investing more of their own money to start a business, according to a report by HSBC Private Banking.
Women secure 5%less capital on average globally, according to the "She's the Business" report, and 61% of women surveyed said they had to pitch for capital in front of groups of investors solely made up of men or predominantly men.
On average, women globally put GBP 115,786 (USD 142,841) of their own money into their businesses, according to the report. In mainland China, women entrepreneurs invested GBP 159,851 on average in their businesses, compared with GBP 125,033 in Hong Kong and GBP 121,118 in Singapore.
"Over the last few years, we have undertaken substantial research into the journeys and motivations of entrepreneurs. Whilst entrepreneurship as a whole has been flourishing, we were disconcerted by the fact that still today, female entrepreneurs represent just 3% of deal flow," Antonio Simoes, chief executive of HSBC Private Banking, said. "While the proportion of women-led start-ups continues to grow, female entrepreneurs are statistically still playing catch-up."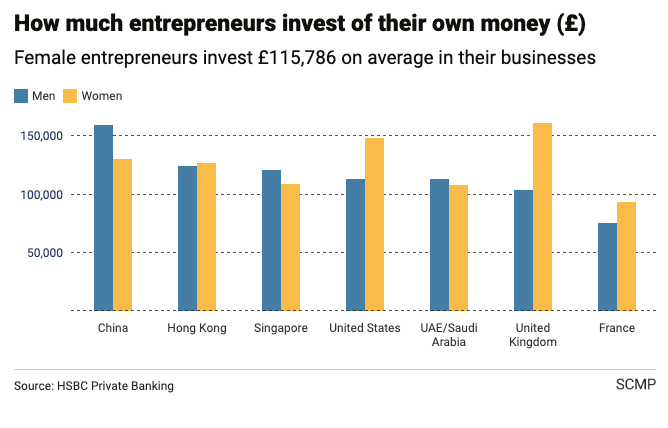 The report took data from an online survey of 1,202 entrepreneurs, including 604 women, and in-depth interviews with seven female entrepreneurs and six investors. They had to have secured or were in the process of securing at least GBP 100,000 in outside capital. Entrepreneurs in Europe, Asia, the Middle East and the United States were surveyed in June and July.
According to Pitchbook, companies solely founded by women only received 2.8% of venture capital funding in the US through October 2, in a slight improvement from the 2.3% in all of 2018. Companies co-founded by men and women have received 11.9% of overall venture capital funding so far this year.
Of the women entrepreneurs surveyed, 58% said they were concerned about bias when raising capital, with the biggest concerns from women in Singapore and in the US, according to the HSBC report.
Women are most likely to be denied funding in Hong Kong, with 68% said they were denied investment capital, and Singapore, where 59% said they were unable to successfully win investments, according to the report. Women entrepreneurs were most likely to be successful in the US and France.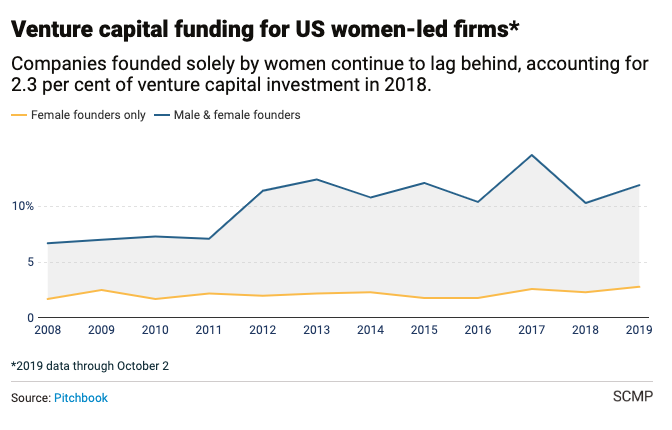 Of the women surveyed, 73 % felt bias could be overcome with the help of investors and 46% said they believed they could overcome bias with mixed investor panels. Less than one in 10 of those surveyed said they picked investor panels made up of exclusively women or mostly women.
"You can be really good at your job, but that doesn't mean you're good at selling or pitching your product to investors," Victoria Peppiatt, the co-founder and chief operating officer of Phraseem, an artificial intelligence-driven language generation system for marketing copy, said in the report. "Raising investment is like another world and the terminology is like another language – you need to learn it."
Women entrepreneurs in Saudi Arabia, the United Arab Emirates and mainland China received the highest proportion of their target investment, according to the HSBC report.
In its BNP Paribas Wealth Management's 2019 Global Entrepreneur Report, 56% of women angel investors said they were driven by the chance to meet and counsel like-minded individuals, compared with just 50% of their male counterparts.
"Such interactions offer both sides a platform to explore ideas that are mutually interesting and could potentially be applied to their own businesses," BNP Paribas said in November.
The BNP survey also found that women business angels also spotted unique investment opportunities. For example, 27% sought exposure through their angel investments to the health care sector, compared with just 19% of their male counterparts, according to BNP Paribas.