In 2017, Wang Yan signed a one-year contract with Huimin, paying a deposit of over RMB 1,000, which was refundable in installments. She opened her small store on the southern fifth ring of Beijing, but due to various reasons, including family changes, she decided to return to her hometown in Luoyang.
A year later, Wang's store removed the Huimin sign.
Back in Luoyang, Wang and her husband decided to open a small supermarket to make a living. The store, located in Yibin, Luoyang, covers approximately 70 square meters, with a streetside storefront that spreads three meters wide. Inside, it displays fast-moving consumer goods, primarily beverages, snacks, and groceries.
Since returning to Luoyang, Wang has been operating the store for nearly five years, with local residents forming the bulk of her customer base.
Businesses like Wang's, run by couples, often operate as family units in the form of individual businesses. They focus on selling groceries, beverages, and snacks, dominating various corners in Chinese cities, towns, and rural areas, earning the title of the "nerve endings" of the retail industry due to their direct interaction with consumers.
Mom-and-pop shops: The retail "nerve endings"
Vast product quantities and loose structures define businesses like Wang's. They typically do not overly concern themselves with store decoration or displays, relying instead on instinct for buying and selling. Combined with their proximity to consumers, extended business hours, and personalized service, they have become sought-after entities.
Surviving the pandemic as a small store was no easy feat for small businesses like Wang's. In an interview with Lingshou Media, Wang said that promoters had been visiting her store a few years ago to either promote B2B platforms, offer to purchase her store, or provide assistance in franchising. Some platforms provided substantial subsidies which made her hesitate. However, Wang and her family eventually decided to run the business themselves, aiming to enhance their management skills. They opted to access centralized supply channels and began cooperating with a specific wholesale platform.
Yibin, being a suburban area in Luoyang, often faces delayed deliveries. Wang's store procures goods amounting to approximately RMB 700–800 daily, sourced from multiple suppliers. As the procurement volume is low, suppliers don't offer many discounts. They are also not very responsive and it can be challenging to order certain products, Wang told Lingshou Media.
In the first half of last year, the salesperson appointed to support the promotions of Wang's store was described as "professional," providing sensible advice. The salesperson suggested not to feature too many product categories, fine-tuning them to avoid complicating the product mix.
According to Wang, the platform provided a refrigerator after supplying RMB 2,000 worth of goods. The store's displays and labels also became more standardized.
While acknowledging the various discounts on the platform, Wang said that only about 60–70% of the store's current procurement comes from the platform. Wang also procures some goods through second-tier distribution channels.
Gaining a new lease of life
Family-run stores have been considered representatives of outdated productivity in the retail sector, characterized by numerous (complex) upstream supply chains, severe fragmentation, and low levels of digitization. Most profits are taken by intermediate merchants at various provincial, city, and county levels.
Coupled with the store owners' inability to distinguish between genuine and fake goods, the scattering of distributors, and inadequate logistics support, mom-and-pop stores generally find it challenging to thrive and form economies of scale.
However, local mom-and-pop stores throughout China are being reassessed for their value, generating a gravity of their own as a wide range of parties, ranging from distributors to platform operators, brand manufacturers, and service providers, are turning their attention to them for expansion opportunities, offering to give these stores a new lease of life.
Major digital service providers in China primarily target mainstream retailers, national chain specialty stores, and medium to large enterprises. B-side small stores, such as family-run stores, still lack the attention of service providers.
Wang Qiang, a specialist in building supply chains for family-run stores in lower-tier markets, said to Lingshou Media that in the first half of last year, he established a promotion team in Shandong, targeting non-chain stores, small convenience stores, and small catering establishments.
According to Wang Qiang, these small stores are more passive in terms of purchasing capabilities and are more willing to accept products recommended by distributors or second-tier merchants. These products are often single-brand or single-category, with few wholesalers focused on centralized product promotion for miscellaneous goods. There is even less emphasis on empowerment.
While acknowledging that they are relatively new to the market and face a longer period for capacity building, Wang Qiang clarified that his establishment's goal is not just to run a wholesale business for family-run stores. Instead, he hopes to strategically plan a comprehensive expansion, initially focusing on beverages before gradually broadening to include snacks, grains, oils, and seasonings. Eventually, he wants to develop and strengthen the offerings of these stores within each specific category.
Understanding the real-world nuances
The trend of brick-and-mortar stores entering the online-to-offline (O2O) space is a trend that has been accelerated by the pandemic.
A variety of community businesses ranging from family-owned stores to vegetable markets, supermarkets, and community produce stores, among others, have all embraced this trend, becoming hotbeds of innovation in the retail industry in recent years.
In particular, family-run stores in lower-tier markets remain among the most dynamic business models, offering advantages that can help platforms penetrate these markets more effectively. This has a significant impact on the retail market—while family-run stores may struggle to compete with chain retail stores in terms of scale, a significant number of consumers still choose to patronize them in their neighborhoods.
Observing the market, it is evident that some family-run store operators have increased their revenue by joining platforms like Meituan. Similarly, on JD Daojia, family-run stores have benefitted from policies like the waiving of commissions.
When the threshold for family-run stores to acquire resources is lowered, and their operational standards improve, the gap between them and large chain supermarkets may narrow. However, while the logic of this approach seems straightforward, the reality presents challenges.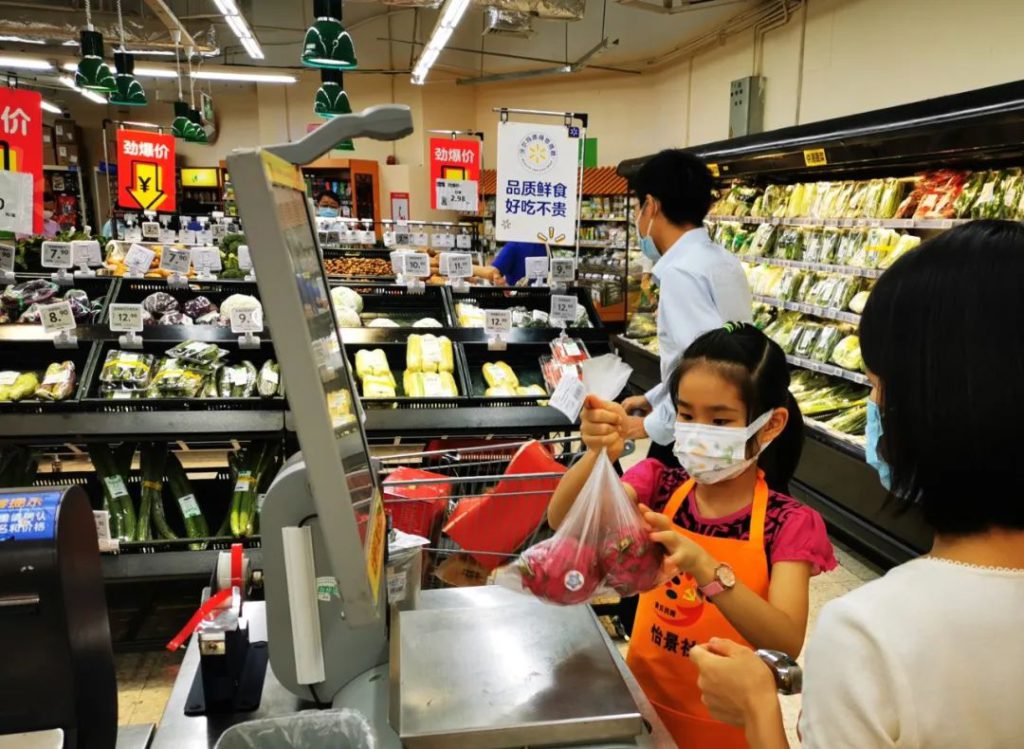 Zhang is the owner of a community-based dried fruit store located near Beijing's southern fifth ring road. It has been open for nearly ten years. Some products are roasted and sold onsite, accumulating a loyal customer base by maintaining product quality while keeping prices affordable.
In early 2021, Zhang started using Meituan and Ele.me, which helped to draw orders despite being deducted a considerable amount as commissions. However, pros and cons exist.
Some familiar customers have remarked to Zhang that her online prices are much higher. For example, melon seeds typically cost around RMB 17 (USD 2.4) per kilogram when bought in the store, but the online price for the same product is around RMB 23.9 (USD 3.3) per kilogram. According to Zhang, the online prices are generally set higher to offset the platform fees. In the case of the melon seeds, the platforms only pay out RMB 15 (USD 2.1) per kilogram out of the full price of RMB 23.9 (USD 3.3).
Zhang's store is not an isolated case, but a reflection of numerous family-run stores that have joined online platforms.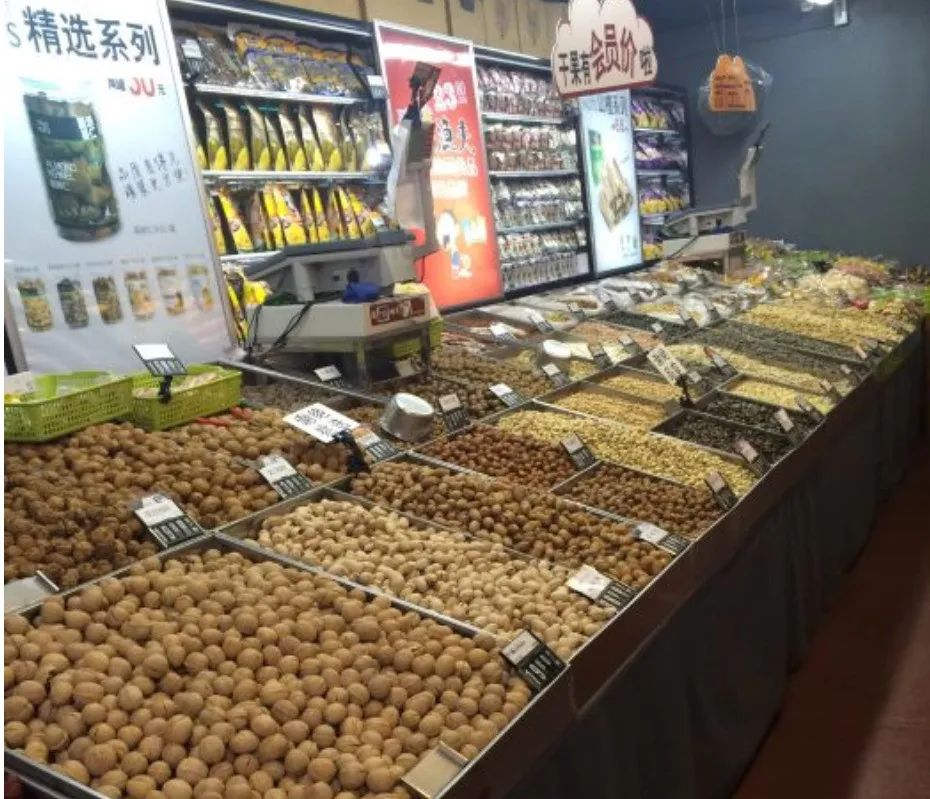 Family-run stores in the spotlight
Internet giants seeking to integrate family-run stores across urban and rural areas is not surprising news.
From the standpoint of Alibaba Group, JD.com, and other platforms, it may seem that their primary goal is to assist mom-and-pop shops in enhancing their quality and efficiency, and establishing zero-supply relationships. However, when viewed from another angle, this is essentially a strategic approach to reap the remaining traffic dividends post their expansion into smaller, local markets.
JD.com once proposed an ambitious plan to open one million convenience stores within five years. These small stores are seen as valuable traffic entry points by the giants. Accordingly, effectively integrating and utilizing these businesses could spur further growth.
After the pandemic, the single-store value of surviving family-run stores has been reevaluated. From distributors to platform operators, brand manufacturers, and beyond, all are focusing on family-run stores, considering them key expansion targets. However, it's worth mentioning that the entire chain still revolves around the essence of retail. Ultimately, the most direct factor for consumers is price, cost-effectiveness, and the product itself.
This article was adapted based on a feature originally written by and published on Lingshou Media (WeChat ID: lingshouke). KrASIA is authorized to translate, adapt, and publish its contents.