The global fourth most valuable startup to raise US$6 billion at a valuation of $60 billion
It lost a combined over RMB 14 billion ($2 billion) in the past three years, though, the loss has been narrowing
For 2017, it booked a net loss of RMB 19 billion on a more than doubled revenue of RMB 33.9 billion
Reliance on food delivery which accounts for 62% of total revenue in 2017, albeit wide expansion into many new areas
Food delivery profit margin is 8%, recorded averaged daily order of 14.7 million last year
Meituan-Dianping, the world's largest online-to-offline ecommerce platform, filed Monday with the Hong Kong Stock Exchange for its widely-tipped public offering.
According to its prospectus, the startup is narrowing down its losses – which is huge – amidst its expansion and competition with other tech giants on many fronts, ranging from food delivery, hotel booking, movie-ticketing to now ride-hailing.
Meituan reportedly seeks to raise US$6 billion at a valuation of $60 billion, doubling of its already stunning previous $30 billion valuation as the fourth most valuable startup globally.
The company posted a net loss of RMB 19 billion ($2.9 billion) last year on a more than doubled revenue of RMB 33.9 billion yuan.
The underwriters of this IPO deal include the likes of Goldman Sachs, Morgan Stanley, and Merrill Lynch.
The Hong Kong bourse recent change in its listing rules – offering the opportunity to fundraise from the public and keep 'control' of one's company- appears to work well, having attracted two notable IPOs within a short span of 2 months. Xiaomi, another Chinese tech upstart was seeking to raise $6.1 billion in what could be the world's largest IPO in two years.
With regards to the ownership of the company, per the prospectus, Tencent remains as the largest shareholder at 20.14%, with Sequoia Capital next at 11.44%. Coincidentally, WANG Xing holds 11.44% of the shares too, while Murong and WANG Huiwen holding 2.51% and 0.73% respectively.

Is Meituan the David in its giant-killing game?
Founded as a Groupon clone in 2010 by serial entrepreneur WANG Xin, Meituan-Dianping has a massive appetite and has expanded ferociously into the turfs of others.
Under the risk factors section in its IPO filing, Mr. WANG's company warned investors that it is competing with Alibaba and Alibaba's subsidiaries in on-demand services and online traffic to offline stores services, as well as rivaling against Ctrip in hotel and travel booking business.
And Meituan's rivals are more than just Alibaba and Ctrip.
Its most recent foray into the ride-hailing area against long-time leader Didi Chuxing and acquisition of Mobike in the name of building its ecosystem, all earned itself new enemies along the road of expansion.
After all, Meituan is taking on many formidable rivals – all leaders of their respective sectors.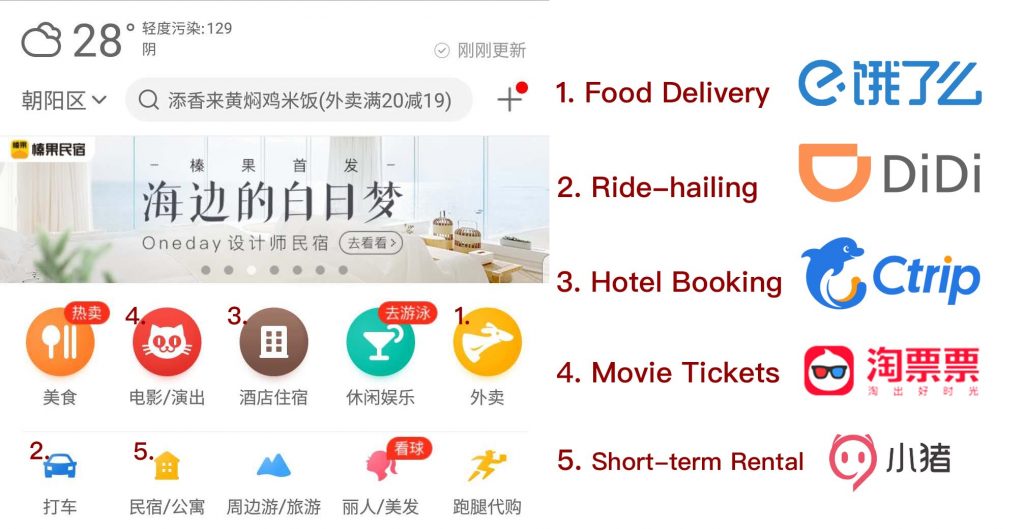 Those rivals, are pretty much the Goliath, while the question is, whether Meituan is the David?
To answer whether Meituan is the David in its self-conceived giant-killing game, we need to answer what Meituan is first.
In its prospectus, the company described itself as fundamentally a lifestyle e-commerce services platform, with three key business segments, namely delivery services, hotel & travel business and new business. For new business, it consists of local transportation services (such as ride-hailing and bike-sharing), cloud-based ERP system, solutions for local merchants, etc.
Alone in 2017, the company serviced approximately 320 million active buyers, accounting up to a staggering $57 billion worth of transactions, provided by more than 4.4 million local merchants scattered across 2,800 Chinese cities and counties.
Meanwhile, Meituan posted big losses over the past few years, respectively RMB10.5 billion, 5.8 billion and 19 billion in year 2015, 2016, 2017.
After adjusting for share-based compensation, marketing and promotion-related expenses, the losses came to respectively RMB590 million, 540 million and 290 million for 2015, 2016 and 2017, meaning, the Beijing-based company lost a combined over RMB 14 billion ($2 billion) in the past three years.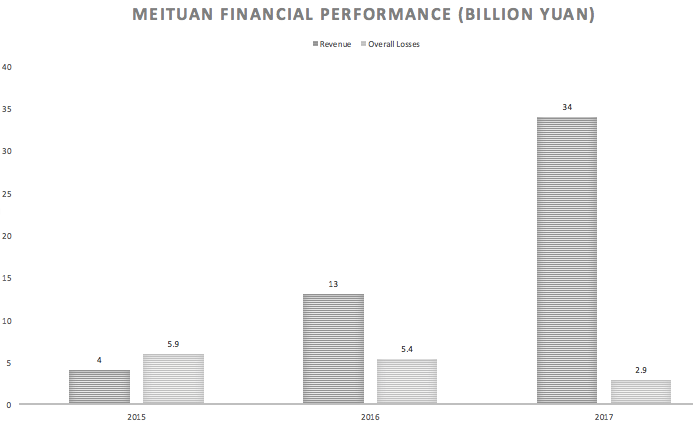 However, the sole consolation Meituan can offer its potential investors, is that it did manage to taper its overall losses last year, down almost 50% from a year earlier.
Expansion, in vain?
On the surface, Meituan has extended its tentacles into many areas, earning itself a long list of opponents from many verticals. Its financials, however, told us a bit different story.
Judging by revenue sources revealed in its financials, Meituan is not as diversified as it claimed.
In 2017, food delivery accounted for around 62% of its total revenue, while hotel/travel booking and new businesses made up for the rest 32% and 6%.
The company is heavily reliant on the food delivery business, which spells out a conundrum.
Its single largest revenue source of food delivery is operating on a very thin profit margin of 8%. Being profitable on such a business won't be an easy spin.
Mr. WANG once said that for its food delivery business to break even, a minimum daily order of 30 million is needed. Last December the business's averaged daily order was 14.7 million.
That said, hotel booking business might offer Meituan a way out.
As we mentioned earlier, Meituan's hotel booking business has stealthily and surprisingly outflanked Ctrip to become the largest hotel booking service provider by room nights.
Meituan recorded, according to TrustData stats, 22.7 million room nights in March, 2018 compared to Ctrip's 11 million.
And the profit margin for hotel and travel booking business stands at a staggering 88% for Meituan.
Is this IPO the right time for Meituan?
The looming the U.S.-China trade war has raised the interbank rates in Hong Kong effectively drying up capital. There already are on-going speculations of whether the former British colony will be well poised to take on two massive IPOs in a year – with Meituan coming in next as early as September this year, right after Xiaomi.
In any case, for Meituan at least, having already fundraised for 8 times in the private markets – with the last one ballooning to a high valuation of $30 billion, the foundation for its public fundraising debut has been set. Besides given the concurrent intense war with prominent players such as Alibaba's Ele.me, OTA market leader Ctrip and ride-hailing giant Didi, it is high time to stock up its ammunition for the blood-bleeding battle ahead.
Edited by Ben Jiang