While China's online travel industry (OTA) has always been very competitive alongside stellar growth in the number of Chinese travelers, in early 2016, Ctrip managed to neutralize its two biggest competitors – eLong and Qunar and spearhead a successful consolidation in the Chinese OTA sector.
Quickly enough, just a year later, Ctrip already accounts for approximately half of China's online travel bookings and has become the second largest OTA player globally in terms of market capitalization.
Oddly enough, as rapid as Ctrip got to the leadership throne, a new potent rival has also just arrived just as fast.
Chinese lifestyle ecommerce platform, Meituan-Dianping has surpassed Ctrip by a huge margin in terms of the number of hotel nights booked in March of this year, according to data analytics firm TrustData. Specifically, Meituan Hotel registered approximately 20 times more hotel nights booked for the first quarter this year, when compared with Ctrip.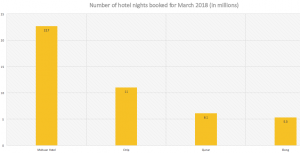 Meituan's hotel booking business now accounts for a whopping 45.5% market share as opposed to Ctrip's 22%.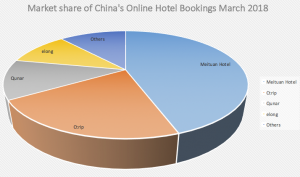 How did Meituan successfully topple a market dominator?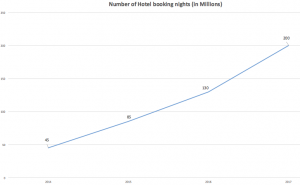 When looking at the number of hotel booking nights of Meituan Hotels, the exponential growth actually began in 2015 – the same year it merged with Dianping.
In that year, Meituan also acquired travel booking service provider Kuxun.com from Expedia's TripAdvisor.
Ever since then, Meituan's hotel booking business has been growing rapidly.
The fastest peak happened in the year 2017, with the number of room nights hitting 2 billion hotel bookings – a stunning increase from a mere 45 million 3 years ago.
That year, the unicorn has raised a total of $4 billion from a financing round led by Chinese internet giant Tencent and an additional $450 million investment from Priceline, an American OTA to bulk up its war chest for its fight with Ctrip.
It was also the year where the company began its expansion into high end hotels, on top of building its foundation among lower-tiered hotels.
Qing Guo, Meituan-Dianping's general manager of hotel accommodation, attributed its fast-growing 2017 to the funneled traffic from the cumulative 600 million users of both Meituan and Dianping apps.
Nonetheless, some of the groundbreaking changes and strategies that Meituan implemented must have led to the Meituan's success since Qing Guo took over.
It all starts from lower-tier hotels
 One key element of the Meituan strategy was to differentiate itself from leading Ctrip and offer better customers services.
Meituan Hotel did away with the hotel cancellation insurance policy –  a move to forgo this channel of revenue to offer a more customer-centric hotel service to its customers.
This is worth a mention as it changes the dynamics of the hotel booking industry in China since Ctrip has established a long time 'norm' with this hotel cancellation insurance policy – with huge benefits to be reaped collecting premiums.
Qing Guo hinted that this insurance policy might cause customers to have the false reliance on 'safety' of getting compensation for canceled bookings.
He thinks that only a small percentage of customers actually will end up canceling their hotel bookings and thus views the insurance policy as an obstacle to the valuable customer experience Meituan wants to offer.
In this regard, he chose to abolish this practice and do away with this lucrative revenue channel.
The incredible growth over the past several years is a testament to this product differentiation strategy of Meituan.
After Meituan literally conquered the lower-end hotel markets, it thought of climbing higher.
Another strategy employed by Meituan is its systematic foray into the high-end hotels of China – one dominated by the market leader, Ctrip.
Recognizing the massive brand Ctrip has built over more than 10 years among China's high-end hotels and that large international hotel chains only know the existence of Ctrip, Meituan took the attitude to take it slow and steady, entering the market in a sequential manner.
It seemed to pay off – with Meituan announcing of its successful entry into more than 15,000 high-end hotels, including the likes of international hotel brands such as the Hilton International Hotel Group, by the end of 2017.
Ctrip fights back
Unsurprisingly, there was fierce retaliation in this area by Ctrip, as it also started to venture into the lower end hotels in the lower-tier Chinese cities in 2017.
Unlike Meituan's strategy, Ctrip relied on a three-pronged approach – offering high-end product and service even in low-end hotel market, set up physical storefronts to offer in-person offline services, and launch of marketing campaigns to capture these lower-tier market segments of China.
Despite Meituan's expertise in lower-end hotels, Ctrip's adopted strategy worked well, reporting a 40-50% year-on-year growth thus far.
More importantly, the entry of Meituan as an up and coming competitor has indeed added new dimensions in the OTA market.
Changing dynamics of competition in OTA
Today, China's OTA industry players cannot be just offering simple hotel booking services alone. A wider variety of add-ons have to be in place to stand out against competition.
Both Meituan and Ctrip have started to compete on various innovative initiatives such as the ''Hotel + X'' model, offering training schools to upgrade the pool of workers in the hotel business and continued technology advancements to offer better service experience for customers.
For instance, Meituan's user data suggests that 17% of its young users prefer to spend on entertainment and 32% of their users want to spend on food, all these in addition to their hotel stay. Meituan then came up with a 'hotel and meal' packaged product launched alongside different merchant to drive up spending in the hotel business.
This is also an example of how Ctrip is forced to compete on Meituan's expertise domain as a lifestyle ecommerce app.
In spite of the incredible growth of Meituan, one thing still remains – Ctrip continues to dominate among the high-end hotels, while Meituan is still primarily focused on lower end hotels.
This could become more burdensome for Meituan, especially when it is also engaging in other battles in other areas such as ride-hailing and movie-ticketing to become the 'super-app'.
Meituan simply gained itself too many competitors along the way of its expansion.
Furthermore, Ctrip might have more 'ammunition' to fight, since there tend to be larger profit margins for high-end hotels.
Overall, despite the presence of competition, Ctrip's profit margins have been growing at an increasing rate over the past 3 years.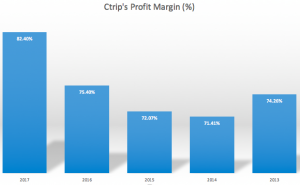 However, even as Ctrip will persist and fight to defend its position, Meituan is now heading for a potential IPO – which if successful, will bolster its chances to grow to an even more formidable rival for Ctrip .
Only one thing is certain at the moment – China's OTA industry is up for major changes as the unicorns compete and consumers can look forward to more convenient and better hotel services.
Editor: Ben Jiang