The Alibaba Cloud x KrASIA Global Startup Accelerator joint Vietnam-Indonesia Demo Day took place on February 10, with pitches by ten finalists that were evaluated by a panel of esteemed judges from ThinkZone Ventures, Kejora Capital, and Alibaba Cloud.
Sharing her excitement after hearing the finalists' pitches, Chelsea Nguyen, investment manager at ThinkZone Ventures, said, "It's amazing to have the chance to chat with all the amazing startups participating in the event. I feel so inspired by the passion and the enthusiasm of the founders. Each team operates in a different sector but they all share the same innovative mindset and the commitment to solve problems."
After reviewing the pitches from startups operating in a range of industries, including enterprise services, sustainability, and e-commerce, the judges named Woay.Vn as the Asia Star of the joint Vietnam-Indonesia Demo Day. Woay.Vn is a tech startup that designs mini-games for gamified marketing. Since 2019, the company has created over 300 mini-games for more than 100 clients.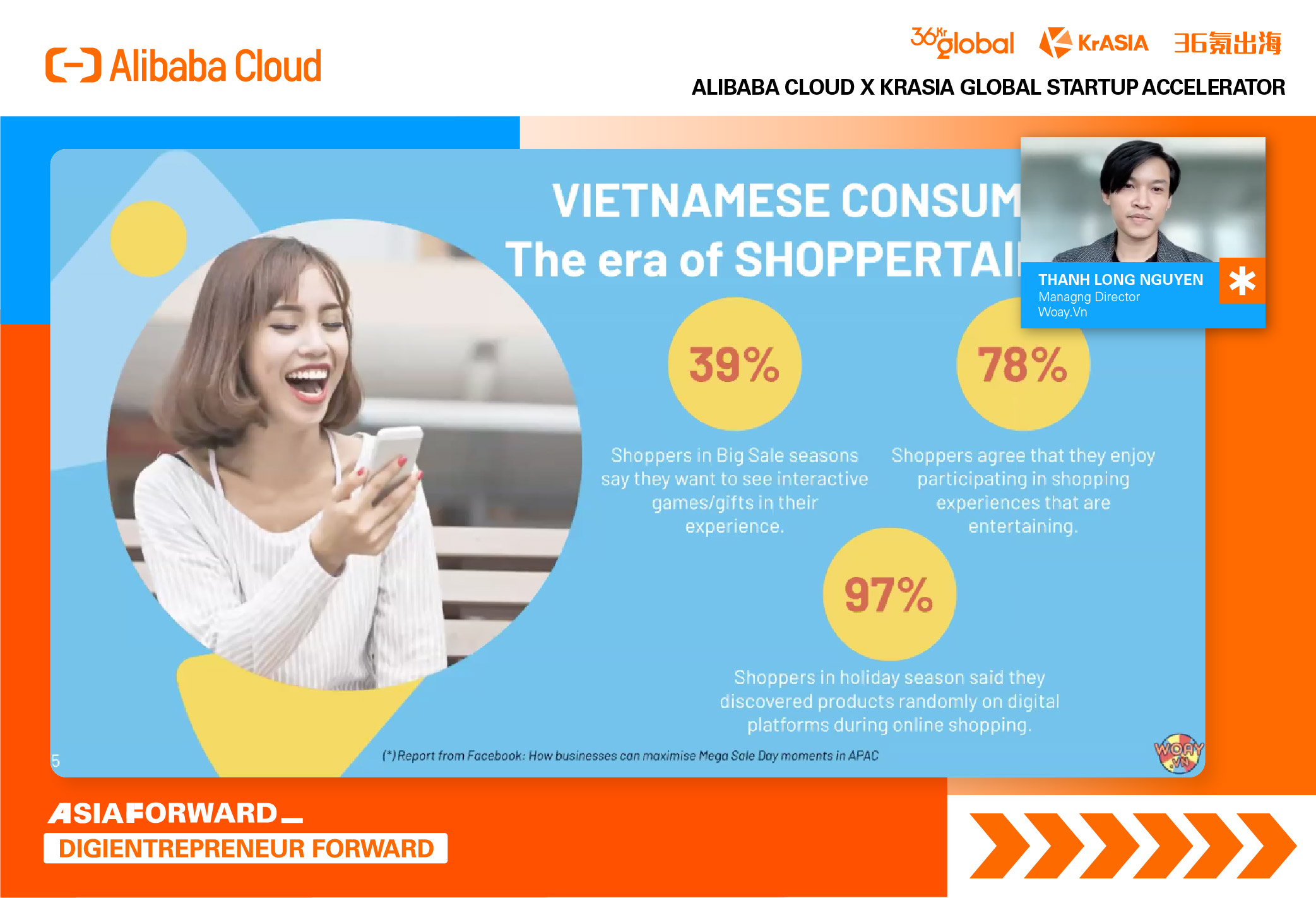 Here are the other startups that took part in the Demo Day:
Loop Smart Retail helps F&B and retail businesses digitalize their retail sales and operations with its suite of smart solutions, which includes a smart point-of-sales platform, an online shop builder, and a customer relationship management system.
EM&AI is a tech company that leverages AI to facilitate digital transformation for its clients in the F&B sector. By using voice analytics technology, the company's AI platforms feature virtual assistants that can analyze and evaluate call content in real time for clients' contact centers.
tMonitor provides a cloud-based air monitoring service that uses IoT and machine learning to track air quality in indoor spaces such as factories, hospitals, schools, and shopping malls. With its AI technology, the platform monitors and analyzes air quality in real time, sending out alerts and notifications to clients.
Movan helps companies by automating their business operations to adhere to ISO manufacturing standards with its user-friendly proprietary software.
XinhTuoi.Online is Vietnam's leading e-commerce marketplace for flowers and gifts. Customers in Vietnam and abroad can order from over 1,500 local floral merchants listed on the website.
Baku is a supply chain agritech company that builds smart farming systems to improve the livelihood of farmers. With its smart farming management solution, the company helps farmers measure soil and plant conditions for better crop yields.
Bantubumi provides an integrated plastic recycling service. The company collects used plastics from individuals, households, and other businesses, processes the plastics at its own facility, and sells the recycled raw materials.
Carevo is the first blockchain-based healthcare company in Indonesia. The company provides individuals and companies with a variety of healthcare services, including online consultation and health record documentation.
FishGo is a navigation-based platform designed to improve the lives of Indonesian fishermen. With the use of remote sensing data, FishGo can provide information such as the best time and routes to catch fish.