The second Alibaba Cloud x KrASIA Global Startup Accelerator Indonesia Demo Day took place on Dec. 21, with pitches by ten finalists that were evaluated by a panel of esteemed judges from Alibaba Cloud, Kejora Capital, Kolibra Capital, and Prasetia Dwidharma Ventures.
Arya Setiadharma, CEO of Prasetia Dwidharma Ventures, shared his excitement to hear the startups' pitches. "This [Indonesia Demo Day] is a great initiative by KrASIA and Alibaba Cloud. It can really help put some startups on the map of the growing startup ecosystem in Indonesia."
After reviewing the startups' pitch from a range of industries, including F&B, the internet-of-things (IoT), and mobility, the judges named Prosa.AI as the Asia Star of the second Indonesia Demo Day. Prosa.ai is a deep tech company that develops natural language processing technology building blocks, platforms, and solutions that utilize the Bahasa Indonesia language.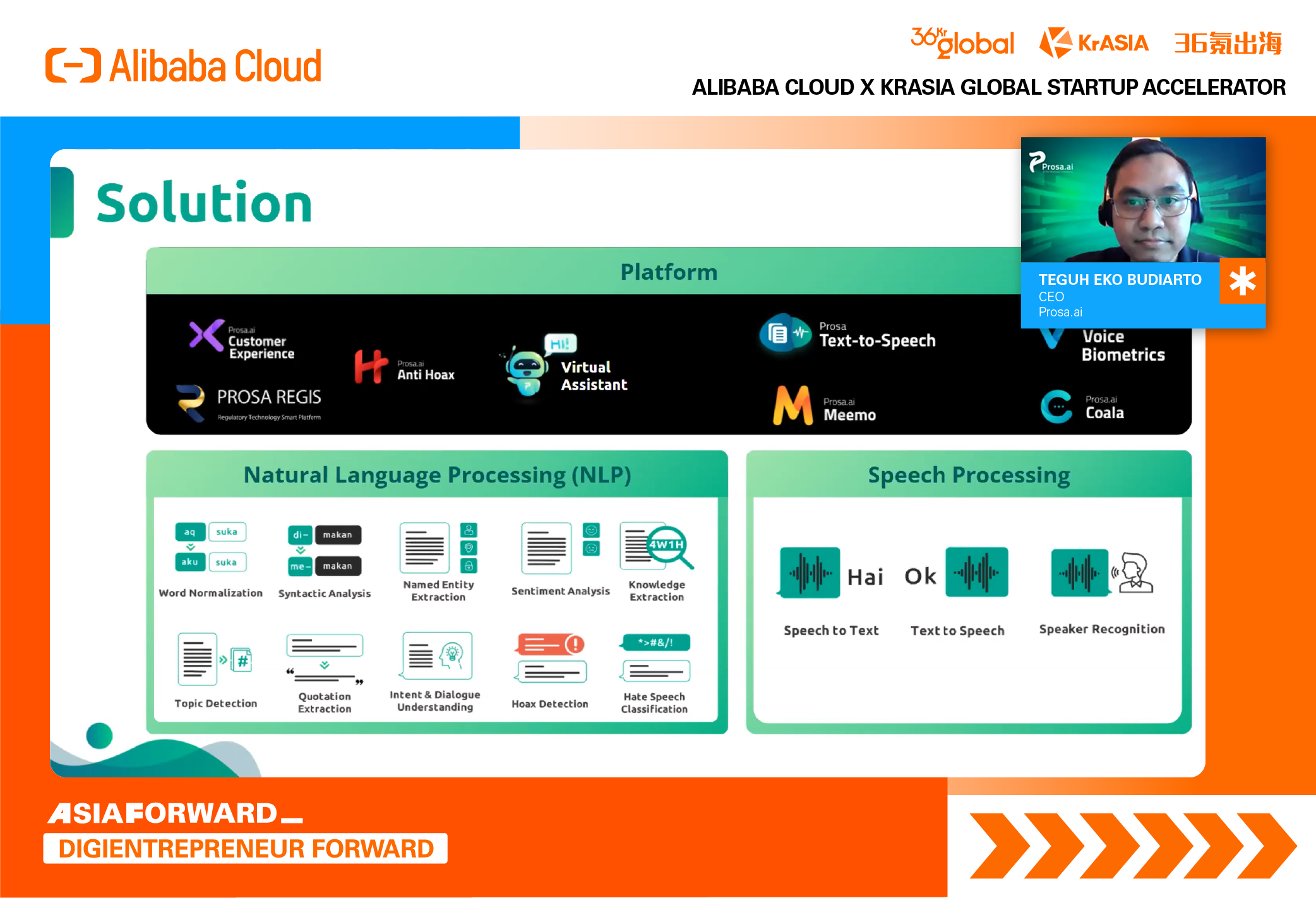 Here is a roundup of the other startups that participated in the Demo Day:
Ayoblajar is an education technology startup focusing on two-way learning methods—live classes and private sessions—for high school students.
CeriTech is an IoT and cloud-based solution developer that improves coffee production, especially post-harvest processing.
Djoeragan Food has a mission to conserve and elevate authentic Indonesian culinary diversity and maximize the use of Indonesia's natural resources through innovative, additive-free, and 100% natural local ingredients in its packaged food and beverages.
HashMicro EVA is an AI-driven solution that cuts 90% of recruiters' time spent to identify first-rate candidates. The platform automates mundane processes like candidate shortlisting, scoring, scheduling, and follow-ups.
Jaramba is a platform that helps people travel more easily by making public transport more accessible. It provides all necessary information, enabling intermodal transport and upfront payments for tickets.
Kebizz helps SMEs solve financial problems by performing business check-ups based on financial data and reports, in turn, assisting business owners to maintain financial health and meet financial goals.
MyRobin connects businesses with a pre-screened, on-demand, and flexible workforce of daily workers. The startup aims to build an ecosystem for blue-collar workers with fair access to money and upskilling opportunities.
Roote Trails is a mobile application that guides tourists along thematic trails with reliable route navigation and detailed travel information.
Soul Parking is an innovative parking management startup that aims to solve Indonesia's traffic and illegal parking problems.