The Alibaba Cloud x KrASIA Global Startup Accelerator Singapore Demo Day took place on June 3, as part of the Asia Tech x Singapore conference, with pitches by ten finalists that were evaluated by a panel of esteemed judges, including Foo Tiang Lim, partner and co-founder of Forge Ventures; Stanley Zhang, managing director and founder of Jubilee Capital Management; and Adriel Yong, associate of Protégé Ventures.
James Liu, the business development advisor of Alibaba Cloud Intelligence, kicked off the Demo Day by sharing Alibaba Cloud's commitment to supporting digital innovation and the startup community in Singapore, as well as providing support to up-and-coming disruptors.
After reviewing the pitches from startups operating in various industries, including biotech, logistics, enterprise solutions and more, the judges named ConcreteAI as the Asia Star of the Demo Day. The startup utilizes connected sensors coupled with machine learning algorithms to enable real-time monitoring of concrete strength and temperature. The sensor is targeted at general contractors, concrete suppliers, and precast manufacturers.
At the moment, Concrete AI is focusing on the launch of its commercial product and acquiring product certification. It plans to expand into Malaysia and Indonesia by 2023, and other ASEAN countries by 2024.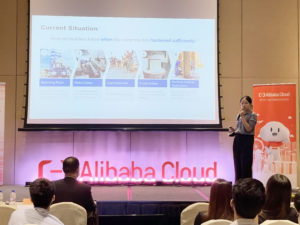 Here are the other startups that made their pitches at the event:
Avirtech provides crop intelligence, including plantation control systems, for monitoring site conditions using aerial and ground information, such as topography, crop health, soil quality, rainfall, and farm operation activity.
Image Machine aims to empower other AI companies by providing image datasets for training object recognition models.
KarmaV is a recruitment platform that helps businesses source, hire, and onboard top talent.
Luwjistik connects the dots across logistics and e-commerce through its SaaS platform, standardizing workflows and transparency in cross-border movements.
NavDeck utilizes automation to perform skill assessment and define organization development needs.
Protogen is a biotech firm that develops and provides self-disinfecting and anti-microbial technology.
Tap Tiles is developing sustainable tiles that generate both electricity and data, converting footsteps into harvestable energy and valuable information for applications such as crowd management.
Trabble offers an extensive ecosystem of AI-powered, end-to-end guest engagement solutions that work in tandem to automate operations and engage travelers.
Works is a blockchain and AI-driven work marketplace that enables companies to hire on-demand freelance talent in business, design, and technology.
The Alibaba Cloud x KrASIA Global Startup Accelerator Singapore Demo Day was held on June 3, 2022.