Chinese coffee companies have an enormous market in their backyard, where consumption grew at a compounded rate of 15% for the past decade and was estimated to be worth RMB 100 billion (USD 14.2 billion) in 2018, according to Jingdata, the insights arm of local tech media outlet 36Kr.
Now, there are more than 330 million coffee-drinkers in China as of June 2019, roughly 24% of the country's population, and homegrown Chinese coffee brands as primed to tap into this potential.
Luckin Coffee, together with Coffee Box, are the biggest names in fast coffee pick-up and delivery. Pacific Coffee is a sit-down cafe, similar in positioning to Starbucks. Greybox Coffee and Fisheye Cafe focus on specialty, high-end coffee.
However, Chinese coffee companies face stiff competition from abroad, as US-headquartered Starbucks, after entering China in 1999, has expanded aggressively across the country, growing to control over 80% of the market share as of 2017. The company currently has over 4,300 locations nationwide as of December 2019, and it is aiming for 6,000 locations by 2022.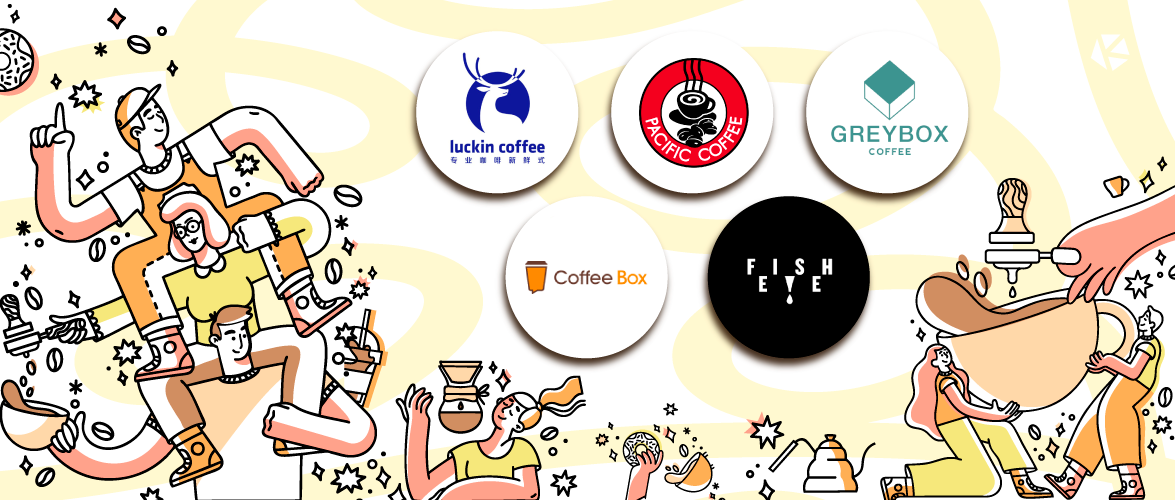 Among the new coffee companies in China that have joined the race to challenge Starbucks, Luckin is the most well-known, with more than 4,500 stores as of December 2019. However, Luckin has recently faced a crisis situation after the chain disclosed significant fabricated sales on April 3, softened by the fact that after admitting the wrongdoing, its app saw an increase of downloads, as customers feared that their pre-paid coffee coupons won't be redeemable in the future if the alleged fraud would lead the company towards bankruptcy.
Luckin Coffee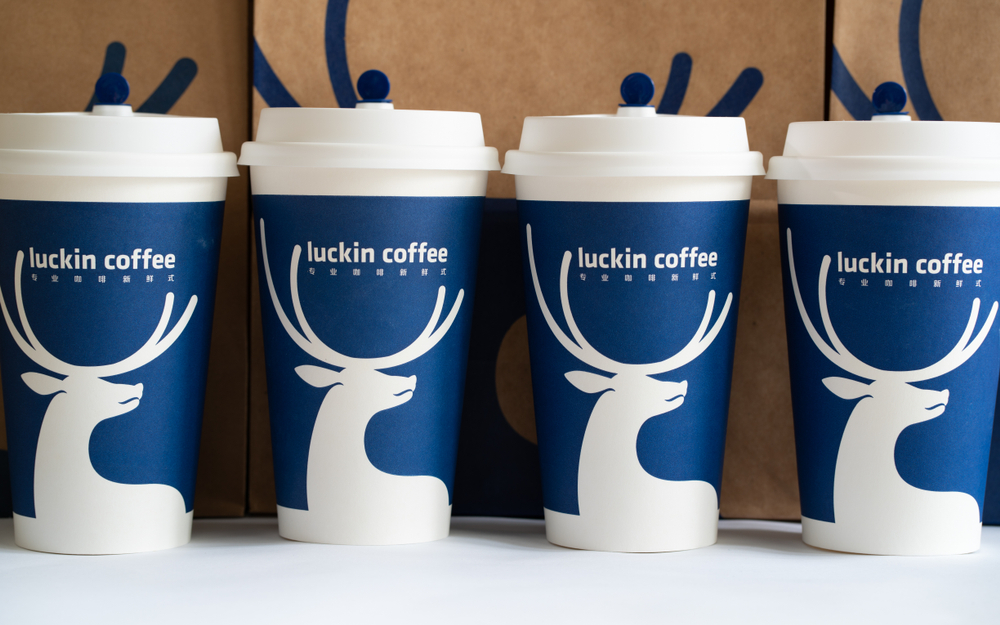 Founded in 2017, Xiamen-based Luckin Coffee burst onto the scene with an ambitious goal to usurp Starbucks' dominance in China's coffee chain market. To quickly gain market share, the company has been offering generous discounts to consumers and develops a unique delivery-focused approach, which requires customers to use smartphones to place orders and pay for their coffee, to then pick up their orders in a brick-and-mortar store, or have them delivered.
Luckin (NASDAQ: LK) was listed in the US in May 2019, only 18 months after it was established. Then the company started to seek market expansion by launching a tea brand named Xiaolu Tea in July 2019 and unveiling vending machines selling freshly brewed coffee and other beverages in January.
Luckin Coffee's outlook
Luckin has experienced a crisis of existential proportions when the company announced an internal investigation on April 2 into the conduct of its chief operating officer Liu Jian, who is believed to have inflated revenues by RMB 2.2 billion (USD 310.5 million). Luckin issued an apology for the fraud on microblogging platform Weibo two days later, saying that Liu, and several other employees who report to him, have been suspended, adding that it will immediately disclose the investigation results to the public.
Before news of the investigation broke out, Luckin's 2020 outlook was positive, as analysts expected a 170% year-on-year increase in sales. In addition, at the end of the fourth quarter of 2019, 33 of the hedge funds tracked by Insider Monkey held long positions in Luckin Coffee, an increase of 43% from the previous quarter.
Luckin Coffee chief financial officer Reinout Schakel said in an interview last November that the company is on track to become profitable by the third quarter of 2020. However, it might take some time for Luckin's management to repair their credibility in the eyes of investors.
Recently, analysts have warned that investors should approach the Luckin stock with great caution after the allegation. 
Luckin Stats
Coffee Box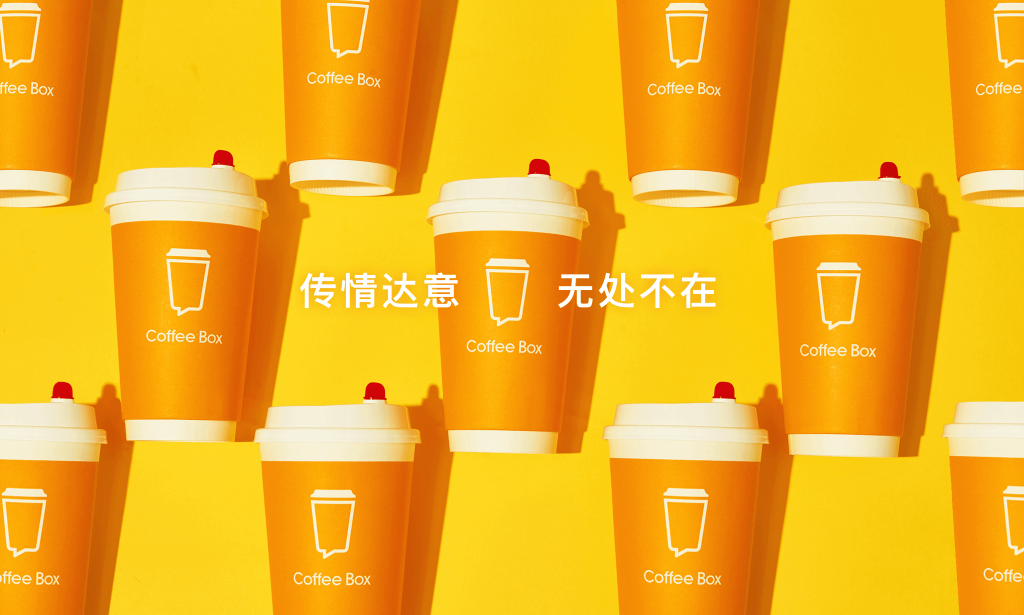 Founded in 2014, Coffee Box started out as a coffee delivery app for foreign brands such as Starbucks and Costa Coffee. Leveraging insights using the data it gathered on customer preferences and demographics, the company started its own brand, Coffee Box, in 2016.
Coffee Box approaches the market in its own distinctive way by setting up small coffee shops, or "stations", which only have two baristas and several deliverymen in a single shop, to offer coffee deliveries to customers. The company boasts guaranteed delivery within 30 minutes and operates an asset-light business model with main spending on rent, operations, and its specialized supply chain. It collects most of its orders from already popular social media platforms such as WeChat or food delivery apps such as Meituan.
Coffee Box's outlook
Coffee Box has already achieved profitability in late 2017 with its online delivery-oriented business model. It announced in December 2018 it will open over 50 large-scale coffee stores in first-tier cities in China by early 2019. However, Coffee Box has reportedly closed down 30% to 40% of its coffee stations with negative gross profit across the country in February 2019, as sales were hit heavily during the cash-burning competition with Luckin.
The firm has returned to profitability in April 2019 after slashing its stores, according to a 36Kr report. The company has started a new round of offline expansion after receiving investments worth RMB 206 million (USD 30.6 million) in its Series B3 financing round in April 2019, from investors including Qiming Venture Partners and Gaorong Capital. It has also started testing a new product named "pocket coffee" in the Wangjing area of Beijing. The new offer is smaller and cheaper than its regular coffee cup, and only available for pick-up.
Coffee Box Stats
Coffee Box has over 400 coffee stations as of 2018.
Average daily sales of 1,200-1,500 cups of coffee per store during the peak season
Pacific Coffee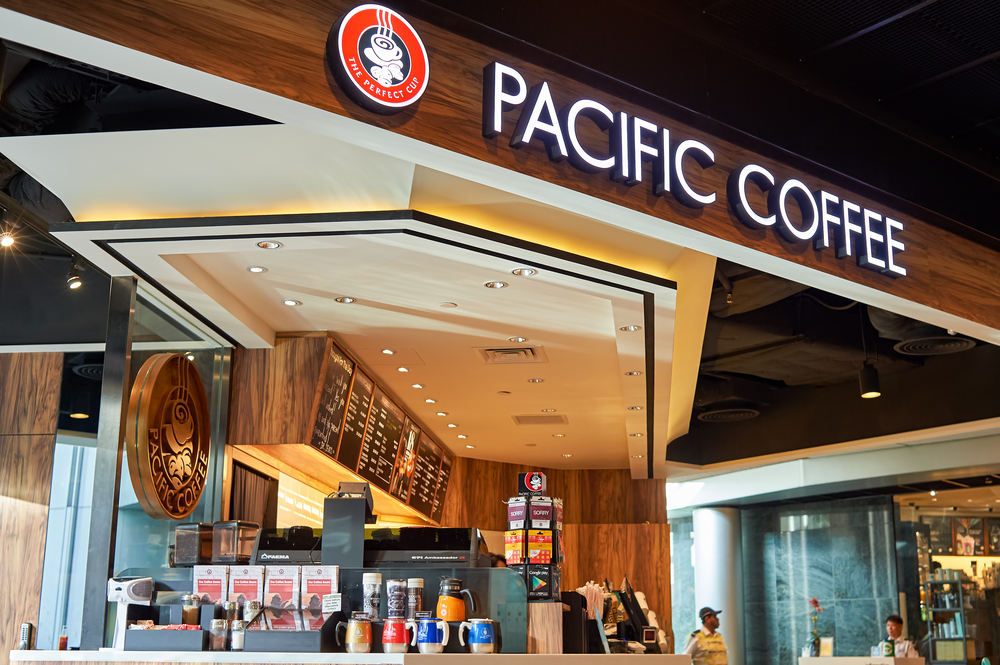 Pacific Coffee was first established in Hong Kong in 1992. It grew into a well-known brand within Hong Kong before selling an 80% stake to State-owned China Resources Enterprise, maker of Chinese liquors Huadiao and Erguotou, and officially entered Mainland China in 2011. With an ambitious goal of opening 1,000 outlets on the mainland, has since also expanded to other countries including Singapore and Malaysia.
The coffee brand is unique in that it focuses on drawing Chinese elements into its beverages. For example, it launched a series of new coffee products in 2011 that combine coffee with Chinese wines, creating a "Huadiao Mocha". In 2018, the company also unveiled a series of tea beverages named Tai Cha and established separate stores for tea drinks under the same name in Shanghai and Guangzhou.
Pacific Coffee's outlook
As competition in China's coffee market intensifies, Pacific Coffee has been seeking to innovate its products. It has partnered with Dong'e E'jiao, China's biggest manufacturer of donkey hide extract (an ingredient in Chinese medicine), to launch a coffee containing the special ingredient. The company has also opened its first shop for specialty coffee—which refers to coffee brewed with beans of higher quality and using more advanced techniques—in Beijing to expand its target customers to broader groups of people.
In the future, Pacific Coffee plans to focus on both coffee and tea-related products, said Jian Yujing, the company's director of brand management.
Pacific Coffee Stats
Pacific Coffee has 500 stores worldwide, including over 300 in Mainland China.
It has covered more than 15 cities in China as of the third quarter of 2019, including Beijing, Shanghai, Guangzhou, and Shenzhen.
Greybox Coffee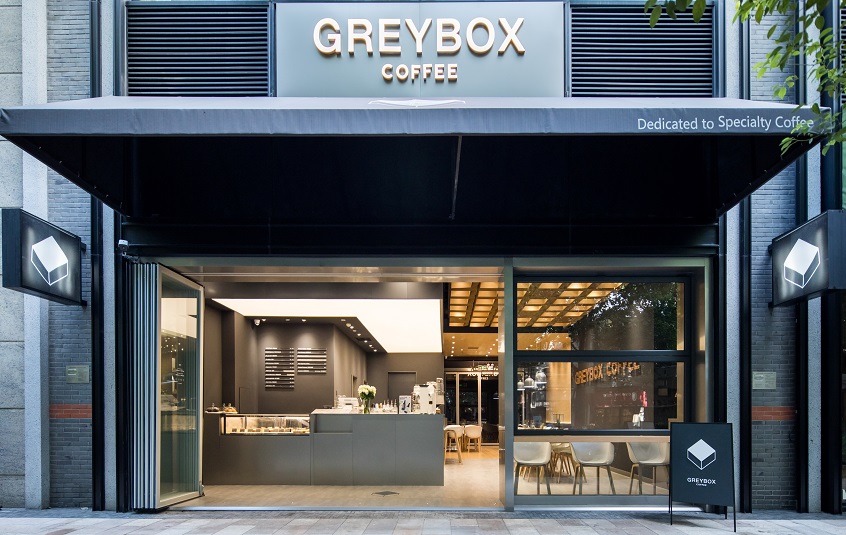 Founded in 2016, Greybox Coffee aims to build up a coffee chain with a focus on specialty coffee, which refers to a supposedly higher standard in terms of coffee bean quality and brewing skill.
The company opened its first store in Beijing's Kerry Center, which is located at the heart of the capital city's central business district, and then expanded to 16 stores in several cities including Shanghai, Shenzhen, and Hangzhou in one year. The coffee startup completed its RMB 100 million (USD 14.2 million) Series A financing in December 2017, led by Junzi Capital.
Unlike other small specialty coffee shops, most of which are located in alleys, most of Greybox's stores are located in high-end shopping malls and office buildings in the downtown area, targeting people including business elites, artists, coffee enthusiasts, and celebrities. Besides providing specialty coffee, Greybox also sets up training sessions on weekends to offer coffee-related classes to enthusiasts.
Greybox Coffee's outlook
Greybox has been seeking expansion overseas to build up an international specialty coffee brand, according to its website. In addition to operating its own stores, the company has also tested the waters in franchising in 2019, opening up 100 opportunities for franchisers nationwide.
Greybox Stats
Greybox has 23 stores in nine Chinese cities.
The startup has an estimated valuation of USD 100 million after its Series A financing.
Fisheye Cafe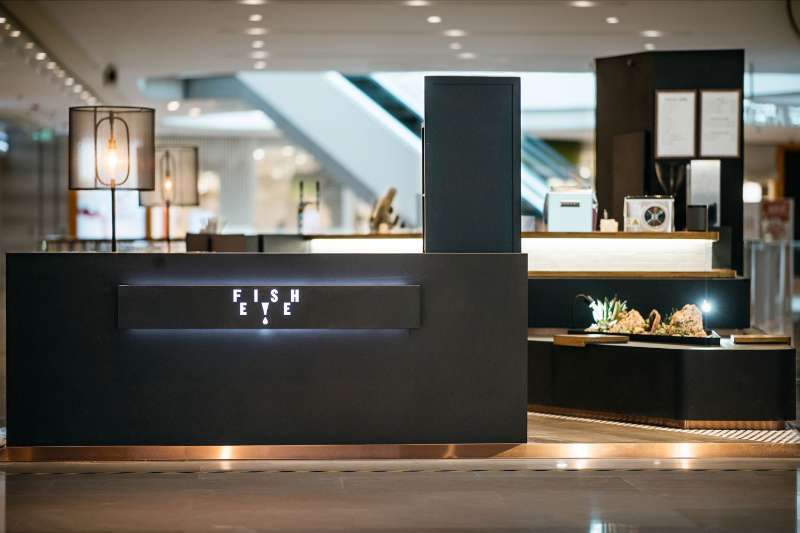 Founded in 2010, Fisheye Cafe operates as a specialty coffee retail, wholesale and roasting business, providing consumers a premium drinking experience with high-quality and freshly-brewed coffee, says the company.
In 2017, the company upgraded its business model by setting up smaller storefronts with limited seating in downtown areas, and launching pick-up and delivery services. In January 2019, Fisheye completed its Series A financing with the participation of  China Growth Capital and Crystal Stream as investors, securing tens of millions of RMB.
Fisheye now offers a wide range of products, including coffee beverages, as well as baked goods. Customers can place orders for deliveries and pick-ups via the company's WeChat mini-program. The company also sells a variety of coffee-related products online, including coffee beans and canned coffee, as well as accessories featuring the Fisheye brand such as mugs and T-shirts.
Fisheye Cafe's outlook
Fisheye has already achieved profitability in multiple stores and it is estimated to take one year for a single store to break even, said Sun Yu, the startup's founder and CEO. For future plans, Fisheye aims to first gain its foothold in business districts in Beijing and Shanghai, before seeking market expansion in other regions.
Fisheye Cafe Stats
Fisheye has 18 stores across five Chinese cities.
Fisheye's coffee beverages are priced at about RMB 30 (USD 4.27)